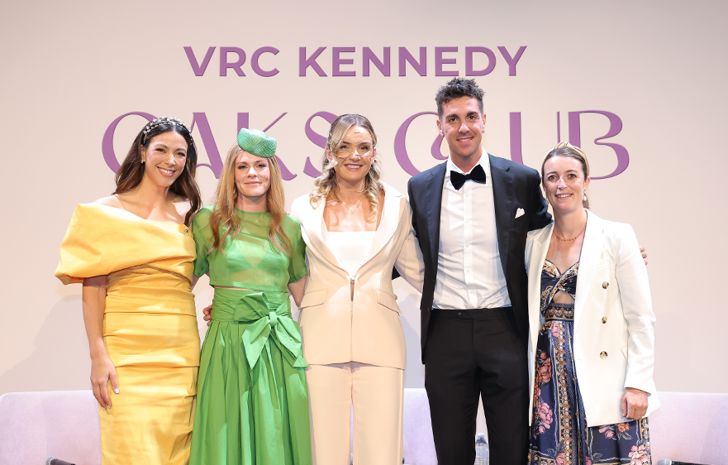 A powerhouse panel: sporting champions share their stories
10 November 2023
•
Written by
VRC
On November 8th, the annual VRC Kennedy Oaks Club Lunch drew in more than 1,200 guests. Amidst the fantastic entertainment, hospitality, and fashion, the audience was treated to insights from a panel of inspiring sports champions. Their stories added to the anticipation for the upcoming TAB Champions Stakes Day, where both equine and human champions will take centre stage.
Cortnee Vine, Australian Matildas
Before August 12, 2023, Cortnee Vine, a forward for the Matildas, had never netted a penalty. Fast forward, and she's now etched into Australian sporting history. Recounting the pivotal moment in the FIFA Women's World Cup that reshaped her life, Vine describes it as surreal. "It was a very out-of-body experience. Something that I don't think you get to experience as an athlete very often. But for me, in that moment, being the 10th penalty, I did not for the life of me think I would be taking the penalty. But I had to step up and I think the body kind of takes over. And adrenaline definitely was rushing through!"
Vine takes pride in the impact she and her teammates have had on elevating the status of women's football and fostering unity in Australia. However, what truly gives her a kick is connecting with people. "I just love the ripple effect. It's such an amazing time to be a female athlete. I can't wait to see what the future holds."
---
Liz Watson, Captain, Australian Diamonds
Watson has consistently excelled in her game for many years, securing all the accolades that netball has to offer. She attributes a significant portion of her success to the collaborative efforts of her teammates and the guidance of her coaches.
"It has been an incredible 18 months or so [for the Diamonds] and I think it's definitely because of the culture that we've created. Our coach has been absolutely incredible, but it's hard to get to number one and it's hard to stay at number one. I think we've just always had this mentality that we're here to improve, not prove, and that's just sort of been a mantra of our team. We're not here to prove that we're world champions or that we're number one every single time we play, we're just here to improve, and it flips your mindset that you just want to get better for yourself, your team and your country."
Thanasi Kokkinakis, Australian tennis star
Thanasi Kokkinakis is currently riding high in his career, boasting a career-best ATP world ranking of 65. This year, he clinched the Australian Open Men's Doubles title alongside his childhood friend and teammate, Nick Kyrgios.
"Our Australian Open win sort of brought a new dimension to tennis – we brought a party atmosphere to the court. Just seeing how the Aussie public rallied and the support and traction we got from around the world, it meant a lot." Their long-standing friendship, combined with their immense talent, gave the pair a distinct advantage on the court. "We would actually never practice together in the days in between. He was doing his own thing and I was doing my thing and we just rocked up on game day and played."
---
Annabel Neasham, Group 1-winning horse trainer
Annabel Neasham initially planned a brief stay in Australia as a backpacker in 2016, with no dreams of becoming a horse trainer. Fast forward seven years, and she has honed her skills under the mentorship of Gai Waterhouse, Ciaron Maher, and Dave Eustace. With multiple Group 1 wins under her belt, Neasham has emerged as one of the country's most formidable trainers.
Despite her humble acknowledgment that she may not be an athlete in the traditional sense (though her notable victory in the gruelling Mongol Derby in 2018 suggests otherwise), she prefers to redirect the champion accolade to her horses, especially one standout – Zaaki. The Stakes winner of 2021 and 2022 is gearing up for another win this year, with a victory not only securing Zaaki's place in the history books, but also firmly establishing Neasham's legacy in the world of horse racing.
Though careful not to play favorites, Neasham openly confessed that there's just something special about Zaaki. "I think I've just been lucky and stumbled across an exceptional horse within my first year of training. We're in our third year now and he's still going, so I don't know what I'll do when he retires because he's going to be really hard to replace, but he's showing no signs of that at the moment. The first year we won, it was my first winner at Flemington. So for it to be the Champion Stakes was very special. He'd been scratched as the favourite of the Cox Plate two weeks before, which was pretty gut-wrenching. So it was amazing and the team did a fantastic job. Everyone is saying he's pretty old, but he rocked up again last year, unwanted in the market, and produced the goods again, and we'll be there again trying to go for three in a row."