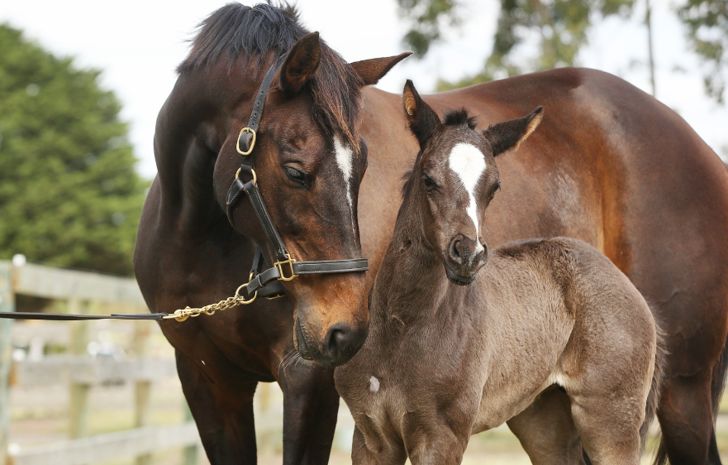 A remarkable role delivering foals
26 October 2023
•
Written by
Michael Manley
The birth of a foal is a magical experience that can often unfold under the cover of night. We discover the incredible care that is taken to keep these new mothers and their babies healthy.
From late July, Jodie Extra's life resembles that of a shift worker, with her eleven-hour shift starting at 8pm and finishing at 7am.
Extra wouldn't want it any other way, as she loves delivering foals at Woodside Park, Tylden, where notable stallions like Foxwedge, Rich Enuff, Vancouver, Delaware, and Shalaa stand at stud.
With over 3000 foals delivered in her 20-year career as a broodmare midwife, Extra considers delivering Makybe Diva's last foal in 2019, a filly named Terrifictonka sired by More Than Ready, as her highlight.
"Makybe Diva was perfect to deal with. She was stunning for her age which was 20 at the time. She was magnificent," Extra said.
During her time at Woodside Park, Extra also had the privilege of delivering the first foals sired by the sensational stallion Written Tycoon, which is another source of pride for her.
As a teenager, Extra's sole desire was to work with horses, and she initially found a job at the Kyneton stables of trainer Pat Clohesy, unaware of the existence of the breeding industry. She then went to Wangaratta TAFE college to study their equine course and then gained a scholarship to work at the Irish National Stud, which transformed her career trajectory.
After gaining experience with yearlings and being introduced to the foaling side of the operation, Extra returned to Australia and worked with Widden Stud in the Hunter Valley, primarily with yearlings. She then transitioned to the foaling unit and has remained in that sector of the industry ever since.
Extra's journey has also taken her in a dual hemisphere capacity to both Coolmore Stud Australia and Coolmore Ashford Stud in Kentucky, where she had the opportunity to assist in foaling some of the last offspring of legendary stallions Mr Prospector, Danzig, and Nureyev.
Having spent over 10 years at Woodside Park, Extra's extensive experience makes her a highly knowledgeable professional in the field of mare management and foaling.
She takes us through the intricacies of her important job.
Preparation for foaling
Extra explains that most mares tend to foal at night, so they make necessary preparations accordingly.
"I'm going to say 90 per cent of them foal at night.
"In the wild, the herd would settle down at night, and the mares would pop out their foals and then the foals would be up on their feet and ready to move off with the herd in the morning".
She believes that mares, to some extent, control when they foal based on when they feel safest.
"When they feel at their safest, that's when they go down on the ground. They are flight animals, so if they get a fright, they like to take off. When they are foaling, they feel very vulnerable when on the ground and need to feel safe."
Given the likelihood of night foaling, Extra and her team keep track of dates and monitor the mares' development, paying close attention to their physicality. When they are approaching the due date, the mares are brought under lights.
Extra begins by physically examining all the mares, trying to anticipate what will happen during foaling. She acknowledges that experienced mares can be a bit "sneaky", as they don't show many signs apart from their physical development.
The foaling process
Extra emphasises that things happen rapidly during foaling, as a mare typically gives birth within 20 minutes of her water breaking, sometimes even within ten minutes.
"It can happen very quickly if you don't have two eyes on her," she said.
After the water breaks, Extra moves the mare into an individual foaling paddock. In Australia, it is customary for thoroughbred mares to deliver their foals outside, which can reduce the risk of infections and complications compared to foalings in a stable, which is the standard practice in the northern hemisphere.
While most mares foal without complications, Extra's role is to be on hand in case something goes wrong.
"If it does go wrong, it happens very quickly and if I can see what's happening I can stop it becoming a big problem," Extra explains.
She usually handles the process on her own but has someone on call for assistance, particularly when a difficult foaling requires an extra pair of hands.
Extra also has a veterinarian on standby for situations beyond her control.
Postparum care for the mare
After foaling, the mare typically passes her placenta about 45 minutes later, which is checked for completeness three hours after foaling.
"Placentitis is a common issue in mares. We make a note of it because it can affect the foal if the mare experiences a severe case," Extra remarks.
Then, a colostrum bag is obtained from the mare since there is no transfer of immunity to the foal in utero. The colostrum is tested after the foal is born to ensure it has a sufficient level of immunity.
If the colostrum is inadequate, Extra has a supply of good supplements stored in a freezer, which can be used to supplement the foal's immunity.
"If the foals are not supplemented and do not receive the necessary transfer, they may require plasma later on, which can be quite expensive and is not always 100 per cent effective. Multiple plasma transfusions are often necessary, and meanwhile, the newborn foal remains without immunity. That's why it's crucial," Extra stresses.
The mare is then cleaned, and if necessary, given pain relief. Extra and her team closely observe the mare's general maternal behaviour with her foal. Although routine, continuous monitoring ensures that any potential setbacks are addressed promptly.
"We pay attention and keep an eye on them as everything could go very pear-shaped with the mare and foal very quickly."
The mare and foal spend the following day in the foaling yard, unless the weather is unfavourable, in which case they are moved back into the barn.
The next day, the day staff arrives and weighs the foal. An IGG test is conducted to determine whether the foal has adequately absorbed colostrum and developed strong immunity.
If a foal exhibits leg issues or struggles, they are kept in the stables for a longer period. Otherwise, they are sent to an individual paddock.
The foals' health and mobility are continuously monitored before they are introduced to larger paddocks, where they can socialise with other mares and foals.
Extra's passion for horses led her to the thoroughbred industry, and her dedication to her job as a foaling midwife has only grown stronger over time. She remains captivated by the thoroughbred industry and cherishes her role within it.