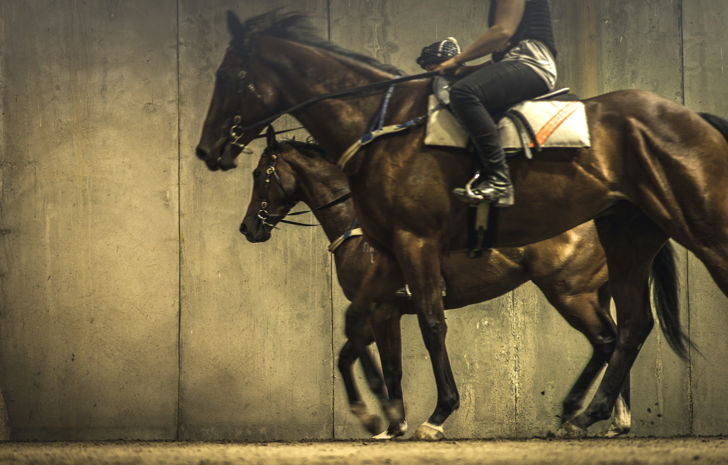 Meet Brendan McCarthy
4 October 2023
•
Written by
VRC
There are so many hands and minds that work behind the scenes to make a racing stable successful and to keep horses happy and healthy. Here we speak to some of the people who each have very different but key roles in stables around Flemington.
Brendan McCarthy is a racehorse trainer who is hands-on as an equine chiropractor. Leading stables call on him to help manage back pain and the many muscular problems that can impact racing performance.
"My interest in chiropractic goes back to when I was a kid. We had a stud in Flowerdale and later Tallarook and each year Dad brought over vets from other countries to do a season with us. When I was about 13, Dad brought over an Argentinian vet, Carlos, who stayed with us for 14 years. 
He was instrumental in educating me about horse welfare. In those days you used palpitation for pregnant testing and he taught my brothers, Gerard and Daniel, and I about that. We spent a lot of time with Carlos and were able to soak up so much. 
As a trainer, chiropractic always interested me and it was once very misunderstood. Daniel and I worked hard to hone our techniques and with 500 horses on the stud, we had plenty of patients to work on!
Since those days I've worked with many of the big stables – Ciaron Maher, Mick Price, Freedman Racing, Danny O'Brien, Simon Zahra and more. Those trainers still call on me all-year round. A track rider or jockey might say something doesn't feel right with a horse, or the trainers or vets spot something, and they'll call me.
It's my role mostly to look for areas of pain – back pain or pain in the shoulders, neck, pectorals, hamstrings or through the sacrum and withers. I make adjustments to get a horse feeling right again because they can't run their best when they feel pain.
I've always had an affinity with horses and I get enjoyment out of taking away their pain – whether a champion horse or a child's pony. 
Russian Camelot was one of the best-looking horses I've worked on – a magnificent horse – and I've worked with Gold Trip. He was an obvious for the Cup last year because his body was in peak condition for Melbourne Cup Day.