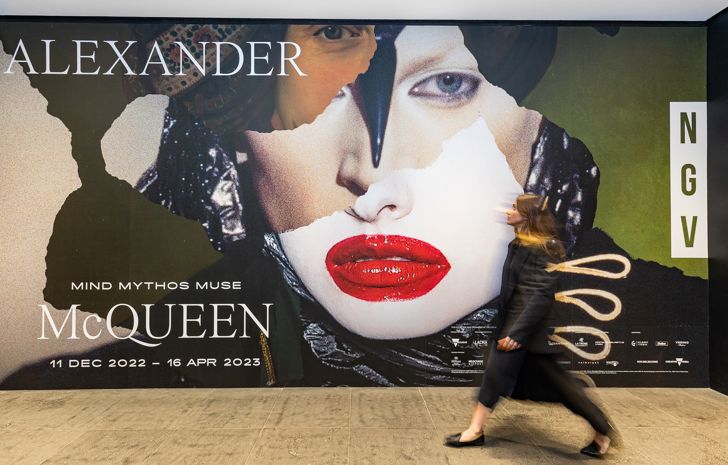 Alexander McQueen : exclusive members viewing
21 December 2022
•
Written by
VRC
Enjoy a private viewing exclusive to VRC Members of one of the most exciting and anticipated exhibitions at the NGV – Alexander McQueen: Mind, Mythos, Muse.
The evening for VRC members will commence with a cocktail party which includes canapes, beverages, entertainment, an NGV guest speaker and a chance to win some fabulous door prizes. This exclusive event will culminate in a private viewing of the exhibition.
Wednesday 8 February 2023
6:30pm – 8:30pm
The Great Hall, NGV International
$110 VRC Member | $140 VRC Member Guest
---
Alexander McQueen (1969–2010) is one of the most extraordinary and significant fashion designers in history, lauded for his conceptual and technical virtuosity. Organised by the Los Angeles County Museum of Art, (LACMA), in partnership with the National Gallery of Victoria, Melbourne, Alexander McQueen: Mind, Mythos, Muse is the first major Australian exhibition to explore McQueen's thought-provoking and singular viewpoint.
Showcasing more than 100 garments and accessories alongside more than 70 artworks, including painting, sculpture, photography, works on paper and decorative arts, from a multitude of eras and cultures, this exhibition offers unprecedented insight into McQueen's far-reaching sources of inspiration, his creative process, and his capacity for storytelling.
McQueen's designs were always personal and complex responses to the world around him. He once stated, 'Fashion is just the medium'. McQueen's interests were broad and his inspirations both encyclopaedic and autobiographical. He was an avid reader of books on art, design, literature and history; a regular fixture in London's queer club scene; a voracious consumer of cinema; and deeply passionate about the natural world. His love of fashion was evident from a young age, and was equally influenced by popular culture as by visits to museums.
Throughout his career, McQueen distilled a multitude of ideas and experiences, bringing together seemingly disparate references to create collections that pushed far beyond the bounds of conventional fashion design.
Born in London's East End in 1969, Lee Alexander McQueen served an apprenticeship on Savile Row at the age of 16, learning to cut and construct in the bespoke tailoring tradition. McQueen used these skills throughout his career in revolutionary ways. In 1989, McQueen enrolled in fashion design at Central Saint Martins College of Art and Design in London; in 1992, his entire graduate collection was purchased by the stylist Isabella Blow. A year later, he established his own label: Alexander McQueen.
From the beginning, McQueen's collections combined autobiographical references with challenging silhouettes and ideas. His work tackled history, politics, religion, philosophy, violence and environmental destruction. These themes fuelled narratives amplified in highly sensational runway shows.
Openly gay and inspired by queer fashion history, McQueen frequently challenged traditional ideals of beauty through disruptive designs that transformed fashion industry standards. In 1993, he debuted his extremely low-waisted 'bumsters', which were cut inches below the hipline; in 1998, Paralympian Aimee Mullins walked McQueen's runway in a pair of prosthetic legs elaborately carved from elm wood.
In the decade before his premature death in 2010, McQueen's aesthetic was defined by its visceral qualities and technical proficiency; his distinctive shapes and complex cutting laid a foundation for clothing that delineated the body while simultaneously conferring agency to the wearer.
For more information about the exhibition, visit the NGV where you can also watch an interview with artist and designer Michael Schmidt, creator of the sculptural headpieces accompanying the exhibition.