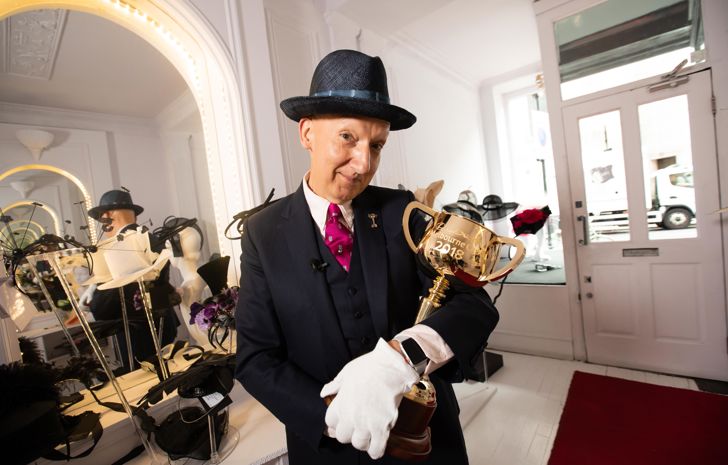 VRC to welcome legendary milliner Stephen Jones OBE back to Flemington to celebrate 60 years of Myer Fashions on the Field
10 October 2022
•
Written by
VRC
The Victoria Racing Club (VRC) is delighted to announce world-renowned milliner Stephen Jones OBE will attend this year's Melbourne Cup Carnival, to join in the 60 years of Myer Fashions on the Field celebrations.
The London-based Jones will attend Penfolds Victoria Derby Day, Lexus Melbourne Cup Day, where he will judge the Myer Fashions on the Field Millinery Award, the VRC Kennedy Oaks Club Lunch and Kennedy Oaks Day, where he will judge the Myer Fashions on the Field National Final.
Jones has been Christian Dior's Creative Director of Hats for more than 25 years working with designers including John Galliano, Raf Simons, Maria Grazia Chiuri and Kim Jones.
He visited the home of racing fashion, Flemington, in 2004 and 2010, and more recently judged the digital version of the Myer Fashions on the Field Millinery Award in 2020 and 2021.
"I am delighted to be returning to Melbourne and Flemington to celebrate the premier style occasion that is the Melbourne Cup Carnival," Mr Jones said.
"There is nowhere else in the world like Melbourne during Cup Week. Flemington comes alive with some of the most magnificent millinery and I can't wait to see what styles local designers and racegoers are embracing this year."
VRC Chairman Neil Wilson said the club was honoured to host one of the world's greatest milliners at Flemington again for the 2022 Melbourne Cup Carnival.
"In the words of fashion journalist Alexander Fury, Stephen invented modern millinery. As such there is no one better placed to help us judge the Myer Fashions on the Field competition as we celebrate its 60th anniversary," Mr Wilson said.
"The Melbourne Cup Carnival fosters the pursuit of race day excellence, from the stars on the track to the stars of racing fashion, so we are delighted to host Stephen for what is sure to be another glorious Melbourne Cup Carnival."
Jones is one of the most important milliners of the 20th Century and stars including Nicole Kidman, Joan Collins, Jerry Hall and Lady Kitty Spencer have selected his pieces to wear when visiting Flemington during Cup Week.
Other high-profile clients include Diana, Princess of Wales, The Duchess of Sussex, Rihanna, Kylie Minogue, Cate Blanchett, Lady Gaga, Adut Akech, Pink, Lady Gaga, Mick Jagger, Sam Smith, Emily Blunt, Kate Moss, Gigi Hadid, Cardi B, Naomi Campbell, Celine Dion, Natalie Portman, Olivia Rodrigo, Zendaya and Linda Evangelista.
For more information on Myer Fashions on the Field including how to enter visit vrcfashionsonthefield.com.au.