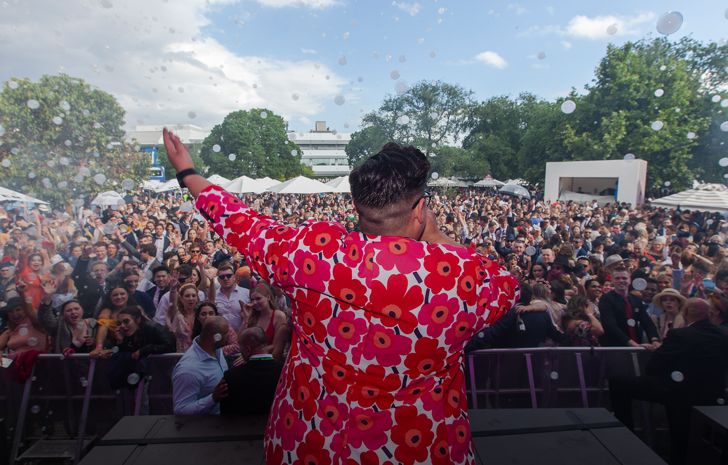 Victoria Racing Club announces epic entertainment lineup at The Park
6 October 2022
•
Written by
VRC
The Victoria Racing Club (VRC) today announced an incredible program of iconic Australian music acts will delight race-goers in The Park throughout the 2022 Melbourne Cup Carnival, headlined by soulful rapper Baker Boy, popular alternative rock band Birds of Tokyo and Australian dancefloor filler DJ Hot Dub Time Machine.
The star-studded lineup of local music sensations will perform at The Park Live Stage across Penfolds Victoria Derby Day, Lexus Melbourne Cup Day, Kennedy Oaks Day and TAB Champions Stakes Day, with entry to The Park free with every Melbourne Cup Carnival ticket.
The glorious program of performances will commence on Penfolds Victoria Derby Day with proud Yolngu man, artist and 2019 Young Australian of the Year, Baker Boy who has struck the Australian music industry with his unashamed optimism and love for music, dance and his connection to his culture.
Five years on from his debut in 2017 with the instant-classic "Cloud 9", Baker Boy embarked on his biggest national tour of Australia to date in the first half of 2022 as well as performing at the closing ceremony of the 2022 Birmingham Commonwealth Games.
Crowds on Penfolds Victoria Derby Day will also be entertained by dance music artists KLP + Stace Cadet, whose electric beats capture the euphoria of a dancefloor, and Melbourne based producer and DJ, Sgt Slick who has been a solid fixture on dance music charts and radio for two decades.
On Lexus Melbourne Cup Day, The Park will play host to Australian DJ Hot Dub Time Machine, who will perform as Hot Cup Time Machine and return to Flemington to deliver an epic set featuring amazing audio visual elements to keep the party going.
The Park stage will also hero musician Wafia, who has already amassed an impressive collection of expressive electric pop, and New Zealand based DJ and production duo Sweet Mix Kids who embody versatility and premium musical taste both in the studio and onstage through flamboyant performances mixing genres with live elements.
Kennedy Oaks Day will showcase the unrivalled talent of DJ and producer duo Sneaky Sound System, who have graced every major Australian festival as well as headlined club, theatre and arena tours since their debut in 2006. The pair have produced a spectacular salvo of chart topping hits over the years and collaborated with renowned global artists including Kanye West, Jay Z and Snoop Dogg.
Carl + Eric's Hot Sauce will also perform on Kennedy Oaks Day, with the duo performing at Glastonbury this year and set to bring their favourite influential house tracks to the stage during Cup Week.
Race-goers will also be entertained on Kennedy Oaks Day with Sunshine and Disco Faith Choir, a DJ and eight-person live choir with the sole aim to make the dancefloor rejoice with their uplifting house tunes, disco classics and epic anthems. 
The Melbourne Cup Carnival will reach its crescendo on TAB Champions Stakes Day with a performance from Birds of Tokyo, who have grown from independent roots to become one of Australia's most popular contemporary bands. The rock band has released six studio albums including Human Design, which topped the ARIA Charts and have won "Rock Work Of The Year" on a record-setting five separate occasions at the APRA Awards.
The final day of the Melbourne Cup Carnival will also feature alternative dance group Crooked Colours (DJ Set) and DJ duo Teddy Cream, who will bring the party to a close on the final day of the Melbourne Cup Carnival.
VRC Chief Executive Officer Steve Rosich said it will be wonderful to witness Australia's arts industry back in full swing to deliver a fantastic entertainment lineup.
"While the Melbourne Cup Carnival has racing at its core, it has also become renowned for its ability to bring different people together through an exceptional entertainment offering. We are delighted to welcome artists both well-known and emerging to perform at The Park Live Stage and create a memorable experience for all guests in attendance at Flemington," Mr Rosich said.
Mushroom Group has worked hand in hand with the club to bring the 2022 Melbourne Cup Carnival entertainment vision to life.
Mushroom Group Chairman Matt Gudinski said he's thankful that the live music industry is back on its feet with plenty of new and exciting opportunities to showcase talent to the country.
"Music is one of the few things that unite and inspire people from all walks of life, and I have no doubt that the diverse selection of performers across the Melbourne Cup Carnival will be able to do exactly that. It's wonderful to see such an eclectic mix of up and coming artists and more widely established names eager to perform on stage in The Park and create something special together," Mr Gudinski said.
The Melbourne Cup Carnival is traditionally one of Victoria's biggest sporting and cultural events, attracting up to 300,000 racegoers to Flemington and generating over $430 million for the Victorian economy each year.
The 2022 Melbourne Cup Carnival commences with Penfolds Victoria Derby Day on Saturday 29 October, followed by Lexus Melbourne Cup Day Tuesday 1 November, Kennedy Oaks Day on Thursday 3 November and TAB Champions Stakes Day on Saturday 5 November.
The schedule of performances at The Park can be accessed here, with tickets to the Melbourne Cup Carnival available for purchase via www.vrc.com.au.
System.Web.HttpException (0x80004005): Error executing child request for handler 'System.Web.Mvc.HttpHandlerUtil+ServerExecuteHttpHandlerAsyncWrapper'. ---> System.NullReferenceException: Object reference not set to an instance of an object.
   at ASP._Page_Views_Partials_googleAd_cshtml.Execute()
   at System.Web.WebPages.WebPageBase.ExecutePageHierarchy()
   at System.Web.Mvc.WebViewPage.ExecutePageHierarchy()
   at System.Web.WebPages.WebPageBase.ExecutePageHierarchy(WebPageContext pageContext, TextWriter writer, WebPageRenderingBase startPage)
   at System.Web.Mvc.RazorView.RenderView(ViewContext viewContext, TextWriter writer, Object instance)
   at System.Web.Mvc.BuildManagerCompiledView.Render(ViewContext viewContext, TextWriter writer)
   at Umbraco.Web.Mvc.ProfilingView.Render(ViewContext viewContext, TextWriter writer) in D:\a\1\s\src\Umbraco.Web\Mvc\ProfilingView.cs:line 25
   at System.Web.Mvc.ViewResultBase.ExecuteResult(ControllerContext context)
   at System.Web.Mvc.ControllerActionInvoker.InvokeActionResult(ControllerContext controllerContext, ActionResult actionResult)
   at System.Web.Mvc.ControllerActionInvoker.InvokeActionResultFilterRecursive(IList`1 filters, Int32 filterIndex, ResultExecutingContext preContext, ControllerContext controllerContext, ActionResult actionResult)
   at System.Web.Mvc.ControllerActionInvoker.InvokeActionResultFilterRecursive(IList`1 filters, Int32 filterIndex, ResultExecutingContext preContext, ControllerContext controllerContext, ActionResult actionResult)
   at System.Web.Mvc.ControllerActionInvoker.InvokeActionResultFilterRecursive(IList`1 filters, Int32 filterIndex, ResultExecutingContext preContext, ControllerContext controllerContext, ActionResult actionResult)
   at System.Web.Mvc.ControllerActionInvoker.InvokeActionResultFilterRecursive(IList`1 filters, Int32 filterIndex, ResultExecutingContext preContext, ControllerContext controllerContext, ActionResult actionResult)
   at System.Web.Mvc.ControllerActionInvoker.InvokeActionResultFilterRecursive(IList`1 filters, Int32 filterIndex, ResultExecutingContext preContext, ControllerContext controllerContext, ActionResult actionResult)
   at System.Web.Mvc.ControllerActionInvoker.InvokeActionResultWithFilters(ControllerContext controllerContext, IList`1 filters, ActionResult actionResult)
   at System.Web.Mvc.Async.AsyncControllerActionInvoker.<>c__DisplayClass3_6.<BeginInvokeAction>b__4()
   at System.Web.Mvc.Async.AsyncControllerActionInvoker.<>c__DisplayClass3_1.<BeginInvokeAction>b__1(IAsyncResult asyncResult)
   at System.Web.Mvc.Async.AsyncResultWrapper.WrappedAsyncResult`1.CallEndDelegate(IAsyncResult asyncResult)
   at System.Web.Mvc.Async.AsyncResultWrapper.WrappedAsyncResultBase`1.End()
   at System.Web.Mvc.Async.AsyncControllerActionInvoker.EndInvokeAction(IAsyncResult asyncResult)
   at System.Web.Mvc.Controller.<>c.<BeginExecuteCore>b__152_1(IAsyncResult asyncResult, ExecuteCoreState innerState)
   at System.Web.Mvc.Async.AsyncResultWrapper.WrappedAsyncVoid`1.CallEndDelegate(IAsyncResult asyncResult)
   at System.Web.Mvc.Async.AsyncResultWrapper.WrappedAsyncResultBase`1.End()
   at System.Web.Mvc.Controller.EndExecuteCore(IAsyncResult asyncResult)
   at System.Web.Mvc.Controller.<>c.<BeginExecute>b__151_2(IAsyncResult asyncResult, Controller controller)
   at System.Web.Mvc.Async.AsyncResultWrapper.WrappedAsyncVoid`1.CallEndDelegate(IAsyncResult asyncResult)
   at System.Web.Mvc.Async.AsyncResultWrapper.WrappedAsyncResultBase`1.End()
   at System.Web.Mvc.Controller.EndExecute(IAsyncResult asyncResult)
   at System.Web.Mvc.Controller.System.Web.Mvc.Async.IAsyncController.EndExecute(IAsyncResult asyncResult)
   at System.Web.Mvc.MvcHandler.<>c.<BeginProcessRequest>b__20_1(IAsyncResult asyncResult, ProcessRequestState innerState)
   at System.Web.Mvc.Async.AsyncResultWrapper.WrappedAsyncVoid`1.CallEndDelegate(IAsyncResult asyncResult)
   at System.Web.Mvc.Async.AsyncResultWrapper.WrappedAsyncResultBase`1.End()
   at System.Web.Mvc.MvcHandler.EndProcessRequest(IAsyncResult asyncResult)
   at System.Web.Mvc.MvcHandler.System.Web.IHttpAsyncHandler.EndProcessRequest(IAsyncResult result)
   at System.Web.Mvc.HttpHandlerUtil.ServerExecuteHttpHandlerAsyncWrapper.<>c__DisplayClass3_0.<EndProcessRequest>b__0()
   at System.Web.Mvc.HttpHandlerUtil.ServerExecuteHttpHandlerWrapper.<>c__DisplayClass5_0.<Wrap>b__0()
   at System.Web.Mvc.HttpHandlerUtil.ServerExecuteHttpHandlerWrapper.Wrap[TResult](Func`1 func)
   at System.Web.Mvc.HttpHandlerUtil.ServerExecuteHttpHandlerWrapper.Wrap(Action action)
   at System.Web.Mvc.HttpHandlerUtil.ServerExecuteHttpHandlerAsyncWrapper.EndProcessRequest(IAsyncResult result)
   at System.Web.HttpServerUtility.ExecuteInternal(IHttpHandler handler, TextWriter writer, Boolean preserveForm, Boolean setPreviousPage, VirtualPath path, VirtualPath filePath, String physPath, Exception error, String queryStringOverride)
   at System.Web.HttpServerUtility.ExecuteInternal(IHttpHandler handler, TextWriter writer, Boolean preserveForm, Boolean setPreviousPage, VirtualPath path, VirtualPath filePath, String physPath, Exception error, String queryStringOverride)
   at System.Web.HttpServerUtility.Execute(IHttpHandler handler, TextWriter writer, Boolean preserveForm, Boolean setPreviousPage)
   at System.Web.HttpServerUtility.Execute(IHttpHandler handler, TextWriter writer, Boolean preserveForm)
   at System.Web.HttpServerUtilityWrapper.Execute(IHttpHandler handler, TextWriter writer, Boolean preserveForm)
   at System.Web.Mvc.Html.ChildActionExtensions.ActionHelper(HtmlHelper htmlHelper, String actionName, String controllerName, RouteValueDictionary routeValues, TextWriter textWriter)
   at System.Web.Mvc.Html.ChildActionExtensions.Action(HtmlHelper htmlHelper, String actionName, String controllerName, RouteValueDictionary routeValues)
   at Our.Umbraco.DocTypeGridEditor.Web.Extensions.HtmlHelperExtensions.RenderDocTypeGridEditorItem(HtmlHelper helper, IPublishedElement content, String editorAlias, String viewPath, String previewViewPath, Boolean isPreview)
   at ASP._Page_app_plugins_doctypegrideditor_render_DocTypeGridEditor_cshtml.Execute()
   at System.Web.WebPages.WebPageBase.ExecutePageHierarchy()
   at System.Web.Mvc.WebViewPage.ExecutePageHierarchy()
   at System.Web.WebPages.WebPageBase.ExecutePageHierarchy(WebPageContext pageContext, TextWriter writer, WebPageRenderingBase startPage)
   at System.Web.Mvc.RazorView.RenderView(ViewContext viewContext, TextWriter writer, Object instance)
   at System.Web.Mvc.BuildManagerCompiledView.Render(ViewContext viewContext, TextWriter writer)
   at Umbraco.Web.Mvc.ProfilingView.Render(ViewContext viewContext, TextWriter writer) in D:\a\1\s\src\Umbraco.Web\Mvc\ProfilingView.cs:line 25
   at System.Web.Mvc.HtmlHelper.RenderPartialInternal(String partialViewName, ViewDataDictionary viewData, Object model, TextWriter writer, ViewEngineCollection viewEngineCollection)
   at System.Web.Mvc.Html.PartialExtensions.Partial(HtmlHelper htmlHelper, String partialViewName, Object model, ViewDataDictionary viewData)
   at System.Web.Mvc.Html.PartialExtensions.Partial(HtmlHelper htmlHelper, String partialViewName, Object model)
   at ASP._Page_Views_Partials_grid_editors_Base_cshtml.Execute()