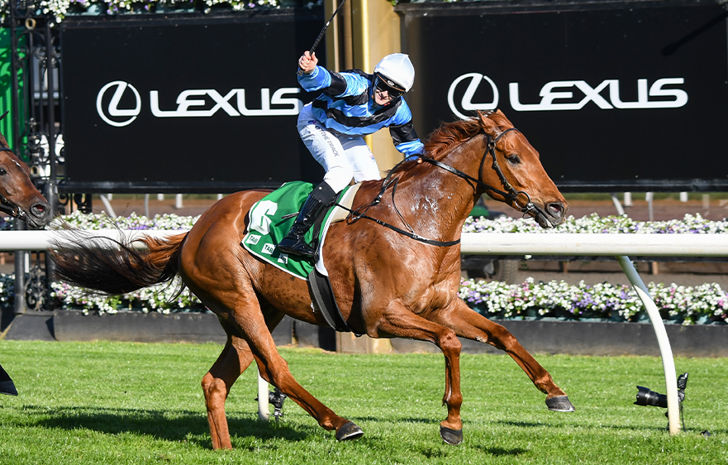 Romans smokes Turnbull field as Flare secures Cup Golden Ticket
1 October 2022
•
Written by
Andrew Hawkins
A glorious day in the sun at Flemington, accompanied by competitive racing on the track. We look back on all the highlights from TAB Turnbull Stakes Day.
---
TAB TURNBULL STAKES DAY
TAB Turnbull Stakes Day Review
TAB TURNBULL STAKES DAY
TAB Turnbull Stakes Day Results
Smokin' Romans has emerged from nowhere to stamp himself as a legitimate contender for either the Group 1 Lexus Melbourne Cup (3200m) or the Group 1 VRC TAB Champions Stakes (2000m) next month after taking out the Group 1 TAB Turnbull Stakes (2000m) at Flemington on Saturday.
A well-beaten favourite in the Listed Bagot Handicap (2800m) at Headquarters on New Year's Day, the Ciaron Maher and David Eustace-trained Smokin' Romans has returned 10 months later to take out one of Flemington's jewels of the spring, building on a last-start win in the Group 3 Naturalism Stakes (2000m) to secure his first Group 1 victory in the Turnbull Stakes.
Ridden by Ethan Brown, who had not won a stakes race before May but who now has three Group 1 successes to his name, Smokin' Romans took on a quality field and proved too strong in a race dominated from the front.
At the line, he had a length and a half to spare over potential VRC TAB Champions Stakes contender Maximal, with the Lexus Melbourne Cup-bound Young Werther and Knights Order in third and fourth.
A host of potential Lexus Melbourne Cup and VRC TAB Champions Stakes candidates finished in behind, with the likes of Inspirational Girl (fifth), Luncies (sixth) and Great House (10th) catching the eye.
"He is just so easy this horse, he's very tractable in the run. He gave me a lovely ride throughout. He's taken a lot of improvement from last start." - Ethan Brown
However, all honours were with the winner and with his trainers, who have developed the six-year-old into a Group 1 performer.
"He's been a real product of the system, I suppose," Maher said. "Late last prep we sent him down to the beach as he was always very quirky just to get him used to going on and off the float all the time. He'd lose it and lose a lot of weight just stressing. It desensitised him and he's carrying a lot more condition.
"He's shown he's in good form the whole way and even when Ethan jumped on he said he'll run a race today."
Added Brown: "He is just so easy this horse, he's very tractable in the run. He gave me a lovely ride throughout. He's taken a lot of improvement from last start. I thought he was a bit overlooked today and he has defied his odds to win."
Should he head to the Lexus Melbourne Cup, Smokin' Romans will face talented mare Lunar Flare who secured a Golden Ticket into the 'race that stops a nation'™ with her victory in the Group 3 Lexus Bart Cummings (2500m).
The Grahame Begg-trained Lunar Flare, who won the Group 2 Moonee Valley Cup (2500m) last year, will attempt to become the first horse since Black Knight in 1984 to win as the son or daughter of a previous Melbourne Cup winner after the daughter of Fiorente scored by a long neck over Francesco Guardi.
"This will be my first runner," Begg said. "It is great for the stable, they've done a wonderful job presenting her here on the day and I thank the ownership group, they've been very understanding and have helped us along.
"She's come up really, really good this time and this is the first preparation we've had that we know where she's at because previous preparations we didn't even know where her ceiling was until she won the Moonee Valley Cup last year.
"This year we set out to have her in the Melbourne Cup if she was good enough, now she's fully qualified so it's terrific." - Grahame Begg
On a day featuring stakes races from top to tail, there were plenty of clues to be found ahead of the Melbourne Cup Carnival.
New Zealand Group 1 winner She's Licketysplit pounced to take out the Group 2 TAB Edward Manifold Stakes (1600m) for the fillies for trainer Andrew Forsman and jockey Damian Lane, while the New Zealand-owned Excelida scored her first stakes victory in the Group 2 Furphy Rose Of Kingston Stakes (1400m) for mares for Flemington horsemen Ben and JD Hayes and rider Michael Dee.
Both horses are now eligible for a $1 million bonus should they also take out the Group 1 TAB Empire Rose Stakes (1600m) for fillies and mares on the opening day of the Melbourne Cup Carnival on October 29.
However, She's Licketysplit may be bound for the Group 2 Wakeful Stakes (2000m) on the same day before backing up into the Group 1 Kennedy Oaks (2500m) five days later on the third day of the Carnival.
Forsman may also have a live contender for the Group 1 Penfolds Victoria Derby (2500m), the headline act of day one of the Carnival, after Mr Maestro cantered home to add the Listed ABC Bullion Super Impose Stakes (1800m) to his win in the Penfolds Victoria Derby Preview (1800m) under Damian Lane.
The Group 2 HQ Tavern Danehill Stakes (1100m) came to an epic conclusion as the unbeaten Giga Kick stamped himself as favourite for the Group 1 Coolmore Stud Stakes (1200m), just holding off Listed Poseidon Stakes (1100m) winner Buenos Noches to take the spoils.
The Clayton Douglas-trained Giga Kick, who was the first horse entered for the 2022 Melbourne Cup Carnival back in July, has now won all four starts and will aim to make it a perfect five when he contests the stallion-making race on Derby Day.
Should Giga Kick or Buenos Noches take out the Coolmore, they may be tempted to back up a week later in the Group 1 VRC Darley Champions Sprint (1200m) where they could face Group 2 Gilgai Stakes (1200m) winner Private Eye.
Having his first start down the straight, the Joe Pride-prepared Private Eye - a winner of the Epsom Handicap on this day last year - raced clear of Group 1 Yulong Stud Newmarket Handicap (1200m) victor Roch 'n' Horse and Queensland visitor Baller, who took out the Group 2 Bobbie Lewis Quality (1200m) over the straight six last start.
The two-year-olds also made their first appearance for the season in the Listed Darley Maribyrnong Trial Stakes (1000m), fittingly won by Godolphin colt Zulfiqar.
Main Image: Smokin' Romans (NZ) winning the Group 1 TAB Turnbull Stakes. (Pat Scala/Racing Photos)
System.Web.HttpException (0x80004005): Error executing child request for handler 'System.Web.Mvc.HttpHandlerUtil+ServerExecuteHttpHandlerAsyncWrapper'. ---> System.NullReferenceException: Object reference not set to an instance of an object.
   at ASP._Page_Views_Partials_googleAd_cshtml.Execute() in C:\home\site\wwwroot\Views\Partials\googleAd.cshtml:line 4
   at System.Web.WebPages.WebPageBase.ExecutePageHierarchy()
   at System.Web.Mvc.WebViewPage.ExecutePageHierarchy()
   at System.Web.WebPages.WebPageBase.ExecutePageHierarchy(WebPageContext pageContext, TextWriter writer, WebPageRenderingBase startPage)
   at System.Web.Mvc.RazorView.RenderView(ViewContext viewContext, TextWriter writer, Object instance)
   at System.Web.Mvc.BuildManagerCompiledView.Render(ViewContext viewContext, TextWriter writer)
   at Umbraco.Web.Mvc.ProfilingView.Render(ViewContext viewContext, TextWriter writer) in D:\a\1\s\src\Umbraco.Web\Mvc\ProfilingView.cs:line 25
   at System.Web.Mvc.ViewResultBase.ExecuteResult(ControllerContext context)
   at System.Web.Mvc.ControllerActionInvoker.InvokeActionResult(ControllerContext controllerContext, ActionResult actionResult)
   at System.Web.Mvc.ControllerActionInvoker.InvokeActionResultFilterRecursive(IList`1 filters, Int32 filterIndex, ResultExecutingContext preContext, ControllerContext controllerContext, ActionResult actionResult)
   at System.Web.Mvc.ControllerActionInvoker.InvokeActionResultFilterRecursive(IList`1 filters, Int32 filterIndex, ResultExecutingContext preContext, ControllerContext controllerContext, ActionResult actionResult)
   at System.Web.Mvc.ControllerActionInvoker.InvokeActionResultFilterRecursive(IList`1 filters, Int32 filterIndex, ResultExecutingContext preContext, ControllerContext controllerContext, ActionResult actionResult)
   at System.Web.Mvc.ControllerActionInvoker.InvokeActionResultFilterRecursive(IList`1 filters, Int32 filterIndex, ResultExecutingContext preContext, ControllerContext controllerContext, ActionResult actionResult)
   at System.Web.Mvc.ControllerActionInvoker.InvokeActionResultFilterRecursive(IList`1 filters, Int32 filterIndex, ResultExecutingContext preContext, ControllerContext controllerContext, ActionResult actionResult)
   at System.Web.Mvc.ControllerActionInvoker.InvokeActionResultWithFilters(ControllerContext controllerContext, IList`1 filters, ActionResult actionResult)
   at System.Web.Mvc.Async.AsyncControllerActionInvoker.<>c__DisplayClass3_6.<BeginInvokeAction>b__4()
   at System.Web.Mvc.Async.AsyncControllerActionInvoker.<>c__DisplayClass3_1.<BeginInvokeAction>b__1(IAsyncResult asyncResult)
   at System.Web.Mvc.Async.AsyncResultWrapper.WrappedAsyncResult`1.CallEndDelegate(IAsyncResult asyncResult)
   at System.Web.Mvc.Async.AsyncResultWrapper.WrappedAsyncResultBase`1.End()
   at System.Web.Mvc.Async.AsyncControllerActionInvoker.EndInvokeAction(IAsyncResult asyncResult)
   at System.Web.Mvc.Controller.<>c.<BeginExecuteCore>b__152_1(IAsyncResult asyncResult, ExecuteCoreState innerState)
   at System.Web.Mvc.Async.AsyncResultWrapper.WrappedAsyncVoid`1.CallEndDelegate(IAsyncResult asyncResult)
   at System.Web.Mvc.Async.AsyncResultWrapper.WrappedAsyncResultBase`1.End()
   at System.Web.Mvc.Controller.EndExecuteCore(IAsyncResult asyncResult)
   at System.Web.Mvc.Controller.<>c.<BeginExecute>b__151_2(IAsyncResult asyncResult, Controller controller)
   at System.Web.Mvc.Async.AsyncResultWrapper.WrappedAsyncVoid`1.CallEndDelegate(IAsyncResult asyncResult)
   at System.Web.Mvc.Async.AsyncResultWrapper.WrappedAsyncResultBase`1.End()
   at System.Web.Mvc.Controller.EndExecute(IAsyncResult asyncResult)
   at System.Web.Mvc.Controller.System.Web.Mvc.Async.IAsyncController.EndExecute(IAsyncResult asyncResult)
   at System.Web.Mvc.MvcHandler.<>c.<BeginProcessRequest>b__20_1(IAsyncResult asyncResult, ProcessRequestState innerState)
   at System.Web.Mvc.Async.AsyncResultWrapper.WrappedAsyncVoid`1.CallEndDelegate(IAsyncResult asyncResult)
   at System.Web.Mvc.Async.AsyncResultWrapper.WrappedAsyncResultBase`1.End()
   at System.Web.Mvc.MvcHandler.EndProcessRequest(IAsyncResult asyncResult)
   at System.Web.Mvc.MvcHandler.System.Web.IHttpAsyncHandler.EndProcessRequest(IAsyncResult result)
   at System.Web.Mvc.HttpHandlerUtil.ServerExecuteHttpHandlerAsyncWrapper.<>c__DisplayClass3_0.<EndProcessRequest>b__0()
   at System.Web.Mvc.HttpHandlerUtil.ServerExecuteHttpHandlerWrapper.<>c__DisplayClass5_0.<Wrap>b__0()
   at System.Web.Mvc.HttpHandlerUtil.ServerExecuteHttpHandlerWrapper.Wrap[TResult](Func`1 func)
   at System.Web.Mvc.HttpHandlerUtil.ServerExecuteHttpHandlerWrapper.Wrap(Action action)
   at System.Web.Mvc.HttpHandlerUtil.ServerExecuteHttpHandlerAsyncWrapper.EndProcessRequest(IAsyncResult result)
   at System.Web.HttpServerUtility.ExecuteInternal(IHttpHandler handler, TextWriter writer, Boolean preserveForm, Boolean setPreviousPage, VirtualPath path, VirtualPath filePath, String physPath, Exception error, String queryStringOverride)
   at System.Web.HttpServerUtility.ExecuteInternal(IHttpHandler handler, TextWriter writer, Boolean preserveForm, Boolean setPreviousPage, VirtualPath path, VirtualPath filePath, String physPath, Exception error, String queryStringOverride)
   at System.Web.HttpServerUtility.Execute(IHttpHandler handler, TextWriter writer, Boolean preserveForm, Boolean setPreviousPage)
   at System.Web.HttpServerUtility.Execute(IHttpHandler handler, TextWriter writer, Boolean preserveForm)
   at System.Web.HttpServerUtilityWrapper.Execute(IHttpHandler handler, TextWriter writer, Boolean preserveForm)
   at System.Web.Mvc.Html.ChildActionExtensions.ActionHelper(HtmlHelper htmlHelper, String actionName, String controllerName, RouteValueDictionary routeValues, TextWriter textWriter)
   at System.Web.Mvc.Html.ChildActionExtensions.Action(HtmlHelper htmlHelper, String actionName, String controllerName, RouteValueDictionary routeValues)
   at Our.Umbraco.DocTypeGridEditor.Web.Extensions.HtmlHelperExtensions.RenderDocTypeGridEditorItem(HtmlHelper helper, IPublishedElement content, String editorAlias, String viewPath, String previewViewPath, Boolean isPreview)
   at ASP._Page_app_plugins_doctypegrideditor_render_DocTypeGridEditor_cshtml.Execute() in C:\home\site\wwwroot\app_plugins\doctypegrideditor\render\DocTypeGridEditor.cshtml:line 34
   at System.Web.WebPages.WebPageBase.ExecutePageHierarchy()
   at System.Web.Mvc.WebViewPage.ExecutePageHierarchy()
   at System.Web.WebPages.WebPageBase.ExecutePageHierarchy(WebPageContext pageContext, TextWriter writer, WebPageRenderingBase startPage)
   at System.Web.Mvc.RazorView.RenderView(ViewContext viewContext, TextWriter writer, Object instance)
   at System.Web.Mvc.BuildManagerCompiledView.Render(ViewContext viewContext, TextWriter writer)
   at Umbraco.Web.Mvc.ProfilingView.Render(ViewContext viewContext, TextWriter writer) in D:\a\1\s\src\Umbraco.Web\Mvc\ProfilingView.cs:line 25
   at System.Web.Mvc.HtmlHelper.RenderPartialInternal(String partialViewName, ViewDataDictionary viewData, Object model, TextWriter writer, ViewEngineCollection viewEngineCollection)
   at System.Web.Mvc.Html.PartialExtensions.Partial(HtmlHelper htmlHelper, String partialViewName, Object model, ViewDataDictionary viewData)
   at System.Web.Mvc.Html.PartialExtensions.Partial(HtmlHelper htmlHelper, String partialViewName, Object model)
   at ASP._Page_Views_Partials_grid_editors_Base_cshtml.Execute() in C:\home\site\wwwroot\Views\Partials\grid\editors\Base.cshtml:line 20