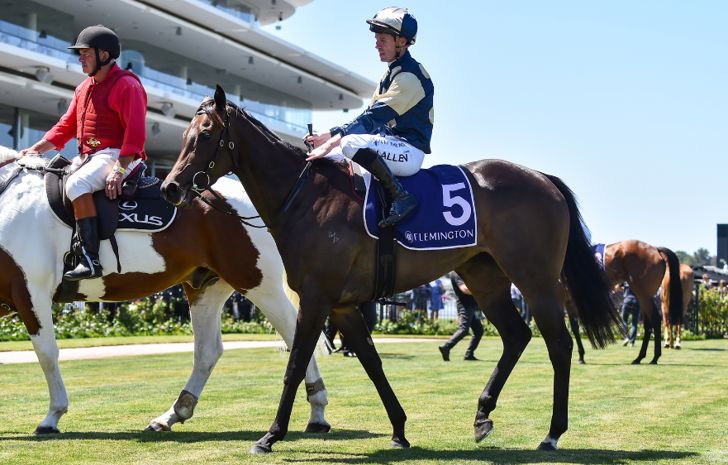 Allen springs into action
19 September 2023
•
Written by
Michael Sharkie
Spring racing has begun and preparations are in full swing. All jockeys prepare for this time of year differently, and for John Allen, it's all about the horse and trainer.
There is still an element of disbelief in John Allen's voice when asked if he is looking forward to the Spring Carnival. The answer is inevitable, a resounding yes, and the smile on his face is nearly audible over the phone, even in the depths of a Melbourne winter.
Allen was never supposed to be a household name, in racing households anyway. When he answered an advertisement in an English racing paper looking for jumps jockeys willing to move to Australia, he figured it would be a short-term adventure if nothing else, a chance to see Australia.
Fast track 11 years and Allen has become a fixture on the riders list in Group races all around the country, and something of a Derby King given his prowess aboard young thoroughbreds over classic distances.
With the recent South Australian Oaks aboard Affaire A Suivre in the bag, Allen can boast a whopping 12 Derby and Oaks victories around Australia, two Victoria Derby triumphs at Flemington (Hitotsu, Extra Brut), two Australian Derbies (Hitotsu, Explosive Jack) four South Australian Derbies and one South Australian Oaks, two Tasmanian Derbys, and one Queensland Derby.
Allen's is a truly phenomenal record.
So, with an eye to the Spring Carnival, the Derby, the Oaks, and of course the Cups, Allen has cause to be optimistic.
"I suppose I've been lucky enough to get on the right horses at the right time, I do like those staying races though they suit my style," he said.
"Personally, I don't like putting pressure on early in distance races, especially with young horses going out over a distance. I like to let them get comfortable and relax, we find a place when things settle and then you trust your horse and its rhythm. I don't mind if I'm three wide with some cover, I just want that horse travelling well.
"That's how we learned to ride at home, you let them find their feet, it's just something I've always done."
Allen owes much of his achievement to the trainers he has worked alongside, with whom he enjoyed much success. That confidence has been continued on though by some of the biggest stables in the country, namely Ciaron Maher and David Eustace with the trio combining for nine Group 1 wins since 2019.
"That's a big part of it, riding for the right trainers and I've been so lucky to have ridden for trainers that get their horses spot on for those big races," Allen said.
"Ciaron and David, they're buying strength in numbers and they have a good mix of local and imported horses coming through. We've had some good luck together and there is definitely a great respect for each other, horses like Hitotsu and Explosive Jack have given me some of my favourite moments. it's about finding that next one."
And that search is never ending, for without a designated off-season, a good horse can bob up anywhere and often when least expected.
"Hitotsu is a good example. He was really only playing around as a two-year-old but he showed a little something, didn't he? I went to Donald one Sunday to ride him in maiden last spring, and two runs later we win the Derby at Flemington. Plenty of good horses come out of the winter or from those country tracks. You've got to be out there riding the work to find them."
Preparation then for Allen doesn't come in the form of long gym sessions or psychological training, it comes from time spent in the saddle at track work or on race day, doing his bit to support the stables that support him, knowing that the talent of those trainers will eventually present another opportunity on a good horse.
It helps though to have people with an eye for a good horse and given the international appeal of the Spring Carnival, a pair of eyes overseas is very helpful indeed.
"I'm lucky that I've got some good friends in good stables in Ireland and the UK, and of course, they keep an eye on things and let me know about any candidates that might be on the radar for a trip to Melbourne," he said.
It certainly helped when it came to securing the ride on the 2021 Cox Plate winner State Of Rest.
"When you're talking about races like the Melbourne Cup the international horses have the strength and quality. If I can get a bit of an inside word on a horse heading this way, I'm going to take it seriously."
Flemington and Melbourne Cup week present its own set of challenges, let alone finding the right rides for the Group 1 races. 
"The pressure goes up that's for sure. It's the one week of the year that the eyes of the racing world are in one place. You've got to keep a cool head," Allen said.
And when the stars align for a Cup Week victory there is no better place to be than on the back of a winner being led back to scale along the famous Flemington roses.
"There's nothing better than to soak up that atmosphere, it's fantastic. The crowd is right up close, they get involved and you get a good reception, they give you and the horse a proper cheer.
"I've been on the end of a bit of Irish craic from the punters, the lads with a few beers telling you how it all went, it's all fun, but maybe not so much if you're coming in on a beaten favourite!"