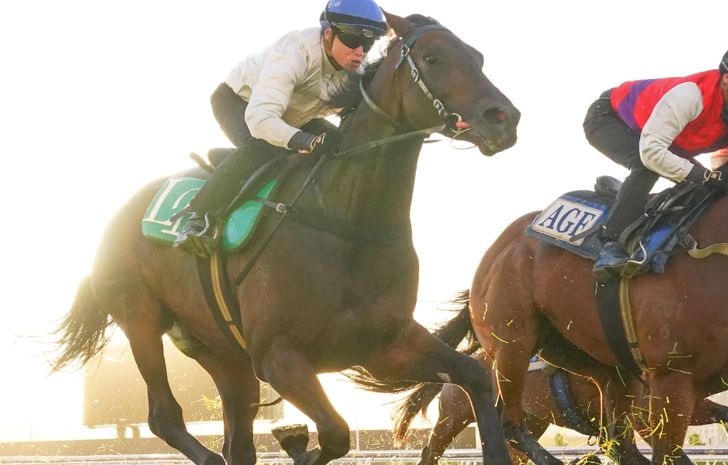 The brightside of trackwork
16 September 2023
•
Written by
Danny Russell
In the early morning hours, when most people are still asleep, dedicated riders are already at the race track, preparing the horses for their training sessions. This is the world of Sarah Fannin and Daniel Weidenbach, two track riders who share the joys and challenges of their chosen profession. They are also very well-acquainted with a certain six-year-old gelding called Mr Brightside. The star galloper will attempt to win five in a row when he features in the Group 1 Makybe Diva Stakes (1600m) on Sofitel Girls' Day Out.
Lindsay Park track rider Sarah Fannin had set out for an early morning lap in August 2021 on Mr Brightside when he suddenly "put on the brakes and spun around," throwing her from the saddle. To make things worse, the bay gelding took off – in the wrong direction.
"I remember the (Hayes) boys weren't upset, but they were anxious," Fannin recalled. Mr Brightside disappeared around a bend and the potential for disaster was evident; he was a riderless thoroughbred careering headlong into equine traffic.
Thankfully, like Fannin, the horse was unscathed.
"He cantered a lap without me. I just got back on him and walked him home, as he had done the work he was meant to do," Fannin said. 
Three days later, Mr Brightside won at Sandown – his third straight victory in Australia. Fannin felt both relieved and thrilled. Welcome to the life of a track rider.
"Most of our life revolves around work," Fannin said.
"There is no better feeling than working with a horse and seeing them produce on race day." 
Track riders are among the unsung heroes of the racing industry. Without them, training regimes would grind to a halt. They are essential to the daily work and education of highly strung thoroughbreds, ensuring that they are ready and fit to race.
Fannin, 25, has a psychology degree but grew up riding show-jumping horses and moved to Australia from New Zealand at the end of 2019 to take up work with Lindsay Park. She has made a considerable impact in a short amount of time. She now works as a stable foreman and travels their horses nationwide, including a nine-week stint with Gentleman Roy, Excelida and Lady Of Honour at Eagle Farm during this year's Queensland carnival.
"I have put my psychology degree on the back burner for now," Fannin said. "I have a very good job over here, and I can't see myself doing anything else for the near future."
Fannin said the life of a track rider is fulfilling, if a little "tricky".
She rises in the dead of night to be at the track by 4am but said the beauty of Flemington is being able to watch the Melbourne skyline appear in the dawn light each morning. She has made many good friends in the industry, as regular social hours are limited.
Daniel Weidenbach, 23, is another track rider fully attuned to the job's highs and lows. He, too, grew up riding horses and has a degree – a Bachelor of Paramedicine.
He joined Lindsay Park not long after high school and, after several years with the Hayes family operation, recently started part-time at Mike Moroney's Ballymore stables. He rides 10 to 12 horses each morning.
"Physically, you have to be extremely fit to be able to ride that amount of horses and not be sore," Weidenbach said.
"You have to be disciplined and set in a routine of going to bed, eating right and looking after yourself so you can do your job.
"You don't spend a lot of time in the limelight. You do all of the work in the dark of the morning. But if there isn't someone hands-on doing the riding, taking training instructions, well, the horses can't be trained."
Fannin agrees. She said good track riders are invaluable for trainers.
"Most track work riders can jump on and ride a gallop to a certain time, but to be able to come back and report to the trainer the horse felt a certain way, or its action was good, or it was doing something that it wouldn't normally do – just to be able to pick those things up – it really helps."
Weidenbach said his favourite part of the job is educating young horses. "Teaching them how to get quicker, how to go through the barriers, how to work with friends and go forward and sit behind and do all those things they need to know for a race day when a jockey gets on".
"Being able to see the horse learn something every single day, seeing them improve – that's the best part of it." 
Fannin and Weidenbach both nominate Mr Brightside as the best horse they have sat on during their time at Lindsay Park. Not that his Group 1 ability was always evident.
"With Mr Brightside, I was riding him before he had raced over here (he had had one start in NZ), and honestly, he was a pretty average track worker. So I didn't really think much of him," Fannin said.
"He didn't tow you around in his gallops or anything, so you never really thought, 'Oh, wow'. But when he started to put a few together, we thought he was pretty special. He obviously has a very big motor and a very big heart."
It isn't always the best horses that leave the biggest impression, however.
"If I were to name my favourite horse, it would be Aysar," Weidnbach said. "He gave me a lot of trouble. He was a real pain. Very difficult to handle and very difficult to ride, but I did have a bit of an attachment to him – he was a real character, quite a special horse. He is now a stud stallion so I look forward to possibly riding his progeny in the future."