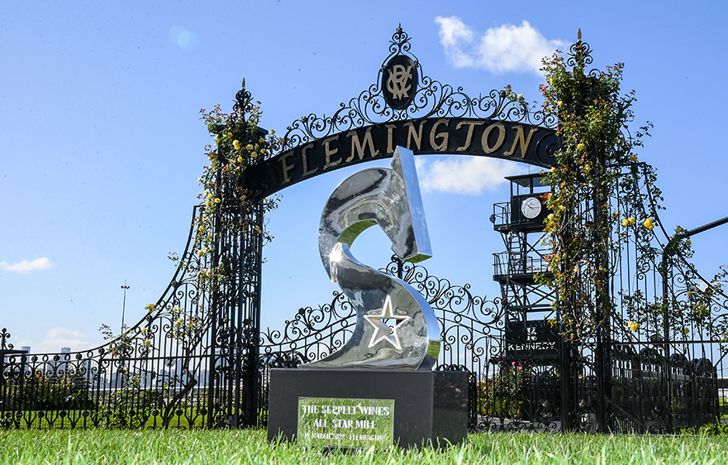 Barriers drawn for world's richest mile race
15 March 2022
•
Written by
VRC
Big names across racing, sport and entertainment decided the final piece of The Seppelt Wines All-Star Mile puzzle when barriers were drawn today at Flemington Racecourse, host of the $5 million race on Saturday, 19 March.
Fifteen horses will compete in the world's richest mile race at 3:40pm (AEDT) on Saturday, with race favourite Zaaki drawing the outside barrier of 15.
Zaaki's trainer Annabel Neasham was trackside for the event, alongside a host of other racing personalities including trainer of TAB second favourite I'm Thunderstuck, Mick Price, whose representative drew the inside barrier (one), plus trainer of Pinstriped (barrier eight) Enver Jusufovic, and trainer of Sierra Sue (barrier 13) Trent Busuttin.
"Zaaki drew the inside last time which didn't suit him, he's a horse that needs a lot of room, so I did say I wish I'd drawn the outside gate rather than the inside gate," Neasham said.
"It gives him a bit of time and I think we have the best jockey on board in Jamie Kah. I still believe a mile is his best trip and I can't wait to see him at a mile around the greatest track that we've got in Australia."
Of the inside gate, Price said: "You have to cross your fingers and hope it works. If it works, great, but I have to say that I'm a bit nervous about it. From there, Jye [McNeil]'s job will be to get off the fence and follow the right horse. He's a popular horse and I think he's pretty spot on for this race. I think it's a great concept and it's only going to get better year after year, so we would love to go down in the early history of the race as a winner."
Last time The Seppelt Wines All-Star Mile was at Flemington in its inaugural year in 2019, the winner Mystic Journey came through the Australian Guineas. Runner-up Lightsaber (barrier 12) and fifth-placed Pinstriped will be joined by Group 1 winner Captivant (barrier 11), with newly-minted Group 1-winning rider Patrick Moloney looking to add his second feature of the week.
Jusufovic will be looking for the biggest payday of his career with Pinstriped, who won the Group 3 C S Hayes Stakes (1400m) at Flemington before tasting defeat for the first time in a luckless Australian Guineas performance. "He's just got that X-factor – every time that I've stepped him up, he's delivered," Jusufovic said.
"He was unlucky in the Guineas – I'm not sure whether he would have won or not, no one will ever know – but I believe he's going to be an imposing horse in the future and I'm grateful that the wildcard selectors had the foresight to see that. It would mean so much to win – I'd have enough money to get a new wardrobe!
"But it would be great just to get the respect of the industry, I've been around for a long time and many know of me but not a lot about me. And to have a horse of this calibre and to get him running to his ability, that means a lot in itself."
Flemington-trained mares Inspirational Girl and Tofane, who shape as leading contenders after their respective wins in the Group 2 TAB Blamey Stakes (1600m) and the Group 1 C F Orr Stakes (1400m), both drew well in gates four and seven.
Racegoers at Flemington on Saturday will be cheering for Lightsaber after the Peter Moody-trained colt drew barrier 12, with Luke Nolen retaining the ride.
Anyone who attends Flemington on Saturday and scans the QR code before 1:40pm goes into the running to become Lightsaber's owner ambassador. The lucky patron will receive a share of the prize pool, depending on where Lightsaber finishes, with up to $250,000 on offer. Terms and conditions apply.
The Seppelt Wines All-Star Mile Ambassadors, including actress Tammin Sursok, model Ruby Brownless, and AFL stars Josh Dunkley and Clayton Oliver, were also at Headquarters to celebrate the event just four days out from what promises to be an exceptional conclusion to the Flemington Racing Spectacular at Australia's premier racecourse.
VRC Chief Executive Officer Steve Rosich said that Saturday's The Seppelt Wines All-Star Mile Race Day was an appropriate conclusion to the Flemington Racing Spectacular.
"Flemington is the perfect venue for The Seppelt Wines All-Star Mile and we are thrilled to welcome the race back to Headquarters," Mr Rosich said.
"This year's field is as strong as the race has seen, with ten Group 1 winners and the earners of a combined $30 million set to line up. It is a race for all-comers, with horses boasting Group 1 wins in Victoria, New South Wales, Queensland, Western Australia and New Zealand.
"It will be a fitting finale to the Flemington Racing Spectacular, which has already seen two great race days with incredible action on and off the track. And for one lucky racegoer this Saturday, there will be the opportunity to act as the owner ambassador for Lightsaber with up to $250,000 up for grabs."
Racing Victoria's Executive General Manager – Racing, Greg Carpenter said the line-up for this year's race was exceptional.
"With 10 Group 1 winners in the field and a trio of high-class three-year-olds who will inject plenty of excitement into the contest, we're delighted with the line-up for the fourth edition of The Seppelt Wines All-Star Mile," Mr Carpenter said.
"The barrier draw has added even further intrigue to the race, with hot favourite Zaaki and second favourite I'm Thunderstruck kept well apart in gates 15 and one respectively. 
"Of the leading contenders, the connections of Group 1-winning mares Inspirational Girl and Tofane will be particularly happy with their draws, whilst barrier eight gives Pinstriped every opportunity to build into the race and use his explosive finish.
"All roads now lead to Flemington on Saturday, when we look forward to crowning the fourth winner of the world's richest mile race and handing out a cheque for $250,000 to the winning Owner Ambassador." 
Racegoers can pre-purchase tickets to The Seppelt Wines All-Star Mile Race Day via Ticketek.com.au with prices starting at $20 per person for general admission tickets.
The final field, with the complete barrier draw, can be found here.
THE SEPPELT WINES ALL-STAR MILE FINAL FIELD
| | | | |
| --- | --- | --- | --- |
| Horse | Trainer | Jockey | Barrier |
| I'm Thunderstruck | Mick Price & Michael Kent Jnr | Jye McNeil | 1 |
| Mr Brightside | Ben & JD Hayes | Craig Williams | 2 |
| Streets Of Avalon | Shane Nichols | Zac Spain | 3 |
| Inspirational Girl | Danny O'Brien | Damian Lane | 4 |
| King Magnus | Robbie Griffiths & Mathew de Kock | Lachlan King | 5 |
| Cascadian | James Cummings | James Cummings | 6 |
| Tofane | Michael Moroney | Jamie Mott | 7 |
| Pinstriped | Enver Jusufovic | Michael Dee | 8 |
| Icebath | Brad Widdup | Fred Kersley | 9 |
| Callsign Mav | Danny O'Brien | Danny O'Brien | 10 |
| Captivant | Peter & Paul Snowden | Patrick Moloney | 11 |
| Lightsaber | Peter Moody | Luke Nolen | 12 |
| Sierra Sue | Trent Busuttin & Natalie Young | John Allen | 13 |
| Lunar Fox | Paul Preusker | Craig Newitt | 14 |
| Zaaki | Annabel Neasham | Jamie Kah | 15 |
System.Web.HttpException (0x80004005): Error executing child request for handler 'System.Web.Mvc.HttpHandlerUtil+ServerExecuteHttpHandlerAsyncWrapper'. ---> System.NullReferenceException: Object reference not set to an instance of an object.
   at ASP._Page_Views_Partials_googleAd_cshtml.Execute() in C:\home\site\wwwroot\Views\Partials\googleAd.cshtml:line 4
   at System.Web.WebPages.WebPageBase.ExecutePageHierarchy()
   at System.Web.Mvc.WebViewPage.ExecutePageHierarchy()
   at System.Web.WebPages.WebPageBase.ExecutePageHierarchy(WebPageContext pageContext, TextWriter writer, WebPageRenderingBase startPage)
   at System.Web.Mvc.RazorView.RenderView(ViewContext viewContext, TextWriter writer, Object instance)
   at System.Web.Mvc.BuildManagerCompiledView.Render(ViewContext viewContext, TextWriter writer)
   at Umbraco.Web.Mvc.ProfilingView.Render(ViewContext viewContext, TextWriter writer) in D:\a\1\s\src\Umbraco.Web\Mvc\ProfilingView.cs:line 25
   at System.Web.Mvc.ViewResultBase.ExecuteResult(ControllerContext context)
   at System.Web.Mvc.ControllerActionInvoker.InvokeActionResult(ControllerContext controllerContext, ActionResult actionResult)
   at System.Web.Mvc.ControllerActionInvoker.InvokeActionResultFilterRecursive(IList`1 filters, Int32 filterIndex, ResultExecutingContext preContext, ControllerContext controllerContext, ActionResult actionResult)
   at System.Web.Mvc.ControllerActionInvoker.InvokeActionResultFilterRecursive(IList`1 filters, Int32 filterIndex, ResultExecutingContext preContext, ControllerContext controllerContext, ActionResult actionResult)
   at System.Web.Mvc.ControllerActionInvoker.InvokeActionResultFilterRecursive(IList`1 filters, Int32 filterIndex, ResultExecutingContext preContext, ControllerContext controllerContext, ActionResult actionResult)
   at System.Web.Mvc.ControllerActionInvoker.InvokeActionResultFilterRecursive(IList`1 filters, Int32 filterIndex, ResultExecutingContext preContext, ControllerContext controllerContext, ActionResult actionResult)
   at System.Web.Mvc.ControllerActionInvoker.InvokeActionResultFilterRecursive(IList`1 filters, Int32 filterIndex, ResultExecutingContext preContext, ControllerContext controllerContext, ActionResult actionResult)
   at System.Web.Mvc.ControllerActionInvoker.InvokeActionResultWithFilters(ControllerContext controllerContext, IList`1 filters, ActionResult actionResult)
   at System.Web.Mvc.Async.AsyncControllerActionInvoker.<>c__DisplayClass3_6.<BeginInvokeAction>b__4()
   at System.Web.Mvc.Async.AsyncControllerActionInvoker.<>c__DisplayClass3_1.<BeginInvokeAction>b__1(IAsyncResult asyncResult)
   at System.Web.Mvc.Async.AsyncResultWrapper.WrappedAsyncResult`1.CallEndDelegate(IAsyncResult asyncResult)
   at System.Web.Mvc.Async.AsyncResultWrapper.WrappedAsyncResultBase`1.End()
   at System.Web.Mvc.Async.AsyncControllerActionInvoker.EndInvokeAction(IAsyncResult asyncResult)
   at System.Web.Mvc.Controller.<>c.<BeginExecuteCore>b__152_1(IAsyncResult asyncResult, ExecuteCoreState innerState)
   at System.Web.Mvc.Async.AsyncResultWrapper.WrappedAsyncVoid`1.CallEndDelegate(IAsyncResult asyncResult)
   at System.Web.Mvc.Async.AsyncResultWrapper.WrappedAsyncResultBase`1.End()
   at System.Web.Mvc.Controller.EndExecuteCore(IAsyncResult asyncResult)
   at System.Web.Mvc.Controller.<>c.<BeginExecute>b__151_2(IAsyncResult asyncResult, Controller controller)
   at System.Web.Mvc.Async.AsyncResultWrapper.WrappedAsyncVoid`1.CallEndDelegate(IAsyncResult asyncResult)
   at System.Web.Mvc.Async.AsyncResultWrapper.WrappedAsyncResultBase`1.End()
   at System.Web.Mvc.Controller.EndExecute(IAsyncResult asyncResult)
   at System.Web.Mvc.Controller.System.Web.Mvc.Async.IAsyncController.EndExecute(IAsyncResult asyncResult)
   at System.Web.Mvc.MvcHandler.<>c.<BeginProcessRequest>b__20_1(IAsyncResult asyncResult, ProcessRequestState innerState)
   at System.Web.Mvc.Async.AsyncResultWrapper.WrappedAsyncVoid`1.CallEndDelegate(IAsyncResult asyncResult)
   at System.Web.Mvc.Async.AsyncResultWrapper.WrappedAsyncResultBase`1.End()
   at System.Web.Mvc.MvcHandler.EndProcessRequest(IAsyncResult asyncResult)
   at System.Web.Mvc.MvcHandler.System.Web.IHttpAsyncHandler.EndProcessRequest(IAsyncResult result)
   at System.Web.Mvc.HttpHandlerUtil.ServerExecuteHttpHandlerAsyncWrapper.<>c__DisplayClass3_0.<EndProcessRequest>b__0()
   at System.Web.Mvc.HttpHandlerUtil.ServerExecuteHttpHandlerWrapper.<>c__DisplayClass5_0.<Wrap>b__0()
   at System.Web.Mvc.HttpHandlerUtil.ServerExecuteHttpHandlerWrapper.Wrap[TResult](Func`1 func)
   at System.Web.Mvc.HttpHandlerUtil.ServerExecuteHttpHandlerWrapper.Wrap(Action action)
   at System.Web.Mvc.HttpHandlerUtil.ServerExecuteHttpHandlerAsyncWrapper.EndProcessRequest(IAsyncResult result)
   at System.Web.HttpServerUtility.ExecuteInternal(IHttpHandler handler, TextWriter writer, Boolean preserveForm, Boolean setPreviousPage, VirtualPath path, VirtualPath filePath, String physPath, Exception error, String queryStringOverride)
   at System.Web.HttpServerUtility.ExecuteInternal(IHttpHandler handler, TextWriter writer, Boolean preserveForm, Boolean setPreviousPage, VirtualPath path, VirtualPath filePath, String physPath, Exception error, String queryStringOverride)
   at System.Web.HttpServerUtility.Execute(IHttpHandler handler, TextWriter writer, Boolean preserveForm, Boolean setPreviousPage)
   at System.Web.HttpServerUtility.Execute(IHttpHandler handler, TextWriter writer, Boolean preserveForm)
   at System.Web.HttpServerUtilityWrapper.Execute(IHttpHandler handler, TextWriter writer, Boolean preserveForm)
   at System.Web.Mvc.Html.ChildActionExtensions.ActionHelper(HtmlHelper htmlHelper, String actionName, String controllerName, RouteValueDictionary routeValues, TextWriter textWriter)
   at System.Web.Mvc.Html.ChildActionExtensions.Action(HtmlHelper htmlHelper, String actionName, String controllerName, RouteValueDictionary routeValues)
   at Our.Umbraco.DocTypeGridEditor.Web.Extensions.HtmlHelperExtensions.RenderDocTypeGridEditorItem(HtmlHelper helper, IPublishedElement content, String editorAlias, String viewPath, String previewViewPath, Boolean isPreview)
   at ASP._Page_app_plugins_doctypegrideditor_render_DocTypeGridEditor_cshtml.Execute() in C:\home\site\wwwroot\app_plugins\doctypegrideditor\render\DocTypeGridEditor.cshtml:line 34
   at System.Web.WebPages.WebPageBase.ExecutePageHierarchy()
   at System.Web.Mvc.WebViewPage.ExecutePageHierarchy()
   at System.Web.WebPages.WebPageBase.ExecutePageHierarchy(WebPageContext pageContext, TextWriter writer, WebPageRenderingBase startPage)
   at System.Web.Mvc.RazorView.RenderView(ViewContext viewContext, TextWriter writer, Object instance)
   at System.Web.Mvc.BuildManagerCompiledView.Render(ViewContext viewContext, TextWriter writer)
   at Umbraco.Web.Mvc.ProfilingView.Render(ViewContext viewContext, TextWriter writer) in D:\a\1\s\src\Umbraco.Web\Mvc\ProfilingView.cs:line 25
   at System.Web.Mvc.HtmlHelper.RenderPartialInternal(String partialViewName, ViewDataDictionary viewData, Object model, TextWriter writer, ViewEngineCollection viewEngineCollection)
   at System.Web.Mvc.Html.PartialExtensions.Partial(HtmlHelper htmlHelper, String partialViewName, Object model, ViewDataDictionary viewData)
   at System.Web.Mvc.Html.PartialExtensions.Partial(HtmlHelper htmlHelper, String partialViewName, Object model)
   at ASP._Page_Views_Partials_grid_editors_Base_cshtml.Execute() in C:\home\site\wwwroot\Views\Partials\grid\editors\Base.cshtml:line 20