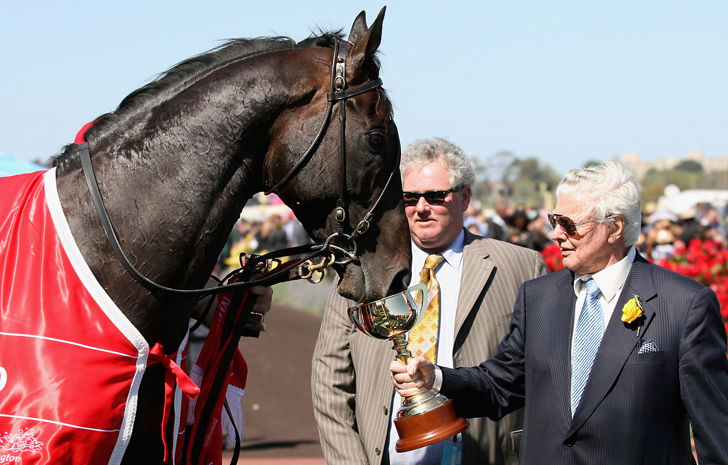 Bart Cummings: The King of Cups
4 October 2023
•
Written by
VRC
The 2008 Melbourne Cup was full of surprises, and a crowd of 107,280 was on hand to witness it. But for master trainer Bart Cummings, winning Australia's greatest race was simply continuing a long-time habit.
Just when you think you'd seen it all in the Melbourne Cup, there was Bart.
Bart and his 12 Cups and 250 Group 1 victories. Bart, with his white wavy hair and bushy eyebrows, winning one for all the octogenarians and, if you believe the publicity, winning one for all of Australia. Bart, doing something so utterly unfathomable with Viewed that, no matter what horse you backed – runner-up Bauer included – you just shook your head in awe at the genius of it all.
Indeed, it was a Cup that defied the odds in more ways than one. A race thatcame perilously close, in the aftermath of the equine influenza quarantine inquiry, to having no international representation at all. Then, when they came, they came in numbers.
Nine of them, including All The Good, who would give Godolphin its first Australian Group 1 winner in the Caulfield Cup and have everyone talking about how the internationals would dominate the Melbourne Cup as never before.
Never mind that All The Good and Yellowstone had fallen by the wayside before the big day – there were still seven into the barriers, including the favourite Mad Rush, the world's highest-ranked stayer Septimus and Dermot Weld's streetcorner tip Profound Beauty. On Cup Eve, one of the daily newspapers even ran a front page story asking if an Australian horse would ever win the Cup again.
Bart declared that the internationals had such an advantage through their staying bloodlines. But in the end, it was Bart and his home-bred, five-year-old stallion Viewed, bursting clear from the pack half way up the straight and then holding off a late challenge from one of the internationals, a game little battler in Bauer, whose rump was in front of Viewed's on the line – but not his nose.
Although Viewed drifted from $31 to $41, with the minor placegetters Bauer and C'Est La Guerre both starting at $21, there was a buzz after the race which only accompanies a memorable and thrilling victory.
When the photo finish was decided by the judge, the television cameras, the radio microphones and the newspaper tape recorders were thrust in Bart's face and stayed with him as he made his way down the steps of the mounting yard.
Damien Oliver's victory salute on Media Puzzle in 2002 provided probably the most poignant image in the history of the great race. And Makybe Diva's third victory in 2005 was an historic occasion that we all rejoiced in seeing – because we all knew we would probably never see it again.
This one, Bart's 12th, was different because the celebration was less about the circumstance or the moment. It was all about the man.
He was indefatigable. In his eighties he was still doing things people in their 50s find too demanding – like rising before dawn, staying on your feet all day at the track, sparring with the media, celebrating at night and doing it all over again the next day and the next.
There's an argument to suggest that Bart's last two Cup winners were his greatest training feats. Rogan Josh (1999), which he improved from a moderate WA galloper to a weight-for-age Mackinnon Stakes and Melbourne Cup victor, and Viewed which missed a vital lead-up run in the week before the Caulfield Cup and had been all but forgotten by the bookies.
In getting Viewed to the barrier 'trained to the minute', Bart reinforced his genius. He later quipped at the presentation speech that someone had noted he made a habit of having his horses primed for the first Tuesday of November. "I said it was a good habit to get into."
The Cups King's one-liners took on a life of their own over the years, but he didn't have the best one at the presentations. That honour belonged – accidentally – to winning jockey Blake Shinn who was so overcome by the occasion that he jumbled his cliche. 'I'd like to thank my friends," he said. "They know who I am."
Shinn's enthusiasm for victory sometimes won him the wrath of stewards but his talent has never been in question. At 21, he already had a Scobie Breasley Medal and a Melbourne Cup and his pedigree as a horseman shone through with his heartfelt thanks to Viewed for the triumph they shared. From a line of famous harness racing reinsmen and thoroughbred jockeys, Shinn was raised by mother Carol and
stepfather Lee Hope, both of whom earned an emotional tribute from him.
"I'd like to thank my friends, they know who I am."
Completing the recipients at the presentation ceremony was Viewed's owner, Dato Tan Chin Nam, a long-time friend of Bart and four-time winning Cup owner.
Beginning with Think Big in 1974 and 1975, he added Cup number three with Saintly in 1996 then paid $50,000 for Viewed as a yearling after his racing adviser Duncan Ramage picked him out of a paddock. For a while, it looked like the young stayer by Scenic would be sold to Hong Kong but, after he scored two wins at Rosehill, Chin Nam decided against selling.
Bart and Chin Nam joked their way through an entertaining press conference in which the owner accused the trainer of having "long pockets and short arms". Bart told of how they once played two-up and Chin Nam had a winning streak of 10 tosses in a row. "I thought I'd better stick with this bloke, he's lucky," he said.
Meanwhile, the true measure of Bart's dozen was being explained, not by the victors but the vanquished. The internationals, Aidan O'Brien, Dermot Weld and Luca Cumani, were fulsome in their praise of the great trainer's feat, as were Bauer's part-owners, Terry Henderson and Simon O'Donnell, whose OTI syndicate masterminded the trip from the northern hemisphere and was established with the
purpose of producing Cup runners.
O'Donnell took heart from a losing margin – officially 0.1 of a length – that many would find heartbreaking. "It shows us that we are on the right track but it also shows how hard this race is to win," he said at the time. "And to think Bart won 12 of them. Incredible."