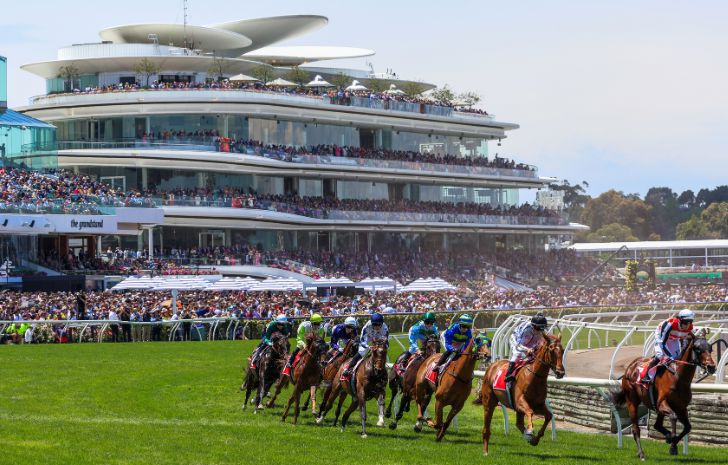 Biggest Melbourne Cup Carnival in years sees increased focus on Australia's premier racing event
13 November 2023
•
Written by
VRC
Flemington Racecourse has hosted the biggest four days in Australian racing, with the Melbourne Cup Carnival being enjoyed by more than 262,000 fans at the track and millions more via broadcast and digital channels, all engaging in the world's most vibrant horse racing event.
The Victoria Racing Club (VRC) welcomed a total of 262,165 racegoers to Flemington across the four race days, a 7.5% increase on 2022, attracting strong audience numbers on Network 10 and setting records for audiences on digital and social media platforms.
VRC Chairman Neil Wilson said the 2023 Carnival had been a huge success both on and off the track.
"The Melbourne Cup Carnival once again captivated the city of Melbourne, drawing tens of thousands to the state of Victoria and shining a light on the horses, trainers and jockeys that make Cup Week so magical," Mr Wilson said.
"There are so many unique touchpoints across the Melbourne Cup Carnival which include everything from our week of world class racing to the role we have as part of Victoria's Major Event portfolio. The racing, fashion, food and entertainment combine to create a truly unique engagement with people at home and abroad.
"The appetite for major events is well and truly back, and increased attendance across all four days of Cup Week, growth in the free to air audience for the Lexus Melbourne Cup and record digital and social media engagement with the race indicates that the Melbourne Cup Carnival was once again extremely popular across a wide-ranging audience."
The Lexus Melbourne Cup remains the only 'race that stops a nation'™ and in its 163rd year, recorded its largest ever live stream audience, averaging 206,000 views. It was also 10 Play's most watched live stream ever.
The Lexus Melbourne Cup was watched by more than 2.4 million viewers nationally on Channel 10, 10 Play, TAB, Racing.com and other platforms, with 10 Play's total live stream audience increasing 35% on 2022. More than 1.68 million people tuned in to Network 10's free to air coverage of the Lexus Melbourne Cup, an increase of 12% year on year.
The Lexus Melbourne Cup was the jewel in the crown of the Cup Week racing program, which saw 441 horses compete in 37 races, representing an average field size of almost 12 runners. The four days, which offered more than $30 million in prize money, featured 25 different winning trainers and 18 separate riders enjoying victory.
The highlight was Without A Fight's win in the Lexus Melbourne Cup, becoming the first horse in 22 years to win the Caulfield and Melbourne Cup and giving Mark Zahra back-to-back wins in Australia's most iconic race.
The Lexus Melbourne Cup was broadcast to around 209 countries with a global audience of approximately 750 million and was also broadcast on 369 radio stations across Australia.
"The Melbourne Cup Carnival has never been more accessible and readily available to view as racing from Flemington continues to be streamed across an increasing number of digital channels outside of traditional free-to-air," Mr Wilson said.
The external content was supported by VRC's social media platforms which saw 33 million impressions across various channels, a 60% growth on 2022 and 13 million video views a significant increase of 160% year-on-year.  
Viewership of editorial content on vrc.com.au has seen a 550% increase, with the quality and quantity of content providing a mix of informative and unique storytelling across racing, fashion, hospitality, and entertainment.
At the track, racegoers enjoyed a premium selection of the food that Melbourne is famous for. Across four days, the Carnival served 20,000 chicken sandwiches, half a tonne of lobster, 400 dozen oysters and more than 8000 scones. 
Racegoers celebrated with more than 12,800 bottles of G.H.Mumm, more than 14,000 bottles of wine and more than 20,000 cups of coffee.  
Mr Wilson said the Melbourne Cup Carnival is extremely important to Victoria, with approximately 16,000 jobs again created in 2023. Last year the event generated $422.1 million in gross economic benefit, a figure which is expected to be exceeded by this year's Carnival when final numbers are compiled over coming months.
Minister for Racing Anthony Carbines emphasized the importance of the Melbourne Cup Carnival to Victoria.
"The Melbourne Cup Carnival continues to be the jewel in the crown of Melbourne's major events calendar and makes a massive contribution to Victoria not just economically but to our social and cultural life as well," Minister Carbines said.
"It was great to see the crowds flocking back to Flemington, with increased attendances across all four days and over 260,000 all up, this really was another carnival to remember."
The Melbourne Cup Carnival has helped raise a significant amount for the community, with this year's Carnival's Pin & Win campaign raising more than $535,000 for the Australian Childhood Foundation.
This brings the total amount raised for the Australian Childhood Foundation to more than $1 million over the past two years. The Australian Childhood Foundation was not the only charity to be supported over the Melbourne Cup Carnival, with funds raised from the event for the Good Friday Appeal on Kennedy Oaks Day and Victorian Branch of the Returned & Services League of Australia (RSL Australia) through poppy lapel pin sales for Remembrance Day, which coincided with TAB Champions Stakes Day.
"The Melbourne Cup Carnival Pin & Win campaign has raised nearly $8 million since its inception in 1995 and to have exceeded $1 million for the Australian Childhood Foundation in the last two years is incredible. We thank everyone who purchased a pin for their generosity," Mr Wilson said.
Floral arrangements from the Melbourne Cup Carnival were donated to the Royal Melbourne Hospital, while the VRC is also partnering with Cirka and Superyard on an innovative new initiative this year to redistribute reusable materials from temporary event structures to community organisations across Melbourne and the wider Victorian region.
The VRC's Melbourne Cup Carnival Fashions on the Field event celebrated its 61st anniversary and showcased the finest local and international designs and attracted 1100 entrants from around Australia and the globe.
"We are passionate about making fashion accessible to everybody both locally and internationally and are thrilled with the response and increased engagement this year and the way the Melbourne Cup Carnival Fashions on the Field competition continues to lead the way through creativity and inclusion," Mr Wilson said.
In reflecting on another successful Cup Week, Mr Wilson thanked the innovation and effort from the VRC team and the support from the record number of VRC members. He also thanked and acknowledged principal partner Lexus, broadcast partner Network 10, and major partners Penfolds, Furphy, Kennedy and TAB for their ongoing support.
"The support of our dedicated VRC team, sponsors, partners and the Victorian Government has been instrumental to the successful running of this year's event. We look forward to building on this year's success as we start our planning for the 2024 edition of the Melbourne Cup Carnival."