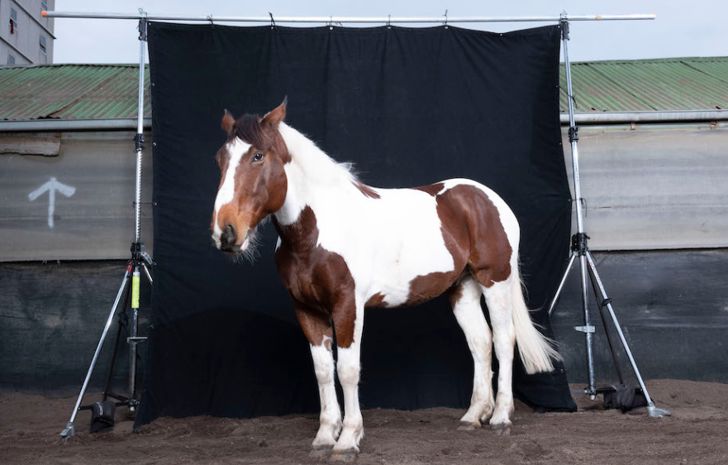 Billy: No ordinary horse
11 March 2020
•
Written by
VRC
In red jacket and white breeches, the Clerk of the Course is a familiar sight.
At Flemington, one clerk stands out even more – for the horse he sits atop not only has a distinctive piebald, but is also becoming more and more known for his friendly and easygoing temperament. Meet Billy.
The clerk of the course, along with the stewards, starter and judge, are horse racing officials. Easily identifiable in their traditional dress that harks back to the hunting days in England, their job is to maintain order among the runners before and after the race and to respond to any emergencies on the track. Clerks therefore need to be calm, confident and experienced riders. Their horses also need to possess these qualities and so are usually chosen for the job for their temperament.
Shane Patterson has led in countless Melbourne Cup winners as Flemington's clerk of the course, following in the footsteps of his father, the iconic John 'Patto' Patterson, clerk at headquarters from the early 60s, leading in an astonishing 50-plus Cup winners.
The Pattersons are a fixture at the tracks around Victoria, with Shane and his brother Peter both fulfilling the role of clerk of the course in the country and the city. They also break in horses at their historic Flemington stables that they have occupied for more than 46 years, a stone's throw away from the racecourse. They're a familiar sight driving their horse and cart around the back streets of Flemington, educating thoroughbreds, show ponies, trotters and others.
And this is where you will see Billy when he is not leading in winners to the mounting yard on race day. "I first got Billy to be a harness horse," says Shane. "A mate of mine is a breeder of horses to show in harness and Billy stood out to me as he was quieter and more sensible than some of the others. A horse needs that temperament to do that job."
After training Billy to ride, Shane used him to lead around yearlings, tied to the side of the cart. With his friendly nature, Shane also has no qualms putting his young son, five, on his back. Multitasking Billy is also a Show horse where he goes in the cart with another horse tied to the side. He has won prizes in this category and no wonder, seeing as it is very similar to his day job educating younger horses.
As a companion to the yearlings broken in by the Pattersons, Billy also goes to the track most mornings with Shane's sister, Sheralee. "He keeps the young horses that haven't been out before, company. If a horse wants to shy and run at the running rail, it leans into him and Billy just stands his ground, protecting them," Shane explains.
So how did he come to be pride at place at Flemington?
"Pete's (Shane's brother) usual horse was not well one day, so he took Billy to Geelong and used him as clerk horse. The next day was Blue Diamond Day, so I took Billy after working him round a track so he could see the racecourse. He caught the eye of (former chief steward) Terry Bailey who pulled me aside and said, 'That's a nice horse.'"
Shane then started using him at the Melbourne Show, Moonee Valley and then Flemington. "Soon enough he had led in a couple of Group winners, including one at Flemington, and then he just became a fixture on course."
"I could pick him apart, but he's a nice big horse and everyone seems to love him," says Shane. "His looks and temperament are appealing. If he didn't have the right personality, he wouldn't be there."
At 16 hands, Billy is about the same size as a thoroughbred, but being a workhorse with such distinctive markings he is more of a gentle giant than his equine cousins. His placid nature is a vital part of his job on race day, where he needs to be a calm presence when leading horses out to the barriers, but must also be alert enough to react if something goes wrong. Ex-racehorses have historically been successfully used as clerk horses – you just have to look at Subzero, 1992 Melbourne Cup winner and iconic clerk of the course horse – but sometimes they are not made for the job. "Ex-racehorses still remember being at the track to race and can be a bit hyper as a result," says Shane.
Now, becoming somewhat of a celebrity around the tracks, Billy can add another string to his bow – promotional model. Not only was he unperturbed when getting the shot for this story, he is often asked to work with race clubs for marketing and other purposes. "As most clerk ponies have a pretty good temperament and part of their job on race day is to stand still patiently for long periods of time, they have the right attitude to have photos taken," says Shane.
Although it is obvious that Shane, Peter and all clerks are instrumental in ensuring the smooth running of any race day, Shane also believes you've got to have the right horse to do a good job. And Billy is certainly doing that, in all of his roles. "You can be the best horseman in the world, but if you haven't got the right horse, you can't be the best."