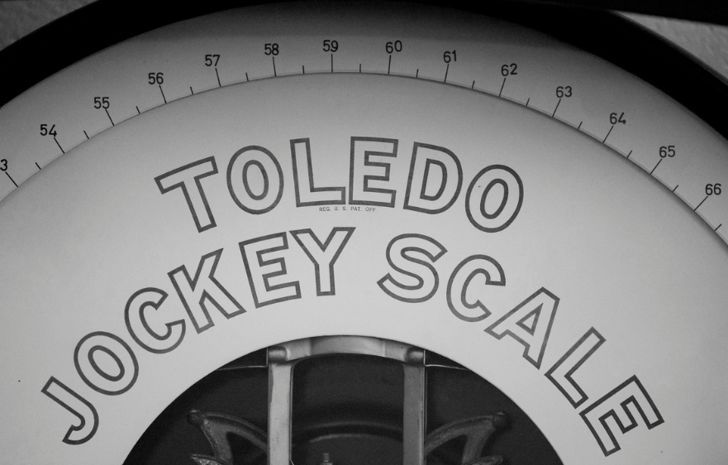 Correct weight
29 October 2023
•
Written by
Danny Russell
In the Lexus Melbourne Cup, the allocation of weights to each horse plays a crucial role in levelling the playing field and ensuring a fair competition. These weights are determined by the handicapper, and the aim is to give every runner a chance at victory. Jockeys face the challenge to maintain a weight that allows them to obtain a ride in the prestigious race.
Most trainers will tell you that weight can stop a train, but 58.5kg might not be enough to stop Gold Trip winning back-to-back Melbourne Cups.
Once again, in the lead up to the first Tuesday in November, we will romanticise over whether the top weight can defy the odds and win the world's greatest handicap race. To do so Gold Trip will need to buck 48 years of history – no horse has lugged 58.5kg to victory since Think Big notched his second successive Cup in 1975.
But that is the beauty of handicap racing. It is not always the best horse, but the best weighted horse that wins.  
So, how does the weight scale work in handicap racing? How do we separate the "toppy", Gold Trip, from rivals such as Vauban (55kg), Without A Fight (56.5kg) and Future History (50kg) when trying to pinpoint the winner?
Racing Victoria chief handicapper David Hegan, who is in charge of his first Melbourne Cup this year, says the idea of handicap races and their weight scales is to "equalise the winning chance of every horse". The theory is to have every runner crossing the line together.
"It is the great Australian tradition that we have handicaps," Hegan says. "We love to test the best. We consider, 'OK, you might be the best horse, but can you be even better than that? Can you give away weight to some that aren't quite as good as you, and still beat them'?"
The entire Melbourne Cup field is rated, and then weighted, on their lead-up form. The better the horse, the more weight they have to carry and the bigger the handicap they have to overcome.
The "generally accepted" theory is that a 0.5kg penalty equals 1 length over a 3200m race – "all else being equal".
Hegan says the biggest impediment to Gold Trip winning a second Cup is "not necessarily the weight he is carrying, but it is the unexposed or emerging horses down in the weights".
Sky Racing form expert David Gately agrees. He says every horse has a different power-to-weight ratio – in other words, some horses can carry weight better than others. But he says the secret to picking the winner is to find a lower-performed horse, with a lesser weight, that is capable of reaching the levels of the best-performed horses at its next run.
"They are beating the handicapper, so to speak," Gately says. "They are only getting 51 or 52 kilos, whereas Gold Trip is getting 58.5kg because he already has the runs on the board."
Hegan emphasises that a horse like Vauban, an Irish stayer venturing to Australia for the first time, has the potential to fit that profile because he is so lightly raced.
He states, "We have weighted him up to his best for what we have seen so far, but he might show us, as a lot of Cup winners do, that he can go on to be a much better horse, and go on to be competitive at weight for age."
Moreover, Hegan underscores the ability of superior horses like Gold Trip, who routinely shoulder 58.5kg in their races, to handle substantial weights. "But every horse has a threshold, ultimately unknown, at which a weight will inhibit performance," Hegan says.
Hegan says that some horses perform consistently in the 50-52kg weight range, with no noticeable change in their performance until they reach the 54-56kg bracket.
Without A Fight is another fascinating case study. He won the Caulfield Cup (2400m), carrying 55.5kg, and beat Gold Trip by two lengths. But he was penalised 1kg for that win and will have to carry 56.5kg for the 3200m of the Melbourne Cup – it might be enough to turn the tables.
The sliding weight scale not only has an effect on a horse's ability to win, but also the availability and suitability of riders. This is because a jockey has to ride at the horse's weight. Lightweight superstar Jamie Kah rode import Valiant King in the Caulfield Cup because she comfortably made the horse's allocation of 50kg.
Past Cup winner Craig Williams is another highly decorated lightweight jockey. He has been booked to partner French mare Lastotchka at 51kg in this year's race.
But some of the country's top hoops such as Damien Oliver and Hugh Bowman are middleweights and have struggled to secure rides, simply because there are not enough suitable runners to go around – only seven horses will carry 55kg or more this year, and two of those are internationals with international jockeys. 
Three-time Cup winner Oliver was handed a late lifeline just nine days before the race, however, when he was asked to partner Mike Moroney's outsider Alenquer (56.5kg) in what will be his last Melbourne Cup.
"Whether he can win it or not I'm not sure, but I'm sure he can finish closer to the front. He is not without a chance," Oliver told the Herald Sun.
Gately says as a punter he is less concerned about the right jockey being on the right horse. "I think I am a bit of an outlier in that regard … I place much less credence on the jockey. I think the horse is the athlete and that tends to be my focus," he says.