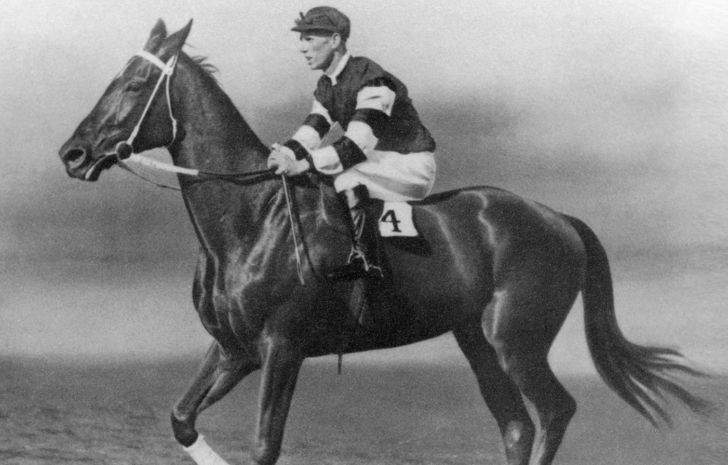 The incomparable Phar Lap
17 October 2023
•
Written by
Joe McGrrath
Over ninety years since Phar Lap's Melbourne Cup win, we revisit what made this horse a legend.
What is it about Phar Lap that more than 90 years on from his most famous victory in the 1930 Melbourne Cup, he still holds the public's gaze? Children today somehow know his importance or at least know he's a big deal; he is mostly spared comparisons with present-day wonders and for the limited few still alive to recall his dominance, he is the benchmark of all things great in horse racing. In his birthday month, 97 years after he was born, we remember this brilliant horse, and legend of the Melbourne Cup.
Despite finishing last at his first start and securing his first victory at only his fifth race start and – his only victory in his first ten starts – Phar Lap proceeded to win 36 of his next 41 encounters.
He won on each of the four days of the 1930 Melbourne Cup Carnival, become Australia's greatest prize-earning horse, surpassing Amounis, at his final race start with ₤66,738; and won from six furlongs (1200m) through to two miles (3200m).
The stats don't lie – he was truly remarkable and not much was beyond him. But didn't Black Caviar win 25 from 25 and Winx 33 in a row? And Makybe Diva won three Melbourne Cups? So wouldn't these trump something from ninety years ago? Basically, Phar Lap is a different story.
In essence his story is that of love, triumph, drama and ultimately tragedy – all rolled into one. He was the kid from the wrong side of the tracks who took on and beat the best. His presence brought fear not only to bookmakers but also administrators who changed the conditions of races to ultimately curtail his dominance. Geldings were momentarily excluded from classics following Phar Lap's success. He was ultimately and fatefully enticed to America to take on and beat the best in the world in the Agua Caliente Handicap run on 20 March, 1932 in Mexico. But his story runs much deeper than just a brilliant horse capable of rare feats.
By Night Raid out of Entreaty, Phar Lap was bred by Mr Alick Roberts at Seadown Stud, Timaru in the South Island of New Zealand. He was born in a tent under a row of pine trees. He was tall and skinny at first and not much to look at as a young horse, but grew into an imposing individual whose physique would become his ultimate weapon.
At his peak, Phar Lap's stride would be just shy of nine metres; his heart (6.35kg) twice the size of a normal horse's; and his 17.1-hands high frame beautifully proportioned, supported by muscle spared for Greek gods. Supplemented with the perfect temperament, he was an equine machine.
As a yearling he went to the 1928 Trentham Sales in Wellington, New Zealand with warts on his face that did nothing to win over Hugh Telford, brother of subsequent trainer, Harry Telford, who was commissioned to purchase the colt for up to 200 guineas. Telford's limit was not called upon, as 160 guineas was all it took to purchase the greatest thoroughbred to race on Australian shores since racing commenced at Hyde Park in 1810.
Harry Telford was drawn in by the presence of Carbine in the pedigree, and on closer examination, no doubt the double-cross of both St Simon and Musket in both the male and female sides of the family. It had proved such a successful cross for several past Melbourne Cup winners, most notably Merriwee (1899), Poseidon (1906) and Night Watch (1918).
Phar Lap, on paper, had much to offer but pedigree is one thing and the finished product is another. And after Lot 41 was exported to Sydney for his new purchaser, not everyone was convinced this horse was going to do much. In particular David Davis, the American entrepreneur and businessman who Harry had singled out as the owner of the son of Night Raid. Upon viewing his new acquisition, Davis argued with Telford as to the wisdom of the purchase. A quick-thinking Telford offered to sell, and the horse colt was sold to Davis who quickly leased him back to Telford for a term of three years to off-set the training costs. Fortunately for both parties, the deal was struck and Phar Lap found his way to Telford's Stables in Sydney to be broken in.
And there starts a love story, as a young Tommy Woodcock would soon form a partnership with the gangly chestnut that would rival no other in racing. The trust and bond between horse – affectionately known as Bobby – and strapper, was totally unique. The two were more or less inseparable.
It would be Tommy who would be with Phar Lap for the failed shooting attempt three days out from the 1930 Melbourne Cup. It would be Tommy who would strap the horse during most of his 51 career starts, including the 1930 Melbourne Cup and the Agua Caliente Handicap in Mexico; and, ultimately it would be Tommy who would nurse the seemingly impenetrable indestructible Phar Lap when he died of acute enteritis at Menlo Park, California on 5 April, 1932.   
For casual observers, Phar Lap as a young horse was tall and lean, but like one of those skinny kids playing under-age sport, Telford knew if he could grow into his frame he might have something to work with. He had the pedigree. Would time and natural development play out for Telford? Almost skint, he had no option but to leave it to the racing gods to play their part.
In five rather unspectacular runs as a two year old, Phar Lap secured the last of those starts at Rosehill in a lowly juvenile handicap over six furlongs (1200m) at Rosehill. The start to his three-year-old season wasn't much better, although a fourth in the Warwick Stakes behind Mollison had the experts puzzled as to who this nondescript horse was with the nondescript trainer. There were bigger stables grabbing the headlines and more fashionably bred horses frequenting the tracks, but Telford knew he was onto something and went about sounding out the best jockey at the time, Jim Pike.
Pike was the ultimate professional; a gifted jockey born in Newcastle who was at one with the horse. He personified grace and poise and I like to think he had all the skill and determination of Damien Oliver, the confidence of Glen Boss, rounded out by the sublime horsemanship of Hugh Bowman. He was a natural.
Pike took his first ride on Phar Lap in the 1929 AJC Derby and ultimately would ride him in 26 of his subsequent 34 wins. Due mainly to weights, Billy Elliott would ride him in seven and Billy Duncan in the remaining victory. The Phar Lap story was quickly unfolding. He won the AJC and VRC Derbies in the space of a month. He ran a luckless third to Nightmarch in the 1929 Melbourne Cup and was considered the brightest young star on the horizon. The most seasoned racegoer knew this horse could be anything.
Like Bradman was to cricket, Phar Lap was a welcome diversion for the everyday Australian weary from the constant reminder that Australia was in an economic depression. He was the light on the hill; an inspiration to many and a sign of hope for those who had surrendered their dreams as they stood in queues to receive government hand-outs. He was fast emerging as a national hero.       
If you single out Cup week of 1930, it had all the elements for the Phar Lap story. A failed shooting in Manchester Grove, Caulfield on the morning of Derby Day 1930; victory in the Melbourne Stakes over a mile and a quarter (2000m) on the same day; a midnight transfer from Joe Cripps' Caulfield stables to the famed St Albans Stud just outside Geelong owned by VRC Committeeman, Guy Raymond; an undercover track gallop at Geelong the Monday before the Cup; a near-on disastrous transfer heading to Flemington on Melbourne Cup Day when the float failed to start; victory in the Melbourne Cup over two miles (3200m) carrying 9 stone 12lbs (62.6kg); victory in the Linlithgow Stakes two days later over a mile (1600 metres) and to top it all off, another victory in the C.B. Fisher Plate over a mile and a half (2400m) on the Final Day of the Flemington Spring meeting, as it was known back then. The horse was a phenomenon and his performances were freakish.
Phar Lap's 1930 Melbourne Cup victory saw him the shortest-priced favourite (8/11) to win the Melbourne Cup and he drew Melburnians far and wide to head out to Flemington to witness one of the most significant race finishes ever recorded at the famed racecourse. Almost 30,000 lined Scotchman's Hill on the banks of the Maribyrnong River as they could not afford the entry fee into the course. These were the toughest of times. Ultimately, the race would prove little more than a track gallop for Phar Lap. It sent many bookmakers to the wall courtesy of the Amounis-Phar Lap Caulfield Cup-Melbourne Cup double.
No matter what anyone wants to say, there will only be one Phar Lap.