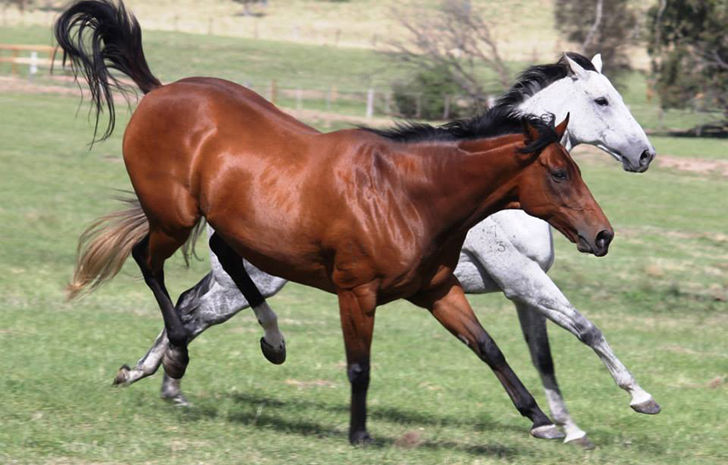 Built to last
28 September 2021
•
Written by
VRC
With a long and impressive career and a determination to rival racing legends, Zipping had endurance and resilience. The 2010 Turnbull Stakes winner turned the ripe old age of 20 on 24 September 2021, celebrating in comfort and style at his home, Living Legends.
It has been said that Lloyd's Williams' best-loved horse is no promising yearling, Melbourne Cup winner or celebrated sire, but a veteran named Zipping.
"I love him, he's just one of those special horses," said Lloyd in the past. "He's very brave and has been such a good horse for me ... he was the first horse to win the Australian Cup second-up from a spell."
Williams bought Zipping as a yearling for $200,000 specifically for the Danehill/Grand Lodge cross in his immediate pedigree. As far as Williams was concerned, this prized combination had the potential to produce a high-quality stayer. "His dam, Social Scene, was an imported Grand Lodge mare and I thought that to be an important aspect of his pedigree at the time," he said.
After beginning his career with a win at the Gold Coast on the last day of his two-year-old season, Zipping ran a promising third at Eagle Farm before spending a year on the sidelines
He returned to work as a four-year-old and had six straight wins, including the Hong Kong Jockey Club Stakes on Melbourne Cup Day in 2005.
He ran a game fourth in the 2006 Melbourne Cup – a race he would contest on four occasions, finishing fourth again in 2007 before an unlucky ninth in 2008 and a fourth in 2009. "People forget his Melbourne Cup record," Williams said.
Zipping also ran in the Cox Plate four times, finishing second in 2008 and 2012 and third in 2009. He also won four Sandown Classics between 2007 and 2010, the traditional last race of the spring carnival, which was renamed the Zipping Classic in his honour. It was a truly remarkable feat for an ageing galloper.
His fifth, and most successful attempt to win the Turnbull Stakes in 2010 was one to remember, as he was a nine-year-old veteran by then. Williams quipped at the time: "You wouldn't know he was nine. You would reckon he was four."
After his retirement in 2011, Williams rehomed Zipping at Living Legends, where he was joined in a paddock with his former stablemate and fellow Turnbull Stakes winner (2009), Efficient. Efficient is of course the gallant grey who won the 2006 Victoria Derby and the 2007 Melbourne Cup (the last horse to achieve this feat was Phar Lap with a VRC Derby win in 1929 and Melbourne Cup in 1930).
Still happily residing at Living Legends, 'Zip' enjoys a good scratch and hanging out with his paddock mates, especially Efficient (who also celebrated a birthday recently, turning 18 in August). Affectionately they are known as 'Fish and Zip'.
Image: Paddock mates Zipping and Efficient happily reside at Living Legends.