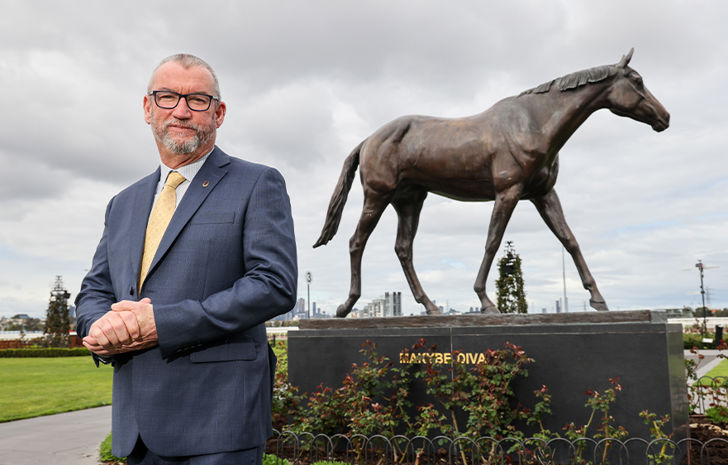 Carpenter: what the Cup means to me
7 October 2022
•
Written by
Danny Russell
Racing Victoria Executive General Manager Greg Carpenter has delivered his eighteenth and final Melbourne Cup weights. As he prepares to take on a senior role with the Hong Kong Jockey Club, we hear about his passion for racing, and the Melbourne Cup.
Greg Carpenter can remember the moment as if it were yesterday.
Standing up in front of a crowd, delivering a well-researched speech on one of his true passions – the world's greatest handicap race, the Melbourne Cup.
The year was 1974. Carpenter, who was born into a racing family, was a 12-year-old Year 7 student in the Western Australian town of Albany.
At that point in time, Bart Cummings was only beginning to carve out his legend, having won just three of his Melbourne Cups – Light Fingers (1965), Galilee (1966) and Red Handed (1967). Later that year, he would win his fourth with Think Big.
Carpenter did not know it then, but fate – and the subject of that schoolboy speech in the 1974 finals of the Youth Speak for Australia competition – would set his life on a trajectory that would one day land him in a role that would directly impact on Bart's 12th and final Cup.
He started as a junior clerk with the Western Australian Turf Club in November 1981 and by January 2005 the 42-year-old Carpenter had been appointed Racing Victoria's new chief handicapper – "the ultimate job" and a position he had aspired to hold.
On taking up his post in Melbourne, he immediately found himself a central figure in one of the biggest talking points in the famous race's history.
"As soon as I arrived, everyone wanted to know what weight Makybe Diva would get when she tried to win an unprecedented third Melbourne Cup," Carpenter recalled.
"It was certainly a pressure environment, simply because of the public interest that she created."
Carpenter, only the ninth individual to handicap the 3200m race since it was first run in 1861, stuck to the processes that would serve him well for the next 17 years, and allotted the champion mare 58kg. She won in 2003 with 51kg and in 2004 with 55.5kg.
"In hindsight people tell me I was kind to her, but no horse since has been able to win with that weight until Verry Elleegant won last year with 57(kg)," he said.
"Even now, 17 years on, there is still a lot of commentary around whether or not she could have been allocated more weight. I think probably if she had, she may not have run and that would have deprived one of the great moments – not only in racing but in Australian sport.
"So, I made a judgement that she was good enough to win with that weight and she created an incredible piece of sporting history in Australia in doing so.
"I have no regrets, that's for sure … she got it right. Makybe Diva got it right on the day. So did Lee Freedman and Glen Boss."
"I don't know whether the handicapper 'got it right'. It is such an opinion-driven sport that there are plenty of people out there who would say I didn't get it right because she won.
"But the handicapper's job is not to get a horse beaten. It's to give as many horses in the race a chance to be competitive, while ensuring the best horse in the race also has a chance to be competitive."
Three years later, Carpenter was again to find himself being tried in the court of public opinion. Aidan O'Brien had three horses running in the 2008 Melbourne Cup and the chief handicapper raised eyebrows when he chose not to penalise the Irish trainer's star stayer Septimus (58.5kg) for his 13-length win in the Irish St Leger.
"The two horses he (Septimus) beat in that race were very modest indeed – the margin was incredible, but he didn't prove anything that I didn't already know about him," Carpenter recalled.
"But that decision not to penalise him created a lot of discourse and a lot of discussion here in Australia, and when the three of them (O'Brien's runners Septimus, Honolulu and Alessandro Volta) were a dozen lengths in front at the 1000m mark, I did turn and say to Leanne, my wife, 'I will be looking for a new job tomorrow'.
"But as soon as that was said, they started collapsing and the field started catching them."
The field rushed past the tiring Irish trio and the finish down Flemington's straight became a thrilling dog fight in which Viewed nosed out Bauer in a photo finish to deliver Bart Cummings his twelfth and final Cup.
"It is nice to think that in my tenure Bart Cummings won one of his Melbourne Cups," Carpenter said.
Carpenter finishes with Racing Victoria in September and, the man who has prided himself on transparency and bringing the public along for the ride has set the weights for his 18th and final Melbourne Cup. In doing so, he assessed four key criteria: Horses that competed in the race the previous year; three-year-olds of the previous season who are competing in the Cup at four; handicap stayers who compete in races such as the Sydney, Brisbane and Adelaide Cups and New Zealand's staying cups; and, internationals.
All this data was entered into a "living document" and he continually revisited, revised and added to the draft until the time came for him to stand up and announce the weights.
So what does he hope for in this year's race?
"Every Cup has a unique and compelling story and I'm sure this year will be no exception … it will be a magnificent race for me," he said.
"I just made sure everyone had a handicap with which they feel that they can be competitive in the race."
Victorian racing's loss will be Hong Kong's gain as Carpenter takes with him a significant CV. Six years into his chief handicapping role at Racing Victoria, Carpenter was elevated to the position of Executive General Manager and has overseen Victoria's programming and handicapping, as well as helping steer growth in prizemoney and the expansion of night and twilight racing.
He was a key player in establishing the $5 million All-Star Mile – the world's richest mile race – and was central to creating the historic Jerricho Cup.
He has helped create new pathways for Australian and New Zealand stayers to qualify for the Melbourne Cup: first, the Bart Cummings, and then the Andrew Ramsden. He has been Australia's representative on the Longines World's Greatest Racehorse committee, chairman of the Australian Racing Museum and was former chairman of the Australian Classifications Committee.
He says Makybe Diva, Black Caviar and Winx "jump straight to mind" as the three of the best Australian horses of his time, but "you shouldn't underestimate how good So You Think was … a champion in his own right".
Carpenter, 60, may finish at Racing Victoria, but he will never leave behind his love of the VRC's showcase event.
"I will always have a connection to the race and to Victorian racing more broadly," he said. "Even though I will be working in Hong Kong in the future, I will always be interested in the Melbourne Cup and the whole process, and promote it wherever I can and wherever I go.
"It is something that I have wanted to be a part of since I was a primary school student. And to have been in the thick of it for 18 years is an enormous privilege."
Carpenter's most memorable Cups
2005 - Makybe Diva
"For obvious reasons. The first horse to win three Cups, and my first as handicapper."
2021 - Verry Elleegant
"The first mare to place in the Cup since Makybe Diva. She carried 57kg, the highest weight since Makybe Diva in 2005 and she beat two outstanding horses by a big margin."
2008 - Viewed
"A famous Cup with Aidan O'Brien running three horses who were lengths ahead of the field at the 1000m mark. Septimus had won the Irish St Leger by 13 lengths and I elected not to penalise him. In the end it was Viewed who won at $41 by a nose from Bauer, in an incredible finish with Septimus well beaten. Viewed gave Bart Cummings his 12th and last Cup win."
2015 - Prince Of Penzance
"Locally trained winner at $101 but incredibly important because it provided the first win by a female rider in Michelle Payne."
2011 - Dunaden
"For the second year in a row a French-trained stayer won, in the closest photo finish in Cup history (there has never been a dead-heat for first). The judge took an eternity to separate Dunaden and Red Cadeaux, who would go on to finish second again in 2013 and 2014. Just as I thought it might be ruled a dead heat the judge finally posted number 3 as the winner."
2006 - Delta Blues
"Japan had its first Cup runner in 2005 when Eye Popper ran twelfth to Makybe Diva. The next year Delta Blues and Pop Rock ran 1-2, clearing out from the rest of the field and many thought it would be the start of a Japanese domination. There was also a view Delta Blues was a second-tier horse in Japan. He was in fact a top-class stayer having won the Japanese St Leger and finished third in the Japan Cup in his three-year-old season. The dominance has not subsequently occurred with the seven JRA runners since failing to finish top five." (Although two have won the Caulfield Cup – Admire Rakti and Mer de Glace).
2020 - Vow and Declare
"Assisted by a slow early pace, the finish to this race was the most competitive in memory with the top eight horses finishing within two lengths of the winner. It was a victory for an Australian-bred, locally trained four-year-old, proving that locally bred horses can still win the great race."
Honorable mentions
"I could go on. The 2010 and the 150th Cup won by Americain; 2007 won by Efficient (the first VRC Derby winner to take the race as a four-year-old since Phar Lap); 2013 won by Fiorente, a famous victory for Gai Waterhouse …"
System.Web.HttpException (0x80004005): Error executing child request for handler 'System.Web.Mvc.HttpHandlerUtil+ServerExecuteHttpHandlerAsyncWrapper'. ---> System.NullReferenceException: Object reference not set to an instance of an object.
   at ASP._Page_Views_Partials_googleAd_cshtml.Execute()
   at System.Web.WebPages.WebPageBase.ExecutePageHierarchy()
   at System.Web.Mvc.WebViewPage.ExecutePageHierarchy()
   at System.Web.WebPages.WebPageBase.ExecutePageHierarchy(WebPageContext pageContext, TextWriter writer, WebPageRenderingBase startPage)
   at System.Web.Mvc.RazorView.RenderView(ViewContext viewContext, TextWriter writer, Object instance)
   at System.Web.Mvc.BuildManagerCompiledView.Render(ViewContext viewContext, TextWriter writer)
   at Umbraco.Web.Mvc.ProfilingView.Render(ViewContext viewContext, TextWriter writer) in D:\a\1\s\src\Umbraco.Web\Mvc\ProfilingView.cs:line 25
   at System.Web.Mvc.ViewResultBase.ExecuteResult(ControllerContext context)
   at System.Web.Mvc.ControllerActionInvoker.InvokeActionResult(ControllerContext controllerContext, ActionResult actionResult)
   at System.Web.Mvc.ControllerActionInvoker.InvokeActionResultFilterRecursive(IList`1 filters, Int32 filterIndex, ResultExecutingContext preContext, ControllerContext controllerContext, ActionResult actionResult)
   at System.Web.Mvc.ControllerActionInvoker.InvokeActionResultFilterRecursive(IList`1 filters, Int32 filterIndex, ResultExecutingContext preContext, ControllerContext controllerContext, ActionResult actionResult)
   at System.Web.Mvc.ControllerActionInvoker.InvokeActionResultFilterRecursive(IList`1 filters, Int32 filterIndex, ResultExecutingContext preContext, ControllerContext controllerContext, ActionResult actionResult)
   at System.Web.Mvc.ControllerActionInvoker.InvokeActionResultFilterRecursive(IList`1 filters, Int32 filterIndex, ResultExecutingContext preContext, ControllerContext controllerContext, ActionResult actionResult)
   at System.Web.Mvc.ControllerActionInvoker.InvokeActionResultFilterRecursive(IList`1 filters, Int32 filterIndex, ResultExecutingContext preContext, ControllerContext controllerContext, ActionResult actionResult)
   at System.Web.Mvc.ControllerActionInvoker.InvokeActionResultWithFilters(ControllerContext controllerContext, IList`1 filters, ActionResult actionResult)
   at System.Web.Mvc.Async.AsyncControllerActionInvoker.<>c__DisplayClass3_6.<BeginInvokeAction>b__4()
   at System.Web.Mvc.Async.AsyncControllerActionInvoker.<>c__DisplayClass3_1.<BeginInvokeAction>b__1(IAsyncResult asyncResult)
   at System.Web.Mvc.Async.AsyncResultWrapper.WrappedAsyncResult`1.CallEndDelegate(IAsyncResult asyncResult)
   at System.Web.Mvc.Async.AsyncResultWrapper.WrappedAsyncResultBase`1.End()
   at System.Web.Mvc.Async.AsyncControllerActionInvoker.EndInvokeAction(IAsyncResult asyncResult)
   at System.Web.Mvc.Controller.<>c.<BeginExecuteCore>b__152_1(IAsyncResult asyncResult, ExecuteCoreState innerState)
   at System.Web.Mvc.Async.AsyncResultWrapper.WrappedAsyncVoid`1.CallEndDelegate(IAsyncResult asyncResult)
   at System.Web.Mvc.Async.AsyncResultWrapper.WrappedAsyncResultBase`1.End()
   at System.Web.Mvc.Controller.EndExecuteCore(IAsyncResult asyncResult)
   at System.Web.Mvc.Controller.<>c.<BeginExecute>b__151_2(IAsyncResult asyncResult, Controller controller)
   at System.Web.Mvc.Async.AsyncResultWrapper.WrappedAsyncVoid`1.CallEndDelegate(IAsyncResult asyncResult)
   at System.Web.Mvc.Async.AsyncResultWrapper.WrappedAsyncResultBase`1.End()
   at System.Web.Mvc.Controller.EndExecute(IAsyncResult asyncResult)
   at System.Web.Mvc.Controller.System.Web.Mvc.Async.IAsyncController.EndExecute(IAsyncResult asyncResult)
   at System.Web.Mvc.MvcHandler.<>c.<BeginProcessRequest>b__20_1(IAsyncResult asyncResult, ProcessRequestState innerState)
   at System.Web.Mvc.Async.AsyncResultWrapper.WrappedAsyncVoid`1.CallEndDelegate(IAsyncResult asyncResult)
   at System.Web.Mvc.Async.AsyncResultWrapper.WrappedAsyncResultBase`1.End()
   at System.Web.Mvc.MvcHandler.EndProcessRequest(IAsyncResult asyncResult)
   at System.Web.Mvc.MvcHandler.System.Web.IHttpAsyncHandler.EndProcessRequest(IAsyncResult result)
   at System.Web.Mvc.HttpHandlerUtil.ServerExecuteHttpHandlerAsyncWrapper.<>c__DisplayClass3_0.<EndProcessRequest>b__0()
   at System.Web.Mvc.HttpHandlerUtil.ServerExecuteHttpHandlerWrapper.<>c__DisplayClass5_0.<Wrap>b__0()
   at System.Web.Mvc.HttpHandlerUtil.ServerExecuteHttpHandlerWrapper.Wrap[TResult](Func`1 func)
   at System.Web.Mvc.HttpHandlerUtil.ServerExecuteHttpHandlerWrapper.Wrap(Action action)
   at System.Web.Mvc.HttpHandlerUtil.ServerExecuteHttpHandlerAsyncWrapper.EndProcessRequest(IAsyncResult result)
   at System.Web.HttpServerUtility.ExecuteInternal(IHttpHandler handler, TextWriter writer, Boolean preserveForm, Boolean setPreviousPage, VirtualPath path, VirtualPath filePath, String physPath, Exception error, String queryStringOverride)
   at System.Web.HttpServerUtility.ExecuteInternal(IHttpHandler handler, TextWriter writer, Boolean preserveForm, Boolean setPreviousPage, VirtualPath path, VirtualPath filePath, String physPath, Exception error, String queryStringOverride)
   at System.Web.HttpServerUtility.Execute(IHttpHandler handler, TextWriter writer, Boolean preserveForm, Boolean setPreviousPage)
   at System.Web.HttpServerUtility.Execute(IHttpHandler handler, TextWriter writer, Boolean preserveForm)
   at System.Web.HttpServerUtilityWrapper.Execute(IHttpHandler handler, TextWriter writer, Boolean preserveForm)
   at System.Web.Mvc.Html.ChildActionExtensions.ActionHelper(HtmlHelper htmlHelper, String actionName, String controllerName, RouteValueDictionary routeValues, TextWriter textWriter)
   at System.Web.Mvc.Html.ChildActionExtensions.Action(HtmlHelper htmlHelper, String actionName, String controllerName, RouteValueDictionary routeValues)
   at Our.Umbraco.DocTypeGridEditor.Web.Extensions.HtmlHelperExtensions.RenderDocTypeGridEditorItem(HtmlHelper helper, IPublishedElement content, String editorAlias, String viewPath, String previewViewPath, Boolean isPreview)
   at ASP._Page_app_plugins_doctypegrideditor_render_DocTypeGridEditor_cshtml.Execute()
   at System.Web.WebPages.WebPageBase.ExecutePageHierarchy()
   at System.Web.Mvc.WebViewPage.ExecutePageHierarchy()
   at System.Web.WebPages.WebPageBase.ExecutePageHierarchy(WebPageContext pageContext, TextWriter writer, WebPageRenderingBase startPage)
   at System.Web.Mvc.RazorView.RenderView(ViewContext viewContext, TextWriter writer, Object instance)
   at System.Web.Mvc.BuildManagerCompiledView.Render(ViewContext viewContext, TextWriter writer)
   at Umbraco.Web.Mvc.ProfilingView.Render(ViewContext viewContext, TextWriter writer) in D:\a\1\s\src\Umbraco.Web\Mvc\ProfilingView.cs:line 25
   at System.Web.Mvc.HtmlHelper.RenderPartialInternal(String partialViewName, ViewDataDictionary viewData, Object model, TextWriter writer, ViewEngineCollection viewEngineCollection)
   at System.Web.Mvc.Html.PartialExtensions.Partial(HtmlHelper htmlHelper, String partialViewName, Object model, ViewDataDictionary viewData)
   at System.Web.Mvc.Html.PartialExtensions.Partial(HtmlHelper htmlHelper, String partialViewName, Object model)
   at ASP._Page_Views_Partials_grid_editors_Base_cshtml.Execute()