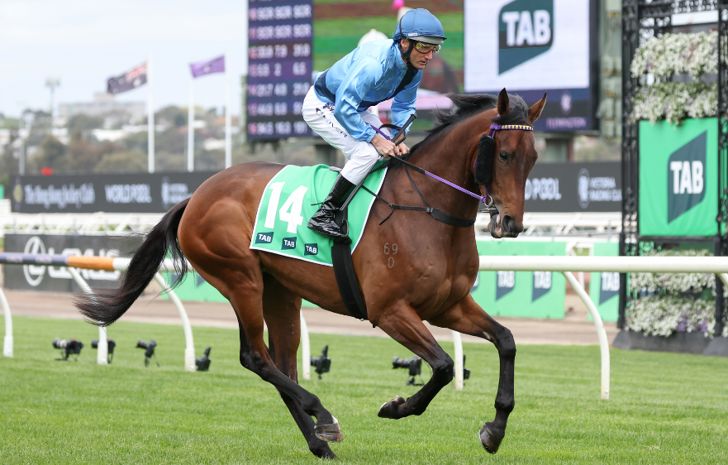 Could Ollie have a fairytale ending?
8 November 2023
•
Written by
VRC
After years in the planning, New Zealand trainers Emma-Lee and David Browne made the move and shifted their training operation from Cambridge to Cranbourne in 2022. Now, they have a chance in the Kennedy Oaks with none other than Damien Oliver on board in his final ride in the race that has given him so much.
The shift across the Tasman for the Browne family and their business had been in the pipeline for some time before they made the move last year.
"We thought about moving to Australia for about four years because the racing here is so buoyant. Every time I brought a horse here to race, I returned to New Zealand rejuvenated," said Emma-Lee.
"We were at the point where we felt that if we wanted to carry on in the racing industry, we needed to make the jump to Australia where the prizemoney is a lot better and where there are so many more options for our horses. Right now, we are still young enough and we still have the passion, so we decided to jump in with all feet and give it a go."
Emma-Lee had made frequent trips to Victoria to race horses, such as Monarch Chimes, Elephant and Rhinoceros.
"We've brought quite a few horses over in the past few years but I've always done the trips," says Emma-Lee.
"Then, for the first time, David came over with the horses and when he returned to New Zealand he said, 'I get it now, I see why you love Australian racing'. The public really gets behind the racing here which is pretty special. 
"When David brought over Monarch Chimes, he arrived at Melbourne Airport and stopped at the customs desk. The guy behind the desk asked him why he was in Australia and David explained he had a horse racing at Warrnambool and the customs officer asked which horse. When David told him, he chatted about how well he'd run at Pakenham recently … People really do love their racing in Australia. So, we got more serious about the move."
David moved to Victoria first with daughters Chloe, Lucy, and Annabelle. Emma-Lee remained on their Cambridge property, preparing the horses for transportation. Early on in their plans, the couple consulted with the owners of the horses they train to ensure they supported the transition.
"The owners were very positive," said Emma-Lee. "That kind of support also gave us confidence to make the leap of faith."
The horses were transported in small groups and Emma-Lee and David worked with equine airfreight specialists, New Zealand Bloodstock, to ensure each trip was seamless.
"They all travelled very well and it was about 12 hours door-to-door. They were put on a transporter at our home in New Zealand at about 10.30pm, after eating dinner. They then made the trip to Auckland by road and were loaded onto the flight and many of them slept on the way over," says Emma-Lee.
"When they arrived in Melbourne, David was waiting to organise the road trip to Cranbourne. They then had a few days to settle in. We deliberately brought the horses to Australia during the winter months so they have had time to settle in well before we crank up the preparation for Spring."
Horses have been part of Emma-Lee's family for as far back as she can remember. Her father, Jeff, has been an Olympic show jumper and trainer but it was racing that captured Emma-Lee's heart, and by 14 she was riding trackwork.
"I think the horse that really convinced me that I wanted to be a trainer was Leica Guv who won the 2001 Derby in New Zealand. Dad and I had him from a yearling and trained him together. To then see him as a 3YO winning the Derby was a very proud moment," she says.
"For me, the work is all about the horses. I love thoroughbreds – they are so intelligent and athletic.
I enjoy seeing them go from yearlings who don't know much to that day when they evolve into a competitive horse that enjoys racing. Training the horses to be competitive but to also enjoy their job is important to me. There isn't anything better than seeing horses reach their racing potential and actually enjoying that journey."
One that seems to have hit the heights is the up-and-coming filly Basilinna.
The product of So Royal and New Zealand sire Staphanos, she may not even be here if it hadn't been for another of Emma-lee's beloved horses, Monarch Chimes. A skilled jumper, he endeared himself to Browne with his 'kind nature'.
Sadly, he passed away in 2019, leaving Emma-lee heartbroken. To cheer her up, David acquired the aging Shinko King mare, So Royal, for a mere $500. He hoped that the mare's connection to the late sire would provide solace to his wife.
Fast forward four years, and Basilinna will take on the Group 1 Kennedy Oaks (2500m) at Flemington, marking a significant moment for the training duo, husband and wife, as they aim for success.
If they are successful, it will also provide Damien Oliver with his eighth win in the race – firmly placing him in the history books as the jockey with the most wins. 
It would be a dream come true for the Brownes, and a fairytale ending for one of the legends of Australian racing.