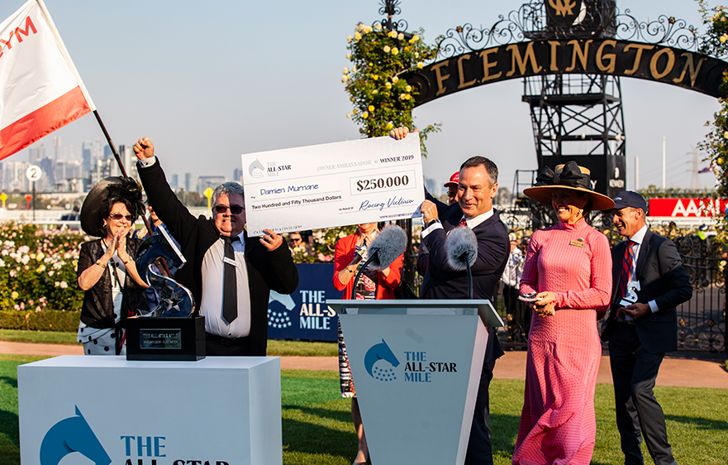 First 10 Owner Ambassadors revealed for the 2022 Seppelt Wines All-Star Mile
24 February 2022
•
Written by
Racing Victoria
The first Owner Ambassadors who stand to win up to $250,000 on Seppelt Wines All-Star Mile Raceday have been revealed today, with five states and New Zealand represented in the 10 competition winners drawn at random to cheer on their nominated All-Star at Flemington on Saturday, 19 March.
The 10 Owner Ambassadors were among more than 134,000 Australian and New Zealand residents who cast a vote to help determine the first 10 horses into the field for the fourth edition of the $5 million Seppelt Wines All-Star Mile.
With a field of 15 to ultimately assemble for the world's richest mile race next month, a further five Owner Ambassadors are set to be assigned at a later date to the wildcard runners which will be announced by Racing Victoria (RV) on or before Tuesday, 8 March.  
With a first prize of $250,000 awarded to the Owner Ambassador of the All-Star Mile winner, and a cheque for $10,000 even if their horse finishes last, there will again be a life-changing sum of money up for grabs at Flemington on Seppelt Wines All-Star Mile Raceday.
Queenslanders have embraced The All-Star Mile, with Alligator Blood topping the popularity poll in 2020 and The Harrovian well-supported to finish fourth in the voting last year, and they lead the way in 2022 with three Owner Ambassadors hailing from the Sunshine State.
They include furniture restorer Shannon Duhig, who moved from Victoria to Toowoomba 18 months ago with her husband Phillip and their three children and grandson. The 40-year-old was one of 17,112 voters who threw their support behind Verry Elleegant, and if Chris Waller's mighty mare makes it to the starting line it would set up a mouth-watering clash with Annabel Neasham's superstar Zaaki, who will be represented by another Queensland resident in Nicholas Bouseka.
As the owner of a house painting business in Brisbane, the avid racegoer and his partner Katrina have vowed to paint the town red (and blue) should Zaaki add The All-Star Mile trophy to his three Group 1 wins.
The final Queenslander in with a shot of emulating Matt Forys, who walked away from The Valley with a cheque for $250,000 when his All-Star Mugatoo won Australia's only fan-voted race last year, is 25-year-old Gympie resident Paul Nobbs.
The civil construction worker had voted for Behemoth, but with injury ruling out his original selection he will now be cheering on the boys in blue after Godolphin galloper Cascadian (trained by James Cummings) was called up from the bench as the first emergency.
Two Owner Ambassadors will be flying the flag for New South Wales, but both put any parochialism to one side to vote for Victorian-trained horses. Cathy Brill, from Wagga Wagga, voted for Mr Brightside after she saw an Instagram video of the Lindsay Park galloper alongside Jack Riewoldt, a three-time Premiership winner with her beloved Richmond FC.
Retiree Martin Smith, a father-of-three from Sylvania, is looking forward to his first visit to Flemington – especially as he has a live chance with Mick Price and Michael Kent Jnr's ultra-talented miler I'm Thunderstruck.  
Tasmania will always be inextricably linked with The All-Star Mile, with Mystic Journey having taken out the inaugural edition in 2019; and although it is unlikely the Apple Isle will have a runner this year two Taswegians will still have a vested interest in the outcome. Sorell apprentice Josh Baker and Michele Reading from St Helens voted for Espiona and King Magnus respectively, and the pair can now plan for their trip across the Bass Strait next month after they were drawn as their Owner Ambassadors.  
Swanbourne resident Shirley Graham had a very good reason for voting for Lighthouse (Ciaron Maher and David Eustace), with her husband David having maintained lighthouses through his work in the maritime safety industry. She is the lone Owner Ambassador from Western Australia.
The two remaining Owner Ambassadors are Robert Goodinson, an English expat living in Auckland (NZ) who voted for Emma-Lee and David Browne's cult hero Elephant; and David Watson from Murray Bridge (SA), who went with the local hope in Regalo Di Gaetano (trained by Richard and Chantelle Jolly).
Under the conditions of The All-Star Mile, should any horse be withdrawn between now and final acceptances on Tuesday, 15 March, it will be replaced by the highest ranked horse on the provisional emergency list at the time. In such a circumstance, the Owner Ambassador will move from the All-Star they voted for to the emergency who has replaced it in the field.
Four of the five remaining Owner Ambassador positions will be filled by the winners of competitions run by All-Star Mile partners KIIS FM, NewsCorp, TAB and Entain. These Owner Ambassadors will be announced by each of the partners in the coming weeks once their wildcard runner is known.
One lucky racegoer who attends Seppelt Wines All-Star Mile Raceday at Flemington will then be drawn at random to be the 15th and final Owner Ambassador for a yet-to-be-determined wildcard runner, giving fans an even greater incentive to get trackside on Saturday, 19 March.    
The first 10 Owner Ambassadors for The Seppelt Wines All-Star Mile 2022 are as follows:
| | | |
| --- | --- | --- |
| Horse | Owner Ambassador | Origin |
| Verry Elleegant | Shannon Duhig | Toowoomba, QLD |
| I'm Thunderstruck | Martin Smith | Sylvania, NSW |
| Zaaki | Nicholas Bouseka | Brisbane, QLD |
| Regalo Di Gaetano | David Watson | Murray Bridge, SA |
| Mr Brightside | Cathy Brill | Wagga Wagga, NSW |
| Espiona | Josh Baker | Sorell, TAS |
| Lighthouse | Shirley Graham | Swanbourne, WA |
| King Magnus | Michele Reading | St Helens, TAS |
| Cascadian | Paul Nobbs | Gympie, QLD |
Image caption: Owner ambassador Damien Murnane receiving his winning cheque after the inaugural running of The All-Star Mile (Credit: Brett Walker)
System.Web.HttpException (0x80004005): Error executing child request for handler 'System.Web.Mvc.HttpHandlerUtil+ServerExecuteHttpHandlerAsyncWrapper'. ---> System.NullReferenceException: Object reference not set to an instance of an object.
   at ASP._Page_Views_Partials_googleAd_cshtml.Execute()
   at System.Web.WebPages.WebPageBase.ExecutePageHierarchy()
   at System.Web.Mvc.WebViewPage.ExecutePageHierarchy()
   at System.Web.WebPages.WebPageBase.ExecutePageHierarchy(WebPageContext pageContext, TextWriter writer, WebPageRenderingBase startPage)
   at System.Web.Mvc.RazorView.RenderView(ViewContext viewContext, TextWriter writer, Object instance)
   at System.Web.Mvc.BuildManagerCompiledView.Render(ViewContext viewContext, TextWriter writer)
   at Umbraco.Web.Mvc.ProfilingView.Render(ViewContext viewContext, TextWriter writer) in D:\a\1\s\src\Umbraco.Web\Mvc\ProfilingView.cs:line 25
   at System.Web.Mvc.ViewResultBase.ExecuteResult(ControllerContext context)
   at System.Web.Mvc.ControllerActionInvoker.InvokeActionResult(ControllerContext controllerContext, ActionResult actionResult)
   at System.Web.Mvc.ControllerActionInvoker.InvokeActionResultFilterRecursive(IList`1 filters, Int32 filterIndex, ResultExecutingContext preContext, ControllerContext controllerContext, ActionResult actionResult)
   at System.Web.Mvc.ControllerActionInvoker.InvokeActionResultFilterRecursive(IList`1 filters, Int32 filterIndex, ResultExecutingContext preContext, ControllerContext controllerContext, ActionResult actionResult)
   at System.Web.Mvc.ControllerActionInvoker.InvokeActionResultFilterRecursive(IList`1 filters, Int32 filterIndex, ResultExecutingContext preContext, ControllerContext controllerContext, ActionResult actionResult)
   at System.Web.Mvc.ControllerActionInvoker.InvokeActionResultFilterRecursive(IList`1 filters, Int32 filterIndex, ResultExecutingContext preContext, ControllerContext controllerContext, ActionResult actionResult)
   at System.Web.Mvc.ControllerActionInvoker.InvokeActionResultFilterRecursive(IList`1 filters, Int32 filterIndex, ResultExecutingContext preContext, ControllerContext controllerContext, ActionResult actionResult)
   at System.Web.Mvc.ControllerActionInvoker.InvokeActionResultWithFilters(ControllerContext controllerContext, IList`1 filters, ActionResult actionResult)
   at System.Web.Mvc.Async.AsyncControllerActionInvoker.<>c__DisplayClass3_6.<BeginInvokeAction>b__4()
   at System.Web.Mvc.Async.AsyncControllerActionInvoker.<>c__DisplayClass3_1.<BeginInvokeAction>b__1(IAsyncResult asyncResult)
   at System.Web.Mvc.Async.AsyncResultWrapper.WrappedAsyncResult`1.CallEndDelegate(IAsyncResult asyncResult)
   at System.Web.Mvc.Async.AsyncResultWrapper.WrappedAsyncResultBase`1.End()
   at System.Web.Mvc.Async.AsyncControllerActionInvoker.EndInvokeAction(IAsyncResult asyncResult)
   at System.Web.Mvc.Controller.<>c.<BeginExecuteCore>b__152_1(IAsyncResult asyncResult, ExecuteCoreState innerState)
   at System.Web.Mvc.Async.AsyncResultWrapper.WrappedAsyncVoid`1.CallEndDelegate(IAsyncResult asyncResult)
   at System.Web.Mvc.Async.AsyncResultWrapper.WrappedAsyncResultBase`1.End()
   at System.Web.Mvc.Controller.EndExecuteCore(IAsyncResult asyncResult)
   at System.Web.Mvc.Controller.<>c.<BeginExecute>b__151_2(IAsyncResult asyncResult, Controller controller)
   at System.Web.Mvc.Async.AsyncResultWrapper.WrappedAsyncVoid`1.CallEndDelegate(IAsyncResult asyncResult)
   at System.Web.Mvc.Async.AsyncResultWrapper.WrappedAsyncResultBase`1.End()
   at System.Web.Mvc.Controller.EndExecute(IAsyncResult asyncResult)
   at System.Web.Mvc.Controller.System.Web.Mvc.Async.IAsyncController.EndExecute(IAsyncResult asyncResult)
   at System.Web.Mvc.MvcHandler.<>c.<BeginProcessRequest>b__20_1(IAsyncResult asyncResult, ProcessRequestState innerState)
   at System.Web.Mvc.Async.AsyncResultWrapper.WrappedAsyncVoid`1.CallEndDelegate(IAsyncResult asyncResult)
   at System.Web.Mvc.Async.AsyncResultWrapper.WrappedAsyncResultBase`1.End()
   at System.Web.Mvc.MvcHandler.EndProcessRequest(IAsyncResult asyncResult)
   at System.Web.Mvc.MvcHandler.System.Web.IHttpAsyncHandler.EndProcessRequest(IAsyncResult result)
   at System.Web.Mvc.HttpHandlerUtil.ServerExecuteHttpHandlerAsyncWrapper.<>c__DisplayClass3_0.<EndProcessRequest>b__0()
   at System.Web.Mvc.HttpHandlerUtil.ServerExecuteHttpHandlerWrapper.<>c__DisplayClass5_0.<Wrap>b__0()
   at System.Web.Mvc.HttpHandlerUtil.ServerExecuteHttpHandlerWrapper.Wrap[TResult](Func`1 func)
   at System.Web.Mvc.HttpHandlerUtil.ServerExecuteHttpHandlerWrapper.Wrap(Action action)
   at System.Web.Mvc.HttpHandlerUtil.ServerExecuteHttpHandlerAsyncWrapper.EndProcessRequest(IAsyncResult result)
   at System.Web.HttpServerUtility.ExecuteInternal(IHttpHandler handler, TextWriter writer, Boolean preserveForm, Boolean setPreviousPage, VirtualPath path, VirtualPath filePath, String physPath, Exception error, String queryStringOverride)
   at System.Web.HttpServerUtility.ExecuteInternal(IHttpHandler handler, TextWriter writer, Boolean preserveForm, Boolean setPreviousPage, VirtualPath path, VirtualPath filePath, String physPath, Exception error, String queryStringOverride)
   at System.Web.HttpServerUtility.Execute(IHttpHandler handler, TextWriter writer, Boolean preserveForm, Boolean setPreviousPage)
   at System.Web.HttpServerUtility.Execute(IHttpHandler handler, TextWriter writer, Boolean preserveForm)
   at System.Web.HttpServerUtilityWrapper.Execute(IHttpHandler handler, TextWriter writer, Boolean preserveForm)
   at System.Web.Mvc.Html.ChildActionExtensions.ActionHelper(HtmlHelper htmlHelper, String actionName, String controllerName, RouteValueDictionary routeValues, TextWriter textWriter)
   at System.Web.Mvc.Html.ChildActionExtensions.Action(HtmlHelper htmlHelper, String actionName, String controllerName, RouteValueDictionary routeValues)
   at Our.Umbraco.DocTypeGridEditor.Web.Extensions.HtmlHelperExtensions.RenderDocTypeGridEditorItem(HtmlHelper helper, IPublishedElement content, String editorAlias, String viewPath, String previewViewPath, Boolean isPreview)
   at ASP._Page_app_plugins_doctypegrideditor_render_DocTypeGridEditor_cshtml.Execute()
   at System.Web.WebPages.WebPageBase.ExecutePageHierarchy()
   at System.Web.Mvc.WebViewPage.ExecutePageHierarchy()
   at System.Web.WebPages.WebPageBase.ExecutePageHierarchy(WebPageContext pageContext, TextWriter writer, WebPageRenderingBase startPage)
   at System.Web.Mvc.RazorView.RenderView(ViewContext viewContext, TextWriter writer, Object instance)
   at System.Web.Mvc.BuildManagerCompiledView.Render(ViewContext viewContext, TextWriter writer)
   at Umbraco.Web.Mvc.ProfilingView.Render(ViewContext viewContext, TextWriter writer) in D:\a\1\s\src\Umbraco.Web\Mvc\ProfilingView.cs:line 25
   at System.Web.Mvc.HtmlHelper.RenderPartialInternal(String partialViewName, ViewDataDictionary viewData, Object model, TextWriter writer, ViewEngineCollection viewEngineCollection)
   at System.Web.Mvc.Html.PartialExtensions.Partial(HtmlHelper htmlHelper, String partialViewName, Object model, ViewDataDictionary viewData)
   at System.Web.Mvc.Html.PartialExtensions.Partial(HtmlHelper htmlHelper, String partialViewName, Object model)
   at ASP._Page_Views_Partials_grid_editors_Base_cshtml.Execute()