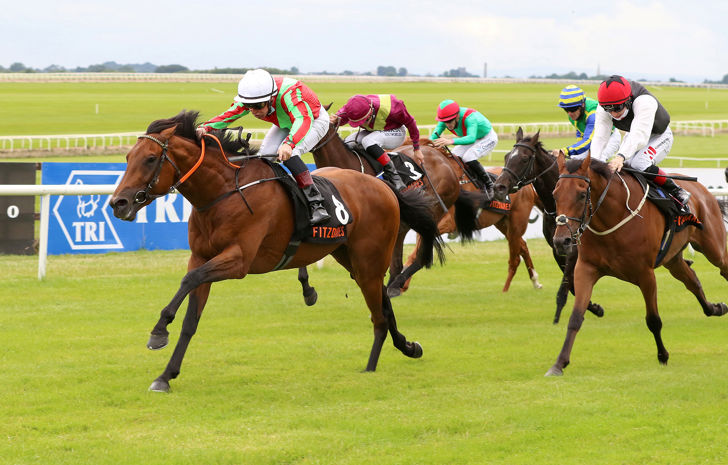 Five interesting entrants for the Flemington Racing Spectacular
3 February 2022
•
Written by
VRC
The early entries for the Flemington Racing Spectacular, released on Monday, feature some of the most well-known horses in Australia including Verry Elleegant, Nature Strip, Zaaki and Anamoe.
There are some, though, that have less of a profile, that may be able to build on their reputations by taking out one of Flemington's biggest races in March.
Here are five entries to keep an eye on this autumn.
EARLSWOOD
Trainer: Maddie Raymond
Entries: TAB Australian Cup
Having a horse of the calibre of Earlswood is potentially a gamechanger for up-and-coming trainer Maddie Raymond, who has already proven her credentials with other imports like Turaath and Wentwood.
A son of the recently deceased stallion Pivotal, Earlswood was one of the top three-year-olds in Ireland last year, although he did seem to struggle with firmer ground.
His first major win came in the Group 3 Gallinule Stakes (2012m) at the Curragh in May, joining past winners like Adelaide, Homesman and Constantinople, while he also took out the Group 3 Royal Whip Stakes (2012m) at the same course and distance in August, a race that includes Armory, Buckhurst and Found among recent victors.
He also finished fourth in the Group 1 Irish Derby (2414m), although a long way behind main protagonists Hurricane Lane and Lone Eagle.
Earlswood is likely to make his Australian debut in the Group 2 TAB Blamey Stakes (1600m) on Australian Guineas Day.
GWAN SO
Trainer: Annabel Neasham
Entries: Australian Guineas
This colt could make history by lining up in the Australian Guineas at Flemington as a northern hemisphere three-year-old. He will be meeting rivals that are up to eight months older than him in what could be one of the stories of the Flemington Racing Spectacular this autumn.
From the first crop of dual Group 1 winner Ulysses, Gwan So was rated second-highest of that debut crop on official ratings in the UK and Ireland despite remaining a maiden. He did, however, finish third in the Listed Flying Scotsman Stakes (1414m) at Doncaster, a race that has featured horses like Zaaki, Wall Of Fire and Mister Sea Wolf in behind the placegetters in recent years.
He is likely to trial again at Warwick Farm on Friday before heading to a maiden. Should he win that, a historic Australian Guineas bid may await.
IN HER HONOUR
Trainer: Michael, Wayne and John Hawkes
Entries: Yulong Stud Newmarket Handicap, TAB Australian Cup
One from right out of left field is Argentine mare In Her Honour, who has not raced since late 2020.
Racing in the Alan Bell colours that have already won the Yulong Stud Newmarket Handicap with Schillaci and Primacy, she could aim to give the prolific owner another victory in the world's most famous sprint handicapor she could step up to 2000m for the TAB Australian Cup.
A Group 2 winner at San Isidro in Buenos Aires, the mare was twice second in Group 1 company, finishing runner-up in the Group 1 Gran Premio de Potrancas (1600m) at two and the Group 1 Gran Premio 1000 Guineas (1600m) at three.
The grey was well-beaten at her only start at 2000m, but also was finishing hard over a mile to suggest that she may need further.
She will be one to watch this preparation.
LEVANTE
Trainer: Ken and Bev Kelso
Entries: Yulong Stud Newmarket Handicap
Ask a New Zealand racing pundit who has the best turn of foot in the country and most would probably answer Levante.
However, in finally adding the title "Group 1 winner" to her name in the Group 1 Telegraph (1200m) last start, she had to forego her best asset and instead rely on her tenacity and determination to take the title.
Usually ridden well back in the field before flying home, she jumped so well under Ryan Elliot that she ended up in a handy position. In what was a moderately run affair, she was sent for home early, but in doing so, her trademark turn of foot was diminished.
Still, she had enough in hand to be able to get the verdict over another Yulong Stud Newmarket Handicap entrant, Roch 'n' Horse, in what was one of the closest photo finishes imaginable.
No Telegraph winner has gone on to contest the Yulong Stud Newmarket Handicap since Keeninsky in 2005, but it is only a matter of time before Levante is seen on this side of the Tasman and the feature sprint looks a perfect place for her to kick off her Australian career.
NORMANDY BRIDGE
Trainer: Ciaron Maher and David Eustace
Entries: TAB Australian Cup
Normandy Bridge's win in the Group 3 Prix Thomas Bryon (1600m) at Saint-Cloud in October, 2020 was one of racing's viral moments of the COVID-19 pandemic and has been replayed time and time again.
Brought to the outside fence at Saint-Cloud, it perhaps looked more daring than it was. The outside fence was not a long journey from the inside rail, there is a long run at Saint-Cloud and it was undoubtedly the best ground on the course.
Still, the visual of Theo Bachelot taking that gamble only for it to pay off in the final stride set Twitter alight and ensured he would carry a big reputation throughout the rest of his career.
He was unable to live up to that reputation at three, but he was still only two and a half lengths from St Mark's Basilica in the Group 1 Poule d'Essai des Poulains (1600m), the French 2000 Guineas.
Now with Ciaron Maher and David Eustace, the Gerry Ryan-owned four-year-old looked every bit as exciting as one would expect in a recent Cranbourne jumpout and his future looks bright.
Image caption: Earlswood wins the Royal Whip Stakes at the Curragh in August.
System.Web.HttpException (0x80004005): Error executing child request for handler 'System.Web.Mvc.HttpHandlerUtil+ServerExecuteHttpHandlerAsyncWrapper'. ---> System.NullReferenceException: Object reference not set to an instance of an object.
   at ASP._Page_Views_Partials_googleAd_cshtml.Execute()
   at System.Web.WebPages.WebPageBase.ExecutePageHierarchy()
   at System.Web.Mvc.WebViewPage.ExecutePageHierarchy()
   at System.Web.WebPages.WebPageBase.ExecutePageHierarchy(WebPageContext pageContext, TextWriter writer, WebPageRenderingBase startPage)
   at System.Web.Mvc.RazorView.RenderView(ViewContext viewContext, TextWriter writer, Object instance)
   at System.Web.Mvc.BuildManagerCompiledView.Render(ViewContext viewContext, TextWriter writer)
   at Umbraco.Web.Mvc.ProfilingView.Render(ViewContext viewContext, TextWriter writer) in D:\a\1\s\src\Umbraco.Web\Mvc\ProfilingView.cs:line 25
   at System.Web.Mvc.ViewResultBase.ExecuteResult(ControllerContext context)
   at System.Web.Mvc.ControllerActionInvoker.InvokeActionResult(ControllerContext controllerContext, ActionResult actionResult)
   at System.Web.Mvc.ControllerActionInvoker.InvokeActionResultFilterRecursive(IList`1 filters, Int32 filterIndex, ResultExecutingContext preContext, ControllerContext controllerContext, ActionResult actionResult)
   at System.Web.Mvc.ControllerActionInvoker.InvokeActionResultFilterRecursive(IList`1 filters, Int32 filterIndex, ResultExecutingContext preContext, ControllerContext controllerContext, ActionResult actionResult)
   at System.Web.Mvc.ControllerActionInvoker.InvokeActionResultFilterRecursive(IList`1 filters, Int32 filterIndex, ResultExecutingContext preContext, ControllerContext controllerContext, ActionResult actionResult)
   at System.Web.Mvc.ControllerActionInvoker.InvokeActionResultFilterRecursive(IList`1 filters, Int32 filterIndex, ResultExecutingContext preContext, ControllerContext controllerContext, ActionResult actionResult)
   at System.Web.Mvc.ControllerActionInvoker.InvokeActionResultFilterRecursive(IList`1 filters, Int32 filterIndex, ResultExecutingContext preContext, ControllerContext controllerContext, ActionResult actionResult)
   at System.Web.Mvc.ControllerActionInvoker.InvokeActionResultWithFilters(ControllerContext controllerContext, IList`1 filters, ActionResult actionResult)
   at System.Web.Mvc.Async.AsyncControllerActionInvoker.<>c__DisplayClass3_6.<BeginInvokeAction>b__4()
   at System.Web.Mvc.Async.AsyncControllerActionInvoker.<>c__DisplayClass3_1.<BeginInvokeAction>b__1(IAsyncResult asyncResult)
   at System.Web.Mvc.Async.AsyncResultWrapper.WrappedAsyncResult`1.CallEndDelegate(IAsyncResult asyncResult)
   at System.Web.Mvc.Async.AsyncResultWrapper.WrappedAsyncResultBase`1.End()
   at System.Web.Mvc.Async.AsyncControllerActionInvoker.EndInvokeAction(IAsyncResult asyncResult)
   at System.Web.Mvc.Controller.<>c.<BeginExecuteCore>b__152_1(IAsyncResult asyncResult, ExecuteCoreState innerState)
   at System.Web.Mvc.Async.AsyncResultWrapper.WrappedAsyncVoid`1.CallEndDelegate(IAsyncResult asyncResult)
   at System.Web.Mvc.Async.AsyncResultWrapper.WrappedAsyncResultBase`1.End()
   at System.Web.Mvc.Controller.EndExecuteCore(IAsyncResult asyncResult)
   at System.Web.Mvc.Controller.<>c.<BeginExecute>b__151_2(IAsyncResult asyncResult, Controller controller)
   at System.Web.Mvc.Async.AsyncResultWrapper.WrappedAsyncVoid`1.CallEndDelegate(IAsyncResult asyncResult)
   at System.Web.Mvc.Async.AsyncResultWrapper.WrappedAsyncResultBase`1.End()
   at System.Web.Mvc.Controller.EndExecute(IAsyncResult asyncResult)
   at System.Web.Mvc.Controller.System.Web.Mvc.Async.IAsyncController.EndExecute(IAsyncResult asyncResult)
   at System.Web.Mvc.MvcHandler.<>c.<BeginProcessRequest>b__20_1(IAsyncResult asyncResult, ProcessRequestState innerState)
   at System.Web.Mvc.Async.AsyncResultWrapper.WrappedAsyncVoid`1.CallEndDelegate(IAsyncResult asyncResult)
   at System.Web.Mvc.Async.AsyncResultWrapper.WrappedAsyncResultBase`1.End()
   at System.Web.Mvc.MvcHandler.EndProcessRequest(IAsyncResult asyncResult)
   at System.Web.Mvc.MvcHandler.System.Web.IHttpAsyncHandler.EndProcessRequest(IAsyncResult result)
   at System.Web.Mvc.HttpHandlerUtil.ServerExecuteHttpHandlerAsyncWrapper.<>c__DisplayClass3_0.<EndProcessRequest>b__0()
   at System.Web.Mvc.HttpHandlerUtil.ServerExecuteHttpHandlerWrapper.<>c__DisplayClass5_0.<Wrap>b__0()
   at System.Web.Mvc.HttpHandlerUtil.ServerExecuteHttpHandlerWrapper.Wrap[TResult](Func`1 func)
   at System.Web.Mvc.HttpHandlerUtil.ServerExecuteHttpHandlerWrapper.Wrap(Action action)
   at System.Web.Mvc.HttpHandlerUtil.ServerExecuteHttpHandlerAsyncWrapper.EndProcessRequest(IAsyncResult result)
   at System.Web.HttpServerUtility.ExecuteInternal(IHttpHandler handler, TextWriter writer, Boolean preserveForm, Boolean setPreviousPage, VirtualPath path, VirtualPath filePath, String physPath, Exception error, String queryStringOverride)
   at System.Web.HttpServerUtility.ExecuteInternal(IHttpHandler handler, TextWriter writer, Boolean preserveForm, Boolean setPreviousPage, VirtualPath path, VirtualPath filePath, String physPath, Exception error, String queryStringOverride)
   at System.Web.HttpServerUtility.Execute(IHttpHandler handler, TextWriter writer, Boolean preserveForm, Boolean setPreviousPage)
   at System.Web.HttpServerUtility.Execute(IHttpHandler handler, TextWriter writer, Boolean preserveForm)
   at System.Web.HttpServerUtilityWrapper.Execute(IHttpHandler handler, TextWriter writer, Boolean preserveForm)
   at System.Web.Mvc.Html.ChildActionExtensions.ActionHelper(HtmlHelper htmlHelper, String actionName, String controllerName, RouteValueDictionary routeValues, TextWriter textWriter)
   at System.Web.Mvc.Html.ChildActionExtensions.Action(HtmlHelper htmlHelper, String actionName, String controllerName, RouteValueDictionary routeValues)
   at Our.Umbraco.DocTypeGridEditor.Web.Extensions.HtmlHelperExtensions.RenderDocTypeGridEditorItem(HtmlHelper helper, IPublishedElement content, String editorAlias, String viewPath, String previewViewPath, Boolean isPreview)
   at ASP._Page_app_plugins_doctypegrideditor_render_DocTypeGridEditor_cshtml.Execute()
   at System.Web.WebPages.WebPageBase.ExecutePageHierarchy()
   at System.Web.Mvc.WebViewPage.ExecutePageHierarchy()
   at System.Web.WebPages.WebPageBase.ExecutePageHierarchy(WebPageContext pageContext, TextWriter writer, WebPageRenderingBase startPage)
   at System.Web.Mvc.RazorView.RenderView(ViewContext viewContext, TextWriter writer, Object instance)
   at System.Web.Mvc.BuildManagerCompiledView.Render(ViewContext viewContext, TextWriter writer)
   at Umbraco.Web.Mvc.ProfilingView.Render(ViewContext viewContext, TextWriter writer) in D:\a\1\s\src\Umbraco.Web\Mvc\ProfilingView.cs:line 25
   at System.Web.Mvc.HtmlHelper.RenderPartialInternal(String partialViewName, ViewDataDictionary viewData, Object model, TextWriter writer, ViewEngineCollection viewEngineCollection)
   at System.Web.Mvc.Html.PartialExtensions.Partial(HtmlHelper htmlHelper, String partialViewName, Object model, ViewDataDictionary viewData)
   at System.Web.Mvc.Html.PartialExtensions.Partial(HtmlHelper htmlHelper, String partialViewName, Object model)
   at ASP._Page_Views_Partials_grid_editors_Base_cshtml.Execute()