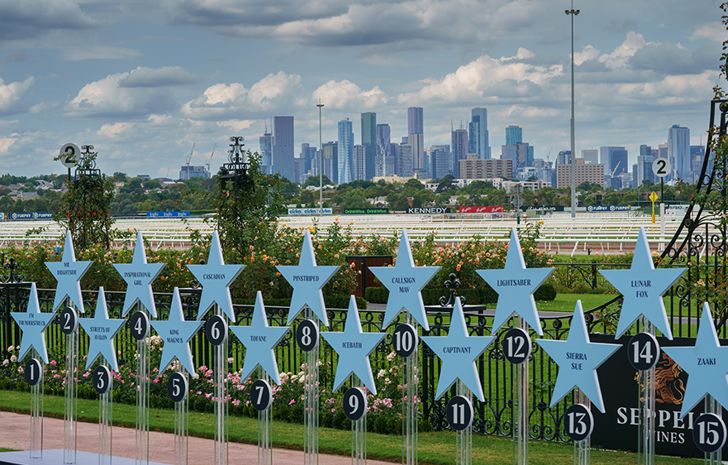 Flemington Racing Spectacular concludes with The Seppelt Wines All-Star Mile Race Day
16 March 2022
•
Written by
VRC
The Seppelt Wines All-Star Mile Race Day this Saturday 19 March will bring the curtain down on the Victoria Racing Club's (VRC) flagship Flemington Racing Spectacular, with the richest race of the autumn complemented by fanfare and festivities off the track.
The headline act is the $5 million Seppelt Wines All-Star Mile (1600m), which returns to racing headquarters for the second time in its short history. 
Fifteen of the best milers from across Australia and New Zealand will contest the world's richest mile race, including Melbourne Cup Carnival winner Zaaki, Flemington-trained Cascadian, Tofane, Inspirational Girl, Callsign Mav and Mr Brightside, as well as exciting three-yearolds Captivant, Pinstriped and Lightsaber. 
One lucky Flemington racegoer will be named the owner ambassador for the Peter Moodytrained Lightsaber, who was runner-up in the Group 1 Australian Guineas (1600m) on the opening day of the Flemington Racing Spectacular. Every patron can go in the running to become his owner ambassador by scanning a QR code before 1:40pm, with the selected ambassador guaranteed at least $10,000. They could win up to $250,000 depending on Lightsaber's finishing position. Terms and conditions apply.
The Seppelt Wines All-Star Mile Ambassadors Erin Holland and Rebecca Harding will be part of the pre-race build up, carrying the unique trophy into the famous Flemington Mounting Yard ahead of the world's richest mile race at 3:40pm.
Also trackside will be Western Bulldogs midfielder Josh Dunkley and his Melbourne Demons counterpart Clayton Oliver, fresh off their Grand Final rematch, while Melbourne Storm fullback Ryan Papenhuyzen will head to Flemington after leading his side against South Sydney. 
Other VIP's set to be part of the excitement include Olympian Emily Seebohm, VRC Ambassador Crystal Kimber, model Ruby Brownless and former Myer Fashions on your Front Lawn Ambassador Tayla Damir.
VRC Chief Executive Officer Steve Rosich said it was only fitting that a successful Flemington Racing Spectacular came to a close with the world's richest mile race.
"The Seppelt Wines All-Star Mile Race Day presents a thrilling conclusion to what has been a tremendous Flemington Racing Spectacular on and off the track," Mr Rosich said. 
"We have been able to welcome our biggest crowds to Headquarters since 2019 and they have been treated to racing of the highest quality and a festival atmosphere at Flemington.
"This will continue on Saturday with The Seppelt Wines All-Star Mile, which boasts an exceptionally strong field including ten Group 1 winners, and I encourage all Melburnians to get back on track to witness this exceptional contest at Flemington."
The supporting races of the day will feature three new contests named after the three winners of The Seppelt Wines All-Star Mile so far. 
The G.H. Mumm Mystic Journey (2000m), a set weights and penalties race for fillies and mares, will see the unbeaten Yonce attempt to maintain her perfect record after a tremendous win over 1600m on Australian Guineas Race Day. 
The Seppelt Wines Regal Power (2000m), a quality handicap, features a competitive field including recent stakes winners Defibrillate, Secret Blaze and Wentwood, while the Lexus Mugatoo (1600m), also a quality handicap, is headed by another Australian Guineas Race Day winner in Bermadez as well as returning Group 1-winning globetrotter Cape Of Good Hope.
With two races restricted to Victorian-bred (VOBIS) horses, two Grand Handicaps and the $250,000 Country Mile Series Final (1600m) - limited to horses from smaller country stables that have come through a number of heats over the past month - The Seppelt Wines All-Star Mile Race Day shapes as a celebration of the best that Victorian racing has to offer.
The Flemington Fareground will make one final appearance on The Seppelt Wines All-Star Mile Race Day, having fast developed into a must-visit attraction for all racegoers. Patrons will be spoilt for choice in the food stakes, with gourmet pop-ups including Calendar Cheese, Nico's Deli, Dan's Empanada's and the Country Women's Association.
Racegoers can also visit a number of market stalls within the Flemington Fareground including Browology, Grown Florists and Blossom Brew, as well as enjoying family-friendly activities including face painting, pony rides, a giant ferris wheel and a vintage carousel.
Electronic duo Bag Raiders will headline the Party After The Last series on the Front Lawn, having been mainstays of the Australian festival scene over the last decade. International party DJ Yo Mafia will also keep the party going for VRC members and guests in The Roof Garden. 
Gates open at 10:55am with Race 1 at 12:25pm and the last race 5:40pm.
Racegoers can pre-purchase tickets via Ticketek.com.au with prices starting at $20 per person for general admission tickets.
The Seppelt Wines All-Star Mile Race Day – Race Program
| | | |
| --- | --- | --- |
| Race | Race Name | Prizemoney |
| 1 - 12:25pm | Kennedy Grand Handicap Classic (2500m) | $150,000 |
| 2 - 1:05pm | VOBIS Gold Comet (1000m) | $200,000 |
| 3 - 1:40pm | The G.H.Mumm Mystic Journey (2000m) | $200,000 |
| 4 - 2:20pm | VOBIS Gold Reef (1600m) | $200,000 |
| 5 - 2:55pm | Furphy Country Mile Series Final (1600m) | $250,000 |
| 6 - 3:40pm | The Seppelt Wines All-Star Mile (1600m) | $5,000,000 |
| 7 - 4:20pm | The Lexus Mugatoo (1600m) | $200,000 |
| 8 - 5:00pm | The Seppelt Wines Regal Power (2000m) | $200,000 |
| 9 - 5:40pm | TAB Sprint (1200m) | $150,000 |
The Seppelt Wines All-Star Mile – Owner Ambassadors
| | | | |
| --- | --- | --- | --- |
| Horse | Owner Ambassador | Origin | Barrier |
| I'm Thunderstruck | Martin Smith | Sylvania, NSW | 1 |
| Mr Brightside | Cathy Brill | Wagga Wagga, NSW | 2 |
| Streets of Avalon | Bethany Marchetti | Niddrie, VIC | 3 |
| Inspirational Girl | Che McPherson | Cairns, QLD | 4 |
| King Magnus | Michele Reading | St Helens, TAS | 5 |
| Cascadian | Paul Nobbs | Gympie, QLD | 6 |
| Tofane | Shannon Duhig | Toowoomba, QLD | 7 |
| Pinstriped | Col Zibara | Terrigal, NSW | 8 |
| Icebath | Josh Baker | Sorell, TAS | 9 |
| Callsign Mav | David Watson | Murray Bridge, SA | 10 |
| Captivant | Robert Goodinson | Auckland, NZ | 11 |
| Lightsaber | Raceday Competition | TBC | 12 |
| Sierra Sue | Peter Coates | Shorncliffe, QLD | 13 |
| Lunar Fox | Shirley Graham | Swanbourne, WA | 14 |
| Zaaki | Nicholas Bouseka | Brisbane, QLD | 15 |
System.Web.HttpException (0x80004005): Error executing child request for handler 'System.Web.Mvc.HttpHandlerUtil+ServerExecuteHttpHandlerAsyncWrapper'. ---> System.NullReferenceException: Object reference not set to an instance of an object.
   at ASP._Page_Views_Partials_googleAd_cshtml.Execute() in C:\home\site\wwwroot\Views\Partials\googleAd.cshtml:line 4
   at System.Web.WebPages.WebPageBase.ExecutePageHierarchy()
   at System.Web.Mvc.WebViewPage.ExecutePageHierarchy()
   at System.Web.WebPages.WebPageBase.ExecutePageHierarchy(WebPageContext pageContext, TextWriter writer, WebPageRenderingBase startPage)
   at System.Web.Mvc.RazorView.RenderView(ViewContext viewContext, TextWriter writer, Object instance)
   at System.Web.Mvc.BuildManagerCompiledView.Render(ViewContext viewContext, TextWriter writer)
   at Umbraco.Web.Mvc.ProfilingView.Render(ViewContext viewContext, TextWriter writer) in D:\a\1\s\src\Umbraco.Web\Mvc\ProfilingView.cs:line 25
   at System.Web.Mvc.ViewResultBase.ExecuteResult(ControllerContext context)
   at System.Web.Mvc.ControllerActionInvoker.InvokeActionResult(ControllerContext controllerContext, ActionResult actionResult)
   at System.Web.Mvc.ControllerActionInvoker.InvokeActionResultFilterRecursive(IList`1 filters, Int32 filterIndex, ResultExecutingContext preContext, ControllerContext controllerContext, ActionResult actionResult)
   at System.Web.Mvc.ControllerActionInvoker.InvokeActionResultFilterRecursive(IList`1 filters, Int32 filterIndex, ResultExecutingContext preContext, ControllerContext controllerContext, ActionResult actionResult)
   at System.Web.Mvc.ControllerActionInvoker.InvokeActionResultFilterRecursive(IList`1 filters, Int32 filterIndex, ResultExecutingContext preContext, ControllerContext controllerContext, ActionResult actionResult)
   at System.Web.Mvc.ControllerActionInvoker.InvokeActionResultFilterRecursive(IList`1 filters, Int32 filterIndex, ResultExecutingContext preContext, ControllerContext controllerContext, ActionResult actionResult)
   at System.Web.Mvc.ControllerActionInvoker.InvokeActionResultFilterRecursive(IList`1 filters, Int32 filterIndex, ResultExecutingContext preContext, ControllerContext controllerContext, ActionResult actionResult)
   at System.Web.Mvc.ControllerActionInvoker.InvokeActionResultWithFilters(ControllerContext controllerContext, IList`1 filters, ActionResult actionResult)
   at System.Web.Mvc.Async.AsyncControllerActionInvoker.<>c__DisplayClass3_6.<BeginInvokeAction>b__4()
   at System.Web.Mvc.Async.AsyncControllerActionInvoker.<>c__DisplayClass3_1.<BeginInvokeAction>b__1(IAsyncResult asyncResult)
   at System.Web.Mvc.Async.AsyncResultWrapper.WrappedAsyncResult`1.CallEndDelegate(IAsyncResult asyncResult)
   at System.Web.Mvc.Async.AsyncResultWrapper.WrappedAsyncResultBase`1.End()
   at System.Web.Mvc.Async.AsyncControllerActionInvoker.EndInvokeAction(IAsyncResult asyncResult)
   at System.Web.Mvc.Controller.<>c.<BeginExecuteCore>b__152_1(IAsyncResult asyncResult, ExecuteCoreState innerState)
   at System.Web.Mvc.Async.AsyncResultWrapper.WrappedAsyncVoid`1.CallEndDelegate(IAsyncResult asyncResult)
   at System.Web.Mvc.Async.AsyncResultWrapper.WrappedAsyncResultBase`1.End()
   at System.Web.Mvc.Controller.EndExecuteCore(IAsyncResult asyncResult)
   at System.Web.Mvc.Controller.<>c.<BeginExecute>b__151_2(IAsyncResult asyncResult, Controller controller)
   at System.Web.Mvc.Async.AsyncResultWrapper.WrappedAsyncVoid`1.CallEndDelegate(IAsyncResult asyncResult)
   at System.Web.Mvc.Async.AsyncResultWrapper.WrappedAsyncResultBase`1.End()
   at System.Web.Mvc.Controller.EndExecute(IAsyncResult asyncResult)
   at System.Web.Mvc.Controller.System.Web.Mvc.Async.IAsyncController.EndExecute(IAsyncResult asyncResult)
   at System.Web.Mvc.MvcHandler.<>c.<BeginProcessRequest>b__20_1(IAsyncResult asyncResult, ProcessRequestState innerState)
   at System.Web.Mvc.Async.AsyncResultWrapper.WrappedAsyncVoid`1.CallEndDelegate(IAsyncResult asyncResult)
   at System.Web.Mvc.Async.AsyncResultWrapper.WrappedAsyncResultBase`1.End()
   at System.Web.Mvc.MvcHandler.EndProcessRequest(IAsyncResult asyncResult)
   at System.Web.Mvc.MvcHandler.System.Web.IHttpAsyncHandler.EndProcessRequest(IAsyncResult result)
   at System.Web.Mvc.HttpHandlerUtil.ServerExecuteHttpHandlerAsyncWrapper.<>c__DisplayClass3_0.<EndProcessRequest>b__0()
   at System.Web.Mvc.HttpHandlerUtil.ServerExecuteHttpHandlerWrapper.<>c__DisplayClass5_0.<Wrap>b__0()
   at System.Web.Mvc.HttpHandlerUtil.ServerExecuteHttpHandlerWrapper.Wrap[TResult](Func`1 func)
   at System.Web.Mvc.HttpHandlerUtil.ServerExecuteHttpHandlerWrapper.Wrap(Action action)
   at System.Web.Mvc.HttpHandlerUtil.ServerExecuteHttpHandlerAsyncWrapper.EndProcessRequest(IAsyncResult result)
   at System.Web.HttpServerUtility.ExecuteInternal(IHttpHandler handler, TextWriter writer, Boolean preserveForm, Boolean setPreviousPage, VirtualPath path, VirtualPath filePath, String physPath, Exception error, String queryStringOverride)
   at System.Web.HttpServerUtility.ExecuteInternal(IHttpHandler handler, TextWriter writer, Boolean preserveForm, Boolean setPreviousPage, VirtualPath path, VirtualPath filePath, String physPath, Exception error, String queryStringOverride)
   at System.Web.HttpServerUtility.Execute(IHttpHandler handler, TextWriter writer, Boolean preserveForm, Boolean setPreviousPage)
   at System.Web.HttpServerUtility.Execute(IHttpHandler handler, TextWriter writer, Boolean preserveForm)
   at System.Web.HttpServerUtilityWrapper.Execute(IHttpHandler handler, TextWriter writer, Boolean preserveForm)
   at System.Web.Mvc.Html.ChildActionExtensions.ActionHelper(HtmlHelper htmlHelper, String actionName, String controllerName, RouteValueDictionary routeValues, TextWriter textWriter)
   at System.Web.Mvc.Html.ChildActionExtensions.Action(HtmlHelper htmlHelper, String actionName, String controllerName, RouteValueDictionary routeValues)
   at Our.Umbraco.DocTypeGridEditor.Web.Extensions.HtmlHelperExtensions.RenderDocTypeGridEditorItem(HtmlHelper helper, IPublishedElement content, String editorAlias, String viewPath, String previewViewPath, Boolean isPreview)
   at ASP._Page_app_plugins_doctypegrideditor_render_DocTypeGridEditor_cshtml.Execute() in C:\home\site\wwwroot\app_plugins\doctypegrideditor\render\DocTypeGridEditor.cshtml:line 34
   at System.Web.WebPages.WebPageBase.ExecutePageHierarchy()
   at System.Web.Mvc.WebViewPage.ExecutePageHierarchy()
   at System.Web.WebPages.WebPageBase.ExecutePageHierarchy(WebPageContext pageContext, TextWriter writer, WebPageRenderingBase startPage)
   at System.Web.Mvc.RazorView.RenderView(ViewContext viewContext, TextWriter writer, Object instance)
   at System.Web.Mvc.BuildManagerCompiledView.Render(ViewContext viewContext, TextWriter writer)
   at Umbraco.Web.Mvc.ProfilingView.Render(ViewContext viewContext, TextWriter writer) in D:\a\1\s\src\Umbraco.Web\Mvc\ProfilingView.cs:line 25
   at System.Web.Mvc.HtmlHelper.RenderPartialInternal(String partialViewName, ViewDataDictionary viewData, Object model, TextWriter writer, ViewEngineCollection viewEngineCollection)
   at System.Web.Mvc.Html.PartialExtensions.Partial(HtmlHelper htmlHelper, String partialViewName, Object model, ViewDataDictionary viewData)
   at System.Web.Mvc.Html.PartialExtensions.Partial(HtmlHelper htmlHelper, String partialViewName, Object model)
   at ASP._Page_Views_Partials_grid_editors_Base_cshtml.Execute() in C:\home\site\wwwroot\Views\Partials\grid\editors\Base.cshtml:line 20