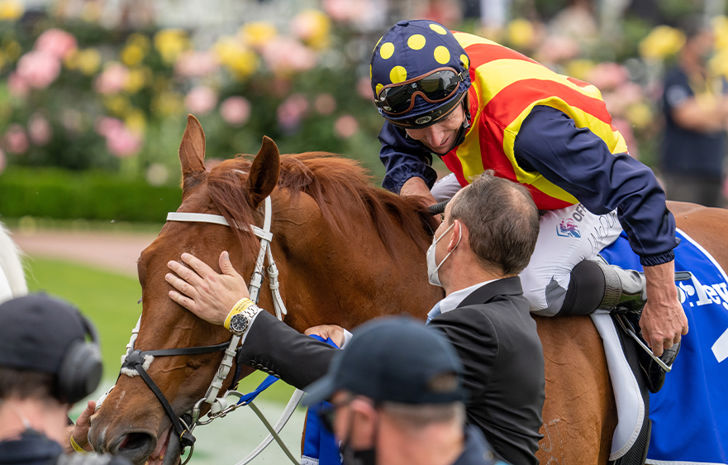 Flemington's stamp on award winners
7 September 2022
•
Written by
Michael Manley
Racing's top honours were handed out on Saturday 3 September at the Australian Racehorse of the Year awards, with superstar Nature Strip being crowned the nation's best racehorse for a second year running. The winners are determined on a points basis and are voted on by a panel of more than forty representatives from the racing media. It's no surprise that Flemington form features in a lot of the finalist's records. See the full list of winners below;
Champion 2YO
Fireburn (210)
She's Extreme (78)
Sheeza Belter (46)
Best Of Bordeaux (32)
Daumier (31)
The Gary Portelli-trained filly Fireburn was crowned Australia's Champion 2YO at the Horse of the Year awards when she emerged from left field to become the dominant youngster, winning the 2022 G1 Golden Slipper and the 2022 G1 ATC Sires' Produce Stakes. Sydney-trained horses have won eight of the past eleven Coolmore Stud Stakes and that's a race Portelli has mentioned in her spring plans. Fillies also filled the placings in the category for Australia's Champion 2YO with She's Extreme (2022 G1 Champagne Stakes) and Sheeza Belter (2022 G1 J J Atkins) both G1 winners over 1600 metres as two-year-olds.
Champion 3YO Filly
Gypsy Goddess (117)
Fangirl (99)
Startantes (57)
Hinged (52)
Barb Raider (33)
Gold Coast trainer David Vandyke is planning to give Australia's Champion 3YO Filly Gypsy Goddess a spring where she has only one or two starts after a busy autumn and winter which culminated with her win in the G1 Queensland Oaks. Runner-up in this category, Fangirl, won the G3 Paramount+ Carbine Club Stakes at Flemington on Penfolds Victoria Derby Day before returning from a break to win the G2 Light Fingers Stakes. She went on to record G1 success in the Vinery Stud Stakes at Newcastle after persistent rain forced the Randwick meeting to be abandoned and moved to Newcastle. Chris Waller also trains fourth placegetter in Hinged who won the G1 Surround Stakes and was runner up to stablemate Fangirl in the G1 Vinery Stud Stakes. The Robert Heathcote-trained Startantes was second behind Hinged in the G1 Surround Stakes before returning to Brisbane to claim the G1 Tatts Tiara with an electric finishing burst. The highest-placed Victorian trained horse in the category was the Mornington-trained mare Barb Raider won the G3 The TAB Vanity and G2 TAB Kewney Stakes earlier this year at Flemington, before winning the G2 The Roses and finishing a gallant second to Gypsy Goddess in the G1 Queensland Oaks.
Champion 3YO Colt or Gelding
Anamoe (164)
Hitotsu (159)
Home Affairs (59)
Mazu (44)
Artorius (4)
The James Cummings-trained Champion 3YO Colt Anamoe is in line to have another tilt at the Cox Plate after his close second in 2021. The son of Street Boss won the G1 Caulfield Guineas and G1 Rosehill Guineas on his way to success in the category. Second placegetter Hitotsu, did some of his best work at Flemington, winning the G1 Penfolds Victoria Derby and returning in the Autumn to claim G1 Australian Guineas before heading north to Sydney, taking out the G1 ATC Derby in a dogged performance. Last year's Coolmore Stud Stakes winner and Black Caviar Lightning Stakes winner Home Affairs, in which he beat Horse of the Year Nature Strip, has since been retired and has already begun his new career at Coolmore Stud, garnering a service fee of $110,000. The G1 Doomben 10,000 winner Mazu, looks has taken the mantle as stable star in the Triple Crown Syndications/Snowden partnership, being unbeaten in his last six outings. Last year's G1 Coolmore Stud Stakes and G1 Caulfield Guineas third placegetter Artorius embarked on a European campaign that netted two Group 1 third placings.
Champion Sprinter
Nature Strip (219)
Eduardo (94)
Home Affairs (71)
Forbidden Love (25)
Lost And Running (12)
The Chris Waller-trained Nature Strip was crowned Horse of the Year for the second time and Australia's Champion Sprinter for the third consecutive season. Solidifying his tag as the "World's Best Sprinter", he won five of his eight starts for the 2021/22 season, continuing his love affair with Flemington winning a second G1 VRC Sprint Classic, a brave second in the G1 Black Caviar Lightning, a historic third G1 TJ Smith Stakes, and capping it all off at Royal Ascot, blowing his rivals away in the G1 King's Stand Stakes. Runner up Champion Sprinter and long-time Nature Strip combatant, Eduardo, finished third in the G1 Black Caviar Lightning Stakes at his only Flemington run last season. Third placegetter Home Affairs won the G1 Coolmore Stud Stakes and got the better of Nature Strip in the G1 Black Caviar Lightning.
Champion Middle Distance Performer
Zaaki (111)
Think It Over (86)
Incentivise (81)
Anamoe (68)
Duais and State Of Rest (both 36)
The Annabel Neasham-trained Zaaki was voted the Champion Middle Distance Performer. Zaaki has an affinity for Flemington having won the G1 Paramount+ Mackinnon Stakes, giving James McDonald a record tenth winner for the Melbourne Cup Carnival. He also claimed the 2022 All-Star Mile at Headquarters earlier in the year. Incentivise was a star of last spring, claiming two of Flemington's spring features the G1 PFD Food Services Makybe Diva Stakes and G1 TAB Turnbull Stakes, as well as a gallant second-placed finish in the G1 Melbourne Cup. Edward Cummings' five-year-old mare Duais was brilliant in her barnstorming G1 TAB Australian Cup victory and is eyeing off a tilt at the 2022 Lexus Melbourne Cup.
Champion Stayer
Verry Elleegant (198)
Incentivise (116)
Hitotsu (75)
Duais (42)
Montefilia (4)
There was little doubt that the Chris Waller-trained mare Verry Elleegant would win the Champion Stayer category after her courageous win in the 2021 Lexus Melbourne Cup, carrying a whopping 57kg. Runner-up, the Peter Moody-trained Incentivise was a gallant second in the Lexus Melbourne Cup after success in the G1 Caulfield Cup, stamping his meteoric rise. Unfortunately, he will miss the spring due to an injury. Continuing the trend of Flemington performances having the most impact on the staying races, four of the five finalists had won G1 races at Flemington.
Image courtesy of Racing Photos
System.Web.HttpException (0x80004005): Error executing child request for handler 'System.Web.Mvc.HttpHandlerUtil+ServerExecuteHttpHandlerAsyncWrapper'. ---> System.NullReferenceException: Object reference not set to an instance of an object.
   at ASP._Page_Views_Partials_googleAd_cshtml.Execute()
   at System.Web.WebPages.WebPageBase.ExecutePageHierarchy()
   at System.Web.Mvc.WebViewPage.ExecutePageHierarchy()
   at System.Web.WebPages.WebPageBase.ExecutePageHierarchy(WebPageContext pageContext, TextWriter writer, WebPageRenderingBase startPage)
   at System.Web.Mvc.RazorView.RenderView(ViewContext viewContext, TextWriter writer, Object instance)
   at System.Web.Mvc.BuildManagerCompiledView.Render(ViewContext viewContext, TextWriter writer)
   at Umbraco.Web.Mvc.ProfilingView.Render(ViewContext viewContext, TextWriter writer) in D:\a\1\s\src\Umbraco.Web\Mvc\ProfilingView.cs:line 25
   at System.Web.Mvc.ViewResultBase.ExecuteResult(ControllerContext context)
   at System.Web.Mvc.ControllerActionInvoker.InvokeActionResult(ControllerContext controllerContext, ActionResult actionResult)
   at System.Web.Mvc.ControllerActionInvoker.InvokeActionResultFilterRecursive(IList`1 filters, Int32 filterIndex, ResultExecutingContext preContext, ControllerContext controllerContext, ActionResult actionResult)
   at System.Web.Mvc.ControllerActionInvoker.InvokeActionResultFilterRecursive(IList`1 filters, Int32 filterIndex, ResultExecutingContext preContext, ControllerContext controllerContext, ActionResult actionResult)
   at System.Web.Mvc.ControllerActionInvoker.InvokeActionResultFilterRecursive(IList`1 filters, Int32 filterIndex, ResultExecutingContext preContext, ControllerContext controllerContext, ActionResult actionResult)
   at System.Web.Mvc.ControllerActionInvoker.InvokeActionResultFilterRecursive(IList`1 filters, Int32 filterIndex, ResultExecutingContext preContext, ControllerContext controllerContext, ActionResult actionResult)
   at System.Web.Mvc.ControllerActionInvoker.InvokeActionResultFilterRecursive(IList`1 filters, Int32 filterIndex, ResultExecutingContext preContext, ControllerContext controllerContext, ActionResult actionResult)
   at System.Web.Mvc.ControllerActionInvoker.InvokeActionResultWithFilters(ControllerContext controllerContext, IList`1 filters, ActionResult actionResult)
   at System.Web.Mvc.Async.AsyncControllerActionInvoker.<>c__DisplayClass3_6.<BeginInvokeAction>b__4()
   at System.Web.Mvc.Async.AsyncControllerActionInvoker.<>c__DisplayClass3_1.<BeginInvokeAction>b__1(IAsyncResult asyncResult)
   at System.Web.Mvc.Async.AsyncResultWrapper.WrappedAsyncResult`1.CallEndDelegate(IAsyncResult asyncResult)
   at System.Web.Mvc.Async.AsyncResultWrapper.WrappedAsyncResultBase`1.End()
   at System.Web.Mvc.Async.AsyncControllerActionInvoker.EndInvokeAction(IAsyncResult asyncResult)
   at System.Web.Mvc.Controller.<>c.<BeginExecuteCore>b__152_1(IAsyncResult asyncResult, ExecuteCoreState innerState)
   at System.Web.Mvc.Async.AsyncResultWrapper.WrappedAsyncVoid`1.CallEndDelegate(IAsyncResult asyncResult)
   at System.Web.Mvc.Async.AsyncResultWrapper.WrappedAsyncResultBase`1.End()
   at System.Web.Mvc.Controller.EndExecuteCore(IAsyncResult asyncResult)
   at System.Web.Mvc.Controller.<>c.<BeginExecute>b__151_2(IAsyncResult asyncResult, Controller controller)
   at System.Web.Mvc.Async.AsyncResultWrapper.WrappedAsyncVoid`1.CallEndDelegate(IAsyncResult asyncResult)
   at System.Web.Mvc.Async.AsyncResultWrapper.WrappedAsyncResultBase`1.End()
   at System.Web.Mvc.Controller.EndExecute(IAsyncResult asyncResult)
   at System.Web.Mvc.Controller.System.Web.Mvc.Async.IAsyncController.EndExecute(IAsyncResult asyncResult)
   at System.Web.Mvc.MvcHandler.<>c.<BeginProcessRequest>b__20_1(IAsyncResult asyncResult, ProcessRequestState innerState)
   at System.Web.Mvc.Async.AsyncResultWrapper.WrappedAsyncVoid`1.CallEndDelegate(IAsyncResult asyncResult)
   at System.Web.Mvc.Async.AsyncResultWrapper.WrappedAsyncResultBase`1.End()
   at System.Web.Mvc.MvcHandler.EndProcessRequest(IAsyncResult asyncResult)
   at System.Web.Mvc.MvcHandler.System.Web.IHttpAsyncHandler.EndProcessRequest(IAsyncResult result)
   at System.Web.Mvc.HttpHandlerUtil.ServerExecuteHttpHandlerAsyncWrapper.<>c__DisplayClass3_0.<EndProcessRequest>b__0()
   at System.Web.Mvc.HttpHandlerUtil.ServerExecuteHttpHandlerWrapper.<>c__DisplayClass5_0.<Wrap>b__0()
   at System.Web.Mvc.HttpHandlerUtil.ServerExecuteHttpHandlerWrapper.Wrap[TResult](Func`1 func)
   at System.Web.Mvc.HttpHandlerUtil.ServerExecuteHttpHandlerWrapper.Wrap(Action action)
   at System.Web.Mvc.HttpHandlerUtil.ServerExecuteHttpHandlerAsyncWrapper.EndProcessRequest(IAsyncResult result)
   at System.Web.HttpServerUtility.ExecuteInternal(IHttpHandler handler, TextWriter writer, Boolean preserveForm, Boolean setPreviousPage, VirtualPath path, VirtualPath filePath, String physPath, Exception error, String queryStringOverride)
   at System.Web.HttpServerUtility.ExecuteInternal(IHttpHandler handler, TextWriter writer, Boolean preserveForm, Boolean setPreviousPage, VirtualPath path, VirtualPath filePath, String physPath, Exception error, String queryStringOverride)
   at System.Web.HttpServerUtility.Execute(IHttpHandler handler, TextWriter writer, Boolean preserveForm, Boolean setPreviousPage)
   at System.Web.HttpServerUtility.Execute(IHttpHandler handler, TextWriter writer, Boolean preserveForm)
   at System.Web.HttpServerUtilityWrapper.Execute(IHttpHandler handler, TextWriter writer, Boolean preserveForm)
   at System.Web.Mvc.Html.ChildActionExtensions.ActionHelper(HtmlHelper htmlHelper, String actionName, String controllerName, RouteValueDictionary routeValues, TextWriter textWriter)
   at System.Web.Mvc.Html.ChildActionExtensions.Action(HtmlHelper htmlHelper, String actionName, String controllerName, RouteValueDictionary routeValues)
   at Our.Umbraco.DocTypeGridEditor.Web.Extensions.HtmlHelperExtensions.RenderDocTypeGridEditorItem(HtmlHelper helper, IPublishedElement content, String editorAlias, String viewPath, String previewViewPath, Boolean isPreview)
   at ASP._Page_app_plugins_doctypegrideditor_render_DocTypeGridEditor_cshtml.Execute()
   at System.Web.WebPages.WebPageBase.ExecutePageHierarchy()
   at System.Web.Mvc.WebViewPage.ExecutePageHierarchy()
   at System.Web.WebPages.WebPageBase.ExecutePageHierarchy(WebPageContext pageContext, TextWriter writer, WebPageRenderingBase startPage)
   at System.Web.Mvc.RazorView.RenderView(ViewContext viewContext, TextWriter writer, Object instance)
   at System.Web.Mvc.BuildManagerCompiledView.Render(ViewContext viewContext, TextWriter writer)
   at Umbraco.Web.Mvc.ProfilingView.Render(ViewContext viewContext, TextWriter writer) in D:\a\1\s\src\Umbraco.Web\Mvc\ProfilingView.cs:line 25
   at System.Web.Mvc.HtmlHelper.RenderPartialInternal(String partialViewName, ViewDataDictionary viewData, Object model, TextWriter writer, ViewEngineCollection viewEngineCollection)
   at System.Web.Mvc.Html.PartialExtensions.Partial(HtmlHelper htmlHelper, String partialViewName, Object model, ViewDataDictionary viewData)
   at System.Web.Mvc.Html.PartialExtensions.Partial(HtmlHelper htmlHelper, String partialViewName, Object model)
   at ASP._Page_Views_Partials_grid_editors_Base_cshtml.Execute()