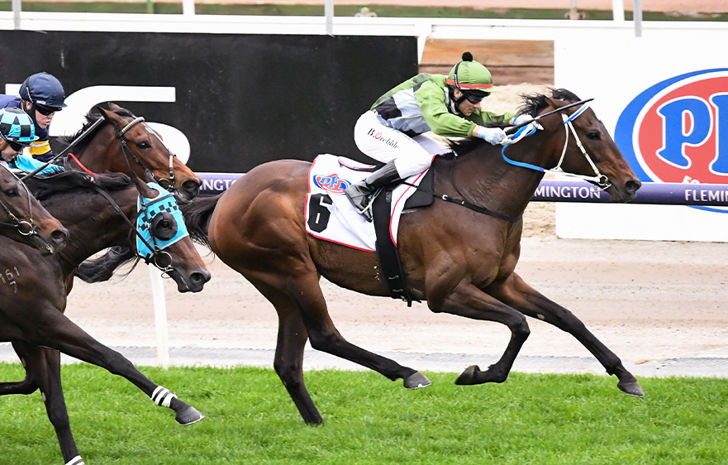 Spring stepping stone
7 September 2022
•
Written by
Michael Sharkie
Although it is a race named after Flemington's most famous Melbourne Cup winning mare, the Group 1 PFD Food Services Makybe Diva Stakes has been dominated by males since it was renamed in 2007.
Formerly the Craiglee Stakes, the PFD Food Services Makybe Diva Stakes serves as a traditional kick-off point or stepping stone on the road towards the big three spring majors, the Caulfield Cup, the Cox Plate or the Lexus Melbourne Cup. Curiously, the famous mare and only winner of three Melbourne Cups never contested the race that carries her name, but many star mares did before carrying forward to greater successes.
Tony Lopes' famous filly Chicquita won the race twice (1950/51) going on to finish second in the Caulfield Cup and Melbourne Cup in 1950, beaten in the latter by her old sparring partner, Comic Court. The Chicquita Lodge stables are now a famous landmark for race callers at Flemington and a popular starting point for jockeys looking to make their move in the Lexus Melbourne Cup.
The amazingly versatile mare Light Fingers also won the race in 1965 on her way to a Melbourne Cup triumph for Bart Cummings, who won the race six times in his own right. A remarkable race mare, Light Fingers was able to win from 1000m to 3200m across her 33-start career, with regular jockey Roy Higgins once declaring, "I'm very attached to her … and if she could cook, I'd marry her!"
Rose Of Kingston won in 1982 during a phenomenal season that saw her take the Australasian Oaks, Australian Derby and Coongy Handicap as she claimed Australian Horse of the Year honours. A champion in her own right, Rose Of Kingston played her part in Melbourne Cup folklore as the dam of 1990 Cup winner Kingston Rule, the result of the mating of an Australian champion and American superstar, Secretariat.
Fast facts
Mares to win the Makybe Diva Stakes
14 – including Southern Speed (2012), Mannerism (1993), Rose of Kingston (1982), How Now (1976), Dual Choice (1971), Light Fingers (1965), Chicquita (1950/1951)
Makybe Diva Stakes winners record in the Melbourne Cup
26 starters for 2 wins (Rain Lover-1969, Light Fingers-1965), 1 second, 1 third, 22 unplaced
Makybe Diva Stakes winners record in the Caulfield Cup
28 starters for 5 wins (Incentivise-2021, Northerly-2002, Sky Heights-1999, Ming Dynasty-1977, How Now-1976), 1 second, 3 thirds, 19 unplaced
Makybe Diva Stakes winners record in the Cox Plate
28 starters for 5 wins (Northerly-2002, Dulcify-1979, Tobin Bronze-1966, Sir Dane-1964, Aquanita-1962), 3 seconds, 2 thirds, 18 unplaced
Upgraded from a Group 2 to Group 1 status in 2013, the Makybe Diva Stakes has been the scene of some truly memorable performances with an honour roll that includes some of the most popular horses of the modern era.
During his stunning spring campaign of 2002, West Australian superstar Northerly defied all from the front to win the Makybe Diva Stakes before his phenomenal Caulfield Cup win carrying top weight. His second Cox Plate victory came a run later under star jockey and now respected trainer Patrick Payne, and confirmed a clear form line for Makybe Diva Stakes winners in the Cox Plate; five of 28 winners completing the double.
Northerly's Makybe Diva Stakes win saw a reunion with jockey Greg Childs who rode the 'Fighting Tiger' to victory at his very first Victorian start in the 2001 Carylon Cup at Caulfield. Childs rode the horse again two starts later in a dominant Australian Cup win at Flemington before Damien Oliver took the reins.
Childs enjoyed a perfect record aboard Northerly, with his six rides on the weight for age star returning six wins and three of them at the elite level.
Weekend Hussler also left his mark on the race, winning the 2008 edition of the race as trainer Ross McDonald sought to extend the horse's brilliance in search of the Caulfield Cup.
A confirmed talent at a mile with wins in the Caulfield Guineas and Randwick Guineas during his three-year-old season, Weekend Hussler made light work of his opposition in the Makybe Diva Stakes, but he struggled to stretch his talent much further with the 1800m Underwood Stakes as close as he would come to victory over a middle-distance, eventually running a tiring twelfth in the Caulfield Cup that year.
Champion trainer Peter Moody has enjoyed his share of success in the Makybe Diva Stakes too over the years, with his former Horse of the Year Dissident prevailing in typically determined style when he out-slogged Fawkner in the 2014 renewal.
In 2021 Incentivise gave Moody his second win in the race and notched a maiden Group 1 win for a horse that would become a cult figure of the 2021 Spring Racing Carnival. The PFD Food Services Makybe Diva Stakes was win number six in a celebrated nine-race streak that included the Group 1 TAB Turnbull Stakes and Group 1 Caulfield Cup, before brilliant mare Verry Elleegant delivered defeat on Lexus Melbourne Cup Day.
West Australian miler Gatting delivered the biggest shock when he won the 2019 edition at mammoth odds of $101, but in hindsight there was a more important aspect to the performance than the horse's starting price.
In the saddle that day was Jamie Kah, who was lauded for an exceptional ride that landed her a second Flemington Group 1 just a few months after her first major level win on Harlem in the TAB Australian Cup at $51.
Kah went on to enjoy a record breaking 18 months and is regarded by many experts as the best jockey in Australia. And it all started on the back of a longshot in the Makybe Diva Stakes at Flemington.
System.Web.HttpException (0x80004005): Error executing child request for handler 'System.Web.Mvc.HttpHandlerUtil+ServerExecuteHttpHandlerAsyncWrapper'. ---> System.NullReferenceException: Object reference not set to an instance of an object.
   at ASP._Page_Views_Partials_googleAd_cshtml.Execute()
   at System.Web.WebPages.WebPageBase.ExecutePageHierarchy()
   at System.Web.Mvc.WebViewPage.ExecutePageHierarchy()
   at System.Web.WebPages.WebPageBase.ExecutePageHierarchy(WebPageContext pageContext, TextWriter writer, WebPageRenderingBase startPage)
   at System.Web.Mvc.RazorView.RenderView(ViewContext viewContext, TextWriter writer, Object instance)
   at System.Web.Mvc.BuildManagerCompiledView.Render(ViewContext viewContext, TextWriter writer)
   at Umbraco.Web.Mvc.ProfilingView.Render(ViewContext viewContext, TextWriter writer) in D:\a\1\s\src\Umbraco.Web\Mvc\ProfilingView.cs:line 25
   at System.Web.Mvc.ViewResultBase.ExecuteResult(ControllerContext context)
   at System.Web.Mvc.ControllerActionInvoker.InvokeActionResult(ControllerContext controllerContext, ActionResult actionResult)
   at System.Web.Mvc.ControllerActionInvoker.InvokeActionResultFilterRecursive(IList`1 filters, Int32 filterIndex, ResultExecutingContext preContext, ControllerContext controllerContext, ActionResult actionResult)
   at System.Web.Mvc.ControllerActionInvoker.InvokeActionResultFilterRecursive(IList`1 filters, Int32 filterIndex, ResultExecutingContext preContext, ControllerContext controllerContext, ActionResult actionResult)
   at System.Web.Mvc.ControllerActionInvoker.InvokeActionResultFilterRecursive(IList`1 filters, Int32 filterIndex, ResultExecutingContext preContext, ControllerContext controllerContext, ActionResult actionResult)
   at System.Web.Mvc.ControllerActionInvoker.InvokeActionResultFilterRecursive(IList`1 filters, Int32 filterIndex, ResultExecutingContext preContext, ControllerContext controllerContext, ActionResult actionResult)
   at System.Web.Mvc.ControllerActionInvoker.InvokeActionResultFilterRecursive(IList`1 filters, Int32 filterIndex, ResultExecutingContext preContext, ControllerContext controllerContext, ActionResult actionResult)
   at System.Web.Mvc.ControllerActionInvoker.InvokeActionResultWithFilters(ControllerContext controllerContext, IList`1 filters, ActionResult actionResult)
   at System.Web.Mvc.Async.AsyncControllerActionInvoker.<>c__DisplayClass3_6.<BeginInvokeAction>b__4()
   at System.Web.Mvc.Async.AsyncControllerActionInvoker.<>c__DisplayClass3_1.<BeginInvokeAction>b__1(IAsyncResult asyncResult)
   at System.Web.Mvc.Async.AsyncResultWrapper.WrappedAsyncResult`1.CallEndDelegate(IAsyncResult asyncResult)
   at System.Web.Mvc.Async.AsyncResultWrapper.WrappedAsyncResultBase`1.End()
   at System.Web.Mvc.Async.AsyncControllerActionInvoker.EndInvokeAction(IAsyncResult asyncResult)
   at System.Web.Mvc.Controller.<>c.<BeginExecuteCore>b__152_1(IAsyncResult asyncResult, ExecuteCoreState innerState)
   at System.Web.Mvc.Async.AsyncResultWrapper.WrappedAsyncVoid`1.CallEndDelegate(IAsyncResult asyncResult)
   at System.Web.Mvc.Async.AsyncResultWrapper.WrappedAsyncResultBase`1.End()
   at System.Web.Mvc.Controller.EndExecuteCore(IAsyncResult asyncResult)
   at System.Web.Mvc.Controller.<>c.<BeginExecute>b__151_2(IAsyncResult asyncResult, Controller controller)
   at System.Web.Mvc.Async.AsyncResultWrapper.WrappedAsyncVoid`1.CallEndDelegate(IAsyncResult asyncResult)
   at System.Web.Mvc.Async.AsyncResultWrapper.WrappedAsyncResultBase`1.End()
   at System.Web.Mvc.Controller.EndExecute(IAsyncResult asyncResult)
   at System.Web.Mvc.Controller.System.Web.Mvc.Async.IAsyncController.EndExecute(IAsyncResult asyncResult)
   at System.Web.Mvc.MvcHandler.<>c.<BeginProcessRequest>b__20_1(IAsyncResult asyncResult, ProcessRequestState innerState)
   at System.Web.Mvc.Async.AsyncResultWrapper.WrappedAsyncVoid`1.CallEndDelegate(IAsyncResult asyncResult)
   at System.Web.Mvc.Async.AsyncResultWrapper.WrappedAsyncResultBase`1.End()
   at System.Web.Mvc.MvcHandler.EndProcessRequest(IAsyncResult asyncResult)
   at System.Web.Mvc.MvcHandler.System.Web.IHttpAsyncHandler.EndProcessRequest(IAsyncResult result)
   at System.Web.Mvc.HttpHandlerUtil.ServerExecuteHttpHandlerAsyncWrapper.<>c__DisplayClass3_0.<EndProcessRequest>b__0()
   at System.Web.Mvc.HttpHandlerUtil.ServerExecuteHttpHandlerWrapper.<>c__DisplayClass5_0.<Wrap>b__0()
   at System.Web.Mvc.HttpHandlerUtil.ServerExecuteHttpHandlerWrapper.Wrap[TResult](Func`1 func)
   at System.Web.Mvc.HttpHandlerUtil.ServerExecuteHttpHandlerWrapper.Wrap(Action action)
   at System.Web.Mvc.HttpHandlerUtil.ServerExecuteHttpHandlerAsyncWrapper.EndProcessRequest(IAsyncResult result)
   at System.Web.HttpServerUtility.ExecuteInternal(IHttpHandler handler, TextWriter writer, Boolean preserveForm, Boolean setPreviousPage, VirtualPath path, VirtualPath filePath, String physPath, Exception error, String queryStringOverride)
   at System.Web.HttpServerUtility.ExecuteInternal(IHttpHandler handler, TextWriter writer, Boolean preserveForm, Boolean setPreviousPage, VirtualPath path, VirtualPath filePath, String physPath, Exception error, String queryStringOverride)
   at System.Web.HttpServerUtility.Execute(IHttpHandler handler, TextWriter writer, Boolean preserveForm, Boolean setPreviousPage)
   at System.Web.HttpServerUtility.Execute(IHttpHandler handler, TextWriter writer, Boolean preserveForm)
   at System.Web.HttpServerUtilityWrapper.Execute(IHttpHandler handler, TextWriter writer, Boolean preserveForm)
   at System.Web.Mvc.Html.ChildActionExtensions.ActionHelper(HtmlHelper htmlHelper, String actionName, String controllerName, RouteValueDictionary routeValues, TextWriter textWriter)
   at System.Web.Mvc.Html.ChildActionExtensions.Action(HtmlHelper htmlHelper, String actionName, String controllerName, RouteValueDictionary routeValues)
   at Our.Umbraco.DocTypeGridEditor.Web.Extensions.HtmlHelperExtensions.RenderDocTypeGridEditorItem(HtmlHelper helper, IPublishedElement content, String editorAlias, String viewPath, String previewViewPath, Boolean isPreview)
   at ASP._Page_app_plugins_doctypegrideditor_render_DocTypeGridEditor_cshtml.Execute()
   at System.Web.WebPages.WebPageBase.ExecutePageHierarchy()
   at System.Web.Mvc.WebViewPage.ExecutePageHierarchy()
   at System.Web.WebPages.WebPageBase.ExecutePageHierarchy(WebPageContext pageContext, TextWriter writer, WebPageRenderingBase startPage)
   at System.Web.Mvc.RazorView.RenderView(ViewContext viewContext, TextWriter writer, Object instance)
   at System.Web.Mvc.BuildManagerCompiledView.Render(ViewContext viewContext, TextWriter writer)
   at Umbraco.Web.Mvc.ProfilingView.Render(ViewContext viewContext, TextWriter writer) in D:\a\1\s\src\Umbraco.Web\Mvc\ProfilingView.cs:line 25
   at System.Web.Mvc.HtmlHelper.RenderPartialInternal(String partialViewName, ViewDataDictionary viewData, Object model, TextWriter writer, ViewEngineCollection viewEngineCollection)
   at System.Web.Mvc.Html.PartialExtensions.Partial(HtmlHelper htmlHelper, String partialViewName, Object model, ViewDataDictionary viewData)
   at System.Web.Mvc.Html.PartialExtensions.Partial(HtmlHelper htmlHelper, String partialViewName, Object model)
   at ASP._Page_Views_Partials_grid_editors_Base_cshtml.Execute()