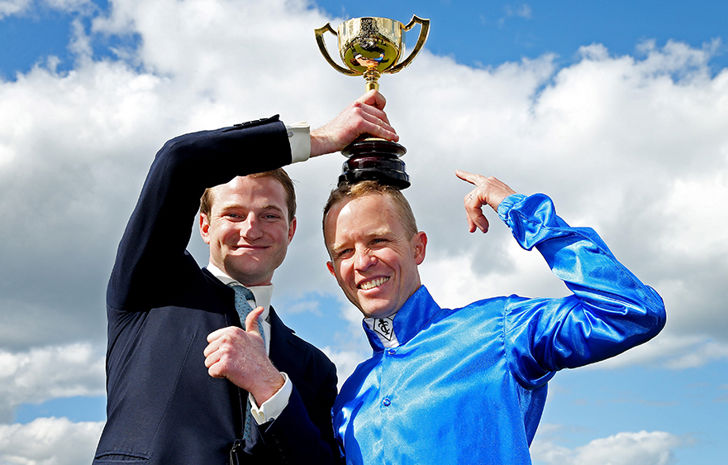 Flying solo
9 September 2022
•
Written by
Lee Mottershead - Racing Post senior writer (UK)
When Deauville Legend lines up in the Lexus Melbourne Cup, trainer James Ferguson will be realising a long-held dream.
James Ferguson is no stranger to the Melbourne Cup. He has been up in the wee small hours to oversee horses at Werribee, enjoyed an open-top drive along Swanston Street and discovered what it is to be part of the action at Flemington.
Back then, however, he was working for someone else. This time, when Deauville Legend bids for glory in Australia's signature sporting prize, Ferguson will be the man in charge.
In 2016, the son of former Godolphin chief executive John Ferguson was assistant to Charlie Appleby. He spent two and a half months living on the other side of the world, overseeing the training of five thoroughbreds who showed their temporary coach in an excellent light.
In edited highlights, Qewy won the Geelong Cup and Sandown Cup, finishing fourth in the Lexus Melbourne Cup in between; Oceanography landed the Lexus Hotham Stakes; Scottish managed second in the Caulfield Cup; and Francis Of Assisi followed up his Bendigo Cup triumph by claiming the Queen Elizabeth Stakes on the final day of the Melbourne Cup Carnival. 
All things considered, it was a rather successful trip.
"I've got a good record in Australia – so far," said Ferguson, the cautionary note in the 32-year-old's answer perhaps an indication he knows the scale of what is to come.
"I think the first thing you notice as an English person in Melbourne around Melbourne Cup time is the level of interest in the race among Australians. It isn't just racing enthusiasts who follow racing as you approach the Melbourne Cup. During the Cup Carnival it's obviously to racing's benefit that it's the only major sport taking place, but it's also clear how well publicised the whole event is during the build-up.
"I have particularly fond memories of the Monday parade through the city. That was just unbelievable. I felt like a celebrity. It showed how important the race really is and it was great to be part of it. As an English trainer, I obviously want to win the English Derby but, from an international perspective, I would absolutely love to win the Melbourne Cup."
Ferguson has a chance to do exactly that on November 1. For although French Derby second El Bodegon has joined Chris Waller, Deauville Legend will chase Cup glory in the name of a young man who has already trained him to win Group races this season at Newmarket and in York's prestigious Great Voltigeur Stakes. Had Bon Ho's son of Sea The Stars – also an excellent second at Royal Ascot and Glorious Goodwood – not been a gelding, he might have gone for Classic glory in the St Leger. Instead, it's all about the Lexus Melbourne Cup.
"It was after Goodwood that we decided he needed to be trained for the Melbourne Cup – and as soon as the idea of the Melbourne Cup was mentioned, Mr Ho was very much for it," said Ferguson, a talented singer, songwriter and guitarist in his spare time.
"The reason Mr Ho is so keen on the Melbourne Cup is that although you must stay, you also need a bit of speed. I genuinely feel I could drop this horse back to a mile and a quarter and he would be every bit as good. I am equally confident about stepping him up to two miles. I certainly don't feel the distance is going to be a problem – and even if you did have doubts about a horse's stamina for two miles, Flemington would be a good place to try.
"He really has developed with every run. I genuinely think he is going to be one of the most exciting four-year-olds around in 2023, whether that's in Britain or Australia."
The Newmarket-based Ferguson will hope the horse's future is in Britain but he readily acknowledges his role for Ho is, in part, to be a pre-trainer, developing equine talent to compete for the owner in Australia.
"I'm incredibly grateful to Mr Ho for giving me this opportunity," stresses Ferguson, who will likely arrive in Melbourne some time after Deauville Legend, having first sourced new talent at the Tattersalls October Yearling Sales, which take place in the first half of October. Fortunately, he can rely on his team and the experience amassed six years ago.
"The real benefit of me having been out in Melbourne as Charlie's assistant is I know Werribee very well," he said.
"In terms of Deauville Legend's training program at Werribee, I almost know what I'm going to do already. He has had a busy season but we have the opportunity to send him into the race fresh. I want to get him into quarantine as fit as I can and therefore not needing to work him too hard once he gets to Australia."
Soon enough, it will all come down to the horse, for whom the trainer's friend Kerrin McEvoy has already been booked.
"Just because he is favourite, I'm not saying he's definitely going to win," stresses Ferguson. "Everything has to go right in the Melbourne Cup. The build-up needs to be completed smoothly and then on the day there will be a huge field.
"I also can't hide the fact I'm very lucky. To be able to take a horse of Deauville Legend's calibre to Australia is a huge deal for me and our yard. It's all very exciting."
Main Image: James Ferguson and jockey Kerrin McEvoy celebrating Qewy's win in the 2016 Geelong Cup. (Colleen Petch / Newspix)
System.Web.HttpException (0x80004005): Error executing child request for handler 'System.Web.Mvc.HttpHandlerUtil+ServerExecuteHttpHandlerAsyncWrapper'. ---> System.NullReferenceException: Object reference not set to an instance of an object.
   at ASP._Page_Views_Partials_googleAd_cshtml.Execute() in C:\home\site\wwwroot\Views\Partials\googleAd.cshtml:line 4
   at System.Web.WebPages.WebPageBase.ExecutePageHierarchy()
   at System.Web.Mvc.WebViewPage.ExecutePageHierarchy()
   at System.Web.WebPages.WebPageBase.ExecutePageHierarchy(WebPageContext pageContext, TextWriter writer, WebPageRenderingBase startPage)
   at System.Web.Mvc.RazorView.RenderView(ViewContext viewContext, TextWriter writer, Object instance)
   at System.Web.Mvc.BuildManagerCompiledView.Render(ViewContext viewContext, TextWriter writer)
   at Umbraco.Web.Mvc.ProfilingView.Render(ViewContext viewContext, TextWriter writer) in D:\a\1\s\src\Umbraco.Web\Mvc\ProfilingView.cs:line 25
   at System.Web.Mvc.ViewResultBase.ExecuteResult(ControllerContext context)
   at System.Web.Mvc.ControllerActionInvoker.InvokeActionResult(ControllerContext controllerContext, ActionResult actionResult)
   at System.Web.Mvc.ControllerActionInvoker.InvokeActionResultFilterRecursive(IList`1 filters, Int32 filterIndex, ResultExecutingContext preContext, ControllerContext controllerContext, ActionResult actionResult)
   at System.Web.Mvc.ControllerActionInvoker.InvokeActionResultFilterRecursive(IList`1 filters, Int32 filterIndex, ResultExecutingContext preContext, ControllerContext controllerContext, ActionResult actionResult)
   at System.Web.Mvc.ControllerActionInvoker.InvokeActionResultFilterRecursive(IList`1 filters, Int32 filterIndex, ResultExecutingContext preContext, ControllerContext controllerContext, ActionResult actionResult)
   at System.Web.Mvc.ControllerActionInvoker.InvokeActionResultFilterRecursive(IList`1 filters, Int32 filterIndex, ResultExecutingContext preContext, ControllerContext controllerContext, ActionResult actionResult)
   at System.Web.Mvc.ControllerActionInvoker.InvokeActionResultFilterRecursive(IList`1 filters, Int32 filterIndex, ResultExecutingContext preContext, ControllerContext controllerContext, ActionResult actionResult)
   at System.Web.Mvc.ControllerActionInvoker.InvokeActionResultWithFilters(ControllerContext controllerContext, IList`1 filters, ActionResult actionResult)
   at System.Web.Mvc.Async.AsyncControllerActionInvoker.<>c__DisplayClass3_6.<BeginInvokeAction>b__4()
   at System.Web.Mvc.Async.AsyncControllerActionInvoker.<>c__DisplayClass3_1.<BeginInvokeAction>b__1(IAsyncResult asyncResult)
   at System.Web.Mvc.Async.AsyncResultWrapper.WrappedAsyncResult`1.CallEndDelegate(IAsyncResult asyncResult)
   at System.Web.Mvc.Async.AsyncResultWrapper.WrappedAsyncResultBase`1.End()
   at System.Web.Mvc.Async.AsyncControllerActionInvoker.EndInvokeAction(IAsyncResult asyncResult)
   at System.Web.Mvc.Controller.<>c.<BeginExecuteCore>b__152_1(IAsyncResult asyncResult, ExecuteCoreState innerState)
   at System.Web.Mvc.Async.AsyncResultWrapper.WrappedAsyncVoid`1.CallEndDelegate(IAsyncResult asyncResult)
   at System.Web.Mvc.Async.AsyncResultWrapper.WrappedAsyncResultBase`1.End()
   at System.Web.Mvc.Controller.EndExecuteCore(IAsyncResult asyncResult)
   at System.Web.Mvc.Controller.<>c.<BeginExecute>b__151_2(IAsyncResult asyncResult, Controller controller)
   at System.Web.Mvc.Async.AsyncResultWrapper.WrappedAsyncVoid`1.CallEndDelegate(IAsyncResult asyncResult)
   at System.Web.Mvc.Async.AsyncResultWrapper.WrappedAsyncResultBase`1.End()
   at System.Web.Mvc.Controller.EndExecute(IAsyncResult asyncResult)
   at System.Web.Mvc.Controller.System.Web.Mvc.Async.IAsyncController.EndExecute(IAsyncResult asyncResult)
   at System.Web.Mvc.MvcHandler.<>c.<BeginProcessRequest>b__20_1(IAsyncResult asyncResult, ProcessRequestState innerState)
   at System.Web.Mvc.Async.AsyncResultWrapper.WrappedAsyncVoid`1.CallEndDelegate(IAsyncResult asyncResult)
   at System.Web.Mvc.Async.AsyncResultWrapper.WrappedAsyncResultBase`1.End()
   at System.Web.Mvc.MvcHandler.EndProcessRequest(IAsyncResult asyncResult)
   at System.Web.Mvc.MvcHandler.System.Web.IHttpAsyncHandler.EndProcessRequest(IAsyncResult result)
   at System.Web.Mvc.HttpHandlerUtil.ServerExecuteHttpHandlerAsyncWrapper.<>c__DisplayClass3_0.<EndProcessRequest>b__0()
   at System.Web.Mvc.HttpHandlerUtil.ServerExecuteHttpHandlerWrapper.<>c__DisplayClass5_0.<Wrap>b__0()
   at System.Web.Mvc.HttpHandlerUtil.ServerExecuteHttpHandlerWrapper.Wrap[TResult](Func`1 func)
   at System.Web.Mvc.HttpHandlerUtil.ServerExecuteHttpHandlerWrapper.Wrap(Action action)
   at System.Web.Mvc.HttpHandlerUtil.ServerExecuteHttpHandlerAsyncWrapper.EndProcessRequest(IAsyncResult result)
   at System.Web.HttpServerUtility.ExecuteInternal(IHttpHandler handler, TextWriter writer, Boolean preserveForm, Boolean setPreviousPage, VirtualPath path, VirtualPath filePath, String physPath, Exception error, String queryStringOverride)
   at System.Web.HttpServerUtility.ExecuteInternal(IHttpHandler handler, TextWriter writer, Boolean preserveForm, Boolean setPreviousPage, VirtualPath path, VirtualPath filePath, String physPath, Exception error, String queryStringOverride)
   at System.Web.HttpServerUtility.Execute(IHttpHandler handler, TextWriter writer, Boolean preserveForm, Boolean setPreviousPage)
   at System.Web.HttpServerUtility.Execute(IHttpHandler handler, TextWriter writer, Boolean preserveForm)
   at System.Web.HttpServerUtilityWrapper.Execute(IHttpHandler handler, TextWriter writer, Boolean preserveForm)
   at System.Web.Mvc.Html.ChildActionExtensions.ActionHelper(HtmlHelper htmlHelper, String actionName, String controllerName, RouteValueDictionary routeValues, TextWriter textWriter)
   at System.Web.Mvc.Html.ChildActionExtensions.Action(HtmlHelper htmlHelper, String actionName, String controllerName, RouteValueDictionary routeValues)
   at Our.Umbraco.DocTypeGridEditor.Web.Extensions.HtmlHelperExtensions.RenderDocTypeGridEditorItem(HtmlHelper helper, IPublishedElement content, String editorAlias, String viewPath, String previewViewPath, Boolean isPreview)
   at ASP._Page_app_plugins_doctypegrideditor_render_DocTypeGridEditor_cshtml.Execute() in C:\home\site\wwwroot\app_plugins\doctypegrideditor\render\DocTypeGridEditor.cshtml:line 34
   at System.Web.WebPages.WebPageBase.ExecutePageHierarchy()
   at System.Web.Mvc.WebViewPage.ExecutePageHierarchy()
   at System.Web.WebPages.WebPageBase.ExecutePageHierarchy(WebPageContext pageContext, TextWriter writer, WebPageRenderingBase startPage)
   at System.Web.Mvc.RazorView.RenderView(ViewContext viewContext, TextWriter writer, Object instance)
   at System.Web.Mvc.BuildManagerCompiledView.Render(ViewContext viewContext, TextWriter writer)
   at Umbraco.Web.Mvc.ProfilingView.Render(ViewContext viewContext, TextWriter writer) in D:\a\1\s\src\Umbraco.Web\Mvc\ProfilingView.cs:line 25
   at System.Web.Mvc.HtmlHelper.RenderPartialInternal(String partialViewName, ViewDataDictionary viewData, Object model, TextWriter writer, ViewEngineCollection viewEngineCollection)
   at System.Web.Mvc.Html.PartialExtensions.Partial(HtmlHelper htmlHelper, String partialViewName, Object model, ViewDataDictionary viewData)
   at System.Web.Mvc.Html.PartialExtensions.Partial(HtmlHelper htmlHelper, String partialViewName, Object model)
   at ASP._Page_Views_Partials_grid_editors_Base_cshtml.Execute() in C:\home\site\wwwroot\Views\Partials\grid\editors\Base.cshtml:line 20