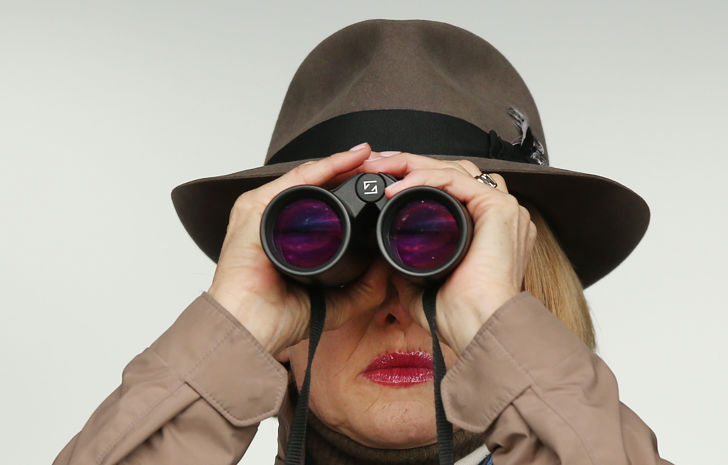 Gai Waterhouse and her way with horses
13 October 2022
•
Written by
Patrick Bartley
The acting world's loss was the racing world's gain … we speak to Gai Waterhouse about her extraordinary thirty-year career (so far) that might never have happened, why she can't possibly name her favourite horse, and what she and the Queen have in common.
Relive Gai Waterhouse's horse Fiorente winning the Melbourne Cup in 2013.
Earlier this year, one of Australia's most successful and colourful horse trainers delays her interview on reaching a 30-year milestone as she needs to urgently discuss a new shower nozzle with her handyman.
The pair vigorously discuss the small odd jobs required for her home in Mosman on the north shore of Sydney. 
She apologises for the holdup but says that the handyman's arrival means "countless tiny little jobs" can be completed. 
Having weathered two hectic days at the Sydney yearling sales that reaped at least eight new members at her Randwick stable, the trainer says as the handyman hammers one of the walls, her 30 years has been a journey like an ongoing dream.
Waterhouse's story started in the late fifties when she was born the only child of Sydney's legendary horse trainer, Tommy (T.J.) Smith, who in the space of a half-century, managed to rewrite the record books that still stand Australia-wide.
"Dad was devoted to me. I was an only child and no, I can't tell you what I missed out on not having brothers and sisters, but it would seem – like all only children – from the time I came from my mother's womb, I was an adult.
"The house was full of adults. Breakfast, lunch and dinner was with adults and when we travelled with Dad across Australia, it was all adult discussion. So you were able to get your head around older concepts because of that sort of upbringing," she said.
Waterhouse went to school at Sacre Coeur in Rose Bay, one of the finest catholic schools in the state, established by an order of nuns in France.
"It was a marvellous school, but with one drawback. It only ever took boarders, and Dad was very unhappy about this because he couldn't stand being away from me for a whole term at a time. Luckily, when I was to be enrolled, the school decided after 100 years to take on day students. Which was a relief, as Mum had been to the school and was keen for me to be there. Being a day student meant I would see a lot more of Dad.
"Mum and Dad were both Catholics. Dad was a very strong Catholic and carried his faith right to the end," she said.
After graduating, Waterhouse was given the great honour of being accepted into Australia's most revered acting colleges in Australia – National Institute of Dramatic Art, or NIDA.
Waterhouse explains it was a time of change in Australia.
"I'd have some boys call in to take me out and a few of them Dad wouldn't have a bar of so after a quick talk with him, we wouldn't see the young guy again.
"But I was overjoyed with the acceptance to NIDA, because all I wanted was to be on the stage as an actress. My grandmother on my mother's side danced and sang on the stage and my mother finished second to Dame Joan Sutherland in one of the most prestigious competitions in Australia.
"It made us all laugh at home when Dad would say, 'Darling, I think you finished second to a future Group 1 champion'," she said.
However, Waterhouse's admission that she was a rebellious teenager was soon quelled when her father ruled out her entry into NIDA.
"... that was it, he'd made his mind up. Then I thought, 'Damn this, I'll head to England.' Amazingly, I made it into one of their finest acting colleges in all of Europe. But once I was in, I got an offer to work on a program on the BBC, so I had to do what I don't think anyone else has done – turn down two offers to two of the finest colleges for acting in the world," she said.
Waterhouse finished her three-year stint and returned to Australia, where she found that acting jobs were extremely scarce.
While she looked for jobs in all avenues of drama, very little career-changing opportunities came forward.
"I didn't have much to do so I said to Dad, 'I'll come down to Randwick with you each morning and clock the horses.' Going into the stables was no novelty. I'd been there since I was a baby, but as each week went by and Dad and I were debating more and more what to do with a horse, I think the penny dropped.
"I decided that horse training will be my career."
At the time, her father told the media: "I said to her, 'Darling, as I slow my stable down you and I could get four or five horses and potter about like father and daughter.' Then she shocked me and said, 'No, no Dad, I've got your work ethic and your ambition. I'd rather have 65 horses in work,'" he said.
Her wish to gain a trainer's license in Sydney largely split the racing industry. In essence the dispute was should a female horse trainer be allowed in Sydney.
"Dad's long-time stable foreman and younger brother, Uncle Ernie, said that it was unthinkable that a woman be permitted to train horses. This was absolutely no place for them. So I thought, what nonsense, I'll push on. And after two-and-a-half years of applying and reapplying and reapplying, I was granted a license. I'll put it in simple terms for you: for a woman whose father was arguably the best horse trainer in that century, it took two-and-a-half years. If I'd been a man, it would have taken two-and-a- half minutes.
"Of course I'm proud. Proud of every second of every minute I've had in 30 years of training. I've been around the world. I have met people from all walks of life that I only would have read about in a magazine if I'd done any other job.
"I trained for the Queen. The Queen is like me – every breath and thought that she takes is about her love for the horses. What a pleasure to be able to have so much in common with a special woman like her.
"But she's got what I've got, and so many people around the world in racing have got – and that's passion," she said.
It all began on a cold day at provincial Hawkesbury in 1992. The woman the industry didn't want in the game trained her first winner, Gifted Poet.
Thirty years later she has clocked up 22,000 starters, and saddled up nearly 4,500 race-winning horses.
She has amassed a staggering 148 Group 1 winners following the recent all-the-way triumph of Knights Order in the Sydney Cup, and nearly every major race across the Australasian landscape.
The daughter of 'the little general', the commander of Randwick, has steadily picked off the records that her father had carved out in the fifties, sixties, seventies and eighties. 
Waterhouse is not keen to reflect on the best horse she has trained. She believes that Piero would be up there, but in her words, "If I start reeling off the best horses I've had, it'll never end. They've all got special places," she said.
When asked who she thought was the best jockey she'd seen, Waterhouse hesitates. "I suppose Mick Dittman and Shane Dye are the best among a great group. And when it comes to trainers, you really can't go past Chris Waller, who came from another country, started from scratch and has enjoyed remarkable success. But the best horse I've seen … I'm a bit biased so I think I'll stay out of that!"
Waterhouse believes that racing is a great survivor, but must take a major haircut in some places if it's to become the great sport it once was. 
"Look, it should be free to get in on every racecourse. The cost of food and drink is out of step with society today. The mums and dads don't have it in their budget.
"Erect big old-fashioned country pubs in racecourses where punters can feel at home when they drift in and out, have a bet or a counter lunch.
"The sporting world is a competitive world. It's a world where we've got to treat our customers like royalty. If we don't, they won't come back. History is already showing us that," she said.
Waterhouse says her marriage to husband Robbie Waterhouse, 43 years this Christmas, has been a special relationship, but even today they are still swapping ideas and changes that come in racing.
"I'm on the front lines of preparing the horses, he's in the backline analysing their form profile. It's a relationship that has taken me to the heights that I'm at today. 
"I found having babies when I first started training difficult. So I had to be like Dad was, organised and undistracted. I'd be gone at three in the morning and the little ones would still be asleep so I'd tiptoe out.
"And then, 15 years later, I'd be tiptoeing out when Tom and Kate would be coming home from a party. But that's just being young.
"I've come a long way from the day that I was a little girl barefoot in the kitchen when my father said, 'I've worn a pack on my back all my life to put shoes on you and now you don't even wear them'.
"Today I have five grandchildren and I'm sure if Dad and Mum were here they would be so proud of what the dynasty has achieved. Nothing better than the gift of life."
System.Web.HttpException (0x80004005): Error executing child request for handler 'System.Web.Mvc.HttpHandlerUtil+ServerExecuteHttpHandlerAsyncWrapper'. ---> System.NullReferenceException: Object reference not set to an instance of an object.
   at ASP._Page_Views_Partials_googleAd_cshtml.Execute()
   at System.Web.WebPages.WebPageBase.ExecutePageHierarchy()
   at System.Web.Mvc.WebViewPage.ExecutePageHierarchy()
   at System.Web.WebPages.WebPageBase.ExecutePageHierarchy(WebPageContext pageContext, TextWriter writer, WebPageRenderingBase startPage)
   at System.Web.Mvc.RazorView.RenderView(ViewContext viewContext, TextWriter writer, Object instance)
   at System.Web.Mvc.BuildManagerCompiledView.Render(ViewContext viewContext, TextWriter writer)
   at Umbraco.Web.Mvc.ProfilingView.Render(ViewContext viewContext, TextWriter writer) in D:\a\1\s\src\Umbraco.Web\Mvc\ProfilingView.cs:line 25
   at System.Web.Mvc.ViewResultBase.ExecuteResult(ControllerContext context)
   at System.Web.Mvc.ControllerActionInvoker.InvokeActionResult(ControllerContext controllerContext, ActionResult actionResult)
   at System.Web.Mvc.ControllerActionInvoker.InvokeActionResultFilterRecursive(IList`1 filters, Int32 filterIndex, ResultExecutingContext preContext, ControllerContext controllerContext, ActionResult actionResult)
   at System.Web.Mvc.ControllerActionInvoker.InvokeActionResultFilterRecursive(IList`1 filters, Int32 filterIndex, ResultExecutingContext preContext, ControllerContext controllerContext, ActionResult actionResult)
   at System.Web.Mvc.ControllerActionInvoker.InvokeActionResultFilterRecursive(IList`1 filters, Int32 filterIndex, ResultExecutingContext preContext, ControllerContext controllerContext, ActionResult actionResult)
   at System.Web.Mvc.ControllerActionInvoker.InvokeActionResultFilterRecursive(IList`1 filters, Int32 filterIndex, ResultExecutingContext preContext, ControllerContext controllerContext, ActionResult actionResult)
   at System.Web.Mvc.ControllerActionInvoker.InvokeActionResultFilterRecursive(IList`1 filters, Int32 filterIndex, ResultExecutingContext preContext, ControllerContext controllerContext, ActionResult actionResult)
   at System.Web.Mvc.ControllerActionInvoker.InvokeActionResultWithFilters(ControllerContext controllerContext, IList`1 filters, ActionResult actionResult)
   at System.Web.Mvc.Async.AsyncControllerActionInvoker.<>c__DisplayClass3_6.<BeginInvokeAction>b__4()
   at System.Web.Mvc.Async.AsyncControllerActionInvoker.<>c__DisplayClass3_1.<BeginInvokeAction>b__1(IAsyncResult asyncResult)
   at System.Web.Mvc.Async.AsyncResultWrapper.WrappedAsyncResult`1.CallEndDelegate(IAsyncResult asyncResult)
   at System.Web.Mvc.Async.AsyncResultWrapper.WrappedAsyncResultBase`1.End()
   at System.Web.Mvc.Async.AsyncControllerActionInvoker.EndInvokeAction(IAsyncResult asyncResult)
   at System.Web.Mvc.Controller.<>c.<BeginExecuteCore>b__152_1(IAsyncResult asyncResult, ExecuteCoreState innerState)
   at System.Web.Mvc.Async.AsyncResultWrapper.WrappedAsyncVoid`1.CallEndDelegate(IAsyncResult asyncResult)
   at System.Web.Mvc.Async.AsyncResultWrapper.WrappedAsyncResultBase`1.End()
   at System.Web.Mvc.Controller.EndExecuteCore(IAsyncResult asyncResult)
   at System.Web.Mvc.Controller.<>c.<BeginExecute>b__151_2(IAsyncResult asyncResult, Controller controller)
   at System.Web.Mvc.Async.AsyncResultWrapper.WrappedAsyncVoid`1.CallEndDelegate(IAsyncResult asyncResult)
   at System.Web.Mvc.Async.AsyncResultWrapper.WrappedAsyncResultBase`1.End()
   at System.Web.Mvc.Controller.EndExecute(IAsyncResult asyncResult)
   at System.Web.Mvc.Controller.System.Web.Mvc.Async.IAsyncController.EndExecute(IAsyncResult asyncResult)
   at System.Web.Mvc.MvcHandler.<>c.<BeginProcessRequest>b__20_1(IAsyncResult asyncResult, ProcessRequestState innerState)
   at System.Web.Mvc.Async.AsyncResultWrapper.WrappedAsyncVoid`1.CallEndDelegate(IAsyncResult asyncResult)
   at System.Web.Mvc.Async.AsyncResultWrapper.WrappedAsyncResultBase`1.End()
   at System.Web.Mvc.MvcHandler.EndProcessRequest(IAsyncResult asyncResult)
   at System.Web.Mvc.MvcHandler.System.Web.IHttpAsyncHandler.EndProcessRequest(IAsyncResult result)
   at System.Web.Mvc.HttpHandlerUtil.ServerExecuteHttpHandlerAsyncWrapper.<>c__DisplayClass3_0.<EndProcessRequest>b__0()
   at System.Web.Mvc.HttpHandlerUtil.ServerExecuteHttpHandlerWrapper.<>c__DisplayClass5_0.<Wrap>b__0()
   at System.Web.Mvc.HttpHandlerUtil.ServerExecuteHttpHandlerWrapper.Wrap[TResult](Func`1 func)
   at System.Web.Mvc.HttpHandlerUtil.ServerExecuteHttpHandlerWrapper.Wrap(Action action)
   at System.Web.Mvc.HttpHandlerUtil.ServerExecuteHttpHandlerAsyncWrapper.EndProcessRequest(IAsyncResult result)
   at System.Web.HttpServerUtility.ExecuteInternal(IHttpHandler handler, TextWriter writer, Boolean preserveForm, Boolean setPreviousPage, VirtualPath path, VirtualPath filePath, String physPath, Exception error, String queryStringOverride)
   at System.Web.HttpServerUtility.ExecuteInternal(IHttpHandler handler, TextWriter writer, Boolean preserveForm, Boolean setPreviousPage, VirtualPath path, VirtualPath filePath, String physPath, Exception error, String queryStringOverride)
   at System.Web.HttpServerUtility.Execute(IHttpHandler handler, TextWriter writer, Boolean preserveForm, Boolean setPreviousPage)
   at System.Web.HttpServerUtility.Execute(IHttpHandler handler, TextWriter writer, Boolean preserveForm)
   at System.Web.HttpServerUtilityWrapper.Execute(IHttpHandler handler, TextWriter writer, Boolean preserveForm)
   at System.Web.Mvc.Html.ChildActionExtensions.ActionHelper(HtmlHelper htmlHelper, String actionName, String controllerName, RouteValueDictionary routeValues, TextWriter textWriter)
   at System.Web.Mvc.Html.ChildActionExtensions.Action(HtmlHelper htmlHelper, String actionName, String controllerName, RouteValueDictionary routeValues)
   at Our.Umbraco.DocTypeGridEditor.Web.Extensions.HtmlHelperExtensions.RenderDocTypeGridEditorItem(HtmlHelper helper, IPublishedElement content, String editorAlias, String viewPath, String previewViewPath, Boolean isPreview)
   at ASP._Page_app_plugins_doctypegrideditor_render_DocTypeGridEditor_cshtml.Execute()
   at System.Web.WebPages.WebPageBase.ExecutePageHierarchy()
   at System.Web.Mvc.WebViewPage.ExecutePageHierarchy()
   at System.Web.WebPages.WebPageBase.ExecutePageHierarchy(WebPageContext pageContext, TextWriter writer, WebPageRenderingBase startPage)
   at System.Web.Mvc.RazorView.RenderView(ViewContext viewContext, TextWriter writer, Object instance)
   at System.Web.Mvc.BuildManagerCompiledView.Render(ViewContext viewContext, TextWriter writer)
   at Umbraco.Web.Mvc.ProfilingView.Render(ViewContext viewContext, TextWriter writer) in D:\a\1\s\src\Umbraco.Web\Mvc\ProfilingView.cs:line 25
   at System.Web.Mvc.HtmlHelper.RenderPartialInternal(String partialViewName, ViewDataDictionary viewData, Object model, TextWriter writer, ViewEngineCollection viewEngineCollection)
   at System.Web.Mvc.Html.PartialExtensions.Partial(HtmlHelper htmlHelper, String partialViewName, Object model, ViewDataDictionary viewData)
   at System.Web.Mvc.Html.PartialExtensions.Partial(HtmlHelper htmlHelper, String partialViewName, Object model)
   at ASP._Page_Views_Partials_grid_editors_Base_cshtml.Execute()