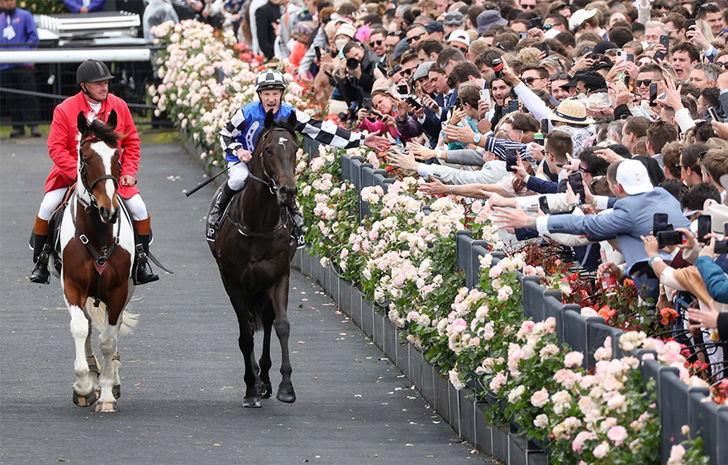 "Glorious" Melbourne Cup Carnival takes Victoria to the world
7 November 2022
•
Written by
VRC
Millions of race fans enjoyed this year's Melbourne Cup Carnival at the track, and via digital and social channels and through TV and radio globally to catch the best thoroughbred racing in Australia, further cementing the Cup Carnival's status as Australia's premier racing event and one of the best in the world.
Victoria Racing Club (VRC) Chairman Neil Wilson said the Carnival had been a huge success, with Gold Trip – trained by Ciaron Maher and David Eustace and with jockey Mark Zahra onboard – winning the prestigious $8 million Lexus Melbourne Cup for the first time. Every day created a Cup Week memory and it was an incredible week of great racing and people enjoying the carnival at Flemington.
Mr Wilson said the VRC was delighted to safely welcome more than 244,000 fans back to Flemington for the Cup Carnival this year despite some challenging weather conditions on the first two days, attracting strong audience numbers on Network 10 and setting new records for audiences on digital and social platforms in Australia and internationally.
"With Networks 10's coverage leading the way with arguably the best combination of entertainment and racing talent ever on the broadcast featuring Eddie McGuire, Francesca Cumani and Glen Boss, the Melbourne Cup Carnival has never been more broadly available to view across digital and social channels. All the Cup Carnival racing is now streamed across an increasing number of digital channels outside of traditional free-to-air," Mr Wilson said.
"The Lexus Melbourne Cup is the race that stops a nation and was one of the highest streamed live sporting events in Australia this year."
"Around 2.5 million people tuned in to watch the Lexus Melbourne Cup across all platforms."
"Some 650,000 people live streamed the Cup across digital platforms including 10 Play, Racing.com, KAYO, the TAB app, Sky Racing and the VRC's own Inside Run platform."
"We are taking Flemington and Australia's best racing Carnival to the world, building huge digital and social audiences to create a massive digital carnival which is increasingly sought after locally and internationally."
The Lexus Melbourne Cup was broadcast to around 190 countries with a global audience of more than 700 million and was also broadcast on 369 radio stations across Australia.
The Carnival was serviced by six catering companies, including Crown which is the hospitality services partner of the VRC. Cup Week also featured 16 different food vendors this year.
Mr Wilson said the Melbourne Cup Carnival is extremely important to Victoria, with the event generating more than $430 million in annual economic benefits in 2019 which we would expect to exceed this year. The Carnival this year supported more than 5,000 jobs on course alone and more across the state.
The Melbourne Cup Carnival has helped to raise more than $1 million to help the community this year.
The Carnival's Pin & Win campaign has raised around $500,000 for new charity partner, Australian Childhood Foundation and the Melbourne Cup Carnival and racing partners have already pledged $500,000 to support not-for-profit GIVIT to help the many flood-impacted people and communities around Australia.
"We set out to make a big difference for these communities and we are incredibly thankful to everyone that has come together to support them," Mr Wilson said.
The final donation to help the flood-affected communities will be announced next week and people can still donate at the GIVIT website.
In a year of milestones, the Myer Fashions on the Field fashion event celebrated its 60th anniversary and showcased inclusion and individuality with new Best Dressed and Best Suited categories.
"We really wanted to make sure that fashion, as an expression of our population, is accessible to everybody and we believe that fashion all about the joy of expressing your own identity. We are thrilled with the response and increased engagement this year and the way Myer Fashions on the Field continues to lead the way through creativity and inclusion," Mr Wilson said.
The Lexus Melbourne Cup tour visited more than 350 schools, 300 hospitals and aged care centres, and 1400 community events as part of the famous Lexus Melbourne Cup tour across Australia this year.
In reflecting on a successful Cup Week, Mr Wilson thanked VRC members, principal partner Lexus, broadcast partner Network 10, and major partners Penfolds, Kennedy and TAB their ongoing support.
"The support of the Victorian Government, VRC members and our corporate partners and sponsors has been instrumental to the successful staging of this year's event. We are delighted with the first unrestricted Melbourne Cup Carnival since 2019 and we look forward to building on this year's edition.
System.Web.HttpException (0x80004005): Error executing child request for handler 'System.Web.Mvc.HttpHandlerUtil+ServerExecuteHttpHandlerAsyncWrapper'. ---> System.NullReferenceException: Object reference not set to an instance of an object.
   at ASP._Page_Views_Partials_googleAd_cshtml.Execute()
   at System.Web.WebPages.WebPageBase.ExecutePageHierarchy()
   at System.Web.Mvc.WebViewPage.ExecutePageHierarchy()
   at System.Web.WebPages.WebPageBase.ExecutePageHierarchy(WebPageContext pageContext, TextWriter writer, WebPageRenderingBase startPage)
   at System.Web.Mvc.RazorView.RenderView(ViewContext viewContext, TextWriter writer, Object instance)
   at System.Web.Mvc.BuildManagerCompiledView.Render(ViewContext viewContext, TextWriter writer)
   at Umbraco.Web.Mvc.ProfilingView.Render(ViewContext viewContext, TextWriter writer) in D:\a\1\s\src\Umbraco.Web\Mvc\ProfilingView.cs:line 25
   at System.Web.Mvc.ViewResultBase.ExecuteResult(ControllerContext context)
   at System.Web.Mvc.ControllerActionInvoker.InvokeActionResult(ControllerContext controllerContext, ActionResult actionResult)
   at System.Web.Mvc.ControllerActionInvoker.InvokeActionResultFilterRecursive(IList`1 filters, Int32 filterIndex, ResultExecutingContext preContext, ControllerContext controllerContext, ActionResult actionResult)
   at System.Web.Mvc.ControllerActionInvoker.InvokeActionResultFilterRecursive(IList`1 filters, Int32 filterIndex, ResultExecutingContext preContext, ControllerContext controllerContext, ActionResult actionResult)
   at System.Web.Mvc.ControllerActionInvoker.InvokeActionResultFilterRecursive(IList`1 filters, Int32 filterIndex, ResultExecutingContext preContext, ControllerContext controllerContext, ActionResult actionResult)
   at System.Web.Mvc.ControllerActionInvoker.InvokeActionResultFilterRecursive(IList`1 filters, Int32 filterIndex, ResultExecutingContext preContext, ControllerContext controllerContext, ActionResult actionResult)
   at System.Web.Mvc.ControllerActionInvoker.InvokeActionResultFilterRecursive(IList`1 filters, Int32 filterIndex, ResultExecutingContext preContext, ControllerContext controllerContext, ActionResult actionResult)
   at System.Web.Mvc.ControllerActionInvoker.InvokeActionResultWithFilters(ControllerContext controllerContext, IList`1 filters, ActionResult actionResult)
   at System.Web.Mvc.Async.AsyncControllerActionInvoker.<>c__DisplayClass3_6.<BeginInvokeAction>b__4()
   at System.Web.Mvc.Async.AsyncControllerActionInvoker.<>c__DisplayClass3_1.<BeginInvokeAction>b__1(IAsyncResult asyncResult)
   at System.Web.Mvc.Async.AsyncResultWrapper.WrappedAsyncResult`1.CallEndDelegate(IAsyncResult asyncResult)
   at System.Web.Mvc.Async.AsyncResultWrapper.WrappedAsyncResultBase`1.End()
   at System.Web.Mvc.Async.AsyncControllerActionInvoker.EndInvokeAction(IAsyncResult asyncResult)
   at System.Web.Mvc.Controller.<>c.<BeginExecuteCore>b__152_1(IAsyncResult asyncResult, ExecuteCoreState innerState)
   at System.Web.Mvc.Async.AsyncResultWrapper.WrappedAsyncVoid`1.CallEndDelegate(IAsyncResult asyncResult)
   at System.Web.Mvc.Async.AsyncResultWrapper.WrappedAsyncResultBase`1.End()
   at System.Web.Mvc.Controller.EndExecuteCore(IAsyncResult asyncResult)
   at System.Web.Mvc.Controller.<>c.<BeginExecute>b__151_2(IAsyncResult asyncResult, Controller controller)
   at System.Web.Mvc.Async.AsyncResultWrapper.WrappedAsyncVoid`1.CallEndDelegate(IAsyncResult asyncResult)
   at System.Web.Mvc.Async.AsyncResultWrapper.WrappedAsyncResultBase`1.End()
   at System.Web.Mvc.Controller.EndExecute(IAsyncResult asyncResult)
   at System.Web.Mvc.Controller.System.Web.Mvc.Async.IAsyncController.EndExecute(IAsyncResult asyncResult)
   at System.Web.Mvc.MvcHandler.<>c.<BeginProcessRequest>b__20_1(IAsyncResult asyncResult, ProcessRequestState innerState)
   at System.Web.Mvc.Async.AsyncResultWrapper.WrappedAsyncVoid`1.CallEndDelegate(IAsyncResult asyncResult)
   at System.Web.Mvc.Async.AsyncResultWrapper.WrappedAsyncResultBase`1.End()
   at System.Web.Mvc.MvcHandler.EndProcessRequest(IAsyncResult asyncResult)
   at System.Web.Mvc.MvcHandler.System.Web.IHttpAsyncHandler.EndProcessRequest(IAsyncResult result)
   at System.Web.Mvc.HttpHandlerUtil.ServerExecuteHttpHandlerAsyncWrapper.<>c__DisplayClass3_0.<EndProcessRequest>b__0()
   at System.Web.Mvc.HttpHandlerUtil.ServerExecuteHttpHandlerWrapper.<>c__DisplayClass5_0.<Wrap>b__0()
   at System.Web.Mvc.HttpHandlerUtil.ServerExecuteHttpHandlerWrapper.Wrap[TResult](Func`1 func)
   at System.Web.Mvc.HttpHandlerUtil.ServerExecuteHttpHandlerWrapper.Wrap(Action action)
   at System.Web.Mvc.HttpHandlerUtil.ServerExecuteHttpHandlerAsyncWrapper.EndProcessRequest(IAsyncResult result)
   at System.Web.HttpServerUtility.ExecuteInternal(IHttpHandler handler, TextWriter writer, Boolean preserveForm, Boolean setPreviousPage, VirtualPath path, VirtualPath filePath, String physPath, Exception error, String queryStringOverride)
   at System.Web.HttpServerUtility.ExecuteInternal(IHttpHandler handler, TextWriter writer, Boolean preserveForm, Boolean setPreviousPage, VirtualPath path, VirtualPath filePath, String physPath, Exception error, String queryStringOverride)
   at System.Web.HttpServerUtility.Execute(IHttpHandler handler, TextWriter writer, Boolean preserveForm, Boolean setPreviousPage)
   at System.Web.HttpServerUtility.Execute(IHttpHandler handler, TextWriter writer, Boolean preserveForm)
   at System.Web.HttpServerUtilityWrapper.Execute(IHttpHandler handler, TextWriter writer, Boolean preserveForm)
   at System.Web.Mvc.Html.ChildActionExtensions.ActionHelper(HtmlHelper htmlHelper, String actionName, String controllerName, RouteValueDictionary routeValues, TextWriter textWriter)
   at System.Web.Mvc.Html.ChildActionExtensions.Action(HtmlHelper htmlHelper, String actionName, String controllerName, RouteValueDictionary routeValues)
   at Our.Umbraco.DocTypeGridEditor.Web.Extensions.HtmlHelperExtensions.RenderDocTypeGridEditorItem(HtmlHelper helper, IPublishedElement content, String editorAlias, String viewPath, String previewViewPath, Boolean isPreview)
   at ASP._Page_app_plugins_doctypegrideditor_render_DocTypeGridEditor_cshtml.Execute()
   at System.Web.WebPages.WebPageBase.ExecutePageHierarchy()
   at System.Web.Mvc.WebViewPage.ExecutePageHierarchy()
   at System.Web.WebPages.WebPageBase.ExecutePageHierarchy(WebPageContext pageContext, TextWriter writer, WebPageRenderingBase startPage)
   at System.Web.Mvc.RazorView.RenderView(ViewContext viewContext, TextWriter writer, Object instance)
   at System.Web.Mvc.BuildManagerCompiledView.Render(ViewContext viewContext, TextWriter writer)
   at Umbraco.Web.Mvc.ProfilingView.Render(ViewContext viewContext, TextWriter writer) in D:\a\1\s\src\Umbraco.Web\Mvc\ProfilingView.cs:line 25
   at System.Web.Mvc.HtmlHelper.RenderPartialInternal(String partialViewName, ViewDataDictionary viewData, Object model, TextWriter writer, ViewEngineCollection viewEngineCollection)
   at System.Web.Mvc.Html.PartialExtensions.Partial(HtmlHelper htmlHelper, String partialViewName, Object model, ViewDataDictionary viewData)
   at System.Web.Mvc.Html.PartialExtensions.Partial(HtmlHelper htmlHelper, String partialViewName, Object model)
   at ASP._Page_Views_Partials_grid_editors_Base_cshtml.Execute()