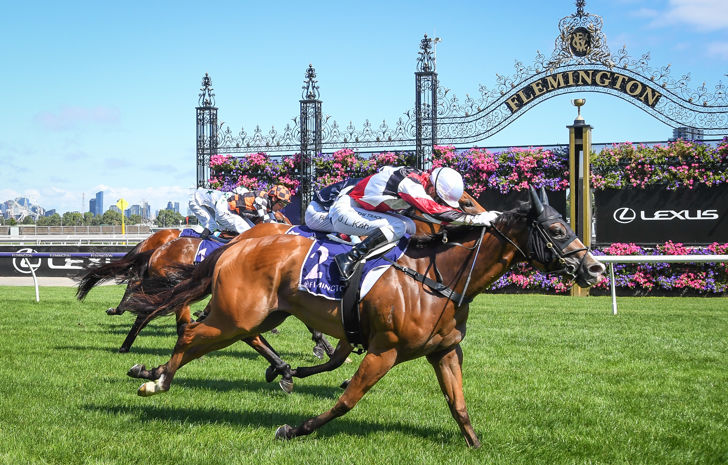 Halvorsen continues quest for Flemington history
16 December 2022
•
Written by
Brad Bishop – Racing & Sports
When most racing fans think Halvorsen, they think Flemington. Specifically, Flemington in summer.
You get the feeling Robbie Griffiths bristles on the inside a little every time someone hints that Halvorsen is 'just a Flemington horse'.
That's probably fair enough given he's run second in a Group 1 William Reid Stakes at The Valley and he has won rich VOBIS Gold races at Caulfield and The Valley.
This Saturday the gelding continues his quest to become the first horse to win the Standish Handicap three times when he steps out in the $200,000 Listed Kensington Stakes (1000m) at his signature venue.
Griffiths is rightly proud of what Halvorsen has achieved away from Flemington in a career that has amassed nine wins from 33 starts and just loose change short of $1.2 million, but he does concede his slow-out, fast-home racing style is best-suited to Flemington's straight track.
"He's good on every track, to be fair, but the beauty of Flemington with him is once he builds his revs, there's room for you to go wherever you want," Griffiths said.
"At Moonee Valley or Caulfield or even Sandown, it can be too biased to traffic. It's easy to miscue on those tracks, whereas Flemington you can just choose your path.
"The wide-open spaces give him a chance to pick up the ground that he always gives away (at the start)."
The seven-year-old son of Magnus has run at Flemington's mid-December meeting each season he has won the Standish Handicap.
In 2019, he won an 1100m handicap before gunning down Bold Star 18 days later in the Standish.
He missed the 2021 Standish but resumed two weeks later in the Kensington Stakes, in which he finished fifth, and ran third in last season's Kensington, the first edition since it was moved from mid-January to mid-December.
Five weeks after that Kensington third placing, Halvorsen won a second Standish Handicap, which this year moved from New Year's Day to mid-January.
Halvorsen became the ninth multiple winner the Standish, which was first run in 1884, joining Manrico (1939/41), Rooney (1978/80) and Super Impressive (2003/05) as those to win it in non-consecutive years.
Halvorsen also won at the Melbourne Cup Carnival in each season he won the Standish Handicap, including a $51 win in last year's Listed Century Stakes.
He again contested the 1000m Century Stakes this year, but was forced to settle for fourth placing, beaten 2-1/2 lengths behind Joyful Fortune, and Griffiths is expecting improvement into this race and further improvement into the Standish after soggy tracks hampered his preparation.
"His closing stages were brilliant (in the Century) and he was very vulnerable the way he was prepared in winter," Griffiths said.
"He looked like he had gumboots on the first 100 metres. The horses that ran one, two, three – and third was only a whisker in front of him – they'd all had a couple of runs on dry ground and that was evident the way they got out of the starting stalls.
"Now he's had that run, I think you'll see a sharper horse out of the barrier and he should be able to set himself up in the first half of the race."
It is not only ground Halvorsen is likely to be spotting his rivals, which include speedy types Yulong Command and Esta La Roca, along with Rose Quartz, he is also conceding plenty of weight.
Halvorsen, who is 60kg topweight, is the only runner in the race above the 54kg limit.
"He's got to give weight to some younger horses, but he deserves to give them weight with his rating of 105 and we think he's still going to be right in it."
Queensland-based jockey Andrew Mallyon has ridden Halvorsen 15 times despite being based in Queensland for much of his career, will again jet in for the ride and they will jump from barrier five in the race that is down to eight runners following the scratchings of Alpha One and Deep Speed.
Halvorsen is at $6 in TAB's market with the well-backed favourite Rose Quartz, trained by Grahame Begg, at $2.60.
Begg is a trainer to watch keenly and especially at Flemington as he's on a winning strike-rate of 24% in his last 50 starters at the course.
Michael Dee will be aboard with Rose Quartz among six rides he has for the day.
The 2022 Penfolds Victoria Derby-winning jockey is steering a winner, on average, one in every four rides at Flemington over his last 50 here, too.
Halversen, well-performed Flemington, versus the well-performing trainer and jockey presents one of the most interesting aspects of this opening Summer Raceday.
Don't miss out on Summer Racing at Flemington. Tickets now available.