Harlem: as tough as they come
22 March 2023
•
Written by
VRC
In 2019, Harlem became the first horse since the legendary Vo Rogue to win back-to-back Australian Cups, giving Hall of Fame trainer David Hayes his fifth win in the race, also netting Jamie Kah her first Group 1 win of her riding career.
Harlem's story began in Newmarket, England. Foaled in April of 2012 and bred by the famed Juddmonte Farm, Harlem was sent to France and landed in the yard of leading jumps jockey turned champion trainer André Fabre. He was successful early winning two of his first three starts as a three-year-old, which included the Listed Prix Frederic de Lagrange (2400m) at Vichy.
He was destined to race in France, being sired by Juddmonte home-bred Champs Elysees. Fabre was also the trainer before the horse was transferred to race in North America. He won three Grade 1's, all at 2400m, the 2008 Northern Dancer Turf Stakes at Woodbine in Toronto, the 2008 Hollywood Turf Cup at Hollywood Park, California, and the 2009 Canadian International again at Woodbine.
After a subsequent preparation that included placings in the Group 3 Prix d'Hedouville (2400m) at Saint Cloud, the Group 2 Grand Prix de Chantilly (2400m), and a fourth-place finish in the Group 2 Prix Kergolay (3000m) at Deauville, Juddmonte Farms elected to offer Harlem up for sale. He topped the Tattersalls Autumn Horses in Training Sale in 2016, selling for 520,000 guineas and was sent to Australia to be trained by the Lindsay Park partnership of David Hayes and Tom Dabernig.
Harlem's first Australian win came in his second preparation at Caulfield over 2000m in the Group 3 Naturalism Stakes (2000m), peeling off the back of the speed and streaking away for a dominant win. The win booked him a place in the 2017 Group 1 Caulfield Cup (2400m) and he was well-fancied, starting at $9. The race was won by stablemate Boom Time with Harlem finishing only 3.45 lengths behind. He was unable to gain a start in the Lexus Melbourne Cup of 2017, finishing sixth in the Group 3 Lexus Stakes (2500m) (now Archer Stakes) on Derby Day.
Upon his return in the autumn of 2018, Harlem produced a great run behind Gailo Chop first-up and followed that up with an uncharacteristically poor showing in the Group 2 Peter Young Stakes (1800m), some 15 lengths off winner Gailo Chop.
In the Australian Cup of 2018, Harlem jumped from the gates showing a starting price of $61, and after finding a lovely position just behind the speed, he had to wait for the run to appear in the straight. When it did, he burst through the gap to better his new rivals and claimed his first Group 1 success. The win was full of merit, beating Group 1 winners Gailo Chop, Hartnell, Single Gaze, Homesman, Ventura Storm and Devise, as well as 2017 Melbourne Cup winner, Almandin.
After a trip to Sydney to compete in more Group 1 races and a modest 2018 spring campaign, Harlem would return in the autumn of 2019 to follow the same path to the Australian Cup that had worked just 12 months earlier. Again, his first-up run behind Avilius was encouraging, and then followed the same horse to the line in the Peter Young Stakes second-up, he would start his title defence of the Australian Cup at a modest $31.
This time however he would team up with up-and-coming jockey, Jamie Kah. She was positive on Harlem, settling just behind the speed over the Flemington 2000 metres. Peeling out at the 400m mark, he travelled well, with the runs for Ace High, Shillelagh and short-priced favourite, Avilius, all coming simultaneously.
He was headed by the Chris Waller-trained Shillelagh at the clock tower and fought his way back in front, showing that tenacity that he had shown in France and twelve months earlier at Flemington and in the process, handing Kah, the new superstar jockey of Victorian racing, her maiden Group 1 victory.
"It's a big, big thrill. I loved the fight he showed." - David Hayes
"I thought he was a really good chance and Ben (Hayes) said he was the toughest horse and he wouldn't give in and that's what he was out there," Kah said of the gelding.
Trainer David Hayes was also ecstatic with the back-to-back victories in the race, exclaiming, "It's a big, big thrill. I loved the fight he showed." Hayes was also full of praise for his jockey. "Jamie gave him an 11 out 10 ride."
Harlem became the seventh horse to have won the race for a second time, joining Northerly and Ming Dynasty. He was the first horse to win the race back-to-back since the mighty Vo Rogue achieved the feat in 1990.
He would return a year later to attempt a historic third win in the 158th edition of the race that was first run in 1863, finishing a gallant fourth behind stablemate Fifty Stars.
He never quite recaptured the success of his two Group 1 victories but was still ultra-competitive, finishing a brave second in the Group 3 Coongy Cup (2000m) at Caulfield with 61kg behind Nonconformist. His run in the 2020 Listed Ballarat Cup (2000m) was incredible, uncharacteristically coming from the tail of the field and encountering his fair share of interference, to only finish a long neck off the winner with 61.5kg on his back.
He would contest a fourth Australian Cup in 2021, following the exact same lead-up race program as the three previous attempts, this time as a nine-year-old and in true Harlem fashion he finished only four lengths behind Homesman.
"He was not a champion, but he was our champion." - Louis Le Metayer (Astute Bloodstock)
"He was a horse that always holds a special place for me as he was my first Group 1 winner as a bloodstock agent," Astute Bloodstock's Louis Le Metayer said at the announcement of his retirement to Living Legends. He described his career perfectly, "He was not a champion, but he was our champion."
Current Lindsay Park co-trainer JD Hayes said, "He's earned his spot at Living Legends and retires a happy horse that will certainly be missed by all Lindsay Park staff because of his character."
---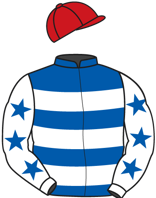 HARLEM (GB)
Bay Gelding
Foaled  16/02/2012
Sire  Champs Elysees (GB)
Dam  Casual (GB) (Nayef (USA))
Trainers  André Fabre (FR), David & Ben Hayes & Tom Dabernig (AUS)
Breeder  Juddmonte Farm, Newmarket UK
Owners  D A Hayes, M B Lee, Blacktype Racing Syndicate (Mgr: J M Andrews), A J Haberfield, W B Keighran, D J Livingston, V McDonald, M R White, C J Atkins, J Grose, R J Row & Ms M W Ng
CAREER STATISTICS
| | | | | | |
| --- | --- | --- | --- | --- | --- |
| Country | Starts | Wins | 2nds | 3rds | Prizemoney |
| FR | 8 | 2 | 1 | 1 | €78,755 (EUR) |
| AUS | 42 | 3 | 2 | 2 | $2,625,380 (AUD) |
|   | Total Starts | Wins | 2nds | 3rds | Total Prizemoney |
|   | 50 | 5 | 3 | 3 | $2,742,602 (AUD) |
MAJOR ACHIEVEMENTS
WON 2018 & 2019 Group 1 Australian Cup (2000m)
WON 2017 Group 3 Naturalism Stakes (2000m)
WON 2015 Listed Prix Frederic de Lagrange (2400m)
---
Group Racing, a Golden Ticket, Fareground fun, and meeting Australian Cup hero, Harlem, makes the TAB Australian Cup Race Day a pivotal day on the racing calendar and a fitting finale to the Flemington Racing Spectacular. Don't miss out on your tickets.
System.Web.HttpException (0x80004005): Error executing child request for handler 'System.Web.Mvc.HttpHandlerUtil+ServerExecuteHttpHandlerAsyncWrapper'. ---> System.NullReferenceException: Object reference not set to an instance of an object.
   at ASP._Page_Views_Partials_googleAd_cshtml.Execute()
   at System.Web.WebPages.WebPageBase.ExecutePageHierarchy()
   at System.Web.Mvc.WebViewPage.ExecutePageHierarchy()
   at System.Web.WebPages.WebPageBase.ExecutePageHierarchy(WebPageContext pageContext, TextWriter writer, WebPageRenderingBase startPage)
   at System.Web.Mvc.RazorView.RenderView(ViewContext viewContext, TextWriter writer, Object instance)
   at System.Web.Mvc.BuildManagerCompiledView.Render(ViewContext viewContext, TextWriter writer)
   at Umbraco.Web.Mvc.ProfilingView.Render(ViewContext viewContext, TextWriter writer) in D:\a\1\s\src\Umbraco.Web\Mvc\ProfilingView.cs:line 25
   at System.Web.Mvc.ViewResultBase.ExecuteResult(ControllerContext context)
   at System.Web.Mvc.ControllerActionInvoker.InvokeActionResult(ControllerContext controllerContext, ActionResult actionResult)
   at System.Web.Mvc.ControllerActionInvoker.InvokeActionResultFilterRecursive(IList`1 filters, Int32 filterIndex, ResultExecutingContext preContext, ControllerContext controllerContext, ActionResult actionResult)
   at System.Web.Mvc.ControllerActionInvoker.InvokeActionResultFilterRecursive(IList`1 filters, Int32 filterIndex, ResultExecutingContext preContext, ControllerContext controllerContext, ActionResult actionResult)
   at System.Web.Mvc.ControllerActionInvoker.InvokeActionResultFilterRecursive(IList`1 filters, Int32 filterIndex, ResultExecutingContext preContext, ControllerContext controllerContext, ActionResult actionResult)
   at System.Web.Mvc.ControllerActionInvoker.InvokeActionResultFilterRecursive(IList`1 filters, Int32 filterIndex, ResultExecutingContext preContext, ControllerContext controllerContext, ActionResult actionResult)
   at System.Web.Mvc.ControllerActionInvoker.InvokeActionResultFilterRecursive(IList`1 filters, Int32 filterIndex, ResultExecutingContext preContext, ControllerContext controllerContext, ActionResult actionResult)
   at System.Web.Mvc.ControllerActionInvoker.InvokeActionResultWithFilters(ControllerContext controllerContext, IList`1 filters, ActionResult actionResult)
   at System.Web.Mvc.Async.AsyncControllerActionInvoker.<>c__DisplayClass3_6.<BeginInvokeAction>b__4()
   at System.Web.Mvc.Async.AsyncControllerActionInvoker.<>c__DisplayClass3_1.<BeginInvokeAction>b__1(IAsyncResult asyncResult)
   at System.Web.Mvc.Async.AsyncResultWrapper.WrappedAsyncResult`1.CallEndDelegate(IAsyncResult asyncResult)
   at System.Web.Mvc.Async.AsyncResultWrapper.WrappedAsyncResultBase`1.End()
   at System.Web.Mvc.Async.AsyncControllerActionInvoker.EndInvokeAction(IAsyncResult asyncResult)
   at System.Web.Mvc.Controller.<>c.<BeginExecuteCore>b__152_1(IAsyncResult asyncResult, ExecuteCoreState innerState)
   at System.Web.Mvc.Async.AsyncResultWrapper.WrappedAsyncVoid`1.CallEndDelegate(IAsyncResult asyncResult)
   at System.Web.Mvc.Async.AsyncResultWrapper.WrappedAsyncResultBase`1.End()
   at System.Web.Mvc.Controller.EndExecuteCore(IAsyncResult asyncResult)
   at System.Web.Mvc.Controller.<>c.<BeginExecute>b__151_2(IAsyncResult asyncResult, Controller controller)
   at System.Web.Mvc.Async.AsyncResultWrapper.WrappedAsyncVoid`1.CallEndDelegate(IAsyncResult asyncResult)
   at System.Web.Mvc.Async.AsyncResultWrapper.WrappedAsyncResultBase`1.End()
   at System.Web.Mvc.Controller.EndExecute(IAsyncResult asyncResult)
   at System.Web.Mvc.Controller.System.Web.Mvc.Async.IAsyncController.EndExecute(IAsyncResult asyncResult)
   at System.Web.Mvc.MvcHandler.<>c.<BeginProcessRequest>b__20_1(IAsyncResult asyncResult, ProcessRequestState innerState)
   at System.Web.Mvc.Async.AsyncResultWrapper.WrappedAsyncVoid`1.CallEndDelegate(IAsyncResult asyncResult)
   at System.Web.Mvc.Async.AsyncResultWrapper.WrappedAsyncResultBase`1.End()
   at System.Web.Mvc.MvcHandler.EndProcessRequest(IAsyncResult asyncResult)
   at System.Web.Mvc.MvcHandler.System.Web.IHttpAsyncHandler.EndProcessRequest(IAsyncResult result)
   at System.Web.Mvc.HttpHandlerUtil.ServerExecuteHttpHandlerAsyncWrapper.<>c__DisplayClass3_0.<EndProcessRequest>b__0()
   at System.Web.Mvc.HttpHandlerUtil.ServerExecuteHttpHandlerWrapper.<>c__DisplayClass5_0.<Wrap>b__0()
   at System.Web.Mvc.HttpHandlerUtil.ServerExecuteHttpHandlerWrapper.Wrap[TResult](Func`1 func)
   at System.Web.Mvc.HttpHandlerUtil.ServerExecuteHttpHandlerWrapper.Wrap(Action action)
   at System.Web.Mvc.HttpHandlerUtil.ServerExecuteHttpHandlerAsyncWrapper.EndProcessRequest(IAsyncResult result)
   at System.Web.HttpServerUtility.ExecuteInternal(IHttpHandler handler, TextWriter writer, Boolean preserveForm, Boolean setPreviousPage, VirtualPath path, VirtualPath filePath, String physPath, Exception error, String queryStringOverride)
   at System.Web.HttpServerUtility.ExecuteInternal(IHttpHandler handler, TextWriter writer, Boolean preserveForm, Boolean setPreviousPage, VirtualPath path, VirtualPath filePath, String physPath, Exception error, String queryStringOverride)
   at System.Web.HttpServerUtility.Execute(IHttpHandler handler, TextWriter writer, Boolean preserveForm, Boolean setPreviousPage)
   at System.Web.HttpServerUtility.Execute(IHttpHandler handler, TextWriter writer, Boolean preserveForm)
   at System.Web.HttpServerUtilityWrapper.Execute(IHttpHandler handler, TextWriter writer, Boolean preserveForm)
   at System.Web.Mvc.Html.ChildActionExtensions.ActionHelper(HtmlHelper htmlHelper, String actionName, String controllerName, RouteValueDictionary routeValues, TextWriter textWriter)
   at System.Web.Mvc.Html.ChildActionExtensions.Action(HtmlHelper htmlHelper, String actionName, String controllerName, RouteValueDictionary routeValues)
   at Our.Umbraco.DocTypeGridEditor.Web.Extensions.HtmlHelperExtensions.RenderDocTypeGridEditorItem(HtmlHelper helper, IPublishedElement content, String editorAlias, String viewPath, String previewViewPath, Boolean isPreview)
   at ASP._Page_app_plugins_doctypegrideditor_render_DocTypeGridEditor_cshtml.Execute()
   at System.Web.WebPages.WebPageBase.ExecutePageHierarchy()
   at System.Web.Mvc.WebViewPage.ExecutePageHierarchy()
   at System.Web.WebPages.WebPageBase.ExecutePageHierarchy(WebPageContext pageContext, TextWriter writer, WebPageRenderingBase startPage)
   at System.Web.Mvc.RazorView.RenderView(ViewContext viewContext, TextWriter writer, Object instance)
   at System.Web.Mvc.BuildManagerCompiledView.Render(ViewContext viewContext, TextWriter writer)
   at Umbraco.Web.Mvc.ProfilingView.Render(ViewContext viewContext, TextWriter writer) in D:\a\1\s\src\Umbraco.Web\Mvc\ProfilingView.cs:line 25
   at System.Web.Mvc.HtmlHelper.RenderPartialInternal(String partialViewName, ViewDataDictionary viewData, Object model, TextWriter writer, ViewEngineCollection viewEngineCollection)
   at System.Web.Mvc.Html.PartialExtensions.Partial(HtmlHelper htmlHelper, String partialViewName, Object model, ViewDataDictionary viewData)
   at System.Web.Mvc.Html.PartialExtensions.Partial(HtmlHelper htmlHelper, String partialViewName, Object model)
   at ASP._Page_Views_Partials_grid_editors_Base_cshtml.Execute()