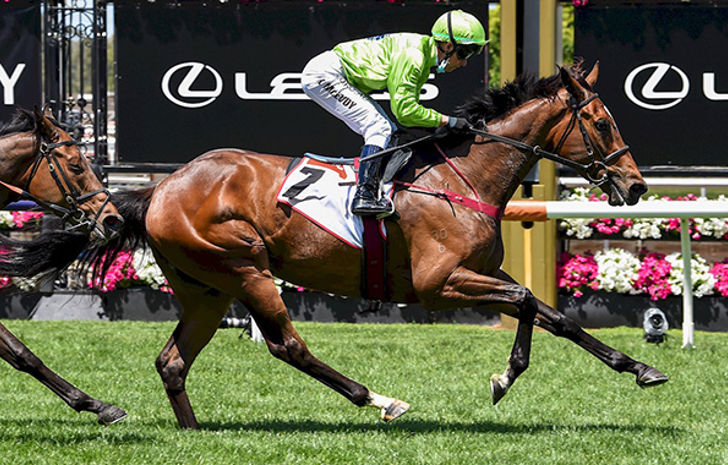 Holland eyes first Melbourne Cup ride
29 September 2021
•
Written by
Edward Sadler
Dean Holland could get the opportunity to live every jockey's dream and ride in the Melbourne Cup for the first time this year.
The lightweight hoop has been booked to ride Tralee Rose in The Bart Cummings on Saturday at Flemington, as she tries to make her way into the Cup field.
The staying mare has been ridden by Craig Williams in her runs in Victoria this year, but with Williams out of action this weekend, connections had to search for a replacement rider.
"We were just looking for a rider that could commit to coming down to ride her," trainer Symon Wilde explained.
"We wanted someone hungry, that was able to stick with her right the way through.
"He can also ride extremely light with ease, Dean, that was another consideration, if she did happen to make the Cup field, he can ride at 51 or 52 (kilos) quite easily.
"We didn't want to take any risks with not knowing whether the Sydney jockeys can come down or international jockeys, and all that sort of stuff, we just thought it might have been a better bet to get someone like Dean that can gallop her and then follow her right the way through if she's good enough."
Holland travelled to Warrnambool on Tuesday to get a feel for Tralee Rose in her trackwork.
"She just worked on the course proper, she just worked over 1400m," Wilde said.
"It was good work, we weren't there to break the clock or anything, but she just went through her paces, and it was just a lovely little blowout for Saturday."
Saturday's running of The Bart Cummings is crucial for horses like Tralee Rose and their connections, as the winner is guaranteed a spot in the Melbourne Cup.
The Bagot Handicap and Lord Reims Stakes winner is currently 36th in the order of entry for 'the race that stops the nation' and has been allocated 51kg for it.
"I'm looking forward to this Saturday," Wilde said.
"Her lead-up runs have been fantastic. She's right where we want her to be, she's trained on beautifully from the Naturalism, so this is the race we've been aiming at, and I think a mile-and-a-half at Flemington is ideal for her and what she really wants.
"We're just hoping that there's not too much rain about, I don't think that would be in her favour.
"Everything else has been great, everything has gone smoothly, and I'm really looking forward to Saturday."
Given that there's still a month between The Bart Cummings and the Cup, Wilde noted that there are other opportunities for his mare to make her way into the Cup field.
"It's going to be a big field, and I think it's going to be a relatively strong race, so I think a pass mark is a top-three or four finish," he said regarding his expectations for this weekend.
"If that can happen, then we'd press on to say a Geelong Cup, and we've given ourselves a couple of chances to make the Cup field, being The Bart Cummings the first one and possibly the Geelong Cup second."
Tralee Rose isn't the only runner of interest from Wilde's stable heading to Flemington on Saturday, as he's also likely to saddle up Princess Jenni.
Last year's Bendigo Cup winner hasn't raced since the Perth Cup at the start of the year.
"Princess Jenni's going well," Wilde said.
"She's injury free, I'm happy with her prep, she's going to probably head to Flemington on Saturday.
"It's only a seven-furlong race, it's just a bit of a blowout, she'll be needing the run a little bit, but we're just hoping to get through that, and her main aim is probably the Zipping Classic and she'll need a couple of runs prior to that.
"We're on target at the moment."
Wilde also reported that Sirileo Miss had pulled up well from her win last weekend at Sandown.
"We're in two minds at the moment about what sort of plans we make for her for the spring," he said.
"I think she'll probably have a lightish spring, but having won her first couple of starts, we might even look at one of the Stakes races next, and if she happened to win that, she could go to the (Empire Rose Stakes), if she didn't win, maybe the Inglis Bracelet might be a really nice race for her to round off her spring campaign, and then we're trying to focus on the autumn, possibly in Sydney with her, chasing wet tracks really with her."
Tralee Rose (Image: Racing Photos)