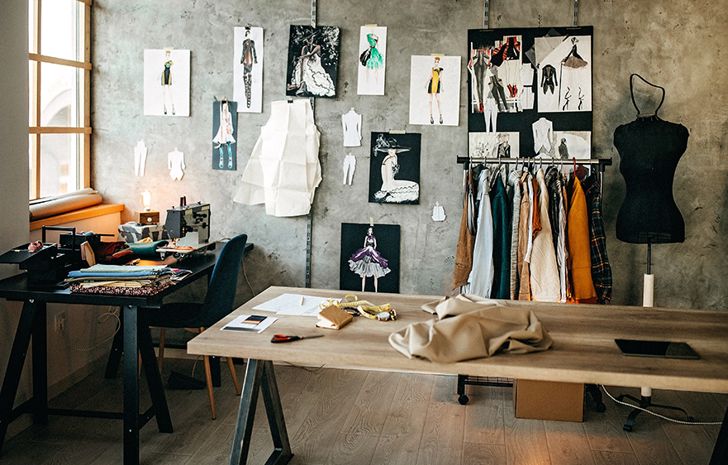 Labours of love
29 October 2021
•
Written by
VRC
Even in the tumultuous year that was 2020, nothing could stop racing at Flemington, and the fabulous racing fashion.
Myer Fashions on the Field became Myer Fashions on your Front Lawn, still enabling talented designers to showcase their show stopping creations via an online competition. Esteemed judges voted remotely, with Ali Rauf of Bird Skin winning the Emerging Designer award, and Stephanie Spencer taking out the Millinery Award.
We spoke with both designers about their designs, the creation process during Covid-19, and what it meant for them to win.
MILLINERY AWARD WINNER
STEPHANIE SPENCER, STEPHANIE SPENCER MILLINERY
Silhouette and structure. Explosive colour and understated detail. No aspect of fashion embodies the opportunity for creativity and surprise, material and colour, whimsy and humour — even flashes of genius — quite like that seen in the best of millinery design and construction.
Please give a short background of yourself and your business.
I have been in Melbourne for 10 years after moving from Perth. I finished a BA in Fashion and Textiles in WA and moved here to dip my toe in the 'fashion industry'. My first job in Melbourne was at Myer, where I worked alongside [milliner] Richard Nylon. I enrolled in a millinery course he taught, and realised my skill set, which was in quite detailed embellishment and handwork, translated well to millinery. I never really set out with the intention of starting a viable business, I just loved the process of making and creating hats, and it all evolved from there.
How would you describe your design style?
My work can paradoxically be quite minimal and also quite intricate. It is quite feminine and uncluttered, 'everything has its place'. I enjoy forecasting and pinpointing what we will see in the upcoming season, so sometimes it can be quite trend driven, but also quite classic. I think hats make pretty good canvases and I like to apply textile and other painting processes to them.
Please describe your winning design, and the materials used to make it.
My piece is a pair of ballet shoes en pointe balancing perfectly atop the wearer's head, with swirls of ribbon 'dancing' around the shoes. I made a replica block from a pair of pointe shoes and blocked the pair using two parasisal capelines, one for the outer shell of the shoes and one for the lining, with some foundation materials in between. The edges of the pair are bound with a ballet pink silk binding, have a sole of brushed suede and are finished with ribbons of ballet pink jinsin, to mimic not only the ribbons of the ballet shoes but the movement of the dancer.
What was the inspiration behind it?
Over our months of Melbourne lockdown I missed my casual dance classes a lot. While I don't dance ballet, I think ballet shoes are symbolic and emblematic of dance, so my piece was a bit of a nod to everything that I was missing. They are also essentially a surrealist piece. I liked the silliness of 'shoes as a hat'. It was an 'upside-down' hat, and a nod to everything being a bit surreal and upside down in 2020.
What was the design and production process like?
It was very different to the two millinery award pieces I had made prior to this piece. Time is usually against me and on both occasions, my award piece always is prioritised after custom orders and is rushed and the result of an unpleasant all-nighter. This piece, while one of the more labour-intensive pieces I have made, was a slow and methodical process. The biggest challenge was accessing materials with everything in lockdown, so I decided to use only what I had on hand, repurposing materials where I could. It was a really enjoyable process, requiring lots of problem solving, and it was exciting to see my concept evolve as successfully as I had hoped.
What do you think the judges saw in your design in 2020 to make it a winner?
I think it's a unique idea. The idea of recontextualising other objects, accessories specifically and turning them into millinery. It's made using quite traditional millinery techniques, in a new way. And essentially it's quite a playful, whimsical piece.
During the Melbourne Cup Carnival, do you create many bespoke pieces for racegoers?
I focus on custom pieces and my ready-to-wear range. I usually make in excess of 60 pieces for clients.
How much do you think COVID affected the millinery industry?
Covid absolutely affected the millinery industry, not only in terms of providing us with an avenue to sell our work, but in some regard, also affecting the supply chain to access materials. It encouraged me to be more resourceful and to practice a more sustainable and ethical means of making my hats.
How significant is winning this award to you personally, and your business?
I received lots of messages and texts and phone calls after winning the award and it was such a nice reminder of how connected we all are and what a supportive industry we are a part of.
What would be your advice for anyone thinking of entering the Millinery competition?
Do it for the enjoyment of the process and experience and to execute an idea. Start months in advance, as the time I had to make the piece under the circumstances last year absolutely worked in my favour.
Do you have a "pinch me" moment?
I love making hats for clients and working together to make totally unique concepts. Additionally, I LOVE making collections for runway, and seeing my hats on stage for VAMFF, once the finale for a runway and in 2020, working with Toni Maticevski to make the hats for his VAMFF showcase. That was pretty cool.
How do you hope people feel when wearing your designs?
Magical!
Do you have any predictions for trackside styles for the coming seasons?
Pant suits and bigger felt hats. 60s shapes and silhouettes.
STEPHANIE'S TOP 3 RACING FASHION TIPS
Comfy shoes
Sunglasses
Good friends!
EMERGING DESIGN AWARD WINNER
ALI RAUF, BIRD SKIN
Excellence in fashion can only thrive when new ideas are released into the world, and old traditions are challenged. The Emerging Designer Award aims to encourage outstanding design talent and excellence within the Australian fashion industry by uncovering the emerging designers who have something new to say. For such forward-thinking designers, especially for many who recently embarked on a new career, the chance to showcase their creations is both thrilling and invaluable.
Please give some background of yourself and your business.
I learned most of my skills from my mother, a talented seamstress, and from the traditional artisans we encountered on our travels growing up. It wasn't until my late teens that I was exposed to high fashion, and I fell in love. My academic background is in architecture, but I started my label Bird Skin in 2016 and it has been growing organically over the years.
How would you describe your design style?
Eclectic, with a mixture of cultural references. Most of Bird Skin's pieces are one-offs, made to order per our client's specifications. My favourite part of what I do is creating custom pieces; fulfilling their vision and contributing to special occasions like weddings and stage performances.
Please describe your winning design, and the materials used to make it.
It was a sculptured, midi-length dress composed of finely pleated synthetic textile in three vibrant block colours. The custom, fine horizontal pleats lend the piece its unique structure, easily manipulated to suit different body shapes. I've been told that the dress resembles an upturned tulip, which is such a beautiful image. The colour palette is exactly what I think of when I envision spring.
What was the inspiration?
I am fascinated by hand-pleating, which is somewhat of a dying art form. My goal was to create a sculptural piece that could be worn by various body shapes in different ways, so I created a corsetted under-structure to flatter the figure, while the unique textiles helped create a dramatic silhouette.
What was the design and production process like?
A visit to a family-owned pleating workshop in Melbourne left me inspired. The company, the last of its kind in Australia, is committed to preserving the art of couture pleating. I knew I had to pay tribute to pleating with my competition entry. As I'm passionate about sustainability, I also set out to create a zero-waste pattern, which my minimalistic design lent itself to.
How long did it take to create?
Due to the pandemic, creating my winning look was an on-and-off process. I think lots of creatives can relate to this sentiment! It took over a month to complete the look, though I did have a strong vision from the outset.
What do you think the judges saw in your design in 2020 to make it a winner?
Prior to taking out this year's crown, I finished runner-up in 2017 and 2019. I believe the success I finally achieved in 2020 was due to the timelessness, versatility, elegance and simplicity of the design.
During the Melbourne Cup Carnival, do you create many bespoke pieces for racegoers?
We try our best to cater to the racewear needs of our clients from Australia and overseas, especially the Middle East. We also allocate extra time to our design competition entry each year. I often find that the Melbourne Cup Carnival season is when I'm at my most inspired, which is invigorating and frustrating as there's never quite enough time.
Do you enjoy the races yourself, or have a background with horses at all?
I am obsessed with horses. Before taking up fashion design, my creative outlet was through painting and various art forms. My earliest childhood memory of the art world is as a child at my cousin's house, gazing at an oil painting of a horse running through the wild.
How significant is winning this award to you personally, and your business?
It has been a huge, long-standing dream of mine to win this award. I had admired the beautiful Melbourne Cup fashions even prior to moving to Australia 10 years ago. I was genuinely shocked the first time I was selected for the top 10, so you only can imagine what it means to me to have finally won this. The response has been overwhelming and heart-warming.
What's next for Bird Skin?
Bird Skin started off as a passion project and I hope that it will always stay that way. My ultimate goal is to establish a shop and studio in Melbourne, and to run embroidery workshops to encourage the next generation to take up this incredible craft. I hope to be part of the current crop of makers who are striving to bring quality, customised pieces and wearable art to the consciousness of Australian fashion fans.
What would be your advice for anyone thinking of entering the Emerging Designer competition?
The Emerging Designer Award is an incredible opportunity to challenge yourself creatively and catch the attention of racegoers, so don't be afraid to take risks. Another tip is to always keep it classy, as that's where the tradition of this prestigious event meets modern style.
How do you hope people feel when wearing your designs?
I want the wearer to feel that they have invested in something that could remain with them for a long time, to be passed down and admired through generations.
Do you have any predictions for trackside styles for the coming seasons?
I feel that the fashion world has lots of pent-up creative energy, threatening to burst out. I think we will see lots of defiance and an unapologetic attitude: bold and bright colours, with more interesting takes on volume and shape.
ALI'S TOP 3 RACING FASHION TIPS
It is so important to pick a millinery piece that brings out the best in an outfit rather than overshadowing the clothing. At the same time, it shouldn't read as a mere afterthought.
The dress should always be well-balanced and work with the wearer's proportions. For garments purchased directly off the rack, minor alterations can make all the difference to the success of a look.
Most importantly, a beautiful smile on the attendee's face is an absolute must.