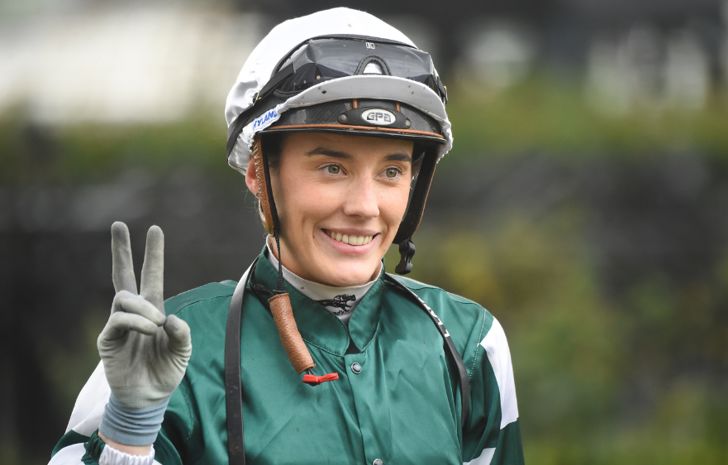 Laura Lafferty on the rise
20 May 2023
•
Written by
Sarah Marinos
Determination could be the middle name of Warrnambool apprentice jockey, Laura Lafferty. The natural athlete has had a few setbacks, but after some recent success including a double at Flemington on National Jockeys Trust Day, she is focused on carving out a successful riding career.
Staying positive and focused has been part of Lafferty's mindset since she began her jockey apprenticeship in 2019. 
At Caulfield in April 2021, Lafferty celebrated her maiden city win aboard Intrepidacious in the Simon Builders Handicap. After a series of near-misses, she was relieved to clinch that first metro win that was followed up with a handful of first-place results. 
That first win at Caulfield felt like it was a long time coming – she had 45 city rides before that first place – but she never got disheartened.
"Friends, trainers, and people who interviewed me for radio would keep saying 'is today the day?' Then I'd come second but not once did I get down on that," she said.
"I was always positive and after every near-miss, I'd go home and think 'what can I do next time to get better?' Sometimes that near-miss was a hard pill to swallow, but I focused on getting things done the next time. There is never any point in sitting at home kicking yourself about things that happen.
You have to move on and make plans for the next week and the next week and the next week until you get a winner. I knew I was knocking on the door of a win."
Just as things started falling into place, the resilient apprentice faced another setback. In June that year she fell at Swan Hill and Laura was left with shoulder and knee pain, some swelling to the brain and concussion. Her injuries meant at least a month of recuperation and put a temporary halt on her racing career.
"I escaped with no other serious damage and count myself extremely lucky," she said.
Horses are in her family's DNA. Lafferty grew up in Warrnambool where her grandfather, Kevin, and father, Peter, were respected trainers. Like her older sisters, she had ponies and went to pony club before her father gave her one of his ex-racehorses, Ballysteen, while she was at high school. 
"There are photos of me at one or two years old sitting on ponies, but when I got Ballysteen I became more competitive. I took him showjumping and eventing and then took another of Dad's ex-racehorses off the track and got him ready to go to a new home to a showjumper. Some of the horses were a bit temperamental, but I got them to relax and helped them find a life after racing, and I loved that," she said.
Since she was a child, Lafferty also kept fit. Her mother was a runner and Lafferty followed in her footsteps. She became part of the elite Melbourne Track Club and, at 18, was selected for the Australian Junior Athletics Team. She has also played competitive netball and represented Victoria.
When she was in Year 12, her sporting prowess saw Lafferty offered a scholarship to go to college in Chicago, but she opted to study exercise science at Deakin University in Geelong instead. To earn a living while she studied, Lafferty began riding trackwork for local trainers and a part-time job gradually became a six-day-a-week commitment.
"I loved riding trackwork and working with horses and about six months into my degree I saw applications were open for the apprentice jockey program. I put in an application not actually thinking I'd get a place – I didn't even tell my family that I'd applied," says Lafferty.
"Dad found out I'd been successful through a friend in racing! He rang me and asked if I was going to take the opportunity and said he thought I'd made a good decision. I hadn't been riding trackwork that long, but I'd been showjumping and eventing for years and Dad was a strict but very good riding teacher. I think all that helped me get a place."
Joining the apprentice program meant moving from Warrnambool to Melbourne and that was tough, admitted Lafferty, 24.
"I was 19, living alone in Melbourne and starting a new career. I began race riding so there was a lot of waking up at 3am, travelling and not getting home until 7pm or 8pm. Now, that's all fine, but when you start out, it's challenging," she said.
"You have to manage your time, your workload, and your weight and keep learning, too. At the start, I struggled a bit, but now I have built friendships and I have a great base of trainers that I ride for regularly."
Now apprenticed to Lindsay Park, Lafferty has currently achieved 124 wins and is determined to continue improving her racing record. She credits her family and mentors like trainers Nick Ryan, Michael Clarke and Pat Hyland for her success so far.
"Nick said, 'You have to be tough mentally. Not everything will go your way and then you have to go home, look at your ride, see what you can do better, and then let it go and try again the next day'. Dad would also say you just have to wake up and do it again tomorrow. I did that every day," said Lafferty.
When she does have some free time, Laura can be found with her nose in a book – usually an autobiography – or she'll be at her local boxing gym keeping fit. She also still enjoys running.
"Fitness is a great outlet for me mentally. I go for runs regularly because exercise puts me in a good place for racing," she says.