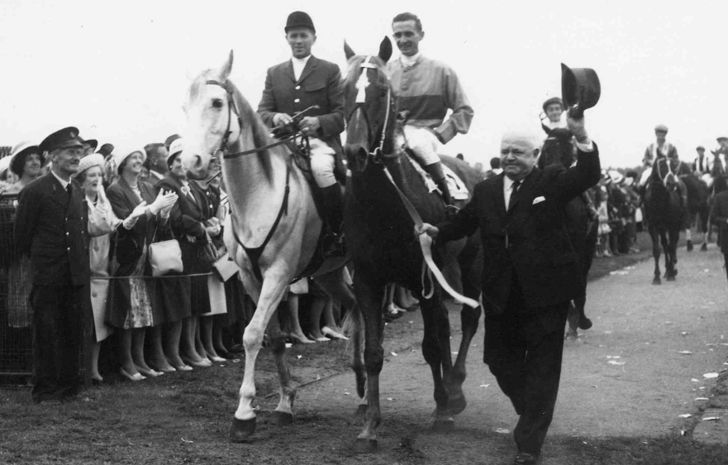 Les Coles and Charlie Hutchins. Melbourne Cup winners 80 years apart
20 March 2023
•
Written by
Andrew Lemon
Les Coles and Charlie Hutchins may have ridden Melbourne Cup winners 80 years apart, but they were still connected.
Everyone in racing knows about racing dynasties. It's the case with trainers – think of four successful generations of the Cummings family, three of the Hayes – and there are plenty of sequences of fathers and sons, and daughters, who have passed their love of racing, and often great success, not just from one generation to the next, but down many generations.
It began with Harry 'Chifney' Dawes who rode the winner in 1863 and whose son Horace did the same in 1893. The family connection roll call includes winning father-and-son trainers James Wilson, senior and junior, and son William who rode the 1873 Cup winner for his dad. There are the Munros, the Cooks, the Gough brothers and more. It's a surprisingly long list.
Still, racing enthusiast Helen Godfrey wonders if her family holds a unique record. It is certainly one to celebrate. One hundred and forty years ago her great-grandfather Charles Hutchins rode the South Australian horse, The Assyrian, to victory through torrential rain in the 1882 Melbourne Cup. And sixty years ago her father, Les Coles (husband of Charles's granddaughter) rode New Zealand horse Even Stevens to win the Melbourne Cup of 1962. 
Les Coles – not to be confused with the former Flemington trainer, Les Cole – was born in New South Wales in 1933. He was apprenticed as a jockey before being talent-spotted in 1954 by New Zealand trainer H.N.(Larry) Wiggins who brought horses to race successfully in Sydney. The Wiggins family – well, there's another racing dynasty.
Les rode for Larry and others in New Zealand for eight years, becoming one of the top jockeys there. Then in 1962 he was offered the ride on Sir James Wattie's horse Even Stevens in the Caulfield and Melbourne Cups, trained by rising Kiwi trainer Arch McGregor. Coles won the rare double, beating two champions Comicquita and Aquanita in the Melbourne Cup. He and Even Stevens topped off the visit with victory in the C.B. Fisher Plate on the fourth and final day of the Carnival. 
At the start of 1963 Les Coles returned permanently to ride in Melbourne, first for Flemington trainer Jim Cerchi and later for Angus Armanasco at Caulfield. That year he came close to winning Melbourne's jockey premierships. His big wins included an Australian Cup on Welkin Prince and the 1964 Linlithgow Stakes at Flemington on sprinter Star of Heaven.
For five years Les then rode in Singapore, returning in 1970 to win the Coongy at Caulfield on Lancelot. After a few years in Perth he made a brilliant Melbourne comeback to win the 1976 Sandown Cup on Kiwi Can, his final ride before retirement.   
As for Les's 'grandfather-in-law', Charlie Hutchins was 21 when he won the 1882 Melbourne Cup, coming from South Australia where The Assyrian was owned and trained. Small in stature, big in ambition, Hutchins later rode in Mauritius and in Western Australia. Several of his sons became jockeys, the best of them Gerald, who became a leading jockey for 27 years in the days of the British Raj in India. Gerry Hutchins married Rita Gainsford, a daughter of Jack Gainsford – the jockey who had finished third on Gudarz to The Assyrian in that wet Cup of 1882. All in the family!
And it was Gerry's and Rita's daughter Diana who married Les Coles in Sydney just before they made the move to New Zealand. There is more to the story. Les's sister Jan became the mother of champion jockey Malcolm Johnson, who came within a length of winning his own Melbourne Cup on Kingston Town, beaten to the post by Gurner's Lane forty years ago.
Who knows where the dynasty will turn up next? Helen is justifiably proud of her dad and her great-grandfather. Her daughter Tai and son, Sydney trainer Blake Ryan, both share the racing passion. As for Helen herself, she likes to say that she rode a Melbourne Cup winner, too. When Even Stevens made his way back to Arch McGregor's stables in New Zealand, Les Coles proudly put his very small daughter on the horse's back.