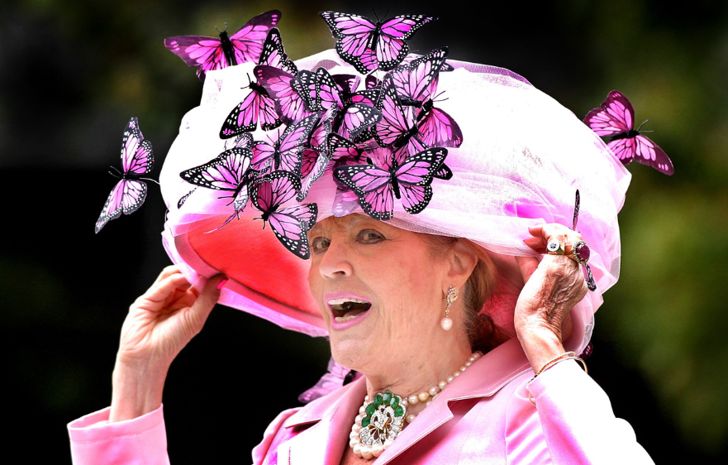 Lillian's fabulous legacy
12 October 2023
•
Written by
Jane Rocca
She was best known for her tireless charity work for the Royal Children's Hospital and writing a Herald Sun column for 40 years, but the late Toorak socialite and hairdresser Lillian Frank AM MBE was also renowned for her fabulous and flamboyant racewear, especially in her millinery.
The 92-year-old Flemington VIP, who passed away in August last year, loved to dress glamorously during the Spring Racing Carnival, and brought a vibrant optimism to the track – both as an occasional competition judge and as a much-touted guest.
She's been described as the 'original social media influencer' – and with her voracious appetite for fashion, brought an infectious energy to the track for all to embrace.
From her first appearances at the Melbourne Cup in the 1960s, she made a huge effort to wear show-stopping millinery – some that were political in their intention, others worn all in the name of charity. She also provided plenty of fashion 'wow' moments that pointed to her love of leopard print. 
Given how much Lillian contributed to Flemington's fashion history, it was an obvious decision for the VRC to rename the Fashions on the Field Millinery Award in 2022 in honour of the late Melbourne icon. Her role as a judge of the competition, as well as her love of millinery and fashion is now celebrated via the Lillian Frank AM MBE Millinery Award.
Honouring her legacy and the newly named competition last year at a champagne brunch, a number of people close to Lillian paid tribute to her.
Jackie Frank, Lillian's daughter, described the Lillian Frank AM MBE Millinery Award as a moment her mother would be grateful for.
"This is a real honour and the right acknowledgment of Mum because she did use the racing carnival as her platform. It launched her on a national scale, and as the carnival grew, her profile also grew," Frank said. "The Melbourne Cup was like Christmas for her."
A collection of Lillian Frank's striking hats was also on display in the foyer, on loan from the Victorian Racing Museum, which highlighted the social doyenne's love of colour and statement.
"Mum's fashion influence at Flemington was extraordinary," Frank said.
"From the beautiful fashionable Valentino-inspired leopard print hats to The Falklands War straw hat she wore with peace doves on either side of that went viral with 70 newspapers around the world writing about it, she had fun with her millinery and made big political statements when she wanted to," Frank said.
Renowned Australian fashion designer Toni Maticevski was championed by Lillian Frank in the early 2000s when she asked him to take part in fashion shows as part of her hairdressing salon in Toorak.
"She heard about my brand and always made me feel so welcome. She would say, 'Toni, you have to be a part of this.' She pulled you in and she was all about showcasing everyone's talent," Maticevski said.
The Big Group's Chyka Keebaugh and family friend of Lillian said she was incredibly enigmatic at the track. "You would always see Lillian with a smile on her face, and the races was her domain."
"No one wore a more extraordinary hat or was more flamboyant by the way they dressed and you would always see her walking through the crowd and waving. She was an absolute icon," said Keebaugh.  
Long-time friend and PR matriarch Judy Romano met Lillian 30 years ago when seeking advice on running a fundraiser.
"I was always in awe of Lillian. I remember going to her place in Toorak for the first time and being so nervous about what to wear because she was iconic. We stayed close over the years because we had that mutual interest in fundraising first and foremost," said Romano.
"I loved how she had the philosophy of 'don't ask, don't get'. As publicists, we loved it when she arrived in The Birdcage because everyone wanted to see what she was wearing," Romano recalled.
She was also a dream guest. "When you put on events, you want celebrities to talk and not sit in the corner, and Lillian would do that – always conversational and happy to be there," she said.
Rosanna Faraci is the only person to have won the Fashions on the Field trifecta, taking out the Caulfield Cup, Melbourne Cup and Dubai Cup competitions in the same year (2000). She first met Lillian Frank in the late 90s.
"She predicted I'd win Flemington and Dubai, and she was right," said Faraci.
"Lillian really took me under her wing and wrote about me every week in the Herald Sun. She was fierce and protective of those she cared about," she said.
"She was the original influencer, and the icon no one can replicate. To have a millinery award in her name is a wonderful tribute to her legacy."