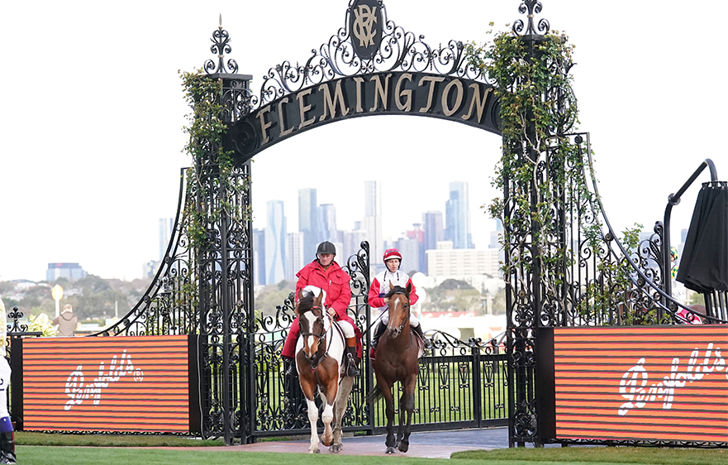 Maestro following Tamer's lead
18 September 2022
•
Written by
Andrew Hawkins
The weather did little to dampen the hopes of some spring contenders. We take a look back at what transpired on Spring Classics Preview Day at Flemington.
Recently retired New Zealand trainer Murray Baker was renowned for his aptitude with stayers with his big-race haul famously including a Victoria Derby with runaway 2010 victor Lion Tamer.
Now, his former training partner Andrew Forsman looks poised to follow in his footsteps after Mr Maestro - a close relation of Lion Tamer - surged into contention for the $2 million Group 1 Penfolds Victoria Derby (2500m) with his classy triumph in the $75,000 Penfolds Victoria Derby Preview (1800m) at Flemington on Sunday.
Forsman - who, as travelling foreman, brought Lion Tamer to Melbourne for Baker and his son Bjorn before officially joining the training partnership a year later - has shifted four horses across the Tasman to Flemington to tackle the Melbourne Spring Racing Carnival.
Among them is Mr Maestro, a son of Savabeel out of a half-sister to Lion Tamer. Before today, his sole win was over 1300m at Avondale but he was third in the Listed Champagne Stakes (1600m) at Pukekohe behind fellow Penfolds Victoria Derby contender Sharp 'n' Smart.
Settled midfield by Damien Lane, Mr Maestro sprinted up powerfully upon straightening to join and then head market leaders Major Beel and Kapakiri before racing clear for a length and three-quarter success.
"Obviously we brought him here with staying races in mind, but I was just a little bit nervous with the heavy track," Forsman said. "He hadn't raced for a month, so going to 1800m it was a tough effort
"There's still a fair bit to go between now and the Derby but hopefully he can continue to improve." - Andrew Forsman
"We've got a few options, we haven't pencilled anything in yet, we could even consider dropping back to the mile before the Derby. There are plenty of good options for him."
The Penfolds Victoria Derby Preview is yet to produce a Derby winner but the Kennedy Oaks Preview (1800m) has a better record in unveiling classic-bound fillies.
The iconic Dato Tan Chin Nam chessboard colours have been sported by some of the greats of the turf and they may be in line for a second $1 million Group 1 Kennedy Oaks (2500m) after So Dazzling broke her maiden in style in the $75,000 Preview.
The yellow, black and white colours were worn by Michael Rodd in 2009 about Faint Perfume, the ninth and final Oaks winner for legendary trainer Bart Cummings. And while Cummings, who slipped away in 2015, and Tan, who died three years later, are no longer in the racebook, their legacy lives on through the Think Big Stud filly.
A daughter of So You Think, arguably the horse best associated with the Tan colours, So Dazzling hails from the family of Flemington feature race winners Twiglet, Easy Rocking and Crevette as well as champion Hong Kong galloper Fairy King Prawn.
It is only fitting that it is John Sargent, himself an Oaks-winning trainer with Kirramosa in 2013, who prepares So Dazzling, while Damien Oliver – who joined Bobbie Lewis as a seven-time Oaks-winning jockey last year - may have found the filly he hopes will give him a record eighth Oaks.
"These colours are famous for staying races and John certainly knows what he's doing with stayers so she's got a bit going for her," Oliver said. "She's a lovely staying filly. I saw her last run and she didn't show any speed early but she was great the last 150m last time. It looked like the distance was going to suit her today and it did."
"These colours are famous for staying races and John certainly knows what he's doing with stayers so she's got a bit going for her." - Damien Oliver
Since the Kennedy Oaks Preview was established in 2017, inaugural trial winner Pinot went on to claim the Oaks while 2018 Preview victor Greysful Glamour finished second on the third day of the Melbourne Cup Carnival.
Spring Classics Preview Day, held on a Sunday for the first time in 2022, also saw Unanimous take out the Villa Paradiso Trophy (1630m) for Ciaron Maher, David Eustace and Dream Thoroughbreds.
The Benchmark 78 handicap was won last year by subsequent Group 1 winner Mr Brightside, who is set to feature over the Melbourne Cup Carnival in either the $3 million Group 1 VRC Champions Stakes (2000m) or the $3 million Group 1 VRC Kennedy Champions Mile (1600m).
System.Web.HttpException (0x80004005): Error executing child request for handler 'System.Web.Mvc.HttpHandlerUtil+ServerExecuteHttpHandlerAsyncWrapper'. ---> System.NullReferenceException: Object reference not set to an instance of an object.
   at ASP._Page_Views_Partials_googleAd_cshtml.Execute()
   at System.Web.WebPages.WebPageBase.ExecutePageHierarchy()
   at System.Web.Mvc.WebViewPage.ExecutePageHierarchy()
   at System.Web.WebPages.WebPageBase.ExecutePageHierarchy(WebPageContext pageContext, TextWriter writer, WebPageRenderingBase startPage)
   at System.Web.Mvc.RazorView.RenderView(ViewContext viewContext, TextWriter writer, Object instance)
   at System.Web.Mvc.BuildManagerCompiledView.Render(ViewContext viewContext, TextWriter writer)
   at Umbraco.Web.Mvc.ProfilingView.Render(ViewContext viewContext, TextWriter writer) in D:\a\1\s\src\Umbraco.Web\Mvc\ProfilingView.cs:line 25
   at System.Web.Mvc.ViewResultBase.ExecuteResult(ControllerContext context)
   at System.Web.Mvc.ControllerActionInvoker.InvokeActionResult(ControllerContext controllerContext, ActionResult actionResult)
   at System.Web.Mvc.ControllerActionInvoker.InvokeActionResultFilterRecursive(IList`1 filters, Int32 filterIndex, ResultExecutingContext preContext, ControllerContext controllerContext, ActionResult actionResult)
   at System.Web.Mvc.ControllerActionInvoker.InvokeActionResultFilterRecursive(IList`1 filters, Int32 filterIndex, ResultExecutingContext preContext, ControllerContext controllerContext, ActionResult actionResult)
   at System.Web.Mvc.ControllerActionInvoker.InvokeActionResultFilterRecursive(IList`1 filters, Int32 filterIndex, ResultExecutingContext preContext, ControllerContext controllerContext, ActionResult actionResult)
   at System.Web.Mvc.ControllerActionInvoker.InvokeActionResultFilterRecursive(IList`1 filters, Int32 filterIndex, ResultExecutingContext preContext, ControllerContext controllerContext, ActionResult actionResult)
   at System.Web.Mvc.ControllerActionInvoker.InvokeActionResultFilterRecursive(IList`1 filters, Int32 filterIndex, ResultExecutingContext preContext, ControllerContext controllerContext, ActionResult actionResult)
   at System.Web.Mvc.ControllerActionInvoker.InvokeActionResultWithFilters(ControllerContext controllerContext, IList`1 filters, ActionResult actionResult)
   at System.Web.Mvc.Async.AsyncControllerActionInvoker.<>c__DisplayClass3_6.<BeginInvokeAction>b__4()
   at System.Web.Mvc.Async.AsyncControllerActionInvoker.<>c__DisplayClass3_1.<BeginInvokeAction>b__1(IAsyncResult asyncResult)
   at System.Web.Mvc.Async.AsyncResultWrapper.WrappedAsyncResult`1.CallEndDelegate(IAsyncResult asyncResult)
   at System.Web.Mvc.Async.AsyncResultWrapper.WrappedAsyncResultBase`1.End()
   at System.Web.Mvc.Async.AsyncControllerActionInvoker.EndInvokeAction(IAsyncResult asyncResult)
   at System.Web.Mvc.Controller.<>c.<BeginExecuteCore>b__152_1(IAsyncResult asyncResult, ExecuteCoreState innerState)
   at System.Web.Mvc.Async.AsyncResultWrapper.WrappedAsyncVoid`1.CallEndDelegate(IAsyncResult asyncResult)
   at System.Web.Mvc.Async.AsyncResultWrapper.WrappedAsyncResultBase`1.End()
   at System.Web.Mvc.Controller.EndExecuteCore(IAsyncResult asyncResult)
   at System.Web.Mvc.Controller.<>c.<BeginExecute>b__151_2(IAsyncResult asyncResult, Controller controller)
   at System.Web.Mvc.Async.AsyncResultWrapper.WrappedAsyncVoid`1.CallEndDelegate(IAsyncResult asyncResult)
   at System.Web.Mvc.Async.AsyncResultWrapper.WrappedAsyncResultBase`1.End()
   at System.Web.Mvc.Controller.EndExecute(IAsyncResult asyncResult)
   at System.Web.Mvc.Controller.System.Web.Mvc.Async.IAsyncController.EndExecute(IAsyncResult asyncResult)
   at System.Web.Mvc.MvcHandler.<>c.<BeginProcessRequest>b__20_1(IAsyncResult asyncResult, ProcessRequestState innerState)
   at System.Web.Mvc.Async.AsyncResultWrapper.WrappedAsyncVoid`1.CallEndDelegate(IAsyncResult asyncResult)
   at System.Web.Mvc.Async.AsyncResultWrapper.WrappedAsyncResultBase`1.End()
   at System.Web.Mvc.MvcHandler.EndProcessRequest(IAsyncResult asyncResult)
   at System.Web.Mvc.MvcHandler.System.Web.IHttpAsyncHandler.EndProcessRequest(IAsyncResult result)
   at System.Web.Mvc.HttpHandlerUtil.ServerExecuteHttpHandlerAsyncWrapper.<>c__DisplayClass3_0.<EndProcessRequest>b__0()
   at System.Web.Mvc.HttpHandlerUtil.ServerExecuteHttpHandlerWrapper.<>c__DisplayClass5_0.<Wrap>b__0()
   at System.Web.Mvc.HttpHandlerUtil.ServerExecuteHttpHandlerWrapper.Wrap[TResult](Func`1 func)
   at System.Web.Mvc.HttpHandlerUtil.ServerExecuteHttpHandlerWrapper.Wrap(Action action)
   at System.Web.Mvc.HttpHandlerUtil.ServerExecuteHttpHandlerAsyncWrapper.EndProcessRequest(IAsyncResult result)
   at System.Web.HttpServerUtility.ExecuteInternal(IHttpHandler handler, TextWriter writer, Boolean preserveForm, Boolean setPreviousPage, VirtualPath path, VirtualPath filePath, String physPath, Exception error, String queryStringOverride)
   at System.Web.HttpServerUtility.ExecuteInternal(IHttpHandler handler, TextWriter writer, Boolean preserveForm, Boolean setPreviousPage, VirtualPath path, VirtualPath filePath, String physPath, Exception error, String queryStringOverride)
   at System.Web.HttpServerUtility.Execute(IHttpHandler handler, TextWriter writer, Boolean preserveForm, Boolean setPreviousPage)
   at System.Web.HttpServerUtility.Execute(IHttpHandler handler, TextWriter writer, Boolean preserveForm)
   at System.Web.HttpServerUtilityWrapper.Execute(IHttpHandler handler, TextWriter writer, Boolean preserveForm)
   at System.Web.Mvc.Html.ChildActionExtensions.ActionHelper(HtmlHelper htmlHelper, String actionName, String controllerName, RouteValueDictionary routeValues, TextWriter textWriter)
   at System.Web.Mvc.Html.ChildActionExtensions.Action(HtmlHelper htmlHelper, String actionName, String controllerName, RouteValueDictionary routeValues)
   at Our.Umbraco.DocTypeGridEditor.Web.Extensions.HtmlHelperExtensions.RenderDocTypeGridEditorItem(HtmlHelper helper, IPublishedElement content, String editorAlias, String viewPath, String previewViewPath, Boolean isPreview)
   at ASP._Page_app_plugins_doctypegrideditor_render_DocTypeGridEditor_cshtml.Execute()
   at System.Web.WebPages.WebPageBase.ExecutePageHierarchy()
   at System.Web.Mvc.WebViewPage.ExecutePageHierarchy()
   at System.Web.WebPages.WebPageBase.ExecutePageHierarchy(WebPageContext pageContext, TextWriter writer, WebPageRenderingBase startPage)
   at System.Web.Mvc.RazorView.RenderView(ViewContext viewContext, TextWriter writer, Object instance)
   at System.Web.Mvc.BuildManagerCompiledView.Render(ViewContext viewContext, TextWriter writer)
   at Umbraco.Web.Mvc.ProfilingView.Render(ViewContext viewContext, TextWriter writer) in D:\a\1\s\src\Umbraco.Web\Mvc\ProfilingView.cs:line 25
   at System.Web.Mvc.HtmlHelper.RenderPartialInternal(String partialViewName, ViewDataDictionary viewData, Object model, TextWriter writer, ViewEngineCollection viewEngineCollection)
   at System.Web.Mvc.Html.PartialExtensions.Partial(HtmlHelper htmlHelper, String partialViewName, Object model, ViewDataDictionary viewData)
   at System.Web.Mvc.Html.PartialExtensions.Partial(HtmlHelper htmlHelper, String partialViewName, Object model)
   at ASP._Page_Views_Partials_grid_editors_Base_cshtml.Execute()