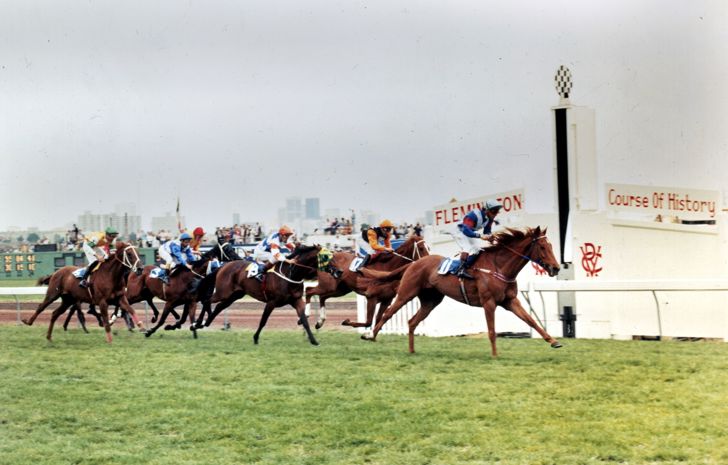 Magical Milestones: Kiwi
17 October 2023
•
Written by
Andrew Lemon
40 years ago, Kiwi ran a remarkable race, giving Jim Cassidy the ride of a lifetime.
Jimmy Cassidy won the Melbourne Cup on Kiwi at age 20, when he came from last to first. He won again on Might And Power in 1997 and is one of only seven jockeys to win the 'Grand Slam' – Caulfield Cup, Cox Plate, Golden Slipper, and Melbourne Cup. Fun fact: he is also champion jockey Zac Purton's father-in-law.
It used to be called 'doing a Bernborough'. The Australian turf legend from the years after the Second World War scored most of his sensational wins after sitting well back in the field, seemingly in a hopeless position, and yet finishing with a withering run to get home victoriously. His 1946 Newmarket Handicap rightly earned a place in racing folklore.
After the Melbourne Cup of 1983, the expression had to change. Now it was called 'doing a Kiwi'.
This is the horse who had never raced in Australia before his astonishing Cup victory – a triumph still magical forty years on.
It was breathtaking, but no fluke. His owner trainer Ewen 'Snow' Lupton had prepared the horse the same way and apprentice jockey Jim Cassidy had employed identical patient riding tactics to win New Zealand's Wellington Cup (by a nose) nine months before the raid on Melbourne.
You can find the 1983 Melbourne Cup replay on the internet. This is the horse running near last as the field passes the winning post the first time around, a clear last as they leave the straight, and trailing a long last halfway through the race. It is a full field of 24, the best in Australasia. Kiwi overtakes one horse but is 20 lengths from the leaders, who maintain a cracking pace.
Nine hundred metres to go, on the arc towards the home turn. Where's Kiwi? He gathers pace, catching the tailenders, but now as they approach the turn he has the proverbial wall of horses in front of him. You can barely see the jockey's cap behind the bunch. Somehow Jim Cassidy finds a path between horses towards the inside rail. Too late, surely? Half the field is still in front of him and he seems boxed in, not in contention. John Marshall on Mr Jazz starts to make his run: a fourth Melbourne Cup is in sight for trainer Bart Cummings. Or will it be Robert Heffernan on Noble Comment for George Hanlon, third last year?
Yet Cassidy is riding Kiwi without panic, looking to accelerate a second time as they approach the clocktower, somehow sensing that the Red Sea will open. It does. There is room to switch wider. He is sprinting. They don't know he's coming. He not only beats Noble Comment and Mr Jazz to the line, but he also wins by a good length and sets the fastest time for a Cup win since Rain Lover.
Jim Cassidy, only twenty at the time, was no novice. New Zealand's premier jockey in season 1981–82, he already had 450 wins to his credit. His subsequent audacious riding career, with its highs and lows, continued until 2015 with more than 100 Group 1 race wins to his credit and a place in both the New Zealand and the Australian Racing Hall of Fame. Remarkably, his second Melbourne Cup victory came in a photo-finish in 1997 on Might And Power when he went to the front early and led all the way home. Two completely opposite ways to win a Melbourne Cup. Both magical.