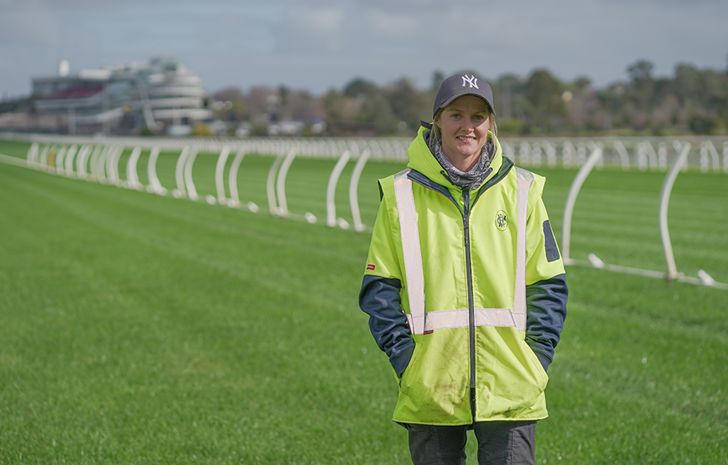 Meet Katie Allen
2 August 2023
•
Written by
Celia Purdey
Katie Allen is a new apprentice in the Tracks team at Flemington. Katie, also a track rider at Kavanagh Racing, joins a dedicated and hard-working team that handles the management of the famed Flemington turf. They go to great lengths to maintain the health and viability of the tracks and to provide a safe and uniform surface for each race.
What is your role at the VRC?
Apprentice in Turf Management.
Do you have a background in racing?
I used to want to be a jockey. I lived in Europe for a while and worked at different tracks over there. Here in Melbourne, I rode track work for Kavanagh Racing, which I still do occasionally. Racing has always been a big interest of mine and I want to work in the industry as long as I can, so when this opportunity came along I grabbed it.
Tell us about your job.
It has certainly given me a new appreciation for the work that the track team does. As a track rider, I had no idea what was involved, and now I am always telling people not to go outside the cones during track work! I am learning so much every day and can't believe how much happens behind the scenes. I drove the lawn mover for the first time the other day and thought that was great.
What do you do on race day?
We are focused on maintaining the turf so that everything runs smoothly and safely. There are small groups of us stationed all around the track doing things like raking in the divots, helping the barrier attendants or looking after the temporary chutes.
Tell us one of your favourite racing moments.
I was 15 on my first visit to Flemington in 2007, and I saw Tears I Cry win the (Cantala) Stakes. I remember how exciting and emotional it was. I'm actually now good friends with Nikita Beriman who rode the horse.
Are there any horses that stand out for you?
There are two special ones that I have ridden in track work. Seradess is a character and I just love her, and First Immortal, who has won his last two starts. I love riding both of them because they are fast, and I love going fast! I had a pony growing up and it bolted once. I loved it and it gave me my first taste of how exciting it felt to ride a quick horse.