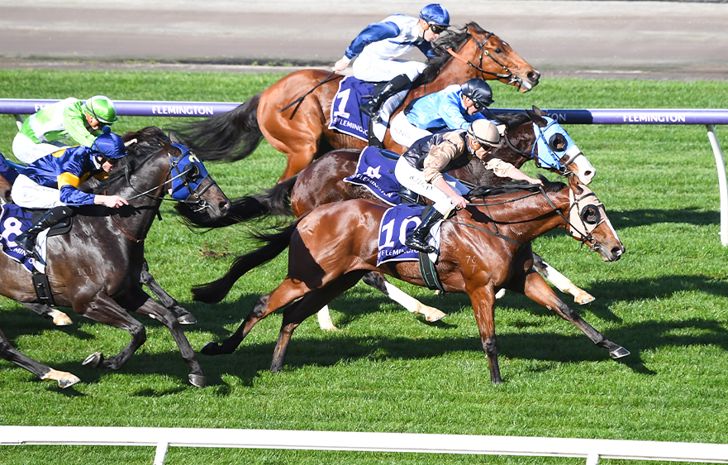 Nasraawy to strike back at Flemington
14 July 2023
•
Written by
Craig Brennan – Racing & Sports
Nasraawy will appreciate the drop in grade and distance when he steps out at Flemington.
Trainer Gavin Bedggood says Nasraawy has things in his favour this time around as his bids for a second win up the Flemington straight.
Nasraawy lines up in the Trevor Clarke Handicap (1000m) on Saturday looking to emulate his success over the same course and distance, and in the same grade, benchmark 78 level, on June 18 last year.
The sprinter followed that win with a narrow fourth behind Squid Game in Saturday's corresponding race last year when named the Sir Eugene Gorman Handicap.
Nasraawy last tasted success over 1206m at Benalla last September, but Bedggood says at metropolitan level the gelding struggles to run that trip out.
At his last start, Nasraawy finished last behind Mnementh in the Listed Santa Ana Lane Series Sprint Final (1200m) at Flemington on July 1.
Prior to that Nasraawy was disqualified after finishing second at Sandown courtesy of the 'wrong claim' fiasco when Wiremu Pinn, who has the ride on Saturday, first crossed over from New Zealand.
"He had been racing really well leading up to that then at the 1200 metres last time, Billy Egan said he raced like a 1000-metre horse," Bedggood said.
"He just overdid it over the 1200 metres and raced upside down.
"He's back a lot in grade on Saturday, and also back in distance."
Bedggood sent Nasraawy to the beach for a week post his last start flop, but added the gelding has not required a lot of work since returning to the stable.
"He's pretty fit now, so we don't have to do much with him, and I'd say I'm hopeful, rather than confident," Bedggood said.
"And if you delete that last run, he's always been a good money spinner for us.
"The 1200 (metres) sees him out in that grade. He got away with-it early days in (benchmark) 64's and 70's, but it was a pretty hot race the other day.
"He's won at the 1000 metres at Flemington before and his 1000-metre stats ready really well."
System.Web.HttpException (0x80004005): Error executing child request for handler 'System.Web.Mvc.HttpHandlerUtil+ServerExecuteHttpHandlerAsyncWrapper'. ---> System.NullReferenceException: Object reference not set to an instance of an object.
   at ASP._Page_Views_Partials_googleAd_cshtml.Execute()
   at System.Web.WebPages.WebPageBase.ExecutePageHierarchy()
   at System.Web.Mvc.WebViewPage.ExecutePageHierarchy()
   at System.Web.WebPages.WebPageBase.ExecutePageHierarchy(WebPageContext pageContext, TextWriter writer, WebPageRenderingBase startPage)
   at System.Web.Mvc.RazorView.RenderView(ViewContext viewContext, TextWriter writer, Object instance)
   at System.Web.Mvc.BuildManagerCompiledView.Render(ViewContext viewContext, TextWriter writer)
   at Umbraco.Web.Mvc.ProfilingView.Render(ViewContext viewContext, TextWriter writer) in D:\a\1\s\src\Umbraco.Web\Mvc\ProfilingView.cs:line 25
   at System.Web.Mvc.ViewResultBase.ExecuteResult(ControllerContext context)
   at System.Web.Mvc.ControllerActionInvoker.InvokeActionResult(ControllerContext controllerContext, ActionResult actionResult)
   at System.Web.Mvc.ControllerActionInvoker.InvokeActionResultFilterRecursive(IList`1 filters, Int32 filterIndex, ResultExecutingContext preContext, ControllerContext controllerContext, ActionResult actionResult)
   at System.Web.Mvc.ControllerActionInvoker.InvokeActionResultFilterRecursive(IList`1 filters, Int32 filterIndex, ResultExecutingContext preContext, ControllerContext controllerContext, ActionResult actionResult)
   at System.Web.Mvc.ControllerActionInvoker.InvokeActionResultFilterRecursive(IList`1 filters, Int32 filterIndex, ResultExecutingContext preContext, ControllerContext controllerContext, ActionResult actionResult)
   at System.Web.Mvc.ControllerActionInvoker.InvokeActionResultFilterRecursive(IList`1 filters, Int32 filterIndex, ResultExecutingContext preContext, ControllerContext controllerContext, ActionResult actionResult)
   at System.Web.Mvc.ControllerActionInvoker.InvokeActionResultFilterRecursive(IList`1 filters, Int32 filterIndex, ResultExecutingContext preContext, ControllerContext controllerContext, ActionResult actionResult)
   at System.Web.Mvc.ControllerActionInvoker.InvokeActionResultWithFilters(ControllerContext controllerContext, IList`1 filters, ActionResult actionResult)
   at System.Web.Mvc.Async.AsyncControllerActionInvoker.<>c__DisplayClass3_6.<BeginInvokeAction>b__4()
   at System.Web.Mvc.Async.AsyncControllerActionInvoker.<>c__DisplayClass3_1.<BeginInvokeAction>b__1(IAsyncResult asyncResult)
   at System.Web.Mvc.Async.AsyncResultWrapper.WrappedAsyncResult`1.CallEndDelegate(IAsyncResult asyncResult)
   at System.Web.Mvc.Async.AsyncResultWrapper.WrappedAsyncResultBase`1.End()
   at System.Web.Mvc.Async.AsyncControllerActionInvoker.EndInvokeAction(IAsyncResult asyncResult)
   at System.Web.Mvc.Controller.<>c.<BeginExecuteCore>b__152_1(IAsyncResult asyncResult, ExecuteCoreState innerState)
   at System.Web.Mvc.Async.AsyncResultWrapper.WrappedAsyncVoid`1.CallEndDelegate(IAsyncResult asyncResult)
   at System.Web.Mvc.Async.AsyncResultWrapper.WrappedAsyncResultBase`1.End()
   at System.Web.Mvc.Controller.EndExecuteCore(IAsyncResult asyncResult)
   at System.Web.Mvc.Controller.<>c.<BeginExecute>b__151_2(IAsyncResult asyncResult, Controller controller)
   at System.Web.Mvc.Async.AsyncResultWrapper.WrappedAsyncVoid`1.CallEndDelegate(IAsyncResult asyncResult)
   at System.Web.Mvc.Async.AsyncResultWrapper.WrappedAsyncResultBase`1.End()
   at System.Web.Mvc.Controller.EndExecute(IAsyncResult asyncResult)
   at System.Web.Mvc.Controller.System.Web.Mvc.Async.IAsyncController.EndExecute(IAsyncResult asyncResult)
   at System.Web.Mvc.MvcHandler.<>c.<BeginProcessRequest>b__20_1(IAsyncResult asyncResult, ProcessRequestState innerState)
   at System.Web.Mvc.Async.AsyncResultWrapper.WrappedAsyncVoid`1.CallEndDelegate(IAsyncResult asyncResult)
   at System.Web.Mvc.Async.AsyncResultWrapper.WrappedAsyncResultBase`1.End()
   at System.Web.Mvc.MvcHandler.EndProcessRequest(IAsyncResult asyncResult)
   at System.Web.Mvc.MvcHandler.System.Web.IHttpAsyncHandler.EndProcessRequest(IAsyncResult result)
   at System.Web.Mvc.HttpHandlerUtil.ServerExecuteHttpHandlerAsyncWrapper.<>c__DisplayClass3_0.<EndProcessRequest>b__0()
   at System.Web.Mvc.HttpHandlerUtil.ServerExecuteHttpHandlerWrapper.<>c__DisplayClass5_0.<Wrap>b__0()
   at System.Web.Mvc.HttpHandlerUtil.ServerExecuteHttpHandlerWrapper.Wrap[TResult](Func`1 func)
   at System.Web.Mvc.HttpHandlerUtil.ServerExecuteHttpHandlerWrapper.Wrap(Action action)
   at System.Web.Mvc.HttpHandlerUtil.ServerExecuteHttpHandlerAsyncWrapper.EndProcessRequest(IAsyncResult result)
   at System.Web.HttpServerUtility.ExecuteInternal(IHttpHandler handler, TextWriter writer, Boolean preserveForm, Boolean setPreviousPage, VirtualPath path, VirtualPath filePath, String physPath, Exception error, String queryStringOverride)
   at System.Web.HttpServerUtility.ExecuteInternal(IHttpHandler handler, TextWriter writer, Boolean preserveForm, Boolean setPreviousPage, VirtualPath path, VirtualPath filePath, String physPath, Exception error, String queryStringOverride)
   at System.Web.HttpServerUtility.Execute(IHttpHandler handler, TextWriter writer, Boolean preserveForm, Boolean setPreviousPage)
   at System.Web.HttpServerUtility.Execute(IHttpHandler handler, TextWriter writer, Boolean preserveForm)
   at System.Web.HttpServerUtilityWrapper.Execute(IHttpHandler handler, TextWriter writer, Boolean preserveForm)
   at System.Web.Mvc.Html.ChildActionExtensions.ActionHelper(HtmlHelper htmlHelper, String actionName, String controllerName, RouteValueDictionary routeValues, TextWriter textWriter)
   at System.Web.Mvc.Html.ChildActionExtensions.Action(HtmlHelper htmlHelper, String actionName, String controllerName, RouteValueDictionary routeValues)
   at Our.Umbraco.DocTypeGridEditor.Web.Extensions.HtmlHelperExtensions.RenderDocTypeGridEditorItem(HtmlHelper helper, IPublishedElement content, String editorAlias, String viewPath, String previewViewPath, Boolean isPreview)
   at ASP._Page_app_plugins_doctypegrideditor_render_DocTypeGridEditor_cshtml.Execute()
   at System.Web.WebPages.WebPageBase.ExecutePageHierarchy()
   at System.Web.Mvc.WebViewPage.ExecutePageHierarchy()
   at System.Web.WebPages.WebPageBase.ExecutePageHierarchy(WebPageContext pageContext, TextWriter writer, WebPageRenderingBase startPage)
   at System.Web.Mvc.RazorView.RenderView(ViewContext viewContext, TextWriter writer, Object instance)
   at System.Web.Mvc.BuildManagerCompiledView.Render(ViewContext viewContext, TextWriter writer)
   at Umbraco.Web.Mvc.ProfilingView.Render(ViewContext viewContext, TextWriter writer) in D:\a\1\s\src\Umbraco.Web\Mvc\ProfilingView.cs:line 25
   at System.Web.Mvc.HtmlHelper.RenderPartialInternal(String partialViewName, ViewDataDictionary viewData, Object model, TextWriter writer, ViewEngineCollection viewEngineCollection)
   at System.Web.Mvc.Html.PartialExtensions.Partial(HtmlHelper htmlHelper, String partialViewName, Object model, ViewDataDictionary viewData)
   at System.Web.Mvc.Html.PartialExtensions.Partial(HtmlHelper htmlHelper, String partialViewName, Object model)
   at ASP._Page_Views_Partials_grid_editors_Base_cshtml.Execute()