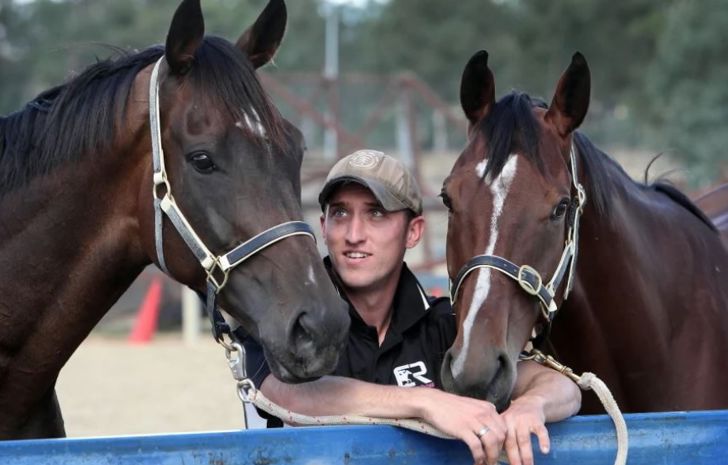 Nick Ryan and Kate Watts making their own way
5 May 2023
•
Written by
Michael Manley
Once you are infected with the racing bug, it invariably bites hard and you've got it for life. Exactly how you got the bug and started your involvement can differ markedly. We meet two industry professionals who made their way in through different channels.
Many participants are born into the racing industry, with a strong family element handed down from generation to generation.
But others come into racing from many diverse pathways.
At Flemington, a rising star in the training ranks is Nick Ryan. He followed the typical family path into the industry, with a few bumps along the way.
Then, in contrast, Racing.com's rising star Kate Watts' love affair with the thoroughbred industry began unexpectedly later in life, and she now sees herself as a poster girl for outsiders who become enamoured with the sport
What the duo does have in common, however, is an unwavering passion for the thoroughbred.
Nick Ryan has always known that he wanted to be a jockey.
He spent his childhood around the Flemington stables as his grandfather Charlie Connell worked for Tom Hughes Senior. He already had a strong racing pedigree, with his father B.J. Ryan a former jockey and his stepdad Jeff Gordon a bloodstock agent.
Ryan began riding at Oaklands Pony Club as a four-year-old knowing there was only one thing he was going to do when he grew up: become a jockey.
Ryan left school at 14 and started his apprenticeship at Flemington with trainer
Robert Smerdon. In 2004/2005, he became only the third apprentice to win the Melbourne Jockeys' Premiership, following in the footsteps of the luminaries Geoff Lane and Darren Gauci.
He enjoyed stints in Hong Kong and Singapore, but it became obvious to him that he couldn't continue in the saddle, as he was too heavy.
When he left the riding ranks at 22, Ryan said he struggled.
"It's well documented that I lost my way. I was quite lost during this period. I didn't think about coming back," Ryan said.
His love of the horse never wavered, but as he couldn't ride them, he walked away from the industry.
He didn't have a plan to get back into the industry, but it managed to find him. After five years away from racing, Ryan started to help Albury trainer Brett Cavanough break horses in.
"This got me back around the horse and from there, it grew legs. I got my NSW trainers licence and started training at Albury. It didn't take much to rekindle the passion," he said.
"I brought a couple of horses to trial at Caulfield and Ciaron Maher grabbed hold of me and told me to stay, which I did for 12 months."
Ryan, 35, said he's thrilled to be back where it all started for him at Flemington.
"I've been here for over a year now. It's been big for me getting back here as it's where I did my apprenticeship and where my grandfather trained. To have boxes now at Flemington is very satisfying."
The last thing Kate Watts expected when she started work at WIN Television Ballarat was that she would become obsessed with the thoroughbred and end up as a specialist in that field, but that's what happened.
Watts said she always had a love of horses, and her family attended the spring carnival, but racing was just one of a host of sports her family followed
After Watts completed her Bachelor of Arts, which was followed by a Masters in Journalism at RMIT, she secured a job at WIN Television Ballarat where her briefs were politics, AFL and horse racing.
She said she was almost forced to cover horse racing because no one else wanted to do it, but this ignited her love of the horse and the sport.
"I came in and I was shocked how much I didn't know. I felt welcomed into it by a lot of trainers especially. I would have asked a lot of stupid questions in the early days, but they could see that I loved the industry and had a passion for it early on. I just didn't know enough," Watts said.
"I'm so thankful, as I could have been turned away and gone back to another industry and sport. I could have still had my own love of it, but not be making a career and a life out of it.
"I fell passionately in love with it. To meet the people and to see how committed and determined they are.
I would end up trying to put horse racing in the news bulletin each night, as I realised it was such a passion. I realised the community of it and the history of it."
Watts said the win of local Ballarat girl Michelle Payne on Prince Of Penzance in the 2015 Melbourne Cup also played a big role in her being swept up in the industry.
Two other stories also played a big role in her newfound love of racing: one on Dan O'Sullivan's galloper, Tuscan Fire, and then another on Glen Boss, who flew in via helicopter to ride Puissance De Lune in trackwork.
"It hit me that day. I just realised what a hugely diverse industry it is,'' she said.
"I love so much about it. It's the community. It's the hobby farmers with a couple of horses, and the country racing. I have a passion for that, too. I love the horses, and I love the people as much. I was captivated, and I thought, 'this is more interesting than politics'."
Ballarat trainers Dan O'Sullivan and Archie Alexander helped push her name to Racing. com when they were looking for a reporter, and she got the job as a result.
"I didn't grow up with it. I certainly know we can bring more people into it and I know you can go from a casual observer to being obsessed with it," she said.
"I'm the perfect example of going from a handful of sports you have an interest in, to it becoming a lifelong passion and it's burning stronger every day. If you love sport, racing has everything."