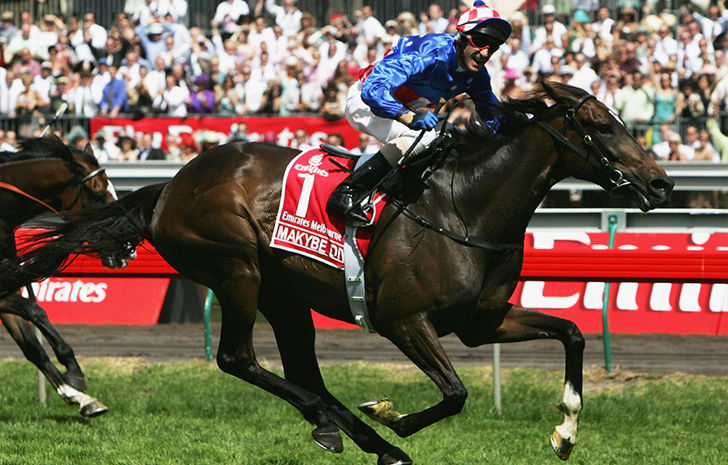 The name game
11 October 2022
•
Written by
Mick Sharkie
Names of racehorses have long entertained and often baffled fans. We take a look at some of the more memorable and how they are chosen. How did some of our most famous champions end up with their monikers, which have become etched in history books?
Waikikamukau. Arguably the best name ever carried by a racehorse in the modern era of Australian racing.
Owned and raced by Jack and Bob Ingham, Waikikamukau was something of a cult hero during his career which spanned nearly six seasons. A multiple Group race winner, the son of Clear Choice was an AJC Derby and Rosehill Guineas runner-up in 1994 and pushed the great Mahogany to a nose in the Group 1 Castlemaine Stakes.
But before those achievements it was his bizarre name that got the attention of punters.
Bearing no reference to bovine abuse, Waikikamukau is in fact a Kiwi colloquialism for a rural New Zealand town and was selected by Suzanne Philcox, a Waikato native who named countless thousands of horses for the Inghams and then Darley.
Philcox was something of a creative genius when it came to naming thoroughbreds and the story goes that Waikikamukau was the only name that she didn't run past Jack Ingham for approval.
Because the majority of racehorse owners are not blessed with Philcox's freakish creativity, naming a horse can be a stressful process. After all, a champion name makes a champion racehorse doesn't it?
Perhaps not when analysing the methodology applied to naming two of the all-time greats of the Australian turf, Makybe Diva and Winx.
Makybe Diva (Desert King x Tugela) was the amalgamation of the names of five staff members at owner Tony Santic's tuna business, Tony's Tuna, in Port Lincoln; take the first two letters of Maureen, Kylie, Belinda, Dianne, and Vanessa and you've got a three-time Melbourne Cup winner.
Winx (Street Cry x Vegas Showgirl) was a cheeky suggestion from part-owner Richard Treweeke in reference to the exotic dancers of Las Vegas in the 1980s.
"If you liked her you'd wink, and if she liked you she would wink back!" Treweeke told 60 Minutes in 2017.
Generally speaking, most owners consider the name of the sire and dam and look for some combination of both or draw reference to the immediate or recent pedigree of their horse; take Star Missile for instance, a son of Smart Missile from the mare Minnastar.
Once a list of names are compiled, owners submit three name suggestions to the Registrar of Racehorses, an office within Racing Australia, and those submissions are scrutinised by clerks against strict criteria to ensure that names are appropriate and inoffensive – and easily pronounced by race callers and commentators.
"It's a way the staff connect with the horses they work with every day. They get close to them and give them names that suit their personality," Moody explained on ABC Radio during the height of the Black Caviar era.
There are regulations around the re-use of names too, especially regarding the names of horses that have gone on to breed at stud. But regulations aside, owners basically have 18 characters to use as they wish, and some choose to use those characters a little more creatively than others.
Take Richard Cranium for instance. This New Zealand hurdler put smiles on punter's faces during the late 1990s when he contested staying and jump races around Australia. The name makes no reference to his pedigree (First Norman x On Edge) and was allegedly selected because the horse was "a bit of a dickhead" as a youngster.
Bendigo, Colac and Mornington Cup winner Banana Man (Desert King x Chinju) was named after a children's cartoon watched by the owner's kids. Weight-for-age hero The Cleaner (Savoire Vivre x Dash of Scotch) was named in reference to a surprise hotel room encounter. Maythehorsebewithu (Zabeel x Dungarvan) had obvious Star Wars connotations.
Unbeaten champion sprinter Black Caviar (Bel Esprit x Helsinge) was named by part-owner Pam Hawkes. Black Caviar's grand dam was Scandinavia, and Hawkes – a seafood lover, particularly of caviar – took inspiration from that angle as Scandinavia is renowned as the home of the finest black Beluga caviar.
But around trainer Peter Moody's stables the great mare was known simply as Nelly. Most thoroughbreds are given a nickname by stablehands when they arrive in a stable for the first time and are referred to by those nicknames when in work.
"It's a way the staff connect with the horses they work with every day. They get close to them and give them names that suit their personality," Moody explained on ABC Radio during the height of the Black Caviar era.
As far as naming suspicions are concerned, it seems that as long as a name adheres to Racing Australia criteria, anything goes. But some owners do believe that a silly name all but assures a disappointing career.
Just ask the owners of Frankie Le Sausage (Honours List x Dollies Gem) which retired in 2013 as a 35-start maiden; not exactly what his owners had hoped for.
Main Image: Makybe Diva (Ryan Pierse/Getty Images)