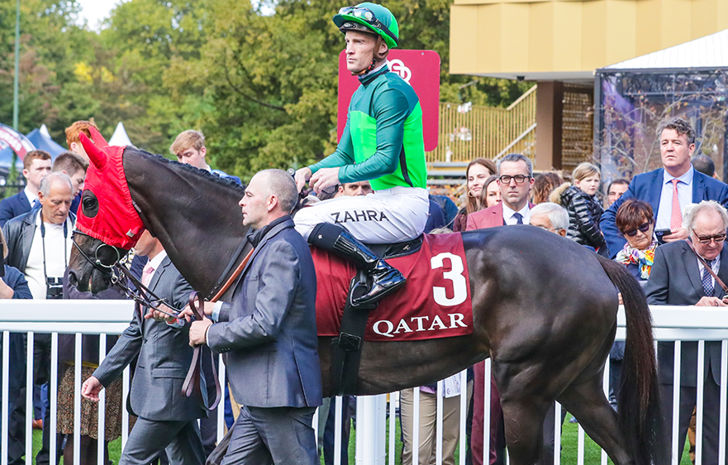 Graffard, Zahra believe real Verry Elleegant can still stand up
6 October 2022
•
Written by
Andrew Hawkins
Trainer Francis-Henri Graffard and jockey Mark Zahra are convinced that the world will still see the real Verry Elleegant - it's just a case of luck falling her way after a European campaign in which fortune has been far from fruitful.
After a week of drama surrounding the defending Lexus Melbourne Cup champion in which she was set to be overlooked for a start in the Group 1 Prix de l'Arc de Triomphe (2400m), her likely French swansong in the Group 1 Prix de Royallieu (2800m) again proved a disappointment for the numerous Australian and New Zealand racing fans on track at Longchamp and thousands more staying up late into the evening at home.
Partnered by Zahra for the first time since the 2020 Lexus Melbourne Cup in which she finished seventh to Twilight Payment, Verry Elleegant trailed home in seventh in the Prix de Royallieu, beaten almost five lengths by favourite Sea La Rosa.
On ground described as "very soft" and facing a tempo that was farcical at times, Zahra was trapped beyond midfield on the inside on Verry Elleegant. It was a position that ensured that victory was beyond her as soon as they tracked up the back straight at Longchamp, but she struggled to quicken late on the testing ground and kept on fairly over the concluding stages.
A measure of the going and pace is that Sea La Rosa's winning time over 2800m was 3:13.76, with Verry Elleegant's Lexus Melbourne Cup stopping the clock just under four seconds slower in 3:17.43 despite it being over 400 metres further.
"She had the worst scenario possible," a despondent Graffard said. "At the first bend, when I saw where we were, I said that it was over. The pace was against her and she was pulling and she needs room, which she didn't get. The one thing we didn't want was for her to be on the rail boxed in and that's what happened.
"It's very unfortunate because she loves the game, she looks fantastic, she's happy, she's fit and she's trying hard but everything is going against her. Today was another example unfortunately.
"There's a lot of disappointment for such a fantastic mare to be beaten like this. It's upsetting because I really wanted to show the fantastic filly that she is, she was ready to run really well and everything goes against her."
While Graffard wouldn't rule out retirement entirely, saying that any future decision would depend on a meeting with her owners over the coming days, it was his opinion that she should make her British debut in the Group 1 Champions Fillies and Mares Stakes (2400m) at Ascot on October 15.
"She didn't have a hard race," he said. "She looked great after, she doesn't looked cooked to me. It's simple in my mind - she will go to Ascot for the fillies and mares race on Champions Day. She could be retired, it depends on the owners, but for me, physically, she's not a cooked filly. She's never shown that in the mornings, she's keen to go.
"The day that things go her way, you will see the real Verry Elleegant."
Zahra echoed those sentiments after a rough French debut for the Melbourne jockey.
"After today, I think you need to give her one more and then you'll really know where she is at," he said. "You can't judge her on today or any of her runs so far because things just haven't gone her way. It's hard to compare how she was before with how she is now because she's a little bit older and she'd obviously travelled too, but it definitely wasn't a case of her not putting in.
"We know what a great mare she is and hopefully Europe will get to see that too under the right conditions."
The opening day of Arc weekend was headlined by Europe's champion stayer Kyprios racing 20 lengths clear of his rivals to land the Group 1 Prix du Cadran (4000m), despite a late wayward wander to the outside rail.
It was his fourth Group 1 win in a row, adding to victories in the Group 1 Ascot Gold Cup (4000m), Group 1 Goodwood Cup (3200m) and Group 1 Irish St Leger (2800m).
The feature of the weekend, the Group 1 Prix de l'Arc de Triomphe (2400m), was taken out by the Sir Mark Prescott-trained Alpinista, who claimed her sixth Group 1 victory in a row.
Ridden by Luke Morris, Alpinista defeated the Aga Khan's Vadeni by a half-length with a further neck back to defending champion Torquator Tasso – stablemate of Lexus Melbourne Cup contender Loft – back in third.
Alpinista's owner Kirsten Rausing may also taste Lexus Melbourne Cup success as a breeder next month with the Lanwades Stud matriarch featuring three horses – Durston, Le Don De Vie and Wyclif – among second acceptances for the 'race that stops a nation'™.
Main Image: Verry Elleegant parading before the Group 1 Qatar Prix de Royallieu at Longchamp. (Liesl King)