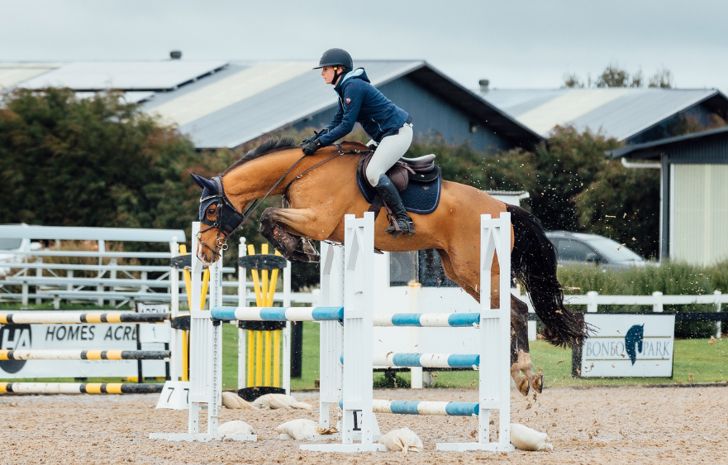 Paris Wilkinson and her family of horse lovers
13 July 2023
•
Written by
Sarah Marinos
Paris Wilkinson's great-grandmother, grandmother and mother loved riding and have passed on their passion to the talented young showjumper.
VRC Member Paris Wilkinson still remembers the excitement she felt sitting in the back seat of her parents' car as they made the long Friday night drive from Melbourne to the family farm in Gippsland.
There, six-year-old Wilkinson and her younger sister were reunited with their feisty Welsh show pony, Jewel, and Wilkinson happily spent the weekend riding him around the paddock and attending pony club events.
"Every weekend and school holiday we'd go to the farm and there are photos of me at only two or three sitting on the back of the big Clydesdales that my grandmother owned. Then I got Jewel who was beautiful – but a terror!" said Wilkinson, 23.
"Because he was a pony, we thought that he'd plod along and be easy to manage, but I'd go into the paddock with him and he'd just take off. I'd hold on as tight as I could with a monkey grip and just let him run.
"My great-grandmother, Isabelle, started riding at the age of 50 and rode until her late 80s, my grandmother, Barbara, only recently stopped riding at the age of 77, and my mum, Renae, also has horses. They couldn't afford to have horses and to ride until they were older, so Mum wanted my sister and I to enjoy that world from when we were very young.
"But right from the start Mum taught us to be responsible and even some days when we were tired, she reminded us that our pony was relying on us and that he needed to be fed and cared for every day."
While her sister stopped riding while still at school, Wilkinson maintained the family tradition. She juggled high school studies and an arts degree at the University of Melbourne with riding and competing. Wilkinson graduated from university last year and majored in history, media and communications. She now works part-time organising social media campaigns and events for small businesses but hopes to eventually use her social media skills in the equestrian field.
She balances her working life with her commitment to her horses and six days a week, early in the morning, she drives an hour from her home in bayside Melbourne to take care of her horses on the Mornington Peninsula.
Wilkinson is a keen showjumper and competes with Off The Track thoroughbred, Konquest K.
"My first OTT thoroughbred was Sunday Smile and I got him when I was 15 through pony club. He had a love heart on his head – a massive incentive for me to buy him!" she laughed.
"I'd been warned that OTT horses could be hot-headed and that you had to be a more experienced rider to manage them but Sunday Smile had a lovely calm disposition. He was a great confidence booster for me and I had him for five or six years before we sold him on as a trail riding pleasure horse.
"I don't think OTT horses are any different. They're athletic and they like being given a job to do – you just need to discover what they enjoy doing."
Wilkinson acquired Konquest K in December 2021. Bred in WA, he was exported to Hong Kong in 2014 but never raced – Wilkinson believes he probably wasn't suited to the warm and humid climate in Hong Kong. He then arrived back in Melbourne via New Zealand. Wilkinson found him through Spring Creek Equine in Coldstream.
"I was looking for a showjumper and he was the first horse I looked at. A week later he was home with me," she said.
"At that point, he'd just done eventing and he was flat and fast but he was brave and that's what I look for in my showjumpers. You can build the technique but they need to be brave. He's competitive, he will jump anything and he gives 110 per cent."
Wilkinson also has a second showjumper, Showgirl SL, a warmblood-Clydesdale cross.
"I bought her because of my grandmother's obsessions with Clydesdales – my grandmother loves seeing me ride her!" said Wilkinson .
While Wilkinson comes from a long line of horse-loving women, she's the first in the family to compete.
In November, she competed at the Australian Jumping Championships at Boneo Park with Konquest K and came eighth in the Racing Victoria Off The Track Championship event.
Konquest K was also crowned OTT Champion at the World Wetlands Day Jumping Championships in January 2023.
 "Most months he comes home with a ribbon," said Wilkinson.
When she isn't showjumping, Wilkinson still enjoys being around horses and joined the VRC in 2018.
"The social aspect of racing is important for me and I enjoy the events for young members. I've made a lot of friends through those events," she said.
 "Horses will always be part of my life and I'd love to continue working with OTT horses, to help them transition from the track to a happy, healthy life off the track."