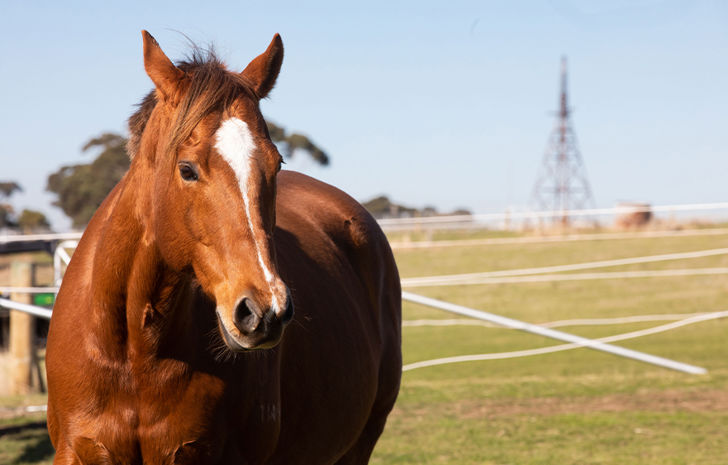 Redkirk Warrior: Star of the straight
7 March 2023
•
Written by
Mick Sharkie
A tight but memorable finish in the 2018 Newmarket Handicap provided Redkirk Warrior with back-to-back wins, entering him into the history books.
When history judges the deeds of Redkirk Warrior, the remarkable backstory of the now twelve-year-old gelding will be remembered as fondly as his best victories.
It is a story with more than one sliding-door moment, and chances seemingly spent. A story of pain and persistence, and then potential sensationally delivered.
It was a most unlikely journey indeed for the British-bred gelding, from birth in the Yorkshire Dales, to the high-rise and hype of Hong Kong, and finally the country calm of Lindsay Park Euroa, a base from which the horse finally realised his immense talent.
That busy passport isn't unusual in a global era of thoroughbred trade, but the purpose for which Redkirk Warrior was originally bred and then pursued by Asian recruiters is entirely different to the eventual stage on which he excelled.
The seventh foal to race of an unraced Selkirk mare named Flag bred to the three-time Group 1 winning middle-distance star Notnowcato, Redkirk – as he was originally named – was born at Manor House Stud in the picturesque Yorkshire Dales and was bred to stay a classic distance.
And to that end he seemed entirely capable of making a good fist of that caper, winning his first two starts over 2000m by comfortable margins for trainer William Haggas and clearing out from subsequent Group 3 winner and Group 1 runner-up Agent Murphy at his second start at Ascot.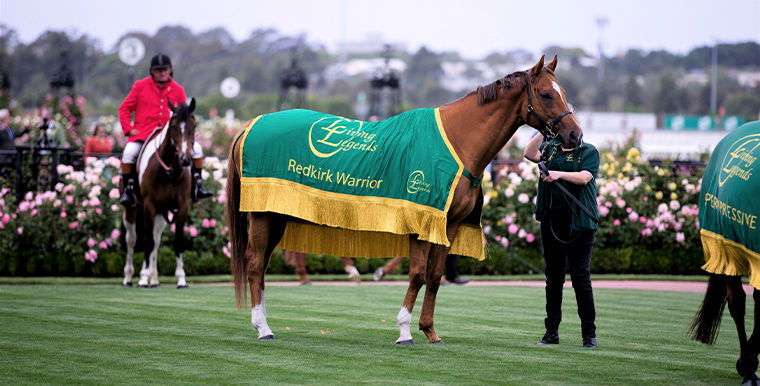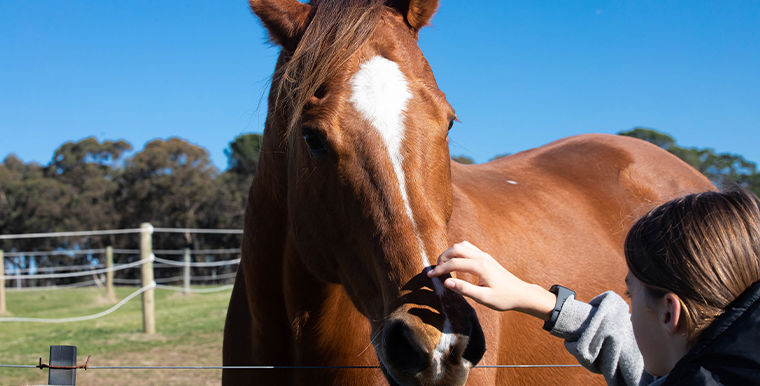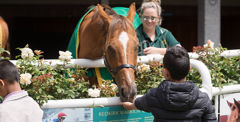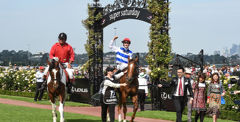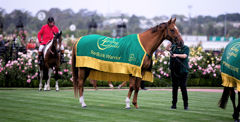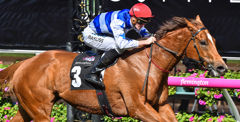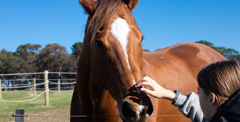 It was the strength of that performance that caught the eye of Hong Kong agent and soon Redkirk had a new name and a new home. Now called Redkirk Warrior, the horse was shipped to Sha Tin to join the stable of Chris So, coincidentally a former employee of David Hayes.
Three strong performances in the Asian jurisdiction saw him start favourite for the 2015 Hong Kong Derby but the horse could manage only an eight-and-a-half length defeat at the hands of João Moreira and Luger. It was a disappointing result and a problem was literally afoot.
It seemed the horse's feet were not coping with Hong Kong life. As the old saying goes, no foot, no horse, and by his second campaign in Hong Kong, Redkirk Warrior was constantly sore and his career all but over.
Enter David Hayes who took a Hail Mary phone call from the horse's principal owner Edmund Lee.
"The farriers in Hong Kong had taken a view on his feet and it turned out to be the wrong one; they went the wrong way and the horse was very sore – he had effectively been retired," said Hayes. "The owner asked me to give him one last try and farrier Julian Mahon and vet Dr David McKellar put a plan in place to try and correct the problem. At first he was worse and very sore for about a month, but then he started to come round and his feet straightened up. He was a happy horse again."
"At first he was worse and very sore for about a month, but then he started to come round and his feet straightened up. He was a happy horse again." - David Hayes
Evidently a happy Redkirk Warrior was a fast Redkirk Warrior and any scepticism regarding the project was quickly forgotten once the horse began to gallop.
"He was very fast," said Hayes. "His lactate measures and form said that he could run a middle distance but he had such speed about him, we took the view that he could be effective over shorter distances. I had a feeling that the straight would suit him too."
And suit him it did. At his first attempt down the Flemington straight course, Redkirk Warrior created history to become the first horse in 100 years to win the Group 1 Newmarket Handicap first up.
Hayes said that although Miss Finland was an incredibly adaptable horse – winning a Golden Slipper at two years of age and then on to win an Oaks is pretty rare – he believed that Redkirk was right up there, as a Derby horse that ended up sprinting.
In the spring of 2017, the Group 2 Bobbie Lewis fell Redkirk Warrior's way, and then in the summer of 2018 the Group 1 Black Caviar Lightning and a second remarkable Newmarket Handicap win, defying top weight and a crack field of challengers to make it back-to-back victories in Flemington's most famous sprint.
"I had a lot to do with Special (1988 Group 1 Lightning and Newmarket Handicap winner), Isca (1999 Group 1 Lightning and Newmarket winner), and Planet Ruler (dual Group 1 Gadsden Stakes winner), but they're not as good as this horse (Redkirk Warrior)," said Hayes at the time.
In fact, of Redkirk Warrior's five Australian victories, four came down the Flemington straight. Hayes said that from an athletic viewpoint the horse was close to the perfect competitor for high pressure straight racing.
"There's no real certainty to the horses that will or won't handle the straight, but in my experience, action is a big factor. A big action helps, and he's got that, he can flow into a race. He has won a Newmarket leading and a Lightning charging from behind which is pretty unique," Hayes said at the time.
In June 2018, Redkirk Warrior headed back to England for a storied homecoming at the famed Royal Ascot meeting as Australia's premier sprinter.
There was hope that he would be the horse to add a Royal Ascot success to Hayes' already bulging curriculum vitae, but his campaign was unsuccessful.
He was retired after seeming to lose his sparkle, and "starting to lighten off and showing a bit of age". His last competitive race was the 2019 Newmarket Handicap at Flemington, where he ran 21st in the race he had dominated for two years in a row.
Living Legends became his new home, where he has resided ever since. Known as 'Kirk' to those who care for him, he is described as "a bossy horse to his paddock mates and loves to play, which is often very rough! He enjoys human company and loves to meet people."
---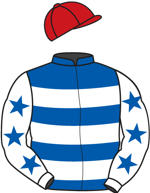 REDKIRK WARRIOR (GB)
Chestnut Gelding
Foaled  06/04/2011 (Manor House Stud, UK)
Sire  Nownowcato (GB)
Dam  Flag (GB) (Selkirk (USA))
Trainers  William Haggas (UK), WY So (HK), David & Ben Hayes & Tom Dabernig (AUS & UK)
Breeder  Mrs R D Peacock
Owners  M B Lee & Miss Y C J Tam (AUS until March 2019), Jenny Tam Yuk Ching (HK until Oct 2016), Scotney/Symonds/Fisher Partnership (UK until Jan 2015)
CAREER STATISTICS
| | | | | | |
| --- | --- | --- | --- | --- | --- |
| Country | Starts | Wins | 2nds | 3rds | Prizemoney |
| UK | 4 | 2 | 0 | 0 | £11,925.10 (GBP) |
| HK | 5 | 1 | 1 | 0 | $3,046,100 (HKD) |
| AUS | 15 | 5 | 1 | 0 | $1,743,000 (AUD) |
|   |   |   |   |   |   |
|   | Total Starts | Wins | 2nds | 3rds | Total Prizemoney |
|   | 24 | 8 | 2 | 0 | $2,791,520 (AUD) |
MAJOR ACHIEVEMENTS
Australia
WON Group 3 Sandown Stakes (2017)
WON Group 1 Newmarket Handicap (2017, 2018)
WON Group 2 Bobbie Lewis Quality (2017)
WON Group 1 Black Caviar Lightning (2018)
Hong Kong
2ND HK Group 1 Hong Kong Classic Cup
Come and meet Redkirk Warrior on course when he visits from Living Legends on Super Saturday, 11 March.
The 150th running of the Group 1 Newmarket Handicap sees sprinters from all over the land line up for the famous straight six-furlong contest. Be there to witness part of Flemington history. Find out more and book your tickets to Super Saturday. This is one race day on the calendar that you won't want to miss.
System.Web.HttpException (0x80004005): Error executing child request for handler 'System.Web.Mvc.HttpHandlerUtil+ServerExecuteHttpHandlerAsyncWrapper'. ---> System.NullReferenceException: Object reference not set to an instance of an object.
   at ASP._Page_Views_Partials_googleAd_cshtml.Execute() in C:\home\site\wwwroot\Views\Partials\googleAd.cshtml:line 4
   at System.Web.WebPages.WebPageBase.ExecutePageHierarchy()
   at System.Web.Mvc.WebViewPage.ExecutePageHierarchy()
   at System.Web.WebPages.WebPageBase.ExecutePageHierarchy(WebPageContext pageContext, TextWriter writer, WebPageRenderingBase startPage)
   at System.Web.Mvc.RazorView.RenderView(ViewContext viewContext, TextWriter writer, Object instance)
   at System.Web.Mvc.BuildManagerCompiledView.Render(ViewContext viewContext, TextWriter writer)
   at Umbraco.Web.Mvc.ProfilingView.Render(ViewContext viewContext, TextWriter writer) in D:\a\1\s\src\Umbraco.Web\Mvc\ProfilingView.cs:line 25
   at System.Web.Mvc.ViewResultBase.ExecuteResult(ControllerContext context)
   at System.Web.Mvc.ControllerActionInvoker.InvokeActionResult(ControllerContext controllerContext, ActionResult actionResult)
   at System.Web.Mvc.ControllerActionInvoker.InvokeActionResultFilterRecursive(IList`1 filters, Int32 filterIndex, ResultExecutingContext preContext, ControllerContext controllerContext, ActionResult actionResult)
   at System.Web.Mvc.ControllerActionInvoker.InvokeActionResultFilterRecursive(IList`1 filters, Int32 filterIndex, ResultExecutingContext preContext, ControllerContext controllerContext, ActionResult actionResult)
   at System.Web.Mvc.ControllerActionInvoker.InvokeActionResultFilterRecursive(IList`1 filters, Int32 filterIndex, ResultExecutingContext preContext, ControllerContext controllerContext, ActionResult actionResult)
   at System.Web.Mvc.ControllerActionInvoker.InvokeActionResultFilterRecursive(IList`1 filters, Int32 filterIndex, ResultExecutingContext preContext, ControllerContext controllerContext, ActionResult actionResult)
   at System.Web.Mvc.ControllerActionInvoker.InvokeActionResultFilterRecursive(IList`1 filters, Int32 filterIndex, ResultExecutingContext preContext, ControllerContext controllerContext, ActionResult actionResult)
   at System.Web.Mvc.ControllerActionInvoker.InvokeActionResultWithFilters(ControllerContext controllerContext, IList`1 filters, ActionResult actionResult)
   at System.Web.Mvc.Async.AsyncControllerActionInvoker.<>c__DisplayClass3_6.<BeginInvokeAction>b__4()
   at System.Web.Mvc.Async.AsyncControllerActionInvoker.<>c__DisplayClass3_1.<BeginInvokeAction>b__1(IAsyncResult asyncResult)
   at System.Web.Mvc.Async.AsyncResultWrapper.WrappedAsyncResult`1.CallEndDelegate(IAsyncResult asyncResult)
   at System.Web.Mvc.Async.AsyncResultWrapper.WrappedAsyncResultBase`1.End()
   at System.Web.Mvc.Async.AsyncControllerActionInvoker.EndInvokeAction(IAsyncResult asyncResult)
   at System.Web.Mvc.Controller.<>c.<BeginExecuteCore>b__152_1(IAsyncResult asyncResult, ExecuteCoreState innerState)
   at System.Web.Mvc.Async.AsyncResultWrapper.WrappedAsyncVoid`1.CallEndDelegate(IAsyncResult asyncResult)
   at System.Web.Mvc.Async.AsyncResultWrapper.WrappedAsyncResultBase`1.End()
   at System.Web.Mvc.Controller.EndExecuteCore(IAsyncResult asyncResult)
   at System.Web.Mvc.Controller.<>c.<BeginExecute>b__151_2(IAsyncResult asyncResult, Controller controller)
   at System.Web.Mvc.Async.AsyncResultWrapper.WrappedAsyncVoid`1.CallEndDelegate(IAsyncResult asyncResult)
   at System.Web.Mvc.Async.AsyncResultWrapper.WrappedAsyncResultBase`1.End()
   at System.Web.Mvc.Controller.EndExecute(IAsyncResult asyncResult)
   at System.Web.Mvc.Controller.System.Web.Mvc.Async.IAsyncController.EndExecute(IAsyncResult asyncResult)
   at System.Web.Mvc.MvcHandler.<>c.<BeginProcessRequest>b__20_1(IAsyncResult asyncResult, ProcessRequestState innerState)
   at System.Web.Mvc.Async.AsyncResultWrapper.WrappedAsyncVoid`1.CallEndDelegate(IAsyncResult asyncResult)
   at System.Web.Mvc.Async.AsyncResultWrapper.WrappedAsyncResultBase`1.End()
   at System.Web.Mvc.MvcHandler.EndProcessRequest(IAsyncResult asyncResult)
   at System.Web.Mvc.MvcHandler.System.Web.IHttpAsyncHandler.EndProcessRequest(IAsyncResult result)
   at System.Web.Mvc.HttpHandlerUtil.ServerExecuteHttpHandlerAsyncWrapper.<>c__DisplayClass3_0.<EndProcessRequest>b__0()
   at System.Web.Mvc.HttpHandlerUtil.ServerExecuteHttpHandlerWrapper.<>c__DisplayClass5_0.<Wrap>b__0()
   at System.Web.Mvc.HttpHandlerUtil.ServerExecuteHttpHandlerWrapper.Wrap[TResult](Func`1 func)
   at System.Web.Mvc.HttpHandlerUtil.ServerExecuteHttpHandlerWrapper.Wrap(Action action)
   at System.Web.Mvc.HttpHandlerUtil.ServerExecuteHttpHandlerAsyncWrapper.EndProcessRequest(IAsyncResult result)
   at System.Web.HttpServerUtility.ExecuteInternal(IHttpHandler handler, TextWriter writer, Boolean preserveForm, Boolean setPreviousPage, VirtualPath path, VirtualPath filePath, String physPath, Exception error, String queryStringOverride)
   at System.Web.HttpServerUtility.ExecuteInternal(IHttpHandler handler, TextWriter writer, Boolean preserveForm, Boolean setPreviousPage, VirtualPath path, VirtualPath filePath, String physPath, Exception error, String queryStringOverride)
   at System.Web.HttpServerUtility.Execute(IHttpHandler handler, TextWriter writer, Boolean preserveForm, Boolean setPreviousPage)
   at System.Web.HttpServerUtility.Execute(IHttpHandler handler, TextWriter writer, Boolean preserveForm)
   at System.Web.HttpServerUtilityWrapper.Execute(IHttpHandler handler, TextWriter writer, Boolean preserveForm)
   at System.Web.Mvc.Html.ChildActionExtensions.ActionHelper(HtmlHelper htmlHelper, String actionName, String controllerName, RouteValueDictionary routeValues, TextWriter textWriter)
   at System.Web.Mvc.Html.ChildActionExtensions.Action(HtmlHelper htmlHelper, String actionName, String controllerName, RouteValueDictionary routeValues)
   at Our.Umbraco.DocTypeGridEditor.Web.Extensions.HtmlHelperExtensions.RenderDocTypeGridEditorItem(HtmlHelper helper, IPublishedElement content, String editorAlias, String viewPath, String previewViewPath, Boolean isPreview)
   at ASP._Page_app_plugins_doctypegrideditor_render_DocTypeGridEditor_cshtml.Execute() in C:\home\site\wwwroot\app_plugins\doctypegrideditor\render\DocTypeGridEditor.cshtml:line 34
   at System.Web.WebPages.WebPageBase.ExecutePageHierarchy()
   at System.Web.Mvc.WebViewPage.ExecutePageHierarchy()
   at System.Web.WebPages.WebPageBase.ExecutePageHierarchy(WebPageContext pageContext, TextWriter writer, WebPageRenderingBase startPage)
   at System.Web.Mvc.RazorView.RenderView(ViewContext viewContext, TextWriter writer, Object instance)
   at System.Web.Mvc.BuildManagerCompiledView.Render(ViewContext viewContext, TextWriter writer)
   at Umbraco.Web.Mvc.ProfilingView.Render(ViewContext viewContext, TextWriter writer) in D:\a\1\s\src\Umbraco.Web\Mvc\ProfilingView.cs:line 25
   at System.Web.Mvc.HtmlHelper.RenderPartialInternal(String partialViewName, ViewDataDictionary viewData, Object model, TextWriter writer, ViewEngineCollection viewEngineCollection)
   at System.Web.Mvc.Html.PartialExtensions.Partial(HtmlHelper htmlHelper, String partialViewName, Object model, ViewDataDictionary viewData)
   at System.Web.Mvc.Html.PartialExtensions.Partial(HtmlHelper htmlHelper, String partialViewName, Object model)
   at ASP._Page_Views_Partials_grid_editors_Base_cshtml.Execute() in C:\home\site\wwwroot\Views\Partials\grid\editors\Base.cshtml:line 20