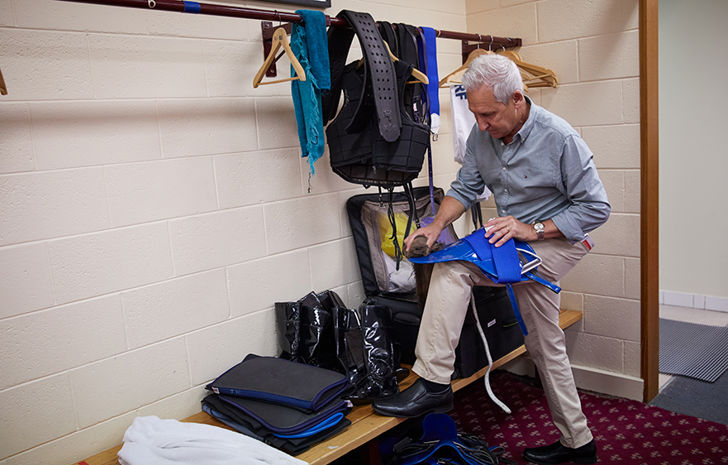 Right-hand man
13 May 2019
•
Written by
Keith Hillier
It is a job that requires hard work, long hours, a firm knowledge of racing and precise attention to detail, but Chris Barrett relishes his role as jockey valet to some of the top riders in Australia.
Former NSW jockey Chris Barrett had ridden more than 800 winners when he retired from the saddle about 20 years ago. He then moved into a job at Qantas, where he was employed for 15 years.
But, probably like every retired jockey before him, he missed his racing life and the friends within it. He searched for a way to return, even part time.
Soon Barrett found the perfect job: he became Australia's first jockeys' valet.
He worked only on race days with his first clients – Mick Dittman, Shane Dye and the late Johnny Marshall, who was his brother-in-law.
It was an occupation that had not been tested in Australia, yet was an element of racing in Europe, America, Hong Kong, Singapore and Japan.
The title 'valet' is centuries old, but still vague. One definition described a valet as "a gentleman's personal male servant".
There is still no other valet in NSW racing, while in Melbourne Vincent (Vin) Mills is valet to Craig Williams and Damien Oliver. Barrett, who left school at 15 to become an apprentice said being a former jockey was a major advantage as he knew what was required for a job that has no formal training.
Barrett, 61, is now a full-time valet for Hugh Bowman (the first of the current crop to use Barrett's services), Kerrin McEvoy, James McDonald, Tommy Berry, Brenton Avdulla and Tim Clark.
Barrett limits his client list to six jockeys, though he will occasionally take in 'substitutes' if one or more of his jockeys are not riding. The demand for more valets is low as most jockeys cannot afford the service, unless they have a reasonable book of rides and are winning the big races.
Kerrin McEvoy who is lucky enough to utilise Barrett's services notes that having a valet is invaluable for a busy jockey to make their race days run smoothly. "It is so much easier for me to focus on my job," he said.
Hugh Bowman believes that the most important benefit to having a jockey valet is not having to worry about his race gear. "I am very particular about the cleanliness of my raceday gear and Chris is extremely thorough. I used to clean my gear long after the last race, but having a valet means I can just have a shower and walk out of the racecourse," he said.
James McDonald said it was unheard of in his homeland of New Zealand to have a valet, so he enjoys Barrett's assistance immensely. "I'm not as particular as Hugh and Kerrin [with my gear], but it is comforting to see my gear out and ready to use when I arrive at the races," he said.
Some of the world's top jockeys – including Joao Moreira, Zac Purton, Ryan Moore and William Buick – are valet clients of Barrett when they ride anywhere in Australia. Barrett is happy to assist the visiting international riders who are accustomed to a valet service in their own countries, for while they add to his workload, they do usually have brief riding commitments in Australia.
As noted by James McDonald, Barrett's most meticulous clients are Hugh Bowman and Kerrin McEvoy, with Barrett confiding that Bowman has his gear for riding Winx locked away until race day. This is separate gear just for Winx alone – including a special saddle that is the "right weight" for the champion mare, and her own girth, surcingle and breastplate.
Being a jockey valet is a demanding job. Barrett is in control of every piece of gear for his jockey team. He drives to racetracks and carries each set of gear into the jockeys' room, as early as two hours before the first race. His team of jockeys carry nothing into or out of a racecourse.
He sets up the gear in the jockeys' room and, on average, each jockey will have four or five saddles (the lightest is 200 grams and the heaviest 1.8 kilograms) to suit different weighted horses throughout the day. Bowman, for example, has two saddles of each weight.
The champion jockey also has, under Barrett's care, two girths, two surcingles, light foam packing for under the saddles (towels are no longer used like in the past), non-slip rubber for heavier saddles, lead bags, vest plates and riding boots (two or three pairs for each meeting).
Barrett said he considered it a big responsibility to have everything the jockeys might need and he packs their bags according to the allotted weights of their mounts.
He lays out the gear for each jockey before each race and puts together the gear for the next race while they are riding.
Barrett has no spare time in the jockeys' room on raceday. He is constantly scrubbing or polishing gear (a task made more demanding on wet-track days) and washing and drying the two or three pair of silks that his jockeys use each meeting. At the end of the day he packs his station wagon with a dozen or more pair of silks, the shirts that jockeys wear under their silks and the rest of the gear he had brought to the track.
The day's work is virtually non-stop because his jockey team is comprised of top riders who have a riding commitment in most races on the program.
Barrett's job can be hard and labour intensive, but he respects the demands of his riders because each is a perfectionist and takes pride in the cleanliness of what they are wearing and the polished gear on their mounts.
Transitioning into the role of valet was smooth for Barrett, due to his past career as a jockey himself. He knew the jockeys' room rules (including no phones being allowed) and he already had the respect of stipendiary stewards.
His life has really been all about racing. He joined popular trainer Meggs Elkington at his Caulfield stables as a
15-year-old and became his apprentice. His salary was $10 a week with a yearly increase of $3 a week. At the end of his apprenticeship he was earning $20 a week.
When Elkington moved to Geelong, Barrett became his stable rider and the partnership continued for 20 years. He was the first jockey to ride four winners on a Kilmore raceday when he was an apprentice, riding at 46kg.
In July 1981, Barrett rode a treble at Flemington – starting with the 50-1 outsider Chester Field, followed by Bright Brigand and then Rumour Qui in the Tatts Plate.
In 1984 he rode in Japan in the International Jockey Series and was runnerup in a race in Tokyo.
In 1986 he broke his collarbone in a fall at Caulfield and was sidelined for a year. He returned to race-riding teaming up with the talented Vitalic for the Elkington Stable in 1988 finishing second in the Blue Diamond Stakes. He moved to Sydney in 1991 and rode with success at many NSW tracks.
Barrett rode in two Melbourne Cups and, although unplaced in both, still considers them his greatest thrill in racing.
Settled in Sydney with his wife Trish, Barrett's passion for his job is only beaten by that for his family, especially his three grandsons.