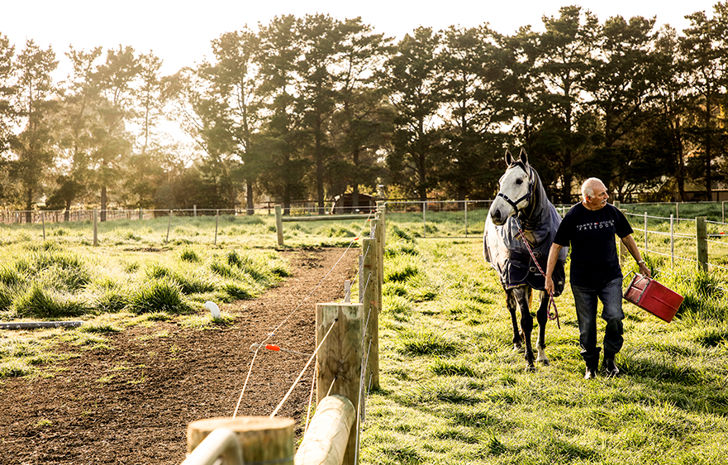 Rob Gaylard: a tribute one year on
12 July 2021
•
Written by
Joe McGrath
It has been twelve months since the racing world lost one of its biggest advocates, Rob Gaylard. The racing world was shocked when the popular commentator and educator passed away at 70 years of age.
A personality in racing and many other sports, Rob's passing has been a sad loss. Known as the "Voice of Flemington", he had conducted race presentations and interviews for over 20 years in the mounting yard. Rob was prominent in racing circles, the equestrian world and was also familiar with the cycling community. He was dedicated to the Victorian apprentice jockey training school, assisting with media training and providing much-valued advice in many spheres along the way. He was a true professional with the ability to adapt to the fast-changing world of sports broadcasting.
On race day he would present as a rather relaxed individual who took in all details and made his presentations and interviews in a laid-back manner. But unique to Rob, he was always looking at ways to push up the young jockey, trainer, or owner on the rise. He understood racing and the power of the media, and could make a rather non-descript race in the off-season come across like a feature race in the spring. Such was his passion for racing.
He was a student of form and a close admirer of events on the country circuit. He was seen hosting country Cup meetings including Bendigo, Ballarat, Hamilton, Geelong, Kyneton, Swan Hill, Mildura, Warrnambool, and Stony Creek. In fact, there weren't many Victorian race tracks where Rob Gaylard wasn't seen. This augured well as horses progressed through to Flemington, especially at Melbourne Cup Carnival time, as Rob had most likely seen half the runners in the previous weeks.
Rob started his career in Ballarat with the local TV station BTV6, then progressed through to GTV9 in Melbourne before moving to Southern Cross TV in Bendigo. He was a regular anchor for harness racing on Channel 31 in the 1990s/2000s and worked with the Royal Melbourne Show and cycling's Sun Tour and Bay Classic.
In recent years, Rob and daughter Casey Bruce took on the post-race care of star sprinter Chautauqua at the family property in Lara, outside Geelong.
In the past twelve months efforts have also been made to remember the popular media figure. 'Gaylard (NZ)' debuted for Flemington-based trainers Mathew Ellerton and Simon Zahra last November. And prominent owners Terry Henderson, Gerry Ryan and John Spence registered a son of Puissance De Lune as 'Spirit of Gaylard' some months later. After only one start to date, the colt ran a very promising 1.6 length fifth to Blushing Tycoon at Flemington on 22 May.