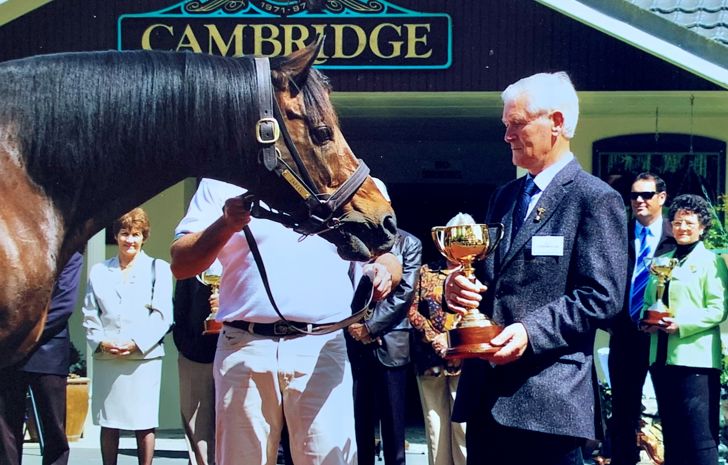 Sir Patrick had a huge influence on the Melbourne Cup
11 January 2023
•
Written by
Andrew Lemon
New Zealand's Sir Patrick Hogan of the celebrated Cambridge Stud, near Hamilton on the North Island, has died at the age of 83.
The Victoria Racing Club is deeply saddened to learn of the passing of highly respected and influential thoroughbred owner and breeder Sir Patrick Hogan.
The Melbourne Cup winners sired by stallions standing at Cambridge are:
▪  Gurner's Lane (1982) by Sir Tristram
▪  Empire Rose (1988) by Sir Tristram
▪  Brew (2000) by Sir Tristram
▪  Might And Power (1997) by Zabeel
▪  Jezabeel (1998) by Zabeel
▪  Efficient (2007) by Zabeel
▪  Van Der Hum (1976) by Hermes
▪  Ethereal (2001) by Rhythm (out of a Sir Tristram mare)
That's eight Melbourne Cup winners from Cambridge stallions in the space of 32 years.
An extraordinary strike rate.
Joe McGrath, the Victoria Racing Club's Keeper of the Cup and acknowledged expert on the history of the race, paid this simple tribute to Sir Patrick:
'There is no greater single influence on Melbourne Cup breeding in the past hundred years'. 
Andrew Lemon wrote of 'Sir Tristram and Sir Patrick' in Volume 3 of The History of Australian Thoroughbred Racing:
'Patrick Hogan had to wait for his knighthood. The Irish bred horse who made Hogan's reputation as thoroughbred horse breeder had his title much earlier. Sir Tristram by Sir Ivor from Isolt, a daughter of Round Table: names from the court of King Arthur. The equine Sir Tristram proved his stoicism in an ordeal by fire when Hogan brought him to New Zealand in 1971 for the large sum of $160,000. While in quarantine the horse escaped from a stable blaze. Hogan helped nurse the stallion back to health. He had planned to syndicate him but, after the injury, was left with the largest share.
'Sir Tristram had a race record of two wins and nine placings in nineteen starts in the United States and France. He was no certainty to excel at stud, and his success took time. Caulfield trainer Geoff Murphy was among the first to see the stallion's potential, buying Sovereign Red, the 1978 Victoria Derby winner, and Gurner's Lane. 
'The cohort of Sir Tristram progeny began to seize the classic races: Dr Grace, Empire Rose, Fair Sir, Grosvenor, Kaapstad, Military Plume, Marauding, Noble Peer, Trissaro, Tristanagh, Tristarc, Zabeeel and more. In all, Sir Tristram sired 43 individual Group 1 winners which, in the period before stallions were shuttled across the world twice a year, was a world record. He was the top Australasian sire for five years. Hogan was ahead of his time in the way he presented his stud farm and the horses he raised there. He was consistently the top vendor at the national yearling sales for 25 years.
'The fame of Sir Tristram ensured that international interest in New Zealand horses continued. After the stallion retired in 1996, Hogan stood Zabeel in his stead. And when Sir Tristram died, Hogan buried him at his Cambridge stud in upright position, tail to the east, head to the setting sun as Egyptians and Sumerians had done with warrior horses in ancient times. Not quite an Arthurian ending, but a hero's farewell.
'Hogan was knighted in 2006 for services to racing, and in 2007 he published Give a Man a Horse, the story of his own remarkable career.'