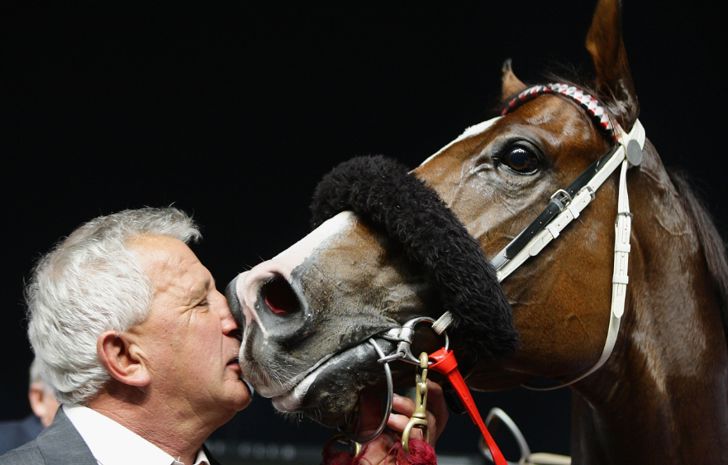 Takeover Target: A local hero who made us believe in fairytales
16 June 2023
•
Written by
Patrick Bartley
Takeover Target and his owner, Joe Janiak, were considered long shots. But, together, they were magic. We remember the champion and the feats that made him an Australian racing legend.
It was perhaps the most unlikely tale of success ever to grow from the Australian turf and, almost certainly, the epitome of the rags-to-riches dream that so many thoroughbred owners and trainers ponder as they drift off to sleep at night.
When Queanbeyan-based taxi driver and hobby racehorse trainer Joe Janiak ventured to the Inglis Winter Thoroughbred Sales in July of 2003, never could he have imagined that the horse he took home would retire as one of the most-loved and best-performed racehorses of the modern era.
A strong, leggy, and yet unraced gelding named Takeover Target caught Joe's eye and he bid up to $1,375 to secure him, despite being warned that the horse's conformation was so unconventional that he was a day-to-day proposition.
Regardless of the warning, Joe took a punt on the discarded horse, a punt that would take him around Australia and then the world.
"He was a fantastic horse and we really had some great fun and adventures with him," said Joe after Takeover Target's retirement in 2010. "It's been a fantastic journey and he's given a lot of people a hell of a lot of pleasure."
In just over five years, Takeover Target raced 41 times for 21 wins – eight at the highest level – including wins and placings in three foreign countries and more than $6 million in prize money.
Among his greatest triumphs were the Group 1 Lightning Stakes and Newmarket Handicap in 2006, the Group 2 King's Stand Stakes at Royal Ascot, the Grade 1 Sprinters Stakes in Japan, the Group 1 Doomben 10,000, the Group 1 KrisFlyer International in Singapore, the Group 1 TJ Smith at Randwick and in May 2009 at age nine, the Group 1 Goodwood at Morphettville.
Takeover Target was twice placed in the Group 1 Golden Jubilee at Royal Ascot and was never far from the winner's stall. He was a once-in-a-lifetime horse, one that will always be remembered by racegoers young and old for his tenacity, his bravery and his incredible will to win.
Unfortunately, the story that seemed destined for the silver screen came to an end when the grand sprinter cracked his cannon bone in the 2009 July Cup at Newmarket in England, during his fourth trip to the UK.
Joe decided to end the gelding's track career, and Archie, as he was known to Joe and his son Ben, enjoyed a life of luxury by the beach at the trainer's property, before being euthanised in June 2015 after injuring himself in a paddock accident.
The Hall of Fame inductee (2012) will be forever remembered as one of the great champions of the turf, an accidental hero who changed lives and became a real-life sporting fairytale.