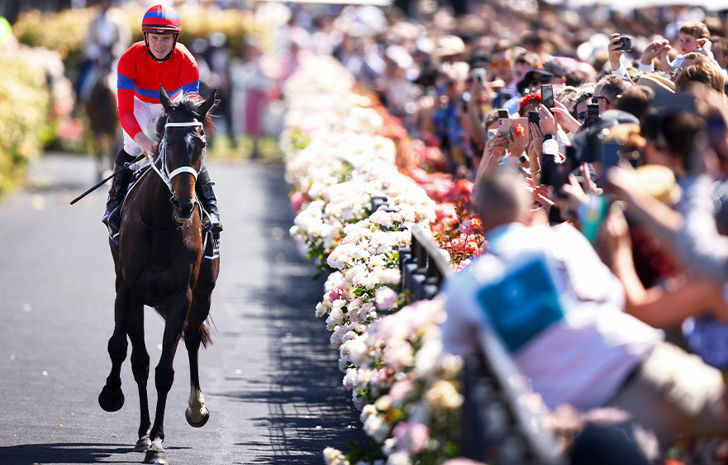 Taking on the challenge
15 September 2022
•
Written by
Michael Sharkie
The Prix l'Arc de Triomphe dream is still alive for Lexus Melbourne Cup champion Verry Elleegant.
When the ownership group of reigning Melbourne Cup heroine Verry Elleegant announced that the star mare would end her career overseas, they knew they were taking the great horse, her fans and indeed themselves into the unknown.
Here was an 11-time Group 1 winner with more than $14 million in the bank, Australia's premier stayer with the winner of a Caulfield Cup, a Tancred Stakes and an explosive Lexus Melbourne Cup romp already to her name; a comfortable farewell tour of her local haunts seemed the most probable sign off for this modern day great.
Driven to showcase their mare against the best in Europe, a challenge that the mighty Winx was never asked to take, and a chance to contest races that most racehorse owners could only ever dream of, the owners took the plunge. Regular spokesman Brae Sokolski said it was not an emotional decision.
"On one hand you've got your own dreams of running in an Arc and these amazing races in Europe, on the other you have her incredible legacy and Verry Elleegant's relationship with Chris Waller and the need to honour that," he said.
"We wanted to give her the chance at one last great challenge and the feeling was she had done all she could do in Australia. Europe was the last frontier."
Emerging trainer Francis-Henri Graffard was selected as the new trainer for Verry Elleegant, and while Waller was saddened to see the great mare leave his care, he showed his class and humility when acting as a sounding board for Graffard as he readied Verry Elleegant for her French campaign.
Australians as a rule rally behind their own when they set out to take on the world; Australian racehorses are not spared that support and parochialism. The triumphs of Australian speedsters at the famed Royal Ascot meeting have been celebrated wildly and proudly over the years, perhaps none more so than Waller's own chestnut speedball Nature Strip when he ripped apart Europe's fastest horses in the King's Stand Stakes in June this year.
While Verry Elleegant's European campaign carried the usual anticipation from the Australian racing public, the decision to send the mare overseas and away from Waller's care also sparked debate about the motivation of the ownership group.
And a rift within that ownership group did not help the feeling of unease amongst the racing public. Original part-owner Nick Bishara publicly announced that he and 20 per cent of Verry Elleegant's owners were "not happy" with the decision to race in Europe and wanted to "put the horse first", comments that quickly called out fellow owners Sokolski and Ozzie Kheir, the most recognisable faces within the team.
Indeed there would be no easy races for Verry Elleegant in Europe, the mare was about to swim with the truly big fish of European middle-distance racing, the same pool of horses that have consistently shown their superiority when visiting Australia.
Exposed and vulnerable and in a truly foreign environment, Verry Elleegant had indeed been set a herculean task.
An inglorious French debut in the Group 1 Prix Jean Romanet at Deauville when finishing last in a field of seven only confirmed in the mind of doubters that this campaign was a bridge too far.
"It was a disappointing start to say the least and what I found most concerning about it (her first-up run) was that she was so passive. It wasn't the Verry Elleegant we all know," said Sokolski.
Thankfully for Sokolski and his fellow owners and for Australian racing fans, Verry Elleegant redeemed herself to a degree with a hard-fought third place in the Group 2 Qatar Prix Foy at Longchamp on September 11, going a long way to restoring faith in the European campaign.
"I was really satisfied with the performance and most importantly there was exponential improvement from her first-up run to her second-up run," Sokolski said.
But the performance has not cemented a start in the famous Prix De L'Arc De Triomphe at Longchamp on the first weekend of October. Although the Arc is the very race this dream was built around, a 2800m Group 2 race for fillies and mares on the same weekend is another potential target for Verry Elleegant before a start in the Group 1 British Champion Fillies and Mares Stakes over 2400m at Ascot in mid-October.
"You've obviously got to be really conscious of their legacy but you also have to be conscious of what the ownership group owns horses for," said Sokolski.
"Generally, it's a balance between achievement and experience and the opportunity to have her run in an Arc, well, it's an experience we may never have again."
Following her European campaign Verry Elleegant will return to Australia and retire to stud to commence the next phase of her career as a broodmare.
(Main image: Daniel Pockett/Getty Images)
System.Web.HttpException (0x80004005): Error executing child request for handler 'System.Web.Mvc.HttpHandlerUtil+ServerExecuteHttpHandlerAsyncWrapper'. ---> System.NullReferenceException: Object reference not set to an instance of an object.
   at ASP._Page_Views_Partials_googleAd_cshtml.Execute()
   at System.Web.WebPages.WebPageBase.ExecutePageHierarchy()
   at System.Web.Mvc.WebViewPage.ExecutePageHierarchy()
   at System.Web.WebPages.WebPageBase.ExecutePageHierarchy(WebPageContext pageContext, TextWriter writer, WebPageRenderingBase startPage)
   at System.Web.Mvc.RazorView.RenderView(ViewContext viewContext, TextWriter writer, Object instance)
   at System.Web.Mvc.BuildManagerCompiledView.Render(ViewContext viewContext, TextWriter writer)
   at Umbraco.Web.Mvc.ProfilingView.Render(ViewContext viewContext, TextWriter writer) in D:\a\1\s\src\Umbraco.Web\Mvc\ProfilingView.cs:line 25
   at System.Web.Mvc.ViewResultBase.ExecuteResult(ControllerContext context)
   at System.Web.Mvc.ControllerActionInvoker.InvokeActionResult(ControllerContext controllerContext, ActionResult actionResult)
   at System.Web.Mvc.ControllerActionInvoker.InvokeActionResultFilterRecursive(IList`1 filters, Int32 filterIndex, ResultExecutingContext preContext, ControllerContext controllerContext, ActionResult actionResult)
   at System.Web.Mvc.ControllerActionInvoker.InvokeActionResultFilterRecursive(IList`1 filters, Int32 filterIndex, ResultExecutingContext preContext, ControllerContext controllerContext, ActionResult actionResult)
   at System.Web.Mvc.ControllerActionInvoker.InvokeActionResultFilterRecursive(IList`1 filters, Int32 filterIndex, ResultExecutingContext preContext, ControllerContext controllerContext, ActionResult actionResult)
   at System.Web.Mvc.ControllerActionInvoker.InvokeActionResultFilterRecursive(IList`1 filters, Int32 filterIndex, ResultExecutingContext preContext, ControllerContext controllerContext, ActionResult actionResult)
   at System.Web.Mvc.ControllerActionInvoker.InvokeActionResultFilterRecursive(IList`1 filters, Int32 filterIndex, ResultExecutingContext preContext, ControllerContext controllerContext, ActionResult actionResult)
   at System.Web.Mvc.ControllerActionInvoker.InvokeActionResultWithFilters(ControllerContext controllerContext, IList`1 filters, ActionResult actionResult)
   at System.Web.Mvc.Async.AsyncControllerActionInvoker.<>c__DisplayClass3_6.<BeginInvokeAction>b__4()
   at System.Web.Mvc.Async.AsyncControllerActionInvoker.<>c__DisplayClass3_1.<BeginInvokeAction>b__1(IAsyncResult asyncResult)
   at System.Web.Mvc.Async.AsyncResultWrapper.WrappedAsyncResult`1.CallEndDelegate(IAsyncResult asyncResult)
   at System.Web.Mvc.Async.AsyncResultWrapper.WrappedAsyncResultBase`1.End()
   at System.Web.Mvc.Async.AsyncControllerActionInvoker.EndInvokeAction(IAsyncResult asyncResult)
   at System.Web.Mvc.Controller.<>c.<BeginExecuteCore>b__152_1(IAsyncResult asyncResult, ExecuteCoreState innerState)
   at System.Web.Mvc.Async.AsyncResultWrapper.WrappedAsyncVoid`1.CallEndDelegate(IAsyncResult asyncResult)
   at System.Web.Mvc.Async.AsyncResultWrapper.WrappedAsyncResultBase`1.End()
   at System.Web.Mvc.Controller.EndExecuteCore(IAsyncResult asyncResult)
   at System.Web.Mvc.Controller.<>c.<BeginExecute>b__151_2(IAsyncResult asyncResult, Controller controller)
   at System.Web.Mvc.Async.AsyncResultWrapper.WrappedAsyncVoid`1.CallEndDelegate(IAsyncResult asyncResult)
   at System.Web.Mvc.Async.AsyncResultWrapper.WrappedAsyncResultBase`1.End()
   at System.Web.Mvc.Controller.EndExecute(IAsyncResult asyncResult)
   at System.Web.Mvc.Controller.System.Web.Mvc.Async.IAsyncController.EndExecute(IAsyncResult asyncResult)
   at System.Web.Mvc.MvcHandler.<>c.<BeginProcessRequest>b__20_1(IAsyncResult asyncResult, ProcessRequestState innerState)
   at System.Web.Mvc.Async.AsyncResultWrapper.WrappedAsyncVoid`1.CallEndDelegate(IAsyncResult asyncResult)
   at System.Web.Mvc.Async.AsyncResultWrapper.WrappedAsyncResultBase`1.End()
   at System.Web.Mvc.MvcHandler.EndProcessRequest(IAsyncResult asyncResult)
   at System.Web.Mvc.MvcHandler.System.Web.IHttpAsyncHandler.EndProcessRequest(IAsyncResult result)
   at System.Web.Mvc.HttpHandlerUtil.ServerExecuteHttpHandlerAsyncWrapper.<>c__DisplayClass3_0.<EndProcessRequest>b__0()
   at System.Web.Mvc.HttpHandlerUtil.ServerExecuteHttpHandlerWrapper.<>c__DisplayClass5_0.<Wrap>b__0()
   at System.Web.Mvc.HttpHandlerUtil.ServerExecuteHttpHandlerWrapper.Wrap[TResult](Func`1 func)
   at System.Web.Mvc.HttpHandlerUtil.ServerExecuteHttpHandlerWrapper.Wrap(Action action)
   at System.Web.Mvc.HttpHandlerUtil.ServerExecuteHttpHandlerAsyncWrapper.EndProcessRequest(IAsyncResult result)
   at System.Web.HttpServerUtility.ExecuteInternal(IHttpHandler handler, TextWriter writer, Boolean preserveForm, Boolean setPreviousPage, VirtualPath path, VirtualPath filePath, String physPath, Exception error, String queryStringOverride)
   at System.Web.HttpServerUtility.ExecuteInternal(IHttpHandler handler, TextWriter writer, Boolean preserveForm, Boolean setPreviousPage, VirtualPath path, VirtualPath filePath, String physPath, Exception error, String queryStringOverride)
   at System.Web.HttpServerUtility.Execute(IHttpHandler handler, TextWriter writer, Boolean preserveForm, Boolean setPreviousPage)
   at System.Web.HttpServerUtility.Execute(IHttpHandler handler, TextWriter writer, Boolean preserveForm)
   at System.Web.HttpServerUtilityWrapper.Execute(IHttpHandler handler, TextWriter writer, Boolean preserveForm)
   at System.Web.Mvc.Html.ChildActionExtensions.ActionHelper(HtmlHelper htmlHelper, String actionName, String controllerName, RouteValueDictionary routeValues, TextWriter textWriter)
   at System.Web.Mvc.Html.ChildActionExtensions.Action(HtmlHelper htmlHelper, String actionName, String controllerName, RouteValueDictionary routeValues)
   at Our.Umbraco.DocTypeGridEditor.Web.Extensions.HtmlHelperExtensions.RenderDocTypeGridEditorItem(HtmlHelper helper, IPublishedElement content, String editorAlias, String viewPath, String previewViewPath, Boolean isPreview)
   at ASP._Page_app_plugins_doctypegrideditor_render_DocTypeGridEditor_cshtml.Execute()
   at System.Web.WebPages.WebPageBase.ExecutePageHierarchy()
   at System.Web.Mvc.WebViewPage.ExecutePageHierarchy()
   at System.Web.WebPages.WebPageBase.ExecutePageHierarchy(WebPageContext pageContext, TextWriter writer, WebPageRenderingBase startPage)
   at System.Web.Mvc.RazorView.RenderView(ViewContext viewContext, TextWriter writer, Object instance)
   at System.Web.Mvc.BuildManagerCompiledView.Render(ViewContext viewContext, TextWriter writer)
   at Umbraco.Web.Mvc.ProfilingView.Render(ViewContext viewContext, TextWriter writer) in D:\a\1\s\src\Umbraco.Web\Mvc\ProfilingView.cs:line 25
   at System.Web.Mvc.HtmlHelper.RenderPartialInternal(String partialViewName, ViewDataDictionary viewData, Object model, TextWriter writer, ViewEngineCollection viewEngineCollection)
   at System.Web.Mvc.Html.PartialExtensions.Partial(HtmlHelper htmlHelper, String partialViewName, Object model, ViewDataDictionary viewData)
   at System.Web.Mvc.Html.PartialExtensions.Partial(HtmlHelper htmlHelper, String partialViewName, Object model)
   at ASP._Page_Views_Partials_grid_editors_Base_cshtml.Execute()