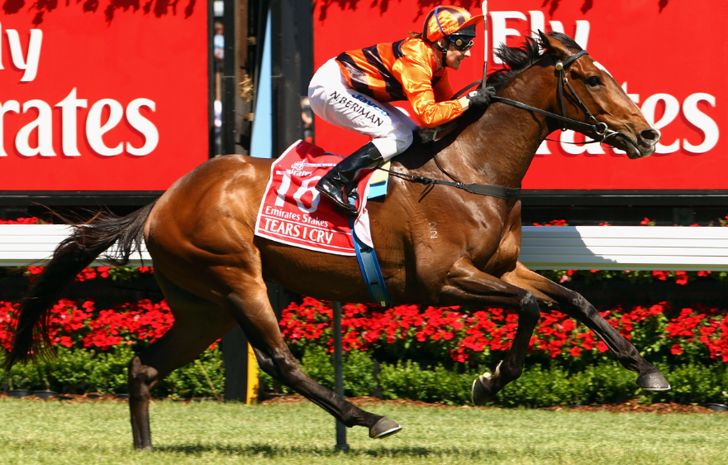 Tears of joy: The 2007 Stakes win of Tears I Cry
10 November 2023
•
Written by
VRC
Fifteen years ago the 2007 Group 1 Cantala Stakes provided not only a thrilling finish on the track with a blowout win at $101, but also made history as one of the most emotional scenes in the stands. A dream come true for owner and breeder Anne McGrath, her incredible reaction to seeing the horse win captured hearts and encapsulated the rags to riches story.
The race was also memorable for some other reasons. It was the first Group 1 win for jockey Nikita Beriman and the first time a female jockey had won a Group 1 in Victoria, and it was also the first Group 1 win for a certain young 26-year-old trainer, Ciaron Maher.
We take a look at where they all are now, 15 years on.
Anne McGrath and Tears I Cry, aka Skeeta
Every so often, there are horses and humans that just bond in a very special way. Anne McGrath and Tears I Cry were one such story. As breeder and owner of 'Skeeta' – as he was affectionately known – McGrath's emotional reaction to the Stakes win of her treasured horse was a viral sensation. 
The gelded son of Lacryma Cristi, Tears I Cry's family had tasted Group 1 success at Flemington previously. His dam Cassazione, was a daughter of Weekend Delight, which won the Group 1 VRC Oaks at Flemington in 1990, when trained by Bart Cummings. During his racing career, Tears I Cry also placed third in the Seymour Cup at Listed level, before another third in the Group 2 Jayco Crystal Mile at Moonee Valley.
The gelding retired in 2012 with an impressive resume, amassing over $900,000 in prizemoney and 10 wins, including popular victories in the Koroit and Woodford cups.
He transitioned into a new career as a clerk of the course's horse at Warrnambool, which he flourished in for five years. With a strong will and attitude, he didn't have the cool-natured temperament required for the role at first, but his devoted owner never gave up, and her faith ultimately paid off. McGrath was a clerk of the course herself, even fulfilling the duties when she could while battling an aggressive form of breast cancer. Tears I Cry was instrumental in her recovery, with McGrath telling media that riding him through the bush around her Orford property brightened her outlook during the 12-month treatment process.
In 2018, Tears I Cry sadly and unexpectedly passed away at the age of 15. McGrath was heartbroken, but thankful for the "hell of a ride" that the horse gave her and her family.
Ciaron Maher
As a young man Maher had designs on a career in the saddle. As a jumps jockey he had skill in the saddle and a fiery will to compete, but ultimately, he grew too big to pursue life as a rider.
Initial disappointment turned to opportunity, and it was as a trainer that Maher made a near immediate impact, introducing himself to the world in the best possible way when $101 shot Tears I Cry won the 2007 Group 1 Cantala Stakes.
With just a handful of horses in work on the family dairy property at Winslow near Warrnambool, many would have written the result off as a fluke and few racing fans could have predicted Maher's meteoric rise to the top. Now, of course, he along with Dave Eustace is the head of one of the most successful stables in Australia, with more than 30 Group 1 wins, including a Cox Plate, a Caulfield Cup and of course, a Lexus Melbourne Cup.
Nikita Beriman
After retiring from race riding in September 2019 due to a series of injuries and weight issues, Beriman returned to the saddle in late 2022 on the Sunshine Coast 
Reflecting on her return, Beriman remarked, "It was a bit surreal putting the silks back on because I was adamant I was never going to ride again after having a child, but I started riding trackwork and my love for horses just grew and grew even more … and I just couldn't stop. They say once it is in your blood, that's it!"
Beriman initially started working with Michelle Payne as her stable foreman when Payne established a satellite stable at the Sunshine Coast. Later, she transitioned to working with Nat McCall, and is now riding for a number of different trainers.
In a nice synergy, Beriman rode Just Folk in the Group 2 Hollindale Stakes in May this year, which was trained by Josh Julius. The pair became friends because of Tears I Cry when a young Julius – nephew of Anne McGrath and working for Ciron Maher at the time – was the strapper of the horse that day.