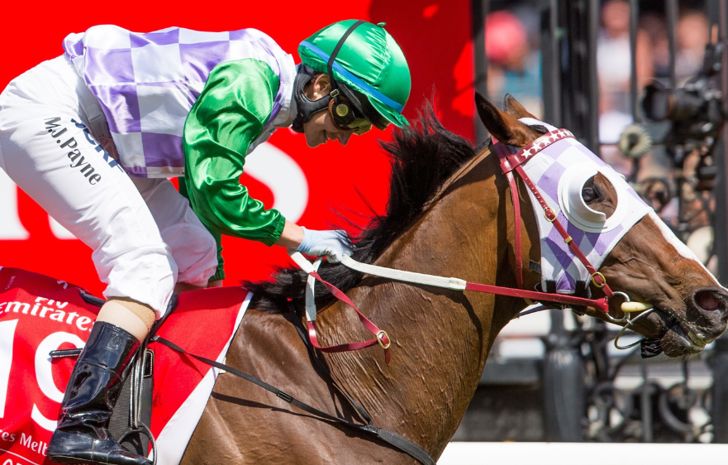 The 100-1 longshots of the Melbourne Cup
6 November 2023
•
Written by
Trevor Marshallsea
They were the underdogs who didn't seem to have a chance in Australia's greatest race. But The Pearl, Wotan, Old Rowley and Prince Of Penzance all proved the punters – and the bookies – wrong when they won at the incredible odds of 100-1.
The Pearl, 1871
The Pearl produced the original outsider's triumph, the longest previous winner being 1865's Torybory at 25-1. But in its 11th year, the Cup had erupted as a spectacle, and spectators were excitable – and everywhere – regardless of who won.
Winning jockey Jas Cavanagh wrote in the Sydney Morning Herald he'd never seen such a crowd, and that "Irish King knocked down two men, one after another", in taking to the track, before "the bobbies had cleared the people off".
Having won by two lengths, Cavanagh added: "Almost before I could turn, there was a monster crowd of people all around me cheering."
Wotan, 1936
Foaled in 1932, Wotan was a brown New Zealand stallion powered along the fence from last at the 1200m to claim victory by a neck in the 1936 Melbourne Cup.
He clocked an Australasian record – 3 minutes, 21-and-a-quarter seconds in the old – after 10-1 shot Young Crusader set a furious pace, leading by 12 lengths at the halfway point.
Jockey Ossie Phillips, a local only booked to ride on race day at the light weight of 49.5kg, beamed while bringing Wotan back to scale – the time for the usual rapturous reception for a newly crowned king.
But while Flemington heaved with 103,000 people, no such ovation ensued. For Wotan
was an almost universally dismissed longshot – starting at the proverbial no-hoper's quote of  100-1. In fact, the four-year-old was the only horse of the 20 starters beyond 50-1.
But Wotan's is perhaps the bolter's tale that best describes the great two-mile handicap's unique history as a race for all. It was a dark time for the world, gripped in the Great Depression, and with Hitler building towards war. Wotan's win in fact came on the day America's wartime leader Franklin D. Roosevelt won a second term. 
Yet it was a golden age for racing, with Phar Lap, Peter Pan and Hall Mark winning four Cups from 1930-34. Wotan, however, put an abrupt full stop to all that. Despised roughie? It seems he wasn't even liked by his connections.
He was owned by Wanganui brothers Bill, Bob and Pat Smith, a taciturn trio of dairy farmers from the New Zealand old school. They'd celebrated when his older half-brothers – from a super-producing broodmare merely named Left – won big in the 1933 spring, Gaine Carrington taking the Caulfield Cup and Peter Jackson the Moonee Valley Cup.
Wotan, by contrast, was taken to Sydney in 1935 and failed miserably. A return the following autumn was contemplated, but abandoned. It was planned to cross to Victoria in the spring and sell him, but when trainer Jack Fryer chose his touring party, such was Wotan's form that he left without him. The Smiths tried to sell him, but found no takers. 
They had one more spin, at Wanganui, where he won a 1700m "hack" race. Somehow, this inspired them to send him to Melbourne – prompting Fryer to write in a letter that "you could have knocked me over with a feather", a view backed when Wotan ran second-last in the Cox Plate.
That sent him to as much as 200-1 for the Melbourne Cup, odds the Smiths happily took. When he surged home at Flemington, Wotan secured £7,200 for winning. The Smiths reportedly won an extra £30,000, although bookies were still well ahead, especially after Northwind's Caulfield Cup at 66-1.
Old Rowley, 1940
Four years on, much the same happened: Roosevelt won an election – this time with
World War II underway – and the Cup had another lightweight 100-1 winner in Old
Rowley. It came amid high drama. Ten years after Phar Lap was allegedly shot at, hoodlums were sent to "nobble" the 7-4 favourite Beau Vite, with a .22 rifle no less. 
They entered the wrong box, however, and wounded a stablemate called El Golea. On race day, Beau Vite had an armed police escort and – showing how feared mobsters were back then – "no unauthorised person was allowed within 300 yards" of the starting line, the Townsville Bulletin reported.
Beau Vite managed only fourth while Old Rowley, near last early on, finished doggedly to win by almost a length. Not only was there another deflated silence, the seven-year-old's humble status was underlined when owner-trainer Jack Scully, who'd bought him for a song when injured two years earlier, detailed his future. "He will
be retired straight away," The Argus reported, "and used as a hack (a workhorse) by Scully's brother at his station at Merriwa, N.S.W."
Prince Of Penzance, 2015
The scenes were different, but wild nonetheless, 144 years later when Michelle
Payne became the first woman to ride the Cup winner. With full credit to Payne – who'd ridden Prince Of Penzance in 22 of his 23 starts – managing owner John Richards says her feat drew some deserved attention away from the gelding.
The six-year-old started 100-1, but had been 50-1 that morning, having just missed a second Moonee Valley Cup win the start before when beaten half a length by The United States.
Either way, Richards insists Prince Of Penzance – who'd had six wins and eight placings from those 23 starts – was "overs".
"He'd run very well at Moonee Valley, but his price just kept going out," said Richards, who has still owned only one Cup runner. "There'd been a lack of interest from journalists, and out of the Moonee Valley Cup, most people fancied The United States. We thought Prince was going well, but as he blew you started doubting what you know.
"But he was a very good, underrated horse. He'd had so many things go wrong – bone chip operations, a colic operation. But he was tough, though also difficult to ride, and that's why Michelle rode him all the time. She did a lot with him, and understood him very well."
So well, in fact, that she uttered a quote for the ages after he won just his fifth start, over 2000m at Flemington.
"It's one of the most amazing things about his story," Richards says, "Michelle got off and said, 'I'll win the Melbourne Cup on this horse'."
Two-and-a-half years after that, Payne and her prince were the toast of Australia – even if it was a bolter's Cup.
---
Experience the Magic of the 2023 Melbourne Cup Carnival
Prepare for a truly unforgettable Cup Week, where equine athleticism meets Melbourne style in a spectacular showcase of thoroughbred excellence. Be there to experience the magic trackside as new champions etch their names into racing folklore. Tickets still available, don't miss out!.