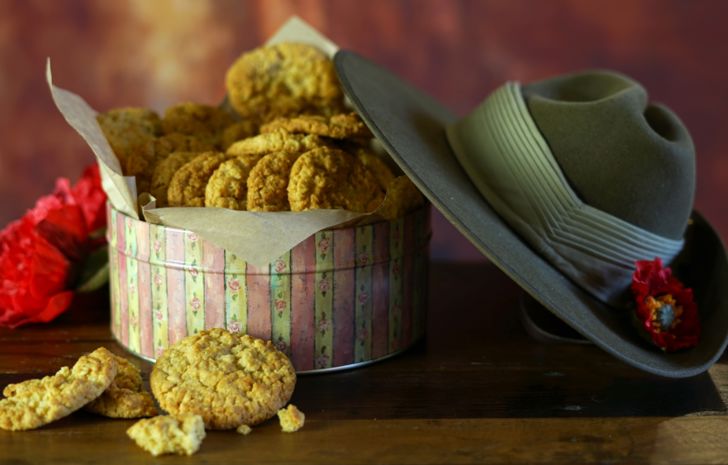 The humble ANZAC biscuit
12 April 2023
•
Written by
VRC
The humble ANZAC biscuit is a national icon, here and in New Zealand, but this simple baked treat has a long history.
Established in 1916, the Australian Comfort Fund (ACF) was created to coordinate  state-based patriotic funds, like the one that the VRC donated to during both WWI and WWII. The different divisions were all then brought together by the ACF to coordinate the sending of homemade goods and other comforts to the troops.
The Anzac biscuit was one of the treats inside the pack and, not unlike the running of the Melbourne Cup, offered much pleasure to the men on the frontline in times of war, as sending homemade biscuits gave the soldiers a connection to home.
A diversion from the horrors of war, comfort packs sent from home usually included bars of soap, cigarettes and tobacco, reading matter and clothing such as hand-knitted hats, scarves, gloves and socks - all very welcome for the cold, damp nights. Half the packs also contained food. While items such as sweets and sardines were definitely appreciated, soldiers seemed to particularly enjoy receiving homemade food.
While fruit cakes were welcome and kept well (especially important due to the lengthy time it might take to get to their destination), they did prove a little impractical to send to the frontlines. Costing a little more to make, not everyone had the access to funds to buy the ingredients. Their heavier weight also proved costly when posting. Biscuits, therefore, were the perfect solution.
Made from ingredients that most women already had in their store cupboards – oats, golden syrup (in lieu of eggs which were in short supply), and flour – the biscuit that would come to be known as the Anzac biscuit, was a winner.
Not only delicious, they also travelled well in air-tight tins and were easy to share among friends. The biscuits also embodied family and warmth, as the soldiers felt that love had gone into making them. It was also a way for families at home to come together, baking in the family kitchen, perhaps using a recipe passed down generations in a family recipe book.
The biscuits were also an excellent fundraiser for the war efforts, as women who were always looking to do their bit to raise money were able to make batches to sell. 
This simple biscuit held such power and still does to this day, as eating one reminds us of its connection to our national identity and the selfless acts of our troops.
---
Who doesn't love an Anzac Biscuit? Especially around Anzac Day when they represent that spirit of the Anzacs and of those who have fought in later wars to defend us and the freedom we now have. Definitely an Aussie treasure and part of our culinary history. 
Complimentary ANZAC biscuits baked by the Country Women's Association with any tea and coffee purchase will be available course wide.